So while I was musing, as is my wont, upon THE LAST AMERICAN it occurred to me that it could also be read as a riposte to another strip involving a trek across a post-nuke landscape. One Wagner was also involved in, but which was driven mainly by Pat Mills. The difference between the two approaches is telling. But I don't tell you about that, instead I just ramble aimlessly in my irritatingly hyperbolic style. It's "An Impossible Journey Through a Radioactive Hell..." It's "The Cursed Earth"!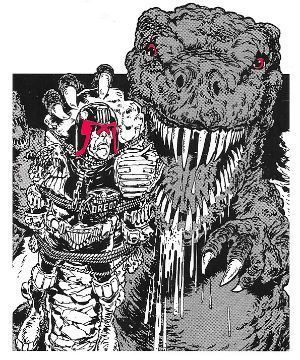 JUDGE DREDD: THE CURSED EARTH by McMahon & Mills
Anyway, this...
JUDGE DREDD: THE MEGA COLLECTION Vol. 32: THE CURSED EARTH Art by Mick McMahon, Brian Bolland (Dave Gibbons inks one episode) and John Higgins Written by Pat Mills, John Wagner, Chris Lowder and Alan Grant Lettered by Tom Frame, Peter Knight and John Aldrich Originally serialised in 2000AD Progs61-85 & JUDGE DREDD ANNUAL 1988. © 1978, 1987 & 2015 Rebellion A/S Hatchette Partworks/Rebellion, £9.99 (2015) JUDGE DREDD created by Carlos Ezquerra & John Wagner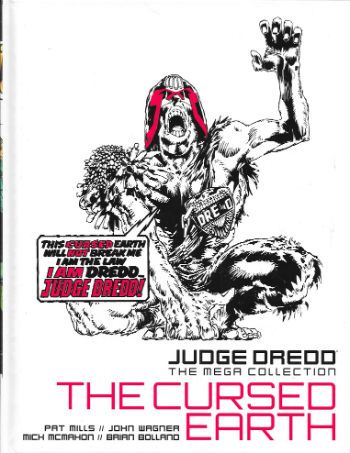 "The Cursed Earth" started in Prog 61 of 2000AD and is when Judge Dredd, for me (yes, it's all about me!), became not just one more very good thing about 2000AD, but the very best thing about 2000AD. Pat Mills seizes the reins, with an assist from John Wagner & Chris Lowder, and starts hacking all the ballast from Dredd's first appearance (in Prog 2) back to the raw necessities, and there's a marked emphasis on cohesion of backstory. The first shaky steps on this road had been made in the "Robot Wars" and "Luna-1" extended story lines, but it's "The Cursed Earth" where things really start to click into place and the mythological underpinnings really lend the strip its own unique flavour. Basically Judge Dredd starts to feel a lot less like Dirty Harry in the future and a lot more like its own crazysexy thing.  In these 21(*) episodes (each roughly 7 pages in length) the strip savagely shears off the generic elements and imprints the series with the signature super-satirical lunacy, mega violent mayhem and boundless imagination which will propel it through to 2017.  Also, it's also a fuck ton of fun.
JUDGE DREDD: THE CURSED EARTH by McMahon, Mills & Frame
Oh, it's still a work in progress and there's still some pruning to be done; witness the first episode, set in 2100AD, when Dredd's old friend, Red, a space pilot returns from a plague ridden Mega City Two with a desperate plea for help. In hindsight not only is it unlikely Dredd would have a friend who was not a Judge, the idea of Dredd having friends of any description seems to soften the character to almost Mr Tumble proportions. Dredd comes off as strangely naïve throughout; quick to recognise the decency in radlanders ("I guess all mutants AREN'T crazy and evil...") and often appalled by the depths people sink to (At one point he even writes "SOMETIMES THE HUMAN RACE MAKES ME SICK!" in his notebook in block CAPS with underlining, like a disillusioned adolescent. Not quite the stony faced arbiter of authoritarianism we will all come to both fear and pity. But then this is mostly Pat Mills' baby and so it is a heady blend of shrieking polemic and apocalyptic violence, events are so awesomely unhinged the characters have to shout their way through them as though they can't believe what's happening either ("THE BRUTE'S TRYING TO EAT THE KILL-DOZER!") Chris Lowdner would be lost to the mists of time and John Wagner would cover himself in glory hereafter but "The Cursed Earth" is very much a Pat Mills strip. On the upside, for those who find Mills too antagonistically blunt, there's a dizzying explosion of world building on show.  Mega City Two is first mentioned here, and expands Dredd's world considerably, being a West coast equivalent of Mega City One. Well, at least it is until 2114AD when it is nuked to ash during the "Day of Judgement" epic. Fourteen years earlier though, in order to prevent the whole of Mega City 2 devolving into feral cannibals Dredd will have to deliver an antidote to the 2T(FRU)T (that's right, "oh Rudy!") virus by crossing "over a thousand miles of hostile radioactive desert!" The Cursed Earth! which is named here for the first time.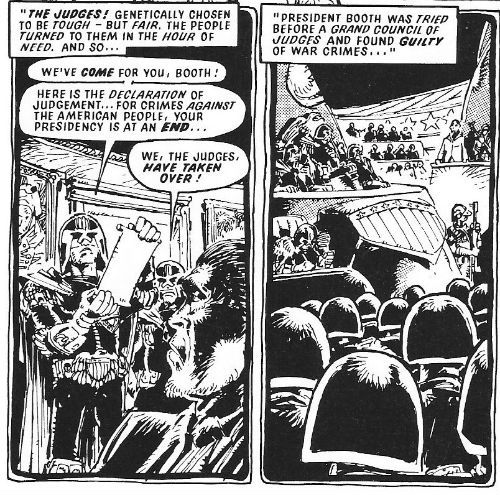 JUDGE DREDD: THE CURSED EARTH by McMahon, Mills & Frame
The mind thrashingly bizarre encounters include The Last President of America, Robert "Smooth" Booth, (affording us our first glimpse of how the Judges came to power), escaped genetically engineered dinosaurs (linking Judge Dredd to "FLESH!" (AKA  "The Best Comic Strip Ever!"; thus spaketh the sage  John Kane (age 7)), masses of mutants both good and bad (which will provide much grist to the strip's mill in the decades ahead) and the war droid survivors of The Battle of Armageddon (2071AD). (These last and the dinosaurs will also be linked by Pat Mills later to his ABC Warriors strip, which will itself become linked to "Invasion: 1999" etc etc etc) And that's just the continuity stuff I can remember. Then there's  the crazytown who make sacrifices to flying rats, Mount Rushmore with a special addition, the mutant slavers, the Las Vegas mafia Judges, sad faced telekinetic Novar and his spindly metal tree, Tweek the rock eating alien who is more human than the humans who degrade him, and I know I already mentioned the dinosaurs, but I did not specifically mention SATANUS, THE SON OF OLD ONE-EYE! And I don't think it's possible to mention rampaging genetically engineered dinosaurs too much. SATANUS! SATANUS! Rah! Rah! Rah! Cough, uh, anyway Dredd's band is hassled by that eyeboggling lot as they cross The Cursed Earth. Oh, they have to go by land, see, because the cannibals have taken over the spaceports, or there are "death belts" of rocks in the air which are never ever mentioned again, or both; I can't recall. It doesn't matter. No one said it was drum tight stuff. It's 1978! Just go with it. Dredd soon crews up, gears up and sets off into one of the most entertaining uses humanity has ever put paper and ink to - "The Cursed Earth". You think I'm exaggerating? It's drawn by Mike McMahon and Brian Bolland.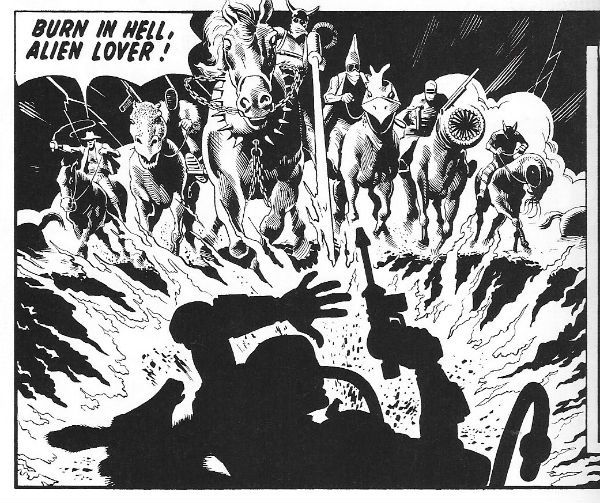 JUDGE DREDD: THE CURSED EARTH by Bolland, Mills & Frame
Dredd and his team of elite Judges (Gradgrind, Patton and, uh, Jack) are accompanied by Spikes Harvey Rotten and some war droids aboard the Modular Fighting Unit. Continuity is bolstered by the return of Judge Jack from "Robot Wars", and Spikes Harvey Rotten, who is drawn here by McMahon completely differently from Bolland's original in "Death Race 5000" (but Bolland here gamely follows McMahon's lead). The names of Dredd's compadres are a nice touch too, adding another level of fun to the proceedings. Judge Gradgrind recalls Charles Dickens' character Thomas Gradgrind (from HARD TIMES (1854) and whose surname has become a byword for hard hearted philistinism); Judge Patton is named after the flinty WW2 U.S. General, as famous for slapping a wounded soldier as for his nickname of "Old Blood and Guts" (which also foreshadows "Old Blood and Nuts" who crops up later); and Judge Jack is called that because that's what he was called last time. Mills often has fun with names, witness also Judge Fodder who lives up to his jokily obvious name in short order ("AAAGH!!").
JUDGE DREDD: THE CURSED EARTH by Bolland, Mills & Frame
You might think that that stuff might be above most 8 year olds and you wouldn't be wrong, but since it's 2017 and we're still here talking about a comic from 1978, I will stand by my belief that it's always better to write up to than to write down to your audience. Essentially though, the primary audience in 1978 was most definitely kids, so it was a smart move to base the Modular Fighting Unit on the MATCHBOX ADVENTURE 2000, K-2001, "COMMAND RAIDER" toy. Also, having a physical reference would have helped keep McMahon and Bolland on-model, because stylistically those two were/are apples and oranges, Ditko and Kirby, ham and eggs, Hammerstein and Ro-Jaws, Bogie and Bacall, uh, pretty different but both great, yeah? And a bit of visual consistency never hurts. Lest we forget each of these episodes originally  appeared weekly, so it's no surprise that McMahon shoulders most of the burden since Bolland's never really been built for speed. His art may be a crisper, cleaner and altogether more elegant affair, but it's little Micky whose scruffy bursts of inky mania prove a far better fit.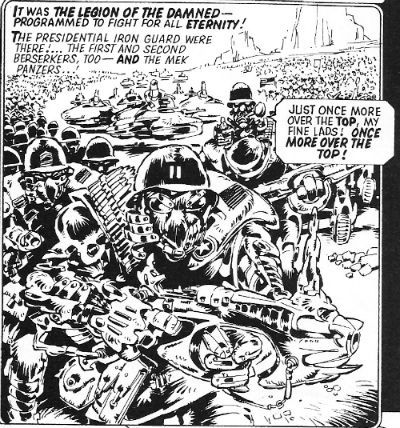 JUDGE DREDD: THE CURSED EARTH by McMahon, Mills & Aldrich
Back in 1978 Bolland's the better draughtsman, but his Cursed Earth is a tad too antiseptic. That alien slaver might have a nose festooned with boils but it still looks like you could eat your dinner off 'em. It's attractive stuff artistically speaking and Bolland's astonishingly accomplished even at this early stage but Mike McMahon? Look, Bolland is beautiful, but Micky's the Man. You wouldn't even want to eat your dinner off a dinner plate if Mick McMahon (circa '78) drew it. His art here is just such raw bloody fun and the sheer talent on show is immense. Each of McMahon's pages is so hectic with incident and so deceptively detailed that in lesser hands they would collapse into eye boggling unintelligibility. The control of flow and density of information is that of a master, but the energy and chutzpah is that of a sugar rushed kid. It's a killer combo for a strip paced as crazily as Judge Dredd circa '78. Most comic artists could work a lifetime and never reach this peak, but for little Mick McMahon it was just the start. And the stuff both Bolland and McMahon are called upon to draw is punishing and unrelenting in its demands.
JUDGE DREDD: THE CURSED EARTH by Bolland, Mills & Frame
In 2017 most comics hunger to be TV shows or movies and so the imagination on show is (unconsciously?) limited by implicit budgetary restrictions. Back in 1978 it was understood that comics were movies without budget, and thus there were no limits to the imagination. Back then, basically, Brit comics blew the bloody doors off. Jim Lee would sue for mental cruelty if he had to draw an episode of "The Cursed Earth" in a week. Or even a panel. In one panel McMahon has to draw a T-Rex smashing through a prison wall while all the prisoners react in a fairly understandable fashion. Another finds our T Rex drooling mutilated bodies from its flesh glutted mouth as it rampages about. What? No, not splash pages, panels. About six of those things to a page, each imbued with so much atmosphere you can practically smell the fetid stench of theT-Rex's breath.  It's a strong style, sure, and it's not for everyone, which is why in the halls of my mind he will evermore be known as Mike "Mango Chutney" McMahon.
JUDGE DREDD: THE CURSED EARTH by McMahon, Mills & Frame
"The Cursed Earth" is kind of wonky, and lopsided but it is drawn by two All-Time Great artists, and has a narrative festooned with visions of the impossible which sear themselves indelibly into your soul. It would be a stony heart indeed which could be left unmoved. And the bit where Dredd finally staggers into Mega City Two battered, rad-burned, stubborn beyond sanity and still defiant is a comic book moment up there with Spidey and his machinery lifting."The Cursed Earth" is VERY GOOD!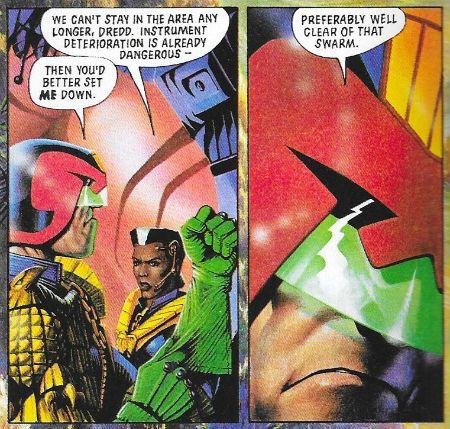 JUDGE DREDD: LAST OF THE BAD GUYS by Higgins, Wagner, Grant & Frame
The book also contains a later strip from the JUDGE DREDD ANNUAL 1982 by Wagner, Grant & Higgins. "Last of the Bad Guys" is inessential stuff, notable mainly for Higgins' queasy colour scheme and the ability of Wagner and Grant to pad out an idea more suited to 7 pages to 30 pages without leaving you feeling too short-changed. It's OKAY!
(*) Originally "The Cursed Earth" was 25 episodes long but this reprint omits the "Burger Wars" and "Soul Food" chapters, 4 episodes in total. Since the strips mocked the copyrighted characters of McDonalds, Burger King, and Green Giant (amongst others) and this led to legal action, these were not reprinted until 2016 in ""The Cursed Earth" Uncensored". This was due to a 2014 change in the law implementing a European directive on copyright law allowing the use of copyright-protected characters for parody. Bloody Brussels! Bloody unelected bureaucrats! Coming over here and staffing our Health services! Grrr! Oh, wait…Anyway, I can't remember the missing episodes having only read them once, and so "The Cursed Earth" no longer includes them in my head. Basically I'm not fussed that this book is "incomplete", but you might be. You know how funny you can be about these things.
JUDGE DREDD: THE CURSED EARTH by McMahon, Mills & Frame
NEXT TIME: A flamboyantly insane man-child achieves the highest office in the land endangering the lives of millions! Is it reality or – COMICS!!!