I don't know if you noticed but I spent much of the first part of this magical year telling you how Marvel©™ chose to present and package their comics in the United Kingdom during the 1970s. Through the somewhat cumbersome time travel device of being old I am now in a position to tell you how Marvel©™ present and package their comics in the United Kingdom in the science fictional sounding year of 2015.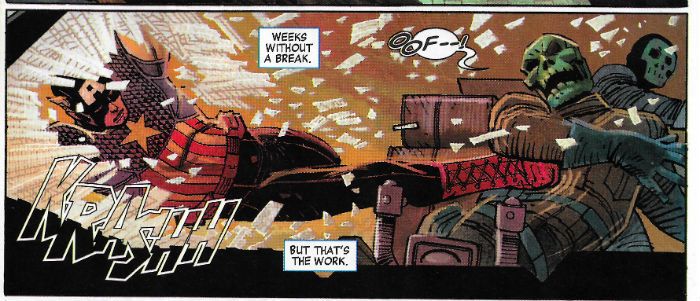 Captain America by Romita Jnr, Janson, White, Remender & Caramagna
Anyway, this... MARVEL LEGENDS Vol.2 #1 Captain America:Castaway in Dimension Z Part One & Part Two Art by John Romita Jnr & Klaus Janson Written by Rick Remender Lettered by VC's Joe Caramagna Iron Man: Believe Part One: Demons and Genies Art by Greg Land & Jay Leisten Written by Kieron Gillen Coloured by GURU EFX Lettered by Joe Caramagna Thor: The God Butcher Part One: A World Without Gods Art by Esad Ribic Written by Jason Aaron Coloured by Dean White Lettered by VC's Joe Sabino Captain America created Jack Kirby & Joe Simon Iron Man created by Jack Kirby, Don Heck, Larry Lieber & Stan Lee Thor created by Jack Kirby, Larry Lieber & Stan Lee and the people of Norway Collects material first published in Captain America #1 and #2, Iron Man#1 and Thor, God of Thunder #1 Marvel/Panini UK, £3.50 (2014)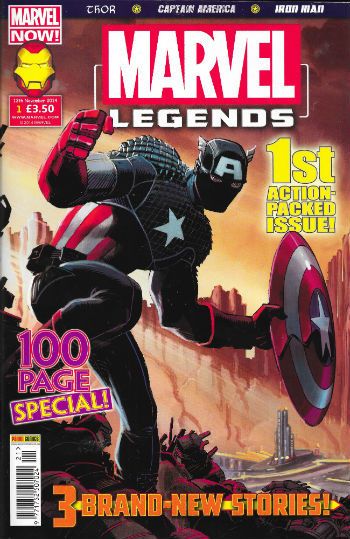 Marvel©™ comics are packaged over here by Panini, who also provide the children of Albion with DC Entertainment©™ comics content in a similar fashion. This fashion being to take material which first ran in the Americas in single issue form and then package (usually) three of these issues between two stiff covers under a thematically unifying title, and publish it monthly all for roughly the cost of one of the original American issues. The only drawback is that the most recent comics printed are around a year old(?). So you can get a chunk of cheap Marvel©™ product but you miss out on the real time bitching about whether Turner D. Century was written in character. For example there's Essential X-Men which contains three issues of Brian Bendis' X-Men for £3.50 rather than the near tenner it would have originally gouged you for. Since it's Brian Bendis that's still remarkably poor value for money so that didn't get chosen. Other titles were disqualified from purchase for various reasons including that they were well into their runs, I just had no interest in their contents (the DC ones) or Brian Bendis had leaked out of the cordon sanitaire around his X-Men books onto the pages of another luckless book. In the end, then, I went with Marvel Legends, because it was #1 and everybody involved had made at least some comics I hadn't despised out of all proportion.
Thor by Ribic, White, Aaron, & Sabino Marvel Legends features Captain America, Iron Man and Thor; a character roster clearly influenced by the success of the Marvel©™ movies, which makes a lot of sense. After all in the land of Good Queen Bess these books are potentially available to a less comics savvy audience than usual. Over here Panini books are not kept in controlled environments designed to mimic their original environs (i.e. specialist comic book stores) but instead are allowed to roam hither and yon across the newsagents of this United Kingdom. Every month I walk down to the newsagents next to the bridge and purchase my copy of Marvel Legends. I enjoy the ritual more than the comic, I suspect. Truly, I believe the measure of a country can be marked by the ease with which comics may be purchased. Sure, also little things like socialised Health Care, the care and protection of the vulnerable in society, not burning people who are a bit different, etc. but mostly it's the whole being able to buy comics easily thing that matters. And here, despite The Tory beasts, you still can. But they are a bit out of date. This issue of Marvel Legends reprints the first Marvel©™NOW! issues of Captain America (and #2 as a BONUS!), Iron Man and Thor. Of course Marvel©™NOW! was not only a meaningless piece of brand trumpeting but also quite a while ago now (THEN! if you must). Usually I'd just look up what number those series were currently on and divide it by twelve (I know! I'm a human Enigma Machine! I impress myself sometimes.) but thanks to Marvel©™'s fetish for renumbering and double shipping I have no clue how long ago these issues were originally published. Unless I check my review of Thor, God of Thunder #1 from 2012 (see later). There you go then; a bit out of date this stuff but then that's the story of my life, so who am I to carp. Physically the Panini books are quite appealing. The paper inside is matt and I like that and the covers are card because conditions in newsagents are hard. Flimsy paper covers are okay in the hot house environment of the specialist comic shop with its bags and boards, and respectful avoidance of spine bend and corner crumple. But after ten minutes in a British newsagent these delicate things'd look like they were praying for death. Kids go in newsagents and kids have hands and those hands are laden with germs and disrespect for the physical integrity of comic books. It's okay I'll go on about the contents now.

Iron Man by Land, Leisten, Gillen, EFX, & Caramagna
First up in the front of the book is Captain America. Here Panini made the bizarre decision to reprint an issue of Frank Miller & Klaus Janson's 1980s Captain America from an alternate dimension where that actually happened but, crucially, it was also a dimension where Frank Miller couldn't write very well. I am having a little joke there with you. Surprisingly, since I am forever being told about how sophisticated comics are these days in comparison to their aged forbears; Rick Remender has chosen to spend the two issues of Captain America (re)presented herein doing a really quite poor impression of Frank Miller comics from the 1980s. I'm not just saying that because I am old and can't be arsed updating my frames of reference anymore (although that is true), no, I'm saying it because it is ridiculously obvious. What's also ridiculous is how badly Rick Remender misses the mark. Everybody thinks 1980s Frank Miller comics are easy to write even though no one has ever managed it except 1980s Frank Miller. Even 1990s Frank Miller wobbled a bit and 2000s Frank Miller clearly has health issues so, hey, ease off the guy.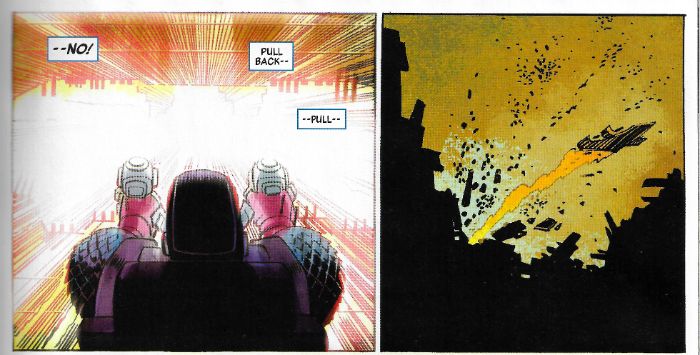 Captain America by Romita Jnr, Janson, White, Remender & Caramagna
I mean, you'd think the concept of the 1980s Frank Miller Internal Monologue would be simple enough to grasp but Remender demonstrates repeatedly that even that's beyond him. Blunt simplicity is key with a 1980s Frank Miller Internal Dialogue and Remender constantly fumbles this with poor word choices and a lack of clarity. Basically, if I have to pause to puzzle out the meaning of your 1980s Frank Miller Internal Dialogue then, my friend, your 1980s Frank Miller Internal Dialogue has failed. Which it often does here. It isn't the only failure; there's a , ahem, comedy villain at the start (he's a tree hugger but he's violent, LOL!) whose dialogue is supposed to be amusing in an explicitly overblown and (Nudge! Nudge!) comic booky way, but while you know what effect Remender's after you also know that it's an effect he's missed. That is, he's going for that '70s/'80s Kirby bombast and, again, everybody thinks that's easy but no one else's ever managed it.
Captain America by Romita Jnr, Janson, White, Remender & Caramagna
Remender further attempts to cuddle up to Kirby by having flashbacks set in the '20s and Romita Jnr/Janson's art (I think, but I'm not psychic so maybe not) wilfully evokes Kirby's Street Code Strip from the Streetwise anthology. It's in these flashbacks that Remender attempts to beefs up his antic larks in the main narrative. It doesn't work. I'm not going to get upset that Captain America's dad is a wife beater and a (it's implied so lightly I may be mistaken) suicide but I will point out it's poorly done. Remender brings the same level of nuance and sensitivity to the scenes of domestic abuse (and, later, child bullying) that he brings to a B52 hurtling out of the sky; that is to say, none. The art here doesn't help as Cap's dad smack's Cap's Mom right in the kisser and Romita Jnr/Janson retain every ounce of thuggery in their line. The same force is brought to a man smacking a woman as would be used with the Hulk smashing a tree. Sure, it communicates the ugly brutality of the act but undermines it at the same time with the air of unreality. None of this is to diminish the seriousness of addressing these issues. In the 'Gents' at my workplace (I can't speak as to the 'Ladies' as we aren't that swinging in Britain) there's a poster about domestic abuse. Apparently people need to be told that "No matter how badly a woman has behaved she does not deserve to be beaten." Is that news to you? If it is, drop me a line as I'm interested in what the fuck you think you're playing at. Or I can at least send you a poster. Lightening the mood of micturatory visits there is also a colour chart against which you can check your urine to make sure you aren't dehydrated. Admittedly this isn't really where I saw myself ending up; surrounded by dehydrated wife beaters but there you go. Little glimpse into my life there for you; every day an adventure! Anyway, as ever with genre comics they get the cheap heat for bringing a touchy subject up but nil points for developing or addressing it.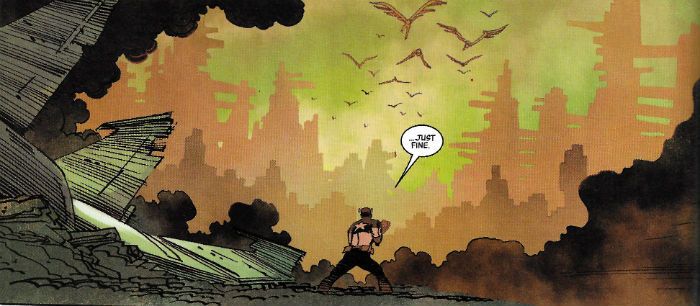 Captain America by Romita Jnr, Janson, White, Remender & Caramagna
Ultimately the Cap stuff is carried by the strength of the art. Because, let me tell you, I am all over a John Romita Jnr/Klaus Janson joint. I see a lot of mithering over this duo's stylings on-line but I don't get it (the mithering). These guys are rock solid. John Romita Jnr brings bulk and solidity to anchor every ridiculous visual conceit while Janson's frenetic scribbliness lightens it all enough to bring some fizz and pop to combat the threatened visual inertia. It doesn't hurt that the pair have chosen to channel DKSA Frank Miller, a choice I can only applaud. As a result John Romita Jnr and Klaus Janson's images have a power so great they can only be measured in "Kirbys". Sure the kids look like bobble heads and the minimalism can slip into incoherence but that's part of the style. And their style is so brash and unapologetic it just tucks me under its arm as it rushes past without pausing for breath. Romita Jnr and Klaus Janson's art is The Stuff and that would be enough, but here they also have Dean White's colours. Dean White's colours are glorious. And that Dean White's got some chutzpah, I tell you. His colours are actually laid over the art, as thickly glutinous as oil paints, at times obscuring the lines beneath as though he thinks the final image should read as a synthesis of pencils, ink and, the hell you say, colour. The enormous coconuts of the man to think he shouldn't just colour inbetween the lines and keep his head down whenever the writer enters the room. This dude thinks he's an essential part of the team. Sonofabitch isn't wrong either. Damn. Reading this comic is OKAY! but looking at it is VERY GOOD!

Captain America by Romita Jnr, Janson, White, Remender & Caramagna
Next up is Iron Man. This is written by Kieron Gillen who is a very talented writer, I believe. I liked that Journey into Mystery stuff he did, but otherwise I'm not overly familiar with his work. This is because I'm not in my '20s and don't give a shit if anyone shares my musical taste. I didn't think this was a very good comic mainly because it strains too hard to achieve aims I wasn't in sympathy with. The story opens with two visually dull pages of Iron Man flying high in the sky while babbling in his head about how he's so smart he can see everything but himself (#SADINSIDE). I guess this is so that when he acts like an overbearing prick for the rest of the book we can remember he is #SADINSIDE and maybe not find him quite so hateful. (I did remember, but I still hated him.) Then, to allay any fears about anything happening too quickly, we have more pages than any reasonable human needs devoted to Tony trying to get his tinkler milked by a lady in a bar. (The lady is in the bar, she isn't going to actually milk his tinkler in the bar; I don't know what bars you frequent, cochise) Big prizes are awarded here for getting Tony's alcoholism mentioned early; as ever it has sweet fuck all to do with anything that happens in the comic but, y'know, #SADINSIDE. I hated this scene because it is so scared of offending anyone that it practically offers up its belly like a craven hound, so determined is it that we know no one was being taken advantage of. Ugh. And just to rub the pointlessness of it all in my daft face Tony doesn't even have chance to get Lil Tony out before he's Iron Manning about. Now, not only is Tony #SADINSIDE but he's also #BLUEBALLS, and even I'm starting to feel sorry for him. But not for long because he's up against Extremis.

Iron Man by Land, Leisten, Gillen, EFX, & Caramagna
Let's not dance around; Extremis is rubbish. It's one of those Warren Ellis things where he magnanimously showed up for six issues to redefine a character for other, lesser hands. As ever, being Warren Ellis, he dispensed with silly things like characterisation or entertainment and just really slowly placed some concepts in front of the reader and then quickly stepped backwards out of the room making Ta-Daa! hands. Sure, Adi Granov's art was nice if more than a little inert, but, c'mon, I do recall there being more than one thrilling page of people in a room looking at a phone while someone spoke out of it. Extremis, my arse. And here it is again in the hands of AIM (Extremis that is, not my arse; no strange hands on my arse, thanks. I don't frequent those clubs; we've covered that.) There's an auction, Tony turns up, Tony kicks ass and decides to go track down the other bits of Extremis which are still out there. Personally, all these bits (the bits where things happened) could have done with stealing some of the real estate wasted on Tony's floating regret and his futile attempt to get his end away. But then I'm old, so it's probably that isn't it? I didn't like this issue of Iron Man but that's fine. I don't think I like Tony Stark who apparently just talks about how smart he is without ever demonstrating it and is a real asshole. Frankly, I'm not sure where Tony's appeal lies and in the pages here Kieron Gillen is unable to show me. The obvious intention of it all is that it resemble the movie(s) in feel and tone; it succeeds a bit, but succeeds more in revealing how bad those movies would be without Robert Downey Jnr.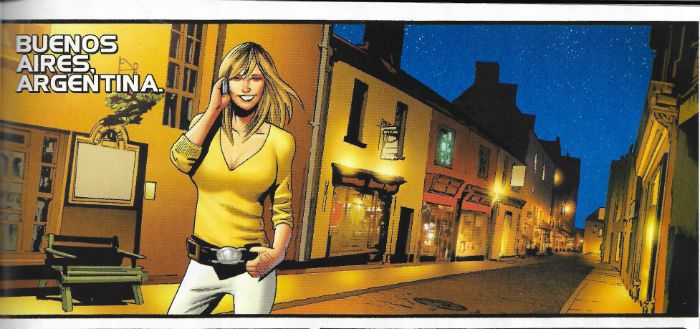 Iron Man by Land, Leisten, Gillen, EFX, & Caramagna
Maybe with better art Gillen' movie-centric remit would have worked better but here he's saddled with Greg Land. So, you know how that goes - all the woman look like soulless teeth demons, visual inconsistency gives everyone and everything a woozy feel, the men are vapidity incarnate and it's just really impressive how consistently sterile and bland it all is. Greg Land is like the rice cakes of comic art. Rice cakes with pictures from porno wrestling lightboxed on them. Sorry, but this comic is like the Iron Man movie had been made by the cast and crew of one of those End of Life Care infomercials broadcast when everyone normal is asleep. EH!
Thor rounds out the issue. Since these are reprints I thought I'd reprint my review of this very issue from way back on December 8th 2012. Don't think of it so much as my having misjudged my time tonight, rather think of it as some excruciatingly hilarious piece of meta-wit. And so from way back, before Jason Aaron had worn out my Christ-like patience with his recent weirdly insecure creator owned macho nonsense, we have...
"It's not a bad idea to relocate Thor as a serial killer thriller narrative. It's certainly better than the previous writer's decision to give priority to trying on trendy hats and alphabetising his coloured vinyl 7″ single collection while letting his artists to do all the work. It's fine, no problems really. Aaron even seeds possible future stories with the introduction of a new pantheon of Gods here represented by The God Butcher. Consequently later stories will no doubt focus on such dastardly deities as The God Baker and The God Candlestick Maker. The whole thing is a kind of watered down Heavy Metal strip the success is which is due mostly to Ribic and White's work which lends the whole derivative but enjoyable thing a grandeur and scale it probably doesn't really merit...GOOD!"
Thor by Ribic, White, Aaron, & Sabino
For £3.50 Marvel Legends is not a bad package, in fact it's GOOD!
It's certainly - COMICS!!!