Abhay's below this, so don't dilly dally, and certainly don't shilly shally, go there! Do it NOW! Me, I'm still trying to get regular, so here's another go at that. There's a lot of toilet humour in this one. It's the only industry we have left.
DKIII by Risso, Azzarello, Mulvihill & Robins
Anyway, this... SIR: The critics? No, I have nothing but compassion for them. How can I hate the crippled, the mentally deficient, and the dead? The Dresser by Ronald Harwood
2000AD Prog 1964 Art by Mark Sexton, Richard Elson, John Burns, Clint Langley, Carlos Ezquerra Written by Michael Carroll, Dan Abnett, Kek-W, Pat Mills, John Wagner Colours by Len O'Grady,the artists Lettered by Annie Parkhouse, Ellie De Ville, Simon Bowland JUDGE DREDD created by Carlos Ezquerra & John Wagner KINGDOM created by Richard Elson & Dan Abnett THE ORDER created by John Burns & Kek-W ABC WARRIORS created by Kevin O'Neill, Brendan McCarthy, Mick Mcmahon & Pat Mills STRONTIUM DOG created by Carlos Ezquerra & John Wagner Rebellion, £2.55 weekly (2016)
Borag Thungg! Another week, another issue of the Galaxy's Greatest Comic! This week in Judge Dredd (Sexton/Carroll/O'Grady/Parkhouse) the decision is taken to devote the bulk of the seven page installment to a quite bloody and brutal action sequence which leaves Dredd on the edge of death. Also, some plot developments. It's a salutary reminder that when a Judge goes wrong that's way more dangerous than just your average perp. As seven pages go it's lean, mean, gory and crunchily executed stuff. Two parts in and "Ghosts" is shaping up VERY GOOD!
DREDD by Sexton, Carroll, O'Grady & Parkhouse
KINGDOM (Elson/Abnett/DeVille) takes time out from hurtling about hither and yon for a quick plot stop. Some fruity swears and mysterious discoveries later the strip is tanked back up with motivation enough to hurtle off, in the final panel of the fifth page, into what promises to be a more typically action orientated episode. Elson art possesses a crisp precision and Abnett's script remains fundamentally derivative but still just original enough to provide undemanding fun. OKAY!
KINGDOM by Elson, Abnett & DeVille
Alas, the major question raised by THE ORDER (Burns/Kek-W/DeVille) so far is what exactly was achieved by the steampunk motorbike that could not have been achieved by a horse. So, obviously this one's not exactly pulling me in. It's not terrible though. And that's despite groan inducing clichés such as the masked rescuer being revealed to be a stunningly beautiful lady (and unless Boots The Chemist was operating in 1560 then her make up skills are a tad anachronistic). As if in balance there's a nifty bit of dialogue on the fifth and final page (the "...empircal evidence.." bit). That alone is enough to leave me optimistic that the ideas underpinning the series will eventually be revealed to have been worth the more predictable stretches. OKAY!
THE ORDER by Burns, Kek-W & De Ville
Last week, while struggling to make sense in a short space of time, I , somewhat tenuously I thought, mentioned Blade Runner in connection with the mek-nificent ones. This week Serendipity, obviously in a playful mood, shocks my socks of by having Pat Mills rejig the Roy Batty death speech everyone loves from that selfsame movie, but puts it in the foul mouth of an ailing Ro-Jaws and, thus, appropriately enough, fixes up the references within it to those of a somewhat more scatological stripe. Reader, I larfed. One of the many things I respond to in Pat Mills' writing is his unselfconscious embrace of puerility. It's particularly prevalent in ABC Warriors and is always welcome. In a strip where the authorities (who have been searching for Hammerstein) have just cottoned on to the fact that that robot that looks just like Hammerstein but with a different head is in fact Hammerstein but with a different head, having a giant robot referencing David Lynch films and also yelling about "Big Jobs!" is probably more of a help than a hindrance. (Note for Children of The Now: "Big jobs" was used to refer to babies going "Number Two" back in the day, back in the UK.) Clint Langley's art looks like it's all taking place inside an active bowel and so is perfectly appropriate. VERY GOOD!
ABC WARRIORS by Langley, Mills & Parkhouse
You know the bit in every heist movie where the heist gets underway and it's a matter of watching the protagonists evade detection before things go wrong? This week's STRONTIUM DOG (Ezquerra/Wagner/Bowland) is that bit of the heist movie. The fun here is that instead of using specialist equipment provided by a character actor in a minor but showy role, they use their mutant abilities (stretchy arms, super strong fingers, x-ray vision, a Keegan perm, a bumpy heid, etc) and there is still time for a good joke about where one would hide the scared brain of a bizarre cult's founder. Ezquerra's art remains so flawlessy devoted to storytelling it never even hints at the effort and experience underpinning every panel. VERY GOOD!
STRONTIUM DOG by Ezquerra, Wagner & Bowland
DKIII THE MASTER RACE BOOK TWO Based on THE DARK KNIGHT RETURNS by Frank Miller, Lynn Varley & Klaus Janson (although once again DC only identify Frank Miller as the author. Tsk. Tsk.) Art by Andy Kubert, Klaus Janson, Eduardo Risso Story by Frank Miller & Brian Azzarello Lettered by Clem Robins Colours by Brad Anderson, Trish Mulvihill Cover by Andy Kubert & Brad Anderson Variant Covers by Frank Miller & Alex Sinclair, Klaus Janson & Brad Anderson, Jim Lee, Scott Williams & Alex Sinclair, Cliff Chiang, Eduardo Risso & Trish Mulvihill Retailer variant cover by Sean Gordon Murphy & Matt Hollingsworth, Greg Capullo & FCO Plascenia Convention Variant Cover by Jill Thompson DC Comics, $5.99 Standard/$12.99 Deluxe (2016) Batman cteated by Bill Finger & Bob Kane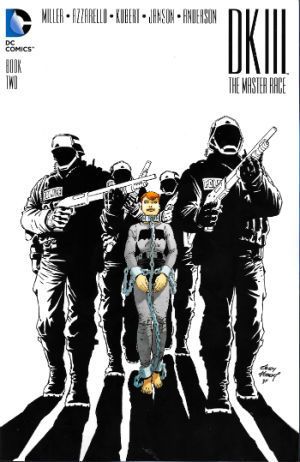 If nothing else this series has proved to be a thought provoking one. The thought it has provoked in my tiny mind is exactly how bad does the writing in a comic have to get before everyone stops just waving it through? Because the writing in this comic is astoundingly poor. I've not read any other reviews because I don't accidentally want to steal anyone else's thoughts, but unless those reviews point out first and foremost how utterly craptabulous the writing is I'd hesitate to trust anything they have to say. Because, ugh. I mean, ew. Someone wrote this with a big brown crayon, allright. It's no wonder they're so keen to drag Frank Miller's name into it. It's basically the same as blaming the old dog in the corner when you fart in company. "Man, this comic is carved out of stupid!","Dang, must be Frank Miller's fault!"Classy behaviour, guys. You know (of course you don't, what a stupid way to start a sentence) I was in the cinema recently, and during the performance someone broke wind next to me. Now let me tell you that was one blue ribbon winner of a fart and no mistake. It was like someone had just put a Sunday dinner under my nose. You ever smell a fart that smelt like you could chew it? This was that fart. It was a heroic achievement, to which I doff my cap; respect is due to someone who can create something like that. However, before we get carried away let's remember it was still just a fart. DKIII:TMR is the comic book equivalent of that fart. It's stink is mighty. Impressively so. But it's still just a big stink.
DKIII by Kubert, Janson, Azzarello, Anderson & Robins
Oh, that's a bit much, John! Really? Have you read this? Tell me, what is not cretinous about Batman's plan to make the world think he is dead? Let me just recap it for you: After an absence of three years during which the world has probably started to stop thinking about him, Batman rides his Bat-cycle into the middle of Gotham. He then proceeds to engage in a pitched battle with the Gotham PD. At some point the media notice and Batman's return is plastered across every TV screen in the world. Batman suddenly has an asthma attack and collapses. At this point it is revealed that Batman is in fact a young girl dressed as Batman, and she collapsed due to grief and exhaustion rather than a respiratory condition marked by attacks of spasm in the bronchi of the lungs. She is taken into custody and says nothing for twenty seven days, in which time the media speculate about Batman's whereabouts to its heart's content. On the twenty seventh day the girl tells a thoroughly unconvincing story about how Batman died (in bed; maudlin, bed-bound and old). Usually the police would require a body, they are funny like that. But they just take this girl's word, as you would. With Batman now ineradicably on everyone's mind it's a masterstroke of idiocy to have the young girl sprung by the sudden appearance of a massive Bat-Tank, which trashes the part of the GPD which isn't already in traction before disappearing in a thoroughly ill-defined way. Obviously, having now convinced the world of his death Batman is now free to act. Given his fantastic plan to make the world forget him, his first act will probably be to soil himself and dance the Macarena. Christ. Batman the tactical genius there.
DKIII by Kubert, Janson, Azzarello, Anderson & Robins
That ridiculous horseshit takes up most of the first and second issues but there's still room in this one for Ray Palmer to say something science-y (but not too demandingly science-y) and act like a Batman level moron. Because at no point - AT NO POINT - does it occur to Ray Palmer that introducing to the planet Earth a city full of people who can fly, fire fire out of their eyes and probably fart mustard gas to boot, might be less than stellar thinking. Jean left you because you were an idiot, Ray. There might be pages of this comic which don't insult the reader's intelligence but I couldn't recall any. What about the art? People don't talk about the art! Why should I say anything about the art when the writing is this bad. The writing here is ruinously bad. But okay, Kubert as ever manages that trick of being both fussy and lazy, while in the mini-comic Eduardo Risso's deep contrast talents are wasted on something so superfluous it's barely there. But really, what matters the art when a character describes herself as Batman's "prick"? "I was his PRICK.", she says. Nice dire-logue, Brian Azzarello! "I was his PRICK.", she says. She says was an old man's prick. What does that even mean, Brian Azzarello? That she got him up at odd times during the night for a piss? Boom, and indeed, BOOM!
DKIII by Risso, Azzarello, Mulvihill & Robins
See, the real problem is that this utter drivel is soaking up attention better used on other comics. There are too many comics today, and the good ones risk getting lost in the crush. Instead of writing about Brian Azzarello and Andy Kubert's futile attempt to polish the stale turds of greater talents I should have been writing about, say, MONSTRESS, STRAY BULLETS, ISLAND, EGOs, RAGNAROK and SPONGEBOB COMICS. All of which are probably struggling to survive while this bloated, brainless and thoroughly unnecessary thing flails about attracting everyone's attention. I mean, I don't need to write about this comic do I? Everyone else will already have alerted you to how fundamentally poor it is. (Won't they?) Look, my complaint isn't even that DKIII:TMR isn't a Frank Miller comic; it's that DKIII:TMR is CRAP!
DKIII by Kubert, Janson, Azzarello, Anderson & Robins
NEXT TIME: On September 28th 2015 at 10:44 am "Peter" asked if I would be looking at the US attempts to "do" Judge Dredd. In 2016, he will have his answer! (SPOILER: It's "yes" and it's next up, thanks to my library.) I may be tardy but I will eventually get around to your - COMICS!!!