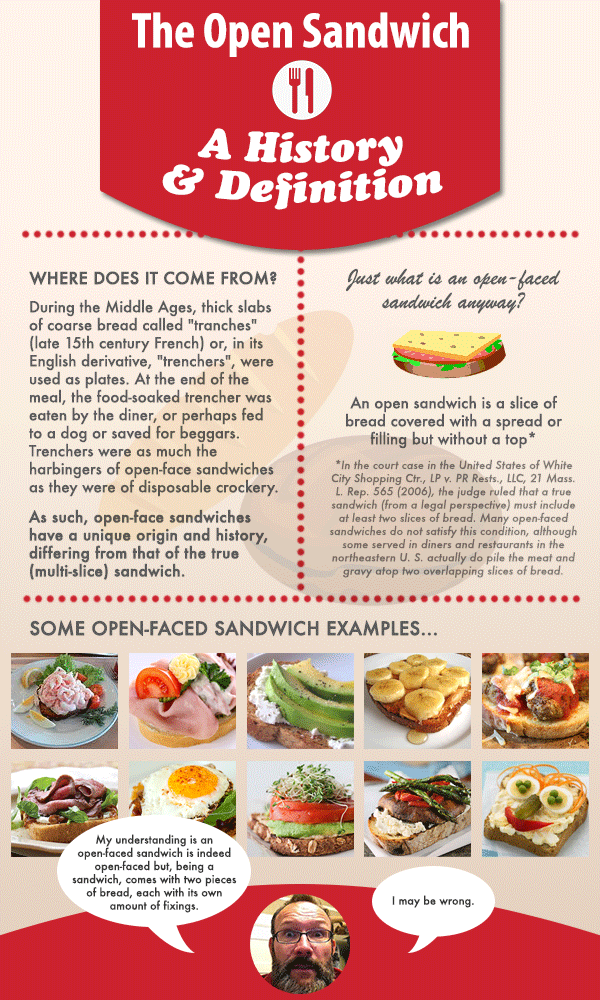 Anyone remember in what book Tolkien references the Battle of the Open-Faced Sandwich?  Infographic/opening salvo by the invincible Kate McMillan.
Oh, man. I hope that infographic does not hog up too much of our precious SavCrit real estate--please don't miss Abhay writing about Lazarus or that piece about how DC ran its print runs for Villains Month, or other fine entries!
Also, do join us after the jump for shownotes for our latest "Reunited-and-it-feels-so-good-except-Graeme-and-I-exchange-words-about-Game-of-Thrones-so-how-good-can-we-feel-really?" podcast!
0:00-22:17: Hey, we are back and we are discussing some of the groovy NYCC announcements that the savvy Mr. McMillan knew at the time of recording.  Among the various bombshells dropped:  Priest and Bright back on Quantum & Woody; DC's announcement of the Batman weekly, Batman Eternal;  and a huge block of time wherein Graeme tells us about the Marvel announcements, including Trial of The Jean Grey; the Black Widow's new title; Al Ewing on a new Loki title; Ales Kot taking over on Secret Avengers; Avengers Undercover; All-New Ghost Rider #1 (which sounds pretty ridiculous but as I've since found out Felipe Smith of Peepo Choo fame is writing it, I'd be into it, and ditto on the Disney title written by Witch Doctor's Brandon Seifert); and much, much more. 22:17-55:14:  But there were also some pretty great comics that came out in our semi-skip weeks too and we sit down to talk about those too:  a very brief discussion of Paul Pope's Battling Boy (Graeme had read it; Jeff hadn't); Saga #14 (see?  It's been a while, hasn't it?) which leads into a talk about…TV(?) including the season debuts of Parks & Recreation, Nashville, New Girl, and others; The Star Wars #2 (with some impressive kvetching from Graeme) and which features this:

(sorry about the dumb reflective lighting in the pic, we have pretty awful lighting in our place)
Empowered: Nine Beers with Ninjette; Fatale #17; IDW's Powerpuff Girls #1 by Troy Little; Rocket Girl #1 by Amy Reeder and Brandon Montclare; and Batman #24 by Scott Snyder and Greg Capullo. 55:14-1:07:50: Additionally, Graeme has read Superman Wonder Woman #1; Green Lantern Corps #24, Forever Evil: Arkham War #1; and the first issue of Coffin Hill by Caitlin Kittredge and Inaki Miranda, and goes on to discuss them, thank goodness, otherwise I would've really wasted some time typing those names out. 1:07:50-1:13:01: Graeme has also read Kings Watch #2 by Jeff Parker and Mark Laming, and a copy of First Second's Fairy Tales Comics in which Chris Duffy has assembled a powerhouse of comic talent--it is worth looking out for. By contrast, Jeff scratches his weary head over Walking Dead #115. 1:13:01-1:17:33:  And yet, we were both surprised and delighted by Afterlife with Archie by Roberto Aguirre-Sacasa and Francesco Francavilla (The interview with Aguirre-Sacasa that Jeff calls out is available here.  The image Jeff chooses to babble about briefly that you can't see because we are an audio podcast is this one:

1:17:33-1:21:16: Compare and contrast with Shaolin Cowboy #1 by Geoff Darrow from Dark Horse Comics?  How can one? And yet, Jeff does. 1:21:16-1:39:56: Lazarus #4.  Lazarus has received a pretty good drubbing on this site, but Jeff continues to read it.  If you want to hear a new, far-more-inarticulate set of frustrations with the title, these are the few minutes for you! 1:39:56-1:45:16: Our most controversial topic yet--the open-faced sandwich!  (See above.)  Little did Jeff know when he recorded his solocast that he was inviting tremendous dissent from many…most especially the formidable Kate McMillan. (Again, see above.) 1:45:16-1:59:44: And, finally: we talk about the long-gestating secret project that's been keeping Jeff busy seemingly forever -- the electronic imprint Airport Books and its first title, the reprint of E.J. Ehlers' never-before-printed Erotic Vampire Bank Heist.  Although we aren't the type to shill heavily (for ourselves, anyway), Graeme is kind enough to help Jeff do so here, and we do hope that if this is the sort of thing you're interested in, you consider picking up a copy for your Kindle or Kindle reading app. 1:59:44-end: Closing comments! A bit of excited blurbing about the Zombo trade leads to the promise/threat of a Zombo book club for next week!  Here's the cover so you know what to look for:
(See, I told you we don't shill for ourselves....)
And but so!
The podcast is on iTunes (probably, maybe, probably) but it is also here for your audible delectation:
Wait, What? Ep. 136: Finally, Finally, Finally.
Now, if you'll excuse me, I'm going to go celebrate the launching of my imprint in fine style and go get my teeth cleaned and drilled. (On the plus side, the nitrous will probably give me hallucinations of chatting with Amanda Urban over some choice canapes, so maybe that's the perfect launch party.)
Thank you for your kindly attention, and we'll be back with ep. 137 next week!