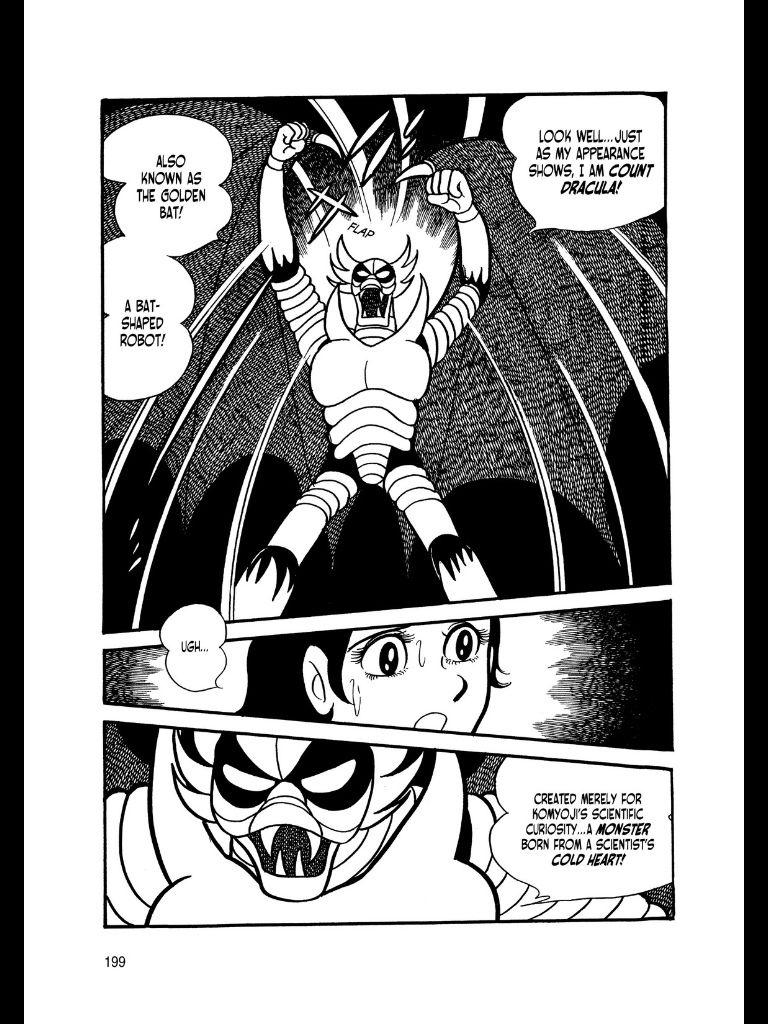 A page from Shotaro Ishinomori's Kikaider, which we didn't even discuss this week but which I kinda adore, nonetheless...
ATTENTION, ATTENTION, NEXT WEEK WILL BE A SKIP WEEK FOR THE PODCAST.  NEXT WAIT IS A WEEK, WHAT? SKIPCAST!
You may not care.  In fact, you may be relieved but either way, Graeme and I will not be talking one another's ear off this week so there won't be anything for you to listen to from us next week.  Maybe you can get out of the house for a bit?  Go for a walk?  Realize that although it's probably too late to do that "52 books  in 52 weeks" you promised, you can maybe still get in 48 in 48 weeks?
Either way, we are here today, gone tomorrow (by which we mean: next week).
As for that "here today" part--show notes after the jump!
Yeah, we had all kinds of technical problems again...sorry about that.  Maybe one day soon, we will try tech solution Omega...but I'm not looking forward to that too much, to be honest.  I'm hoping we can come up something a little bit better than using an atomic bomb we worship as a god to blow up the planet...
0:00-8:49: Hello! 113 is apparently an unlucky number?  Graeme reports on the bounce houses in the sky, and also a story about a prison break that seems very Beagle Boy-esque. 8:49-27:47: 'Comic news' is a great term because most people would say it's neither.  Nonetheless, we discuss the new column by Bob Harras and Bobbie Chase (which they call B&B, but I sort of wish they'd titled "Two Bobs and a Weave"), the news of writers getting pulled off their books before their first issues are even out, etc., etc. Sadly, we have a dose of  our infuriatingly intermittent tech problems plaguing us a bit during this conversation (that eventually builds to a somewhat hilarious obsession on Jeff's part about whether or not he's rocking in his chair too much, or at all).  Our apologies.  Poor DC--once we're done with that, we grouse about their really bad covers, lately.  Also, Jeff has a metaphor for the New DC that probably reveals a bit too much about his family past, maybe. 27:47-41:17:  And because Marvel doesn't get a free pass (except when they do), we also discuss the upcoming Thanos Rising miniseries and compare/contrast with DC's Birds of Prey debacle.  Also, Jeff tries to start an urban legend where if you look in a mirror and say "Mark Badger, Mark Badger, Mark Badger" three times, a Batman miniseries appears. A discussion of how much "there" needs to be there for a comics news story to be a news story... 41:17-41:38: Intermission (Jaunty)! 41:38-53:30:  Comic books!  Graeme and Jeff discuss New Avengers #2 by Jonathan Hickman and Steve Epting; and Jeff talks about how Marvel is creeping him out a little bit. 53:30-1:00:09: Captain America #3!  Graeme isn't reading it; Jeff is, but is somewhat troubled by Cap being less of a Kirbyesque Cap than a Milleresque Cap, and later, while editing the podcast, is a little horrified that this is a complaint he actually made with his face. 1:00:09-1:05:53: Graeme has read the latest issue of Daredevil and then an advance ARC of Paul Pope's The One Trick Rip-Off.  After more techie problems, we decided to jump just a bit early and come back with a different (and more reliable) mic. 1:05:53-1:06:15: Intermission (Jazzy)! 1:06:15-1:08:17:  Round Three!  Graeme has noticed something about the latest Marvel solicitations that suggests they're not reading them especially closely.  He also has good news about Avengers Assemble #14? 1:08:17-1:14:57:  Batman #16 and Batman and Robin #16!  The Death of the Family stuff is just intensely, baroquely fucked up in a way that reminds Jeff of another Batman book that may not be what Scott Snyder and the Bat-team had in mind… 1:14:57-1:23:42:  Issues #5 and #6 of Black Kiss 2!  It's the grand wrap-up of a this mighty odd sequel from Howard Chaykin. 1:23:42-1:42:13:  Questions, finally!   Al Ewing asked: Where do you stand on: 1) Vodka And Coke; 2) Christmas Crackers; 3) Dennis The Menace vs Dennis The Menace And Gnasher; 4) Big sacks with 'SWAG' on them vs Big sacks with '$' on them; 5) The 'aggro style' UK comics of the late seventies; 6) Hi-style design-heaviness in US superhero work – could the design sensibility of a David Aja or a Johnathan Hickman replace the hem-hem 'design' sensibility of bendy spines and porn poses and upskirt angles if we all wish really really hard? 7) Bad Machinery/Girls With Slingshots/Dinosaur Comics 1:42:13-1:56:19: Mo Walker asked: 1). If you could put together an Avengers/Justice League style team comprised of Kirby characters, who would make the cut? 2). What are your thoughts on series 4 of Misfits? 1:56:19-1:59:40: JohnK (UK) asked: 1) A revival of Quality's BIG BEN – The Man With No Time For Crime by Al Ewing and J Bone – Yes or No? QUICKLY! Yes or No? 2) Biggest Loss to Comics' archive: ROM, ATARI FORCE or MICRONAUTS(original runs, natch!) 3) Who really owns Marvelman (in less than 10 words)? 4) a) Was "Jimmy Broxton" the artist on KNIGHT & SQUIRE a pseudonym? b)If so, who for? 1:59:40-end:  Closing comments.  Extra apologies.  A notice is made (as it was above) that next week is a skip week and so we will not be around but shall return the week after that.
If all of this sets your glands a-salivatin', then feel free to pull up a stool and being listening now!
Wait, What? Ep. 113: Technically Difficult
As always, we hope you enjoy and thanks for listening!