Konichiwa! What follows is almost Zen like in the purity of its pointlessness. Unless…unless you are one of the three living people who have not already read these old manga comics. Comics which are now available again in a new series of petite omnibooks. So someone must not have read them, right? C'mon, throw me a rope here!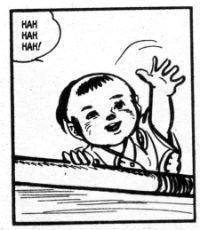 Anyway, this…
If you have never read any of the manga comics and are a bit trembly about starting then this one's for you! Because cards on the table; fox in the henhouse; monkey in the nunnery; I know sweet FA about the manga comics. When it comes to the manga comics I'm not your man. Gah! So, given my impressive indolence when it comes to the appreciation of other cultures I just read these as comics. Just opened 'em up and read 'em. Treated 'em like comics, see. Crazy.
LONE WOLF AND CUB OMNIBUS VOLUME 1 Art by Goseki Kojima Written by Kazu Koike Translation by Dana Lewis Lettering by Digital Chameleon Lone Wolf and Cub created by Goseki Kojima & Kazu Koike Dark Horse comics, $19.99 (2013)
Hey, as far as I can tell (and I may tell a lie, inadvertently) these comics originally appeared in 1970, as indeed did I. Bouncing Buddhas, these comics are as old as I am! Luckily they seem to have aged somewhat more gracefully. Unlike Lone Wolf & Cub I was not originally created by Goseki Kojima & Kazuo Koike and serialised in Weekly Manga Action Magazine, nor did I form the basis of a television series and a string of successful films before being reprinted in English by FIRST! comics in 1990 and, following FIRST's demise (but no demise in the thirst for these comics) thereafter by Dark Horse Comics. This is Dark Horse's second third (thanks, Ben Lipman!) go round at the material. This iteration is digest sized but impressively girthed. It's a thick little brick of a book is what it is. This edition of Omnibus Vol.1 ends with Half Mat, One Mat, a Fistful of Rice in case anyone with an incomplete collection of the previous volumes wanted to know when to hop on board.
At the back of the book there are some author bios from which I cravenly cribbed the previous factual bits and a glossary of terms pertinent to the Edo period Japanese setting. Initially you'll be flicking to this glossary every time you meet an unfamiliar word but you'll soon get caught up in the flow of the narrative stream and your insecurity will erode to nothing as you use context to impose meaning; much as you do with your native language. English, I 'm talking about English there, in the case of our American friends. Look, I don't want the elbow patches and chalk dust connotations of a glossary to put anyone off; it's useful and a nice touch but you'll be too busy reading some 700 pages of great comics to bother with it, or as the experts would have it: 700 pages of great manga.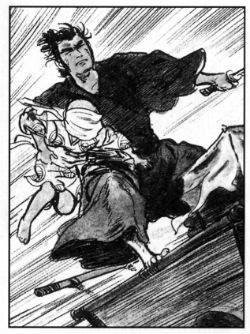 Don't worry about the words and the possibility of babel-jabber. In fact the translation by Dana Lewis reads smoother than a lot of English speaking comics writers' work. Since the top names in US comics write like they learned English via correspondence course (and a lot of the lessons went missing in the post) I'm not sure who this reflects best on. The only jarring note is struck when sometimes the speech of the peasantry mimics that familiar from Westerns; this may sit oddly atop the images of Edo period Japan ("Consarn that dangdurned Emperor!") but the genres have enough surface similarities to make this decision explicable. And it does create a clear divide between the scrofulous ones and their betters (who aren't; they never are). On reflection this contrast between the earthier utterances of the proles and the formal rigidity of their masters nicely reinforces the divides. It's such a good translation that it enables the quiet genius of the original writing to shine. Lone Wolf & Cub does many things but one of the things it does best is present a portrait of a repressive society and all the unhealthy sexuality and violence roiling beneath the social constrictions. The storytelling is remarkably convincing in its period detail although, full disclosure, I am neither Japanese nor a historian; so the fact that there aren't any car chases and no one checks their wristwatch is the only level of historical accuracy I can vouch for.
I hear that all reviews must now contain some words about the art. So, yeah, let's do that. Sadly I have sod all reference for Japanese art except for that Great Wave by Hokusai I had on a calendar once and a picture of a lady with a squid I saw in The Guardian the other week; one that was altogether too rude by half. Luckily for all of us inadequately prepared reviewers Lone Wolf and Cub has a built in entry point for palettes moulded by the North American comics tradition. The sentient reader will note that the cover to this first volume is by Frank Miller and Lynn Varley. This dynamic duo provided the initial run of covers for the FIRST reprints (followed by Bill Sienkiewicz and then, I believe, Matt Wagner. Pedigree stuff there, kids). The art of Miller and Varley's Ronin (DC Comics, 1984) had been cheerfully blatant about showcasing its debt to the work of Goseki Kojima and Miller had vocally championed Lone Wolf and Cub in interviews at the time. Miller's stylistic lifts are revealed to even my uninformed eye at certain points in this volume (the straw of hats, motion lines forming figures, etc and etc) and nowhere are these lifts more apparent than in the graveyard scene which closes out this book. That's how good Goseki Kojima is here; Frank Miller took a leg up from him to reach his pinnacle.
And make no mistake Goseki Kojima is damned good here. The world the series inhabits is concretely defined with clear demarcations between the austere human constructs and the lush natural sweep of the land itself; the similar socio-economic demarcations between the folk populating the book are also succinctly sketched. So much so that one who knows less than zero about Edo period Japan grasps instantly and easily a wealth of information about what was seconds ago unknown and alien. And then there's the action. The savagery of which, with its barrage of brutality and people coming apart like mud in heavy rain, is never in doubt. The violence in Lone Wolf and Cub is awful in exactly the right way.

Lone Wolf & Cub is, I guess, primarily about Fathers and Sons. It can't help but be about Fathers and Sons because when you are an itinerant assassin for hire saddled with a son, every day is Bring Your Child To Work Day. Usually comics about Fathers and Sons continue the bad rap Dads have. This very comic might be about how bad this dad is too, it's hard to tell; it's open to interpretation. He clearly loves his son and this love is reciprocated. Lone Wolf so loves his cub in fact that he is taking him to Hell with him. Sometimes you can love too much. Obviously Social Services might have something to say about having the kid feign drowning to lure an enemy into an unarmed swim or riding his dad's back in a swordfight with a mirror strapped to his head in order to provide a surprise advantage.
But there aren't any Social Services, or indeed any form of supportive infrastructure for those less fortunate. Which is odd because everybody here is paying taxes, some people are paying so much tax it is killing them. And you pick this up as you go along; Lone Wolf and Cub is really quite political. But it is so in a very gentle way. The squalor of the peasantry, the machinations of their betters (who aren't; they never are. It bears repeating) and the way a whole Society can be its own worst enemy are powerfully but subtly conveyed by every page. But never, ever, in a dull, dry or dreary way. All that smart stuff is smuggled in under cover of a series of chapters that hop from genre to genre with no sign of sweat or effort. There's a chapter with the grubby brio of High Plains Drifter but set in a spa town; an episode recalling nothing less than Inspector Morse; an excursion into religious symbolism; a prison break revenge saga cum murder mystery; never a dull moment is what, I'm saying.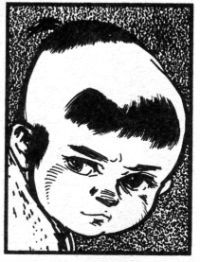 Lone Wolf & Cub is truly humbling in its mastery of comics and the heights of entertainment it reaches. It's from the past and another country and they really do things differently there. For the duration of Lone Wolf and Cub it's hard not to think that they do things better.
Sometimes Lone Wolf & Cub is still as a pond; sometimes Lone Wolf & Club dances like the fire. But Lone Wolf & Cub is always EXCELLENT! Because Lone Wolf And Cub is always – COMICS!!! (or MANGA!!!)
(I'm worried about the kid though.)