There's a new JURASSIC PARK movie out! I'm not particularly bothered! I won't be going to see it! But I did read a comic adaptation of the first movie! So why waste happenstance! And that's about as zeity as my geisty gets.

JURASSIC PARK by Kane & Perez, Simonson, Workman & Smith Anyway, this… JURASSIC PARK#1 -4 Art by Gil Kane & George Perez Written by Walter Simonson Lettered by John Workman Coloured by Tom Smith Based on the screenplay by David Koepp Based on the novel by Michael Crichton and on adaptations by Michael Crichton & Malia Scotch Marmo TOPPS COMICS, $2.95ea (1993)

In 1978 Michael Crichton wrote and directed the entertaining slice of speculative hooey WESTWORLD. This had robots run amuck in a theme park. Because genius cannot be hurried it would take Crichton a further 12 years to come up with the idea of replacing the robots with dinosaurs, which he did in his 1990 novel JURASSIC PARK. It would take a further 3 years before Steven "ALWAYS" Spielberg would deliver the technically innovative but peculiarly unsatisfying movie of the same name. As a tie-in the short lived TOPPS Comics threw this four issue adaptation out into the world. Several years later I bought them off E-Bay because I saw Gil Kane's name on the listing. Last week I found them in the garage and finally read them. Which brings up to date, I think. I haven't read the book so I'm not getting into that. I am as scientific as a chimp so I'm not getting into that either. But I do know I don't really like JURASSIC PARK the movie and I know that because I've never owned it. And this is from a man who owned FALL TIME, TRACES OF RED and FTW on VHS. Yet never JURASSIC PARK. This is less because while JURASSIC PARK has many leathery denizens Mickey Rourke isn't one of them, and more down to the fact I found JURASSIC PARK a bit underwhelming. I mean, it's okay when you're sat in front of it but as soon as you go and do something else there's a nagging sense that you've just done something for the last 127 minutes but a maddening lack of specifics about what exactly that thing was. Usually when that happens I'm wearing a dress with blood in my hair and there's a uniformed man outside with a bullhorn and some well-armed friends. All you know is it definitely involved Jeff Goldblum and a cup of water. For something that cost $63 million that seems like a remarkably poor return. Usually you can point at something about a movie and say That! That! is why it failed to entertain! But JURASSIC PARK is well directed, well scripted, ably cast, brimming with special FX which are special and, y'know, dinosaurs and…none of that ever actually comes together to make a good movie; it's just stubbornly bland. As much of an achievement as the FX were at the time surely the eternal achievement of JURASSIC PARK is making a movie about resurrected dinosaurs running amok in an island paradise less engaging than sneaking a fart out.
JURASSIC PARK by Kane & Perez, Simonson, Workman & Smith
Of course, I had already been somewhat spoiled on the old dinosaurs running amuck front by Pat Mills and Various European Gentlemen's FLESH in 2000AD (1977-1978). Despite "Pat Mills and Various European Gentlemen's FLESH" sounding like something that would be seized at Customs, it was in fact a luridly violent strip aimed at children which involved time travelling Future Cowboys harvesting dinosaurs, in the course of which the tables quickly, predictably, and violently turn. It was fast, nasty and punched its point home like it was trying to grab your spine. In comparison JURASSIC PARK is like a dinosaurs' tea party where the worst that happens is T-Rex spills milk on a doily and the Velociraptors say something unfortunate about someone's sister. I don't want to be crass (but we aren't always all we want to be) but how many deaths are there in JURASSIC PARK? Four or five? Six tops. That's pitiful. There are six deaths on every page of FLESH. And if there aren't (because someone will take me literally) it feels like there are. The deaths in JURASSIC PARK are frictionless punchlines to efficient action set-ups. The deaths in FLESH, however, are nasty and brutal with much screaming and precision about exactly what is happening and how unpleasant it all is. Look, In FLESH you get dialogue like "Gotta STAB this she-hag right in the BRAIN!" and that's always going to trump "Have some ice cream. Twenty two flavours and I tested every one!" Sure, no one talks like people do in FLESH but then no one is going back in time dressed as cowboys and farming dinosaurs for future supermarkets. YET! If you're calling foul on dialogue on that creative battlefield you're getting hung up on the wrong barbed wire, pal. Maybe that's it - JURASSIC PARK tries to marry spectacle to respectability. Come on, anyone trying to make a respectable dinosaurs run amuck movie has failed at the first hurdle. Basically then, I remain ashamed that I enjoyed CARNOSAUR more.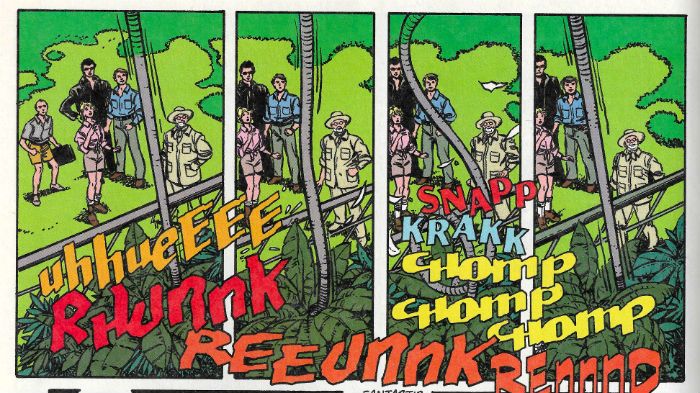 JURASSIC PARK by Kane & Perez, Simonson, Workman & Smith
I can't actually speak to how well the adaptation and the movie line up because I was unwilling to give up some of my valuable time spent staring into the middle distance and being disappointed in myself to rewatch it. And if you think that makes all this pointless exercise in self-amusement then have a banana! Take two; knock yourself out! Flash Fact: this is my free time. Anyway, parts of the comics adaptation are ridiculously faithful and I'm kind of thinking Walter Simonson simply and efficiently adapted the script (or at least a near to shooting script). I mean that's basically all he does. I'm not making any huge perceptive leaps here. That's no foul. Obviously expectations may be raised because of all that pushing-of-comics-into-weird-new-shapes-in-order-to-evoke-the-experience-of-the-movie he (and Archie Goodwin) did with ALIEN: THE ILLUSTRATED STORY. (I may have mentioned it previously. At length.) But Simonson doesn't do that here so don't be expecting what he hasn't done. What he has done is deliver a meat'n'taters movie on the page. In fact, the most interesting thing visual invention wise is how John Workman positions his (as ever) wonderful lettering FX; they really help shunt the eye through the pages. Also interesting are the slight deviations from the movie I could identify. Unless I'm wrong there's an extra scene with the lawyer at an amber mine (more lawyers talking to capable men in short sleeved shirts outdoors; that's what JURASSIC PARK needed!) and I know I'm not wrong when Simonson has Kane & Perez illustrate Sam Neill's "no one in the audience has ever heard of Raptors but you need to be aware of how awesome they are or all this build up simply won't work…"speech to that random kid as a kind of dream sequence.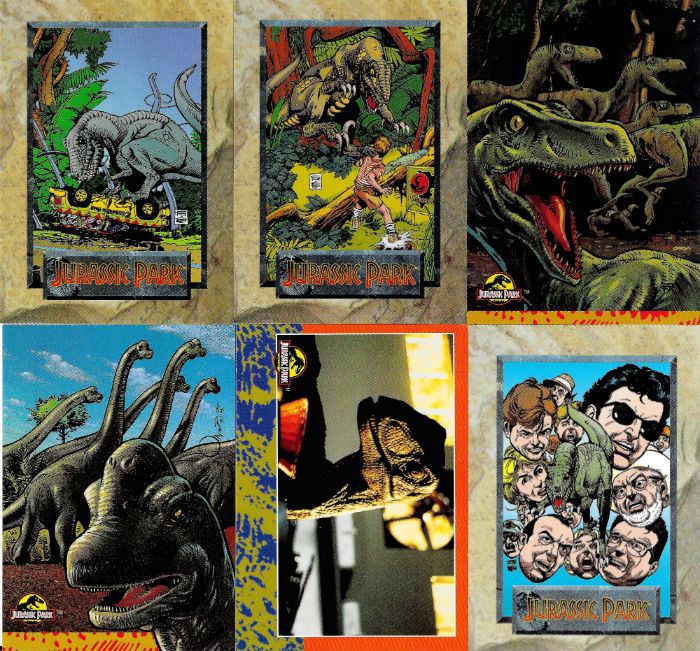 I also thought Bob Peck was in charge of the luckless wage slave bit at the start, but here it looks like it's Howard Victor Chaykin sporting some shades. (And another thing, I mean, seriously, the whole fiasco is down to employers thinking they don't have to adhere to basic Health & Safety because, what, it impacts on the "bottom line" and affects "targets" (trans: "money"). There's a lot of huffing and puffing trying to make the lawyer the villain (because tradition) but all that dude wants is everyone to do what the law says. Fuck that dude, with his safety concerns; I hope he dies humiliatingly hiding in a portable loo. Look, I don't care how cuddly Richard Attenborough is, he still values human life less than a theme park ride. That misty eyed reminiscence thing about the flea circus? Get real, people, Life is the Circus to Richard Attenborough and we, the people, are THE FLEAS! Dude's a cock of the first order. Does he get eaten? No, he does not. That's bloody Rule #1 in dinosaurs run amok movies- payback! Payback for the shitters of the world! Ultimately JURASSIC PARK is toothless (Oh God, that's some great wordplay. Professional level shit there, John; keep that up! Publishers will be "interested" (trans: "money") so it's no wonder I can't be doing with this movie.) Mind you maybe Gil Kane did that as a joke (recap: the Howard Chaykin in shades thing) because Gil Kane seems to be playing pretty loose character design wise.
JURASSIC PARK by Kane & Perez, Simonson, Workman & Smith
Oh, yeah, that's why I have these comics – Gil Kane. No, not because I ever believed the lie of easy riches implicit in the "Special Collector's Edition" status of these books with their protective sheaths (which you have to re-insert the comics back into; if you close your eyes you can imagine putting a French tickler on Gumby) and the trading cards included therein. Man, never has a generation been so betrayed as the Comics Fans of the '90s. Life wasn't supposed to be like this. We were all going to be rich. None of us learned life skills because we were going to cash on our mint holofoil BALLJUGGLER#1s and live a life resembling a blizzard of jizz and glitter but with added cats in speedboats. None of us can actually even talk to people never mind hold down a job! Shit like this is why I'm in favour of regulation. Well, that and the whole global financial collapse which threw my country rightwards and into the arms of the Tories. Other than that though, it's definitely the whole trading cards thing. So, Gil Kane. We were talking about Gil Kane; well, Gil's here but so is George Perez. Look, I have no beef with George Perez' work usually; it's fine. A bit busy and stolid for me personally, but if you want a lot of superheroes all in one place George Perez can do that pretty well. But, man, here in the place where there are no superheroes his heavy lines and consequent dearth of suggestive space where the reader's mind can play really flattens Kane's work into inertia. I guess it's decent enough stuff; he keeps Kane's basics intact, nothing is omitted. In fairness there are a couple of "imaginary" scenes where the detail gets pared back and in those bits Perez and Kane are a team to reckon with. But Perez' signature insistence on specificity really hurts Kane's inherent grace and flow. It's just a less than ideal combination; both men on their own – smashing, but together, meh, not so much. Hey, that's how it goes sometimes.
JURASSIC PARK by Kane & Perez, Simonson, Workman & Smith
The salt'n'marshmallow art combo sure makes some of Kane's faces look weird as well. There certainly seems to have been some kind of power struggle over Laura Dern's face (artistically speaking). There's no doubt in my fat and generous heart that Gil Kane was a phenomenal artist but he could only draw two ladies faces- either a goddess or a crone. Laura Dern is neither; she just looks like a normal human being. I'm saying it looks like George Perez redrew her face. Actually I don't really know what's going on with the faces here. Kane nails Wayne Knight (artistically speaking) but his Samuel L Jackson looks like he's never heard of Samuel L Jackson, his Richard Attenborough looks like he's got a mossy skin disease instead of a beard and (the late, great) Bob peck who looks like Gil Kane drew him in reality doesn't look like Gil Kane drew him here. I find the face work in these comics fascinating but I can tell from the depth and regularity of your breathing that you want to move on. Why am I even talking about faces! It's a comic about dinosaurs run amuck and I'm talking about faces! There's the crux of the matter right there. I never got within about 2000 miles of Gil Kane but you don't have to be Thought Jacker to guess he probably turned up here to draw dinosaurs, not a bunch of mostly normal looking people in drab clothes ambling about impressively unmemorable set designs. Eventually Kane does get to draw dinosaurs but Walter Simonson, tumbling into the trap of hyper-fidelity to the source, has knacked the pacing. So the bits where Gil can go dino-crazy are well worth showing up for but they are also kind of cramped and hurried. Meanwhile there are all these pages of weird faces saying words, none of which are why anyone turned up, least of all the audience.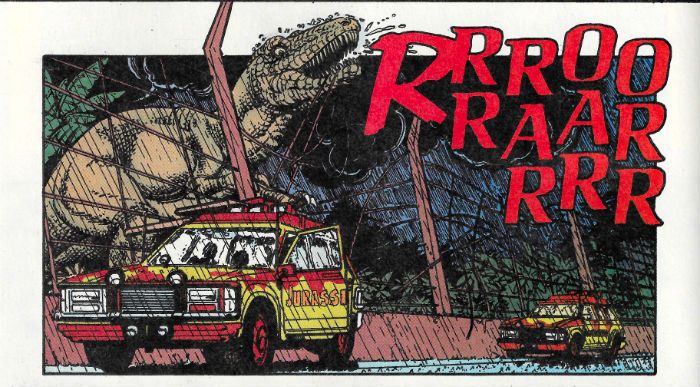 JURASSIC PARK by Kane & Perez, Simonson, Workman & Smith
I love Walter Simonson and I love Gil Kane, John Workman is a little cracker and George Perez ain't never done me no harm so these comics weren't a total wash. But Honesty, like Christ, compels me to admit they've both done better work elsewhere and there are even better dinosaur run amuck comics. So, sure, given the talent involved JURASSIC PARK may be EH! but then that goes for the movie too. So, as adaptations go it's spot on.
What I want to know is, if dinosaurs were around for so long how come they never invented – COMICS!!!