At Graeme's Behest: the cover to Colder #1
Yeah, that's a pleasant way to get your Tuesday rolling, eh?
Anyhoo, very truncated version of things this time around, I'm afraid but after the jump...show notes!
So yeah, I've got a trip that I'll be on for a few days which means I'm trying to write this AND pack AND panic AND forget the one thing I'm not going to remember until I've been the road for two hours.  But am I letting any of that get in the way of bringing you this podcast?  I say thee: nay!  (Though, verily, I shall admit to assing it by half...)
Oh, and I got a big upgrade on the recording end of things but unfortunately it may be why there's a bit of crackle in the opening of the podcast.  Sorry about that--I hope to have that figured out by next episode...
0:00-41:19:  Greetings!  The small talk is eensy-sized this time around as we get right into the topic of the news that day--the pending cancellation of Hellblazer at Vertigo and the launch of Constantine over at the DCU. Graeme brings the facts; Jeff brings the wild conspiratorial speculation.  (Also, Jeff was a little behind the curve this week, so feel free to create a quick & easy drinking game where you take a drink every time Graeme informs him of something of which he was unaware. You will be feeling no pain in absolutely no time at all.)  Is Vertigo effed in the ay?  Maybe. Is that as bad for the marketplace as it would've been ten years ago?  Maybe not.  Somewhat tangentially related: whatever happened to the NuMarvel generation of creators? Why does Aardvark Books in San Francisco have the used graphic novel section that it does?  And other questions lead us into…
41:19-41:54: Intermission 1!
41:54-1:08:21:  For an early birthday present, Jeff picked up a digital subscription to 2000AD and Graeme has been keeping up with it lately, and so much discussion ensues over issues #1806-1808. Spoilers ahoy (especially for #1808). Want to hear us talk Judge Dredd by Al Ewing and Henry Flint; ABC Warriors by Pat Mills and Clint Langley; Brass Sun by Ian Edgington and I.N.J. Culbard; Low Life by Rob Williams and D'Israeli; and The Simping Detective by Simon Spurrier and Simon Coleby?  Then this is the thirty-seven minutes for you! ( Oh, and if you've never seen the original Prisoner--spoilers! at 1:00:36-1:01:36.)
1:08:21-1:11:19: Then, at the very tail end of things, Graeme discusses Action Comics #14 by Grant Morrison, Sholly Fisch, Rags Morales and Chris Sprouse.  Because he just couldn't bring himself to wait until after...
1:11:19-1:11:42:  Intermission 2!
1:11:42-end:  Since Graeme has been to the store (and Jeff hasn't), he leads with reviews, in alphabetical order, no less, of Colder by Paul Tobin and Juan Ferreyra; Earth 2 #6 by James Robinson and Nicola Scott; Iron Man #1 by Kieron Gillen and Greg Land (and also AvX: Consequences); Stumptown v2 #3 by Greg Rucka and Matthew Southworth; Willow Wonderland #1 by Jeff Parker and Brian Ching; and, outside of alphabetical order (and our natural laws of time, space, and arguably taste), the X-Men: Iceman hardcover collecting the miniseries by J.M. DeMatteis and Alan Kupperberg from 1984.
Jeff, by contrast, is utterly flummoxed by the digital comic Batman: Li'l Gotham by Dustin Nguyen and Derek Fridolfs and happily shares the flum with everyone.  And while we're on the flum tip, Jeff also explains his preparations for reading Marvel comics in a legit non-piratey way as well as his first current Marvel comic in a long time: Captain America #19 by Ed Brubaker and Steve Epting.  Also, the book that really knocked him off his chair: the third issue of Ethan Rilly's Pope Hats:  a stunningly strong piece of cartooning and storytelling that is completely worth your time and cash.
[Stealth bonus #1: we also talk about Sean Howe's amazing Marvel Comics: The Untold Story a bit more toward the end.]
[Stealth bonus #2:  Rather than edit out that bit about my Skype pic, here it is in it's teeny-tiny glory:]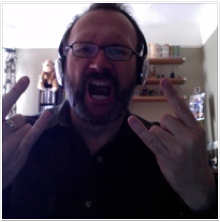 [Stealth bonus #3:  You'll know it when you hear it…]
Again, apologies the show notes are so sparse this time around.  To make up for it, I put this up into the ether a little early so you may have already seen the podcast already on iTunes.  But if not,  you are certainly encouraged to have at it below:
Wait, What? Ep. 106: You Are Number Six.
As always, we hope you enjoy and thank you for listening!