Anthologies don't sell! Yet people keep publishing them and I keep buying them. Here are some words about three anthologies I read this week.
ABC WARRIORS (Langley, Mills & Parkhouse)
Anyway, this... 2000AD Prog 1966 Art by Mark Sexton, Richard Elson, Clint Langley, John Burns, Carlos Ezquerra Written by Michael Carroll, Dan Abnett, Pat Mills, Kek-W, John Wagner Coloured by Len O'Grady Lettered by Annie Parkhouse, Ellie De Ville, Simon Bowland Cover by Neil Roberts JUDGE DREDD created by Carlos Ezquerra & John Wagner KINGDOM created by Richard Elson & Dan Abnett ABC WARRIORS created by Kevin O'Neill, Brendan McCarthy, Mick McMahon & Pat Mills THE ORDER created by John Burns & Kek-W STRONTIUM DOG created by Carlos Ezquerra Rebellion, £2.55, weekly (2016) All contents © 2016 Rebellion A/S, unless specifically stated otherwise.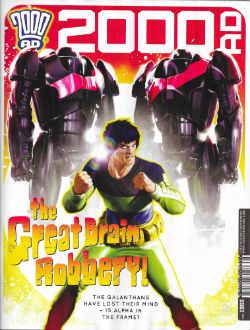 Hey, here's a thing I just noticed about 2000AD: in the little box of publishing information which tells you who owns what and what they'll do to you if you nick it (rub distressed foxes in your face), some wag has only gone and put something humorous in it. I don't have a fetish for legal bumph but concealing larks in that part of a comic is not entirely unknown, so occasionally I check, and this time that nanosecond glance into the small print paid off. I don't know if it's a regular thing, but this time out, camouflaged by legalese, someone has used the space to update people on his/her opinion of that TV series with the bikers in. The one with Ron Perlman in. The one Jason Aaron fans probably call "searing" and "incisive" when they aren't eating raw bacon and crying about their dad not hugging them enough. Whoever penned the micro-crit wasn't too impressed with the surly biker show but we were already into some pretty entertaining stuff and the comic hadn't even started. See, it's always worth having a poke about, you never know what you might find. Unless of course you work with highly confidential information, in which case you're probably as well just minding your own business. No one wants to end up in a field choked on a porn mag with a suspiciously curt suicide note pinned to their head now, do they? As usual Tharg says some stuff but I didn't read it. So if he said owt about me mum, let me know and I'll go round and give 'im a thick ear. At the bottom of the page we are promised the return of Bill Savage – COME ON, TWINKLETOES! GET SOME! So, yes, looking forward to that. GET IN THERE! Stoked, one might say.
JUDGE DREDD (Sexton, Carroll, O'Grady & Parkhouse)
Oh, this one's getting shakier as it goes on. Okay, we can go with a secret city-within-a-city of faux Judges, but stressing how hard-line they are (Hershey says they make normal Judges look like liberals – Whoof!) and then having them risk everything to rescue someone's sister rings more than a little false. Additionally names are important in genre fiction and unfortunately naming the big bad "Badger" just makes me think of Brian May and I don't really ever want to think about Brian May. Unless he's being attacked by badgers. On the upside, however, Carroll does a really good job selling the idea that Dredd's outclassed by his opponents on the cunning front, only to give him a sweet "You're so sly, but so am I!" move to end the episode on. Sexton's art remains detailed without becoming cluttered and is a definite asset to Carroll's slightly listing script.  GOOD!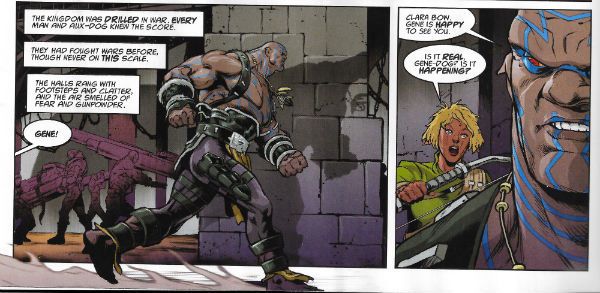 KINGDOM (Abnett, Elson & De Ville)
There's not a lot to say about this because it isn't really a story, Gene (our genetically modified hero) goes and tells everyone the bugs are coming, everyone listens, goes away and prepares and then the bugs come. That's yer lot. There isn't even a dude with anchors on his jacket telling Gene that it's the Fourth of July so it's probably best for everyone if the beaches stay open. No, they just go "okay", and knuckle down for the big slobberknocker promised by the closing two page spread of the sea of insects about to break upon the walls of the compound. You can tell that's a big moment because pages are precious in each and every Prog, so to splurge on a double page spread means you best sit up and listen. It's not like your American comics with their splash page fetish and its ever diminishing returns (except for writers who get paid by the page). Oh, KINGDOM's all right, but like I say it doesn't feel like a story just a sequence of events. Which is fine, Abnett and Elson efficiently purvey low-attention, high-octane entertainment, but I don't think I'll ever feel the need to read a collected edition. For six or so pages it's pleasant enough company. A bit like a short bus ride sat next to someone who neither stinks of ammonia nor yammers into a mobile like a deaf cretin. OKAY!
ABC WARRIORS (Langley, Mills & Parkhouse)
Pat Mills and Clint Langley once again, via the medium of violent robots, point at real world events and make Little Rascals Faces. Remember all those enquiries we had over here, particularly that phone hacking one which saw all those morally scrofulous people sent down and disgraced despite their connections to Rupert "Doomlord" Murdoch and David "The Ham Botherer" Cameron because The System works? No, neither does Pat Mills, but he remembers all those enquiries we had over here, particularly that phone hacking one which saw all those morally scrofulous people look a bit sheepish and embarrassed for a bit before basically taking up where they left off once everyone's attention wandered back to The f****** Great British Bake-Off ("Terry's sponge fingers tickle everyone's fancy!"). Because: power protects power. Admittedly as messages go it's all a bit rainy-day but Mills & Langley do part the clouds a bit to throw in a robot nurse with steel breasts (because men would, wouldn't they?) and a psychotic robot yelling about "Big Jobs!" Langleys' art might, alas, look like someone forgot to set up the printer properly but the fact ABC WARRIORS still bothers to pretend anyone cares about anything goes a long way towards healing that particular visual wound. Also, "Big Jobs!" will always make me laugh; simple pleasures for simple folk. And I am nothing if not simple. VERY GOOD! 

THE ORDER (Burns, Kek-W & De Ville)
Finally, The Order plays to its strengths which, John Burns' lovely art aside, is the odd bloke tracking our dreary heroes.  The strip would be a lot better if this guy was the protagonist; he's a bit like the autistic savant type so beloved of current televisual melodramas but less tiresomely winsome. The lesson here is that steam driven motorbikes and people anachronistically babbling in Code are okay, but character wins the day. OKAY!

STRONTIUM DOG (Wagner, Ezquerra & Bowland)
It's easy to take Strontium Dog for granted given the apparent ease with which Ezquerra and Wagner pump it out. But then you see a panel where an alien seagull is snatching some snap from a dude with his face in his knee and the amiable weirdness of what is going on becomes glaringly apparent. I also like the fact that while Johnny is a presented as a Good Guy (which he mostly is) he's also well dodgy and has no qualms taking advantage of the fact that the Galanthans can't understand the concept of deceit. He's not hurting anyone is he? Also, The Brain of Hoomonos looks like the end of term scrapings from the underside of a thousand ten year olds' desks palm-rolled into a ball. Light comedy, endearing characters and nimbly imaginative shenanigans all add up to something that's VERY GOOD!
JUDGE DREDD MEGAZINE #368 Art by Nick Percival, Paul Grist, Steve Yeowell, Ben Willsher Written by Michael Carroll, Paul Grist, Arthur Wyatt Coloured by Nick Percival, Phil Elliott, Chris Blythe Lettered by Annie Parkhouse, Paul Grist, Ellie De Ville, Simon Bowland Text features by Karl Stock, Matthew Badham Rebellion, £5.80, mothly (2016) All contents © 2016 Rebellion A/S, unless otherwise stated. Demon Nic © 2016 Paul Grist JUDGE DREDD created by Carlos Ezquerra & John Wagner DEMON NIC created by Paul Grist GALEN DEMARCO created by Carlos Ezquerra & John Wagner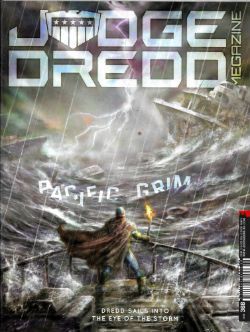 JUDGE DREDD MEGAZINE began in 1990 and is thus 2000AD's much younger relative.  It comes out monthly rather than weekly, and has always seemed a bit extraneous to be honest; an impression not softened by the knowledge that it has often struggled to survive. At one dire point half the comic was taken up by PREACHER reprints, which was okay if you hadn't already read PREACHER (or didn't think PREACHER was an undisciplined mess). In 2016 those mend and make do days are long gone and it's all original strips; well, except for quite a sizeable chunk of text stuff. I didn't read the text stuff because I barely had time to read the comic, but it takes the form of interviews with the artists Mark Sexton and Darren Douglas, and the writer Si Spurrier. Although this is basically cheap content I am tentatively approving of it since I am old school, and I well recall having to actually make the effort to hunt down interviews with comic creators, and also the infrequency of such interviews. So if you have an interest in the work of Sexton (currently drawing Judge Dredd  - see above) or Douglas then there you go. Si Spurrier is more about shilling his new series from Image about werewolf lesbian soldiers or something. I'm sure it's fine; he's a decent writer from what I've seen. I do remain confused as to why he's given space in the megazine to basically advertise another company's product, but I'll put that down to the British largesse of generosity (yes that famous largesse of ours) rather than the result of some weird quid pro quo. Mind you, if anyone is after some purely prose werewolf entertainment I'll grant myself this opportunity to shill Toby Barlow's SHARP TEETH (VERY GOOD!) and RED MOON (GOOD!) by Benjamin Percy. Two can play at that game, son.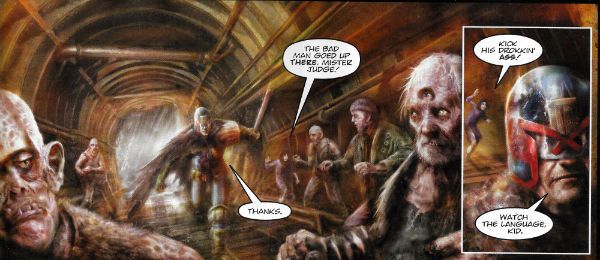 JUDGE DREDD (Percival, Carroll & Parkhouse)
Aw, nertz. This is just EH! And me and Michael Carroll were doing so well, we were going to meet each other's parents and maybe start looking for a small house together! But he's put the kibosh on all that with this duffer. In this first disappointing instalment of a new Dredd thrill, Judge Dredd and Judge Joyce go to a floating shanty town populated by the crew from Bill Nighy's ship in that movie based on a theme park ride.  The thing is though, right, because of science no technology can work in this place, The Gyre.  Ah, where to begin. Right, yeah, it's okay making a point of mentioning that Judge Dredd's bionic eyes will still work because they are "shielded" since a) I'm impressed anyone remembers he had his eyes poked out during City of The Damned and b) the guy has to see unless we're in for a kind of ultra-violent fascistic riff on Norman Wisdom. So, ahuh, okay, the tech don't work except for Dredd's eyes  (which are "shielded") but how come, how come right, even though their guns don't work, and they knew going in that only Dredd's "shielded" eyes would work, how come they didn't just take some of those projectile weapons humanity has had such a boner for for, ooh, only a few thousand years? How come that?   There's no microchips in a Desert Eagle, Judge Dredd! Or a bow and arrow, for that matter. And why, pray tell, isn't Judge Joyce in proper uniform? He's an Irish Judge so he should be in green and white with the Guinness harp on his helmet, and be perpetually concerned that they're all after his luck charms, Bejaysus! (Hey, don't look at me; Garth Ennis' frequently regrettable sense of humour's the culprit there.) Or whatever. But no, he's depicted as just another Judge here, which seems odd. (I suppose he could have got a transfer I forgot about during my 8 years in the wilderness) Mind you Nick Percival's art is also pretty odd from soup to nuts. He's gone for that all painted approach which is usually used by weaker artists to plaster over any artistic deficiencies, a function it never achieved too convincingly. And so it is with Nick Percival. But, I can't fault his colours; everything's got an appropriately fish-gutty look, and it all certainly looks like it would stink like death would be a mercy if you were actually there. But everything under the colours is awkward with stilted poses, and such a lack of flow that the water based scenario just becomes cruelly ironic. Like the host of a shit party Percival saves the worst until last, with a full page splash of something apparently so daunting our Judges can only goggle. Unfortunately the page turn reveals Percival has drawn what appears to be a bunch of empty barges kind of milling about lethargically, which no matter how highly strung you are isn't even interesting, never mind threatening.  It's like he forgot to draw something very important (like a horde of angry fish men, or a rain of enraged monkfish; I don't know what he forgot,  after all it's pretty hard to guess what someone hasn't drawn). Nothing about this strip is interesting except the fact that Carroll decides to lift the "mind your language" bit from DARK KNIGHT RETURNS, and by interesting I mean baffling. I mean, why? (Because that's what being baffled sounds like.) It's not a homage - Dredd isn't mortally wounded and he isn't chasing his "Joker" through a Tunnel of Love, he's just running after some thug and gets a bit short on wind on board a crappy ship. I don't know why the callback's there really. This first episode is so poorly thought out, slackly paced and badly visualised it's more DARK KNIGHT III: THE MASTER RACE than DARK KNIGHT RETURNS. I'm not a fan is what I'm getting at here. Step it up, guys.
DEMON NIC (Grist & Elliott)
DEMON NIC (someone explain that title to Brian Azzarello, his little face is all creased up!) is a creator owned series by Paul Grist, and this episode is the final episode in the current run. Now, I don't really know how I find myself in the weird position of just chancing upon work by Paul Grist right as it ends because , seriously, I would certainly appreciate it if someone out there could keep me informed of Paul Grist's doings from now on. Clearly, The Internet isn't cutting it. It is forever telling me what people I have no interest in are doing (things I have no interest in reading, weirdly enough).  I'm not bothered if he's doing DOCTOR WHO because Doctor Who is, er, well, look, I'm not fussed, okay. I'm allowed to not be bothered about DOCTOR WHO you know! Everything else Paul Grist gets up to? Would you mind awfully letting me know? Thanks, you are a dear. So, yeah, nothing worse than coming in on a series' vinegar stroke but this seems to be a spooky actioner a la Hellboy but considerably more dense, amusing and generally playful in that droll way I like. Oh, and the art is spectacular. Usually I get a bit twitchy when the page is black rather than white (Avatar do that a lot) and I'll be shaking like a shitting dog if the panel borders also go AWOL because you need to be pretty sweet at that whole art deal to be getting away with that. Here Grist just plops his chunkily robust cast onto pure black pages and guides the eye around via the miracle of being very bloody good at what he does. Just brilliant stuff. EXCELLENT!
DEMARCO, P.I. (Yeowell, Carroll & De Ville)
Ah, I'm beginning to see the problem; Michael Carroll is overstretched. Personally I avoid the work of any writer who regularly produces three or more US comics a month. I mean at that frequency we're just talking mental effluvium at best; it's not writing at that point it's just words. Now, I don't think Michael Carroll's at that point yet, but then nor do I wish him to reach that point. This strip centres on Galen DeMarco a character introduced in the main Dredd strip who graduated to her own series. As a character I can't say she she's been terribly consistently written but then again last time I saw her she had a talking ape as a companion.  Said ape is notable by his absence so he probably died and we had a sad ape death scene which I missed, which is a shame as I am a sucker for sad ape death scenes. But enough about me! Here DeMarco is helping a bunch of Judges with some weird beast-robot things which might be connected to that TRIFECTA storyline? It's not terribly clear. Anyway something breaks out and the size of the panels taken together with the  fact that the best last words two successive Judges can come up with at the point of death is a bare bones "No!" suggest Michael Carroll wasn't going for the Nobel with this one. A harsher judge than I would declare it a bit of a page waster, but then I guess they wouldn't find sufficient pleasure in Steve Yeowell's lanky B&W stylings to raise it to OKAY!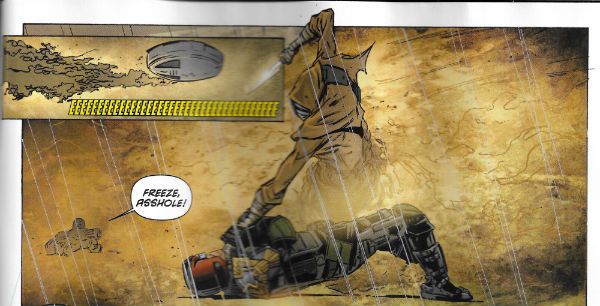 DREDD (Willsher, Wyatt, Blythe & Bowland)
This is a Judge Dredd strip set in the cinematic universe of Judge Dredd. I don't understand why that is because the cinematic universe of Judge Dredd is precisely one movie which wasn't popular enough for a sequel. It was also a normalised version of Judge Dredd. It was okay and all; I enjoyed it. Thankfully it fed that Stallone fiasco into the woodchipper but it didn't dethrone the original strip in my mind. It was a good movie, probably suffered from being released in such close proximity to the (similar but superior) THE RAID but, yeah, I enjoyed it. This strip seemed okay too, like if you wanted to read Judge Dredd but didn't want to actually read proper Judge Dredd because, gee, it's all a bit far-fetched. So in this one all the kit is more functional and the swears are normal and, me, I don't find that as much fun. There's a suspicion in my head that it might be repackaged at some point by IDW as it seems oriented to the American market in terms of pacing and storytelling. OKAY!
WUXTRY! Shrink-wrapped with this issue is a free magazine type Graphic Novel. This time out it's Synnamon: Mecha Rising. I didn't have time to read it but I do remember reading it back in the day, and for a strip about a leather jump suit lady burglar in the future it was OKAY! Undemanding entertainment slickly delivered. I think the important thing here is that you get a free magazine of reprints, and given 2000AD's storied history chances are good that this will pay off more often than not.
DARK HORSE PRESENTS #18 Art by Craig Rousseau, Dennis Calero, Julius Gopez, Carla Speed McNeil, Marc Olivent, David Chelsea, Tim Hamilton Written by Rich Woodall, Dennis Calero, Shawn Aldridge, Carla Speed McNeil, Barbara Randall Kesel, David Chelsea, Paul Levitz Coloured by Lawrence Bassa, Jeremy Colwell, Jenn Manley Lee, David Chelsea Lettered by Rich Woodall, John J. Hill, Carla Speed McNeil, Adam O. Pruett, David Chelsea Spot Illustrations by Geoff Darrow Cover by Craig Rousseau & Lawrence Basso Kyyra: Alien Jungle Girl TM © 2016 Craig Rousseau and Rich Woodall The Suit TM©2016 Dennis Calero Last Act TM © 2016 Shawn Alridge Finder TM © 2016 Lightspeed Press Sundown Crossroads TM© 2016 Barbara Kesel Sandy and Mandy TM © 2016 David Chelsea Brooklyn Blood TM © Paul Levitz and Tim Hamilton Shaolin Cowboy and related characters TM © Geoff Darrow Dark Horse Comics, Inc., $4.99 (2016)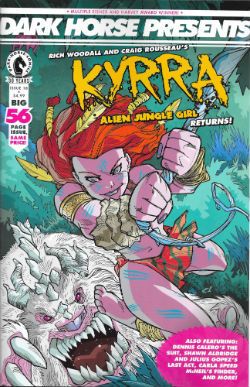 KYRRA: ALIEN JUNGLE GIRL (Rousseau, Woodall & Basso)
This is an absolutely gorgeous strip, done in a robustly fun style saturated in E-number colours, seemingly aimed at Young Adults which repositions Tarzan as a young girl and the setting as an alien planet. I've already read Tarzan and I'm neither Young nor an Adult so it left me pretty cold. The art by Rousseau is thoroughly charming though. It's OKAY! but like a lot of comics today it's pretty thin stuff once past the delightful art. Still, it's nice that there's a strip about a Cave Girl that's not drawn by Frank Cho just so that men can fap over it and show those SJWs what's what. Progress of a sort there. Baby steps, people. Baby steps.
THE SUIT: CONTRACT NEGOTIATION (Calero & Hill)
This is CRAP! This is the second run of this consistently poor series in DHP. I don't know who asked for it back but when I find out they'll get the sharp end of my tongue.  Every time this thing appears I just have no idea what I'm looking at on most of its pages, and when I do know what I'm looking at it's some kind of unholy show involving photos of the two old blokes from TRADING PLACES and Don Draper. Not entirely sure if they are making love or fighting or what. Oh wait, there's a 'Nam flashback. Thank Christ for that. C'mon, Was everybody in America over in The 'Nam or what? Did it not get crowded? I'm not saying 'Nam flashbacks are overused but, yes, yes I am saying exactly that. Even my son talks about being in "The Shit" and getting back to "The World" and he's 10 and has never been further than St Ives. And far be it from me to say that Calero is into photo referencing too heavily, but if it was cocaine we'd be calling for an intervention. Oh, mercy, mercy me (the ecology), this is just visual noise; a cacophony of blurry clip art. The passage of every poorly executed page makes Alex Maleev look more and more like Frank Robbins. I don't want to be a big shitter here, but this should never have seen print. I just. I don't. What. It's. No. Just no.
LAST ACT (Gopez, Aldridge & Colwell)
It would be easy to take the Mick out of this overly earnest and somewhat overwrought attempt to graft some meaning onto the superhero trope, but since it was pretty refreshing to find anyone doing anything remotely interesting with the superhero trope I'll let it off with an OKAY! Although it did not escape my irony detectors that this was basically a strip in which a superhero makes a man called John feel better by misrepresenting reality to him. Which is basically my childhood reading habits: redux.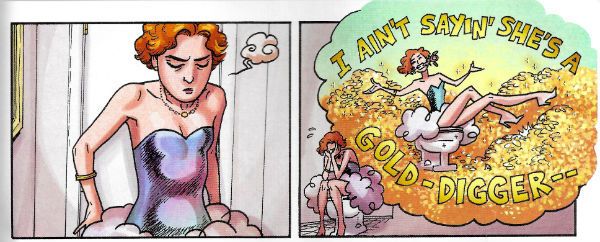 FINDER: CHASE THE LADY (Speed McNeil & Lee)
Carla Speed McNeil is EXCELLENT! Everything Carla Speed McNeil does is EXCELLENT! Her horse radish soup is EXCELLENT! I know because I go through her bins at night, but respectfully and not in a creepy way. And guess what? Her bins are EXCELLENT! The fact that she enjoyed that movie with Keanu Reeves on a bus so much that she legally adopted its title into her name is EXCELLENT! It's possible Carla Speed McNeil has done some things which weren't EXCELLENT! but I'm not privy to them so they don't exist. FINDER is EXCELLENT! Even though in chunks this small and separated by whole months, my aged brain is struggling to stitch them all together into a coherent narrative, I have every faith such a thing will come to pass, and so the very strength of faith I have in Carla Speed McNeil's being EXCELLENT! is EXCELLENT! in and of itself. Even Carla Speed McNeil's colours, a softly vibrant balm for the eyes, are EXCELLENT! And that's from someone so thuggishly impervious to colour he still doesn't understand why Sam Neill is so upset on that bus in IN THE MOUTH OF MADNESS. And, no, Sam and Carla Speed are not related because Sam has an extra "l" in his surname, but had they been related I think we can all agree that that would have been EXCELLENT! Anyway, this was OKAY! Just joking, it was EXCELLENT! Oh my, what an EXCELLENT! joke.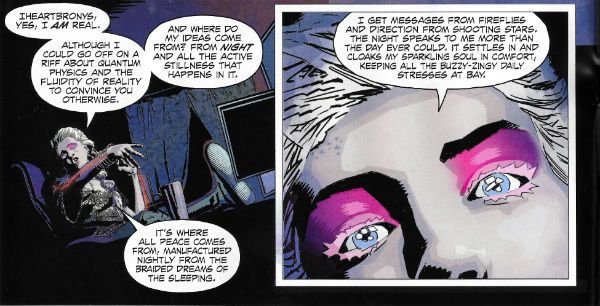 SUNDOWN CROSSROADS (Olivent, Kesel & Pruett)
The best thing about this strip is that, well, I don't know about you but sometimes I wake up in the night drenched in sweat worrying about whether we're going to make it, you know, as a species. After reading SUNSET CROSSROADS I'll probably sleep a little easier as it introduces the entirely new thought into the equation that maybe it'd be better for all concerned if we don't. Ugh. This is some heroically twee balderdash right here.  I can make up the cover blurbs for the collection of this thing now: "With SUNSET CROSSROADS Barbara Kesel has vajazzled the soul of a generation!" - Kelly Sue DeConnick! "Something about dreams. Something about stories. SUNSET CROSSROADS is something something something." - Neil Gaiman! The strip itself privileges us with a peek into the life of some kind of self-satisfied meringue brain wafting about her apartment, talking smug bunkum via a live podcast to people whose minds can only be little miracles of inanity. Now, my viscerally negative reaction could be due to envy as this conceited poltroon obviously makes a lot of money talking star-spangled claptrap and peddling her tat online since her apartment is bigger than my house. She doesn't leave it either, that apartment; for the duration of the strip we are trapped inside with her and her incessant prattle; it's like some terrible punishment. She only pauses when she spies outside what looks hilariously like Sean Philips on the street below. Sean's minding his own business (probably getting some fresh air to clear his head before returning to the latest listless yet craft-fat script from Ed Brubaker) but our ethereal dream queen drags poor Sean into her nauseatingly precious monologue and he returns the favour by dragging her into her PC. Spooky stuff! I can tell the strip failed because my first thought as she disappeared into her monitor was "good", not "ooh, I wonder what happens next." I can probably live the rest of my life quite contentedly without knowing what happened to that frivolous void of a creature. Ugh. The best thing about the strip is the art, but even then in one panel the self-obsessed buffoon's head is about four sizes too large for the body it bobbles above; which I can only hope is the artist having a cheeky laugh at the expense of the swell headed heroine. Basically, and I'm not sure if I made this clear, I'm probably not the audience for this one as I couldn't give less of a shit about Steve Jobs and Subway makes me angry because if I wanted to make my own ****ing sandwich I'd have made my own ****ing sandwich! Basically, I am a bit of a throwback; you'd have to have your head further up the arse of the 21st Century than I'll ever manage in order to appreciate this. That does, however, mean it is possible someone might not think SUNDOWN CROSSROADS is AWFUL!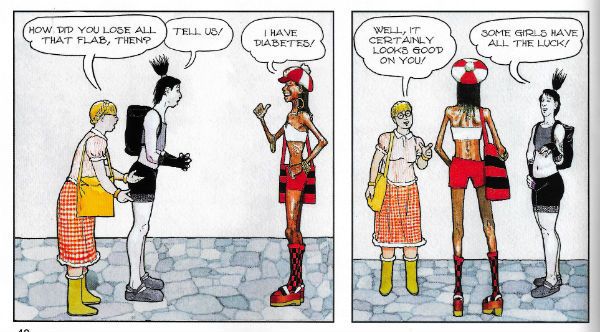 SANDY AND MANDY (Chelsea)
If David Chelsea wants to put his elegantly precise Winsor McCay-isms to use in immaculately illustrating a sedately paced cascade of jokes which veer giddily from the hilarious to eye-rolling howlers then who shall say him nay? Not I, sir. Not I. VERY GOOD!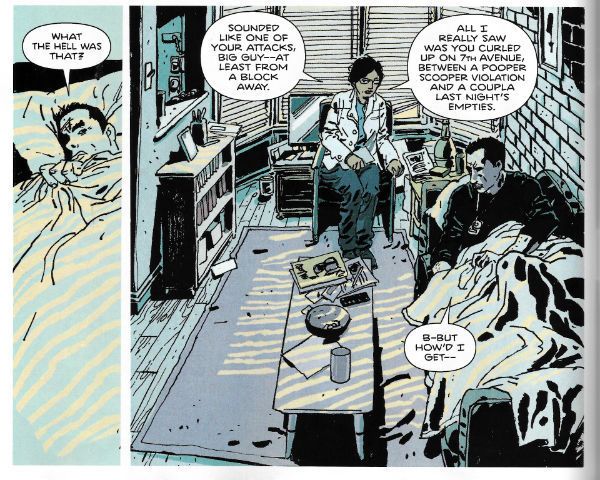 BROOKLYN BLOOD (Hamilton, Levitz & Pruett)
Brawklynn! BRAWK-LYNNN! People are super-proud of living in Brooklyn aren't they? Well, people who live in BREWK-LARYNN! Seem to be. Doesn't Jimmy "Spats" Palmiotti cahm frawm BRAHK-LAHYNNNA? I don't know, but he should. I do know that BROKE-LIE-IN! is supposed to be one of those places that has mystique (not the naked blue lady) but all I can think of is the smell of fried onions, small boys in old men's caps selling papers on street corners and pigeon coops on rooftops. Is that BRAWK-LYNNN!? (I don't care really. I'm just humouring them.) So, yes, BREWK-LYNNE is special, and so are you if you live there, but moving on…a lot of people criticise the American police and, you know, sometimes they have a point but, personally, I think the brunt of the blame should be borne by their Human Resources Department. I realise it's not the sexiest of Police Departments but, still, there's no excuse for such laxity. Who keeps signing off as fit for duty all these blackout drunks, PTSD sufferers, psychics, aliens and blind tap dancers who festoon their fictional ranks?  Yes, here we are again in the aisle marked "Damaged White Men With Guns" (next to the corn, above the beets), what's not to love! This is the second (maybe; I don't care enough to look) episode of this exciting new series which is exactly like every other cop series about a traumatised cop, but with "'Nam" scratched out and "Iraqistaniraq" written above it. Despite there having been two murders most of the page time has been spent watching the mentally disordered white guy roll around in the street being distressed by phantom firefights. Which is okay, because murder's pretty shabby but the real crime is how war fucks up white guys. Mind you, I am quite impressed with how clean American streets are; if you roll around in the ones near me you'd end up covered in dog poop and cig butts. Possibly the odd unlucky hedgehog. But then I don't live in BRAWK-LYNNN! This strip is some bizarre stuff; the damaged white guy basically can't walk down the street without hallucinating he's in Call of Duty (but 4Realz!!) and his partner just dusts him off and puts him to bed. Go to sleep, tiny nutcase. The main draw here is the art by Tim Hamilton which has that generosity of ink I like and there's also something fun happening with the colours; they get all luridly rhubarb purple and custardy yellow when there's a catastrophic flashback, but I also like the subtlety in the bed scene where he dials it right back.  Maybe this strip is some kind of post-modern piss take of clichéd cop crap and every episode they'll discover a body and the white cop will roll about and his not-white (obviously) partner will be all sensible, and it'll just keep going like that with the bodies turning up in ever more ludicrous places and his mania taking on more and more extreme forms. By episode six they'll be attending a murder in a clown school and he'll be throwing poop at the local Shriners. In reality it's probably just going to be more EH! but in BREWK-LYNN!
What am I giving up for Lent? I don't know but it won't be – COMICS!!!