That surly rogue Howard Victor Chaykin had a new comic out, so I took a look. Buckle up, Sunshine...
THE DIVIDED STATES OF HYSTERIA by Chaykin, Bruzenak & Arbutov
Anyway, this…
THE DIVIDED STATES OF HYSTERIA© #1 Art by Howard Victor Chaykin Written by Howard Victor Chaykin Lettered by Ken Bruzenak Coloured by  Jesus Arbutov Cover Colourist Wil Quintana With thanks to Ramon Torres and Calvin Nye A tip of the Chaykin chapeau to Sabrina Pandora Image Comics, £2.49 (digital), (2017) © HOWARD CHAYKIN INC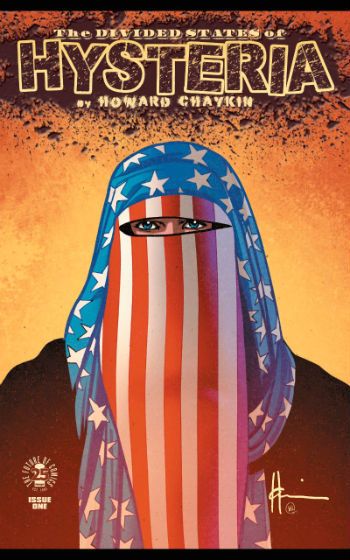 1. An Actual Honest To Gosh Synopsis To Start Us Off, Like I hear The  Professionals Do…
THE DIVIDED STATES OF HYSTERIA (TDSoH) is the latest paper swagger from cerebral beefcake, Howard Victor Chaykin (Tony Curtis), and his unruly crew, Ken "The Bruise" Bruzenak (Russ Tamblyn) and Jesus "No Relation" Arbutov (Channing Tatum). It's set in a kind of alternate reality that doesn't seem altogether all that more awful than, uh, actual reality; it's just slightly more awful in different ways. A Presidential coup has been averted but America is getting low on Presidents, and paranoia is the new normal as the skies are spattered with drones and besmirched with the babble of conspiratorial chat rooms. Besmirched visually, because interestingly this latter internet chatter is given concrete form by "King" Ken Bruzenak, giving the pages a chaotic ugliness I'd guess is entirely intentional. It's an ugly world under Arbutov's crisp kitchen-catalogue sheen. Basically The War on Terror isn't going well in this one, particularly for CIA spook-meister Frank Villa whose career just turned to wet shit and in order to save his rep and the world itself he's going to need the help of polite society's worst nightmares.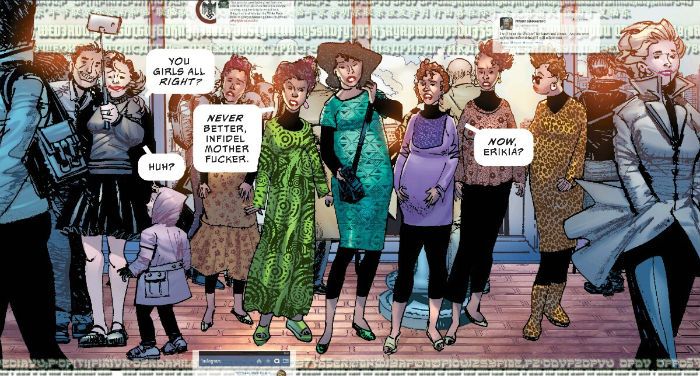 THE DIVIDED STATES OF HYSTERIA by Chaykin, Bruzenak & Arbutov
2. The Bad Ham Sandwich of History Always Repeats Itself
Judging by this first issue it looks like Howard Victor Chaykin is tweaking his 2004 CHALLENGERS OF THE UNKNOWN series for the 2010s. That is, a ragbag of ragamuffins are introduced and clearly set up to combat the instigators of a terrorist attack on American soil. Close reading Chaykinmaniacs will note the recurrence of the terror-attack-on-American-soil motif from both CHALLENGERS and CITY OF TOMORROW (2005), even closer reading Chaykinmaniacs will smugly recall this goes back through BLACKHAWK: BLOOD AND IRON (1988) and, yea, even unto AMERICAN FLAGG!(1983). That's because, unlike 99.9% of North American Comic Creators Howard Victor Chaykin didn't just start thinking about terrorism post 11th September 2001. And that's because Howard Victor Chaykin knows that there are fundamental forces which move through history, thanks to the delightful intransigence of human nature.
Alas, terrorism itself is far more persistent than it is modern, staining history's robes from the 1st Century AD  Sicarii Zealots' opposition to the Roman occupation of Judea, to, well, that Islamophobe in a van just the other day in dear old London town. (Yes, it's still terrorism if the perpetrator is a white dude.) That's two thousand and seventeen magical years of terrorism, not that anybody's counting. There are other tangy chunks of familiarity in Howard Victor Chaykin's latest jam, such as the fractious domestic doonybrook (see also MARKED MAN (2012)), because although somewhere in-between 1590 and 1597 William Shakespeare wrote that "the course of true love never did run smooth" (A Midsummer Night's Dream), it was true before that and it's still true today. Chuck in kids, as Chaykin does, and make the bloke a philandering schmuck and it's truer than ever. Truth persists after all. But so do shitty interpersonal relationships and terrorism. But there are other forces equally tenacious.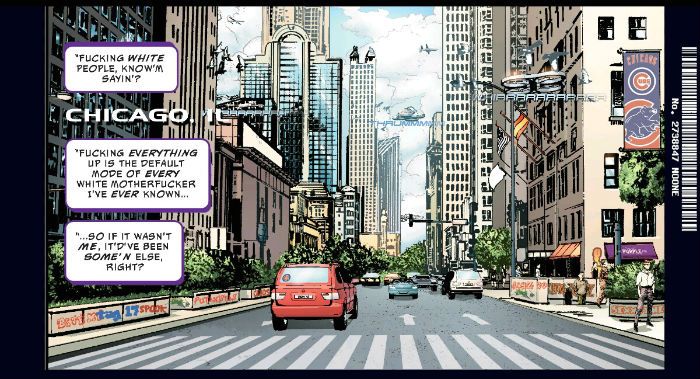 THE DIVIDED STATES OF HYSTERIA by Chaykin, Bruzenak & Arbutov
3. Exit Hubris, Pursued by Nemesis
"Theresa May is more popular with voters than any leader since the late 1970s, a new poll shows…" The Daily Telegraph, 26 April 2017.
What with a clutch of terrorist attacks, a general election, the resulting hung parliament, the possibility of the Tories propping themselves up with a party that doesn't believe in either dinosaurs or homosexuals, a horrific fire so horrific it resists acceptance and sundry other whatnots and wellnows, the world of comics has been far from my senescent mind. Seriously, with all the real world upheaval I can't even pretend to care about Nick Spencer's Captain America comics, Marvel's shrinking share of the market, or even DC's latest attempt to use some dust they found trapped in an Alan Moore script to wrap Geoff Johns' latest bovine Event comic maunderings around. As to that last, it seems that there is just too much honour and decency in comics (sarcasm), so DC have had to outsource the latest corporate fracking of Watchmen to some ex-CIA dude. Hey, I'm not saying the CIA are hazy on morals, but it wouldn't surprise me if they thought ethics is a county in England immediately north-east of London.
All of which is a typically round the houses way of saying that like DC's latest wunderkind homunculus TDSoH's main protagonist, Frank Villa, is CIA, although Villa's still employed by The Agency and currently riding a crack-head high on results and reputation. Nope, old Villa won't have to write comics about Batman finding buttons (UK: badges) in his Batcave anytime soon.  Crucially Villa also displays all the humility of a Marvel editor on Twitter. Pride goeth before a fall, as my old Mum used to say (she had a lisp). But it's a pattern even older than my old Mum (bless 'er oxen heart). Aye, truth be told  thousands of years before Geoff Johns bought his first baseball cap the ancient  Greeks noted that Hubris (the god of arrogance) was oft followed by Nemesis (the goddess of fate and revenge).
THE DIVIDED STATES OF HYSTERIA by Chaykin, Bruzenak & Arbutov
But since Howard Victor Chaykin isn't Greek lets stick to the Hebrews, who stuck it in a book for posterity: Proverbs 16:18 to be precise in a little tome called The Bible. Said spiritual foundation would of course be familiar to our Prime Minister, Theresa May, who is keen to remind everyone at every opportunity that she is a vicar's daughter; as though this were the 1930's and somehow that accident of birth meant anything at all with regard to morals or the lack thereof. For as Saint Francis of Assisi (and indeed Otis Redding in 'Hard To Handle'), would have it, "actions speak louder than words", and her actions contain as much Christian charity as Turkish Delight contains vitamins. In essence, my mum was a Nursing Auxiliary but I think there'd be some raised eyebrows if I started bed bathing strangers. Anyway, that's got nothing to do with anything, I'm just sick of Theresa May. In a minute I'll go on about her again, but it will actually be relevant. Which will make a nice change for us all.
So, yeah, what I'm getting at is the pursuit of Hubris by Nemesis is not some cobwebby redundancy to be disdained in this age of wifi, streaming content and fidget spinners. It was true back when men wore togas and were lot looser about where folks' gristly bits went, and it's no less true now. What's that? "Can you give me an example, John? Perhaps involving Theresa May?" I'm glad you asked, imaginary reader! Flex your brain and imagine being so secure of your political position that you called a General Election three years early with the stated intention of gaining a massive majority and driving the opposition back into the sea for a generation or more. (That's Hubris.) Now, keep that brain flexing and imagine if the election results came back and you not only had lost any previous advantage you had, but were now dependent on alliances with other parties in order to have a functional government, and even better, the opposition you sought to scour from the face of the earth had risen up and pushed back hard, in the process rediscovering its fire and grit. (All that bit would be Nemesis.) There's a lot of it about, basically, and there's been a lot of it about for a long, long time; so it's exceedingly apt that Chaykin chooses this as his starting point. Hubris is all over the pages featuring Frank Villa, but on the last page, in the very last panel, Nemesis roars.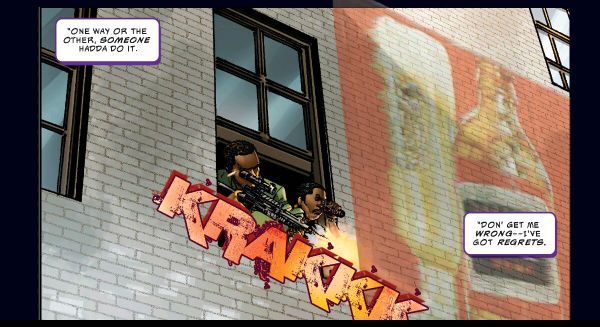 THE DIVIDED STATES OF HYSTERIA by Chaykin, Bruzenak & Arbutov
4. All The Action Is Always At The Shit End of The Stick
"The scum of the earth... but what fine soldiers we have made them." The Duke of Wellington on the British soldier.
Knowing he'll set Nemesis loose at the close of the issue Chaykin fills the preceding pages with introductions for his motley cast of embryonic leads. He makes some, er, interesting choices here; choices so extreme in their awfulness I suspect some dark joke is being played. I think part of the set up for that joke is recognition of who exactly ends up being the boots on the ground when a geopolitical fart unfortunately follows through. Because, c'mon, it is always, always, down to the ordinary Joes and Josephines to come to the rescue.  Christ, these days even the spooks themselves don't even have to get their hands wet; they sip their root beer in a shed a thousand miles from the zone, drawling instructions to some Iowa farmboy weighed down with a cam set into his breastplate, like it's Call of Duty 15: It's Not My Balls On The Wire. Yeah, should things turn to shit in a hot second it won't be the sugar rushed Yalie whose mum gets folded flag and  a telegram. And all for the benefit of the Status Quo (not the Dad-Rock band) and those who benefit most from the Status Quo (still not the Dad-Rock band); all of whom it would be pushing things to say gave even the slightest wisp of a shit for the human lives spent keeping them fat and happy.
More realistically, and more pertinently to us all on a day to day basis, take the low regard with which Emergency service workers are held by the political class. Their disdain for these mere cogs is clearer than a Cornwall summer dawn. Over here the emergency services have  suffered more cuts than a sadist's Sunday roast under the last 7 years of Tory austerity. But when the bombs go off, when the knives come out, when the cars slam into crowds and when the buildings burn, who is there saving lives, containing chaos, stacking the dead and stockpiling nightmare scenes for the rest of their nights? It's not the politicians. It's the mortgage slaves and the supermarket shoppers; the people who always have to do more with less. Ordinary people in extraordinary circumstances. It's not the people who start the shit who finish it, it's the people who get stuck in the shit. In a bleaker than bleak gag Howard Victor Chaykin overeggs this propensity  to the extent that his whole sick crew are plucked from the ranks of the razor taloned boogeymen under the bed of western civilisation: the real bottom rungers. These being Henry John Noone, a black racist fresh off a shooting spree; Paul Evan Berg, a confidence trickster with a yen for mass murder; John Cesare Nacamulli, a serial killing shithead; and Christopher Michael Silver, a chick with a dick kicking violently against the pricks.  And Howard Victor Chaykin, a comic book prince, sets these utter sweethearts the task of saving the world. Or he will do, next issue. Unless his pacing is totally fucked.
THE DIVIDED STATES OF HYSTERIA by Chaykin, Bruzenak & Arbutov
5. Offence Is In The Eye of The Beholder
Even in my privileged cis cocoon of blithe obliviousness I heard some people were offended by this comic, now I'm no fan of Arbutov's colouring myself but really, people, chill! Ah, a little cornball humour there. The thing is if people were offended then people were offended, I'm not about to argue against that. But if Comics as a whole is to be offended it's probably best to nail down the nature of the offence. In the pages of DIVIDED STATES OF HYSTERIA is Howard Victor Chaykin transphobic, homophobic or (God forbid) neither? After all, the point of contention appears to be the portrayal of the character Christopher Michael Silver, and the book's not entirely crystal on Silver's status. As I understand it a "chick with a dick" can be either a passive male homosexual or transvestite, or a trans woman (i.e. male to female) with male genitalia. Silver's one of them. Unfortunatley Silver is also beaten savagely while turning a trick and kills in self-defence. This, it has been argued, is a less than wholesome representation of an already besieged section of society. Well, yeah, it is. And?
Look, Chaykin has long been active in at least promoting the existence of the, uh, sexually lavish. I don't know how many Trial By Internet points that's worth, but it must have some traction. But just because he has a preoccupation with this aspect of human diversity I don't think an automatic blanket condemnation is due. That would be as moronic as pointing out there's a lot of rape in Alan Moore's work and thinking that you had thus proved Alan Moore himself is a bit rapey. You've got to take it on a case by case basis. If the approach is consistently derogatory or repellent then, fine, fuck off, Sunshine; but if it isn't… And just in case you think I am contorting myself unnecessarily to support an inherent bias, you'll be pleased to note that, on a case by case basis the results are not entirely wonderful.
THE DIVIDED STATES OF HYSTERIA by Chaykin, Bruzenak & Arbutov
6. An Incomplete Look At The Many Chicks With Dicks of Howard Victor Chaykin
In AMERICAN FLAGG! comedy occurs when Reuben kicks a chick and his foot finds a dick. Comic relief is one of the earliest stages of societal acceptance when it comes to types considered outside the norm (see all the homosexuals in the sit-coms of the homophobic '70s), so…not great, but okay. Ah, but there's also a whole plot in FLAGG! revolving around a kind of transvestite twist on Vertigo, which is pointedly humane in its portrayal of the (then) improper. Big points go in the pot for that one.  The camp comedy stylings continue with a urinal encounter between the plucky fireplug Maxim and a hefty transvestite in POWER AND GLORY (1994). Significantly Chaykin's bold as brass about it all, and the real punchline arrives with the superhero's full pelt flight from the glam man, powered not by the atom or nanotech, but by his super-homophobia. So, still in the realms of humour, but since the brunt of it falls fully on the homophobe, some strong points awarded there. Unfortunately, in PULP FANTASTIC (2000) Chaykin's portrayal of the sexually versatile reaches a sour nadir, so we'll just say that the series itself has a thoroughly distempered air that does none of the contents any favours. Oof, some genuine demerits there. It's okay though, because the spectacularly unpleasant BLACK KISS/BLACK KISS 2 is Chaykin's ace in the hole. BLACK KISS (1988) prominently features a chick with a dick and while this prominence is slightly undermined by the fact s/he is used as none too flattering metaphor, by BLACK KISS 2 (2012) Chaykin, in a quite phenomenal feat of artistic sleight of hand, delivers a romantic horror comedy in which the demonic chick with a dick finds true love and peace (of a kind) with Chaykin's doppelgänger, Cass Pollack. There are probably some I missed but I think that gives the gist.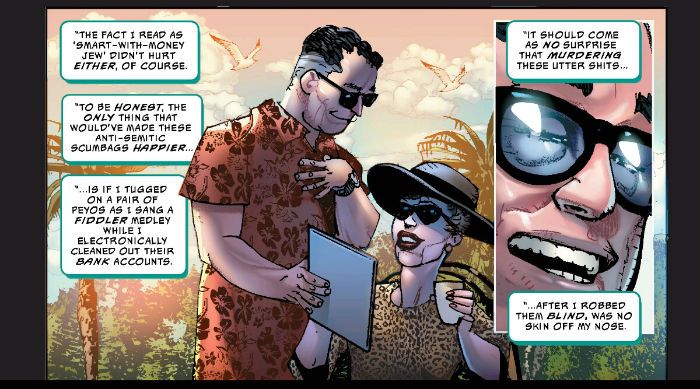 THE DIVIDED STATES OF HYSTERIA by Chaykin, Bruzenak & Arbutov
Pillory Chaykin if you wish, it's your dime and I'm sure he couldn't give less of a shit; but I can't think of another white male whose work extends to chicks with dicks the ultimate compliment of treating them just like everyone else. No, I don't know why I  am even bothering; it's not going to change your mind. Howard Victor Chaykin's a transphobe, a homophobe a Francophobe and a chifforobe. Think what you like. Sure, The Anti-Chaykin Grant Morrison had a  chick with a dick in the waywardly great THE INVISIBLES, but s/he was an avatar of bullshit magicky wagicky woo-wooooooh! Maybe that's better, more helpful to the cause, but I don't think so. In his grumpy back matter Chaykin chunters on about identity politics, and I think this point gets lost in his anger at Trump winning the election. (There are many reasons Trump won, but mostly it's because The Democrats didn't campaign on policies, and seemed to believe they should win just because Trump is a dick. SPOILER!) Because I think his point is...that you shouldn't define people by their labels, but instead by their behaviour. Define them by who they are, not what they are. There are white shitheads and there are black shitheads; there are hetero shitheads and there are queer shitheads; there are cis shitheads and there are chicks with dicks shitheads. Real equality is not achieved by singling a group out, but by treating that group as individuals, and treating all individuals equally. So, to take an example from TDSoH, it might rankle that Chaykin's black character, Noone, is a racist murderer, but it's not his skin that defines him, it's his racism.
I was a bit naughty there. I overplayed how equally Howard Victor Chaykin treats, Silver. Mostly because the Witchfinder Internet also ignored this (how odd!). Howard Victor Chaykin does in fact apportion a greater measure of narrative sympathy to Silver than any of the other misfits. Significantly the only one of the characters whose situation is adulterated by backstory is the trans/queer character. It's fairly clear from the punchy and unself-pitying internal monologue that the situation in which Silver finds him/herself is down to society's failure to adapt or include. So, yes, there is transphobia and homophobia on the pages of TDSoH, but it belongs to the characters not to the author of those characters. The only two protagonists who don't come across as monsters are Villa and Silver. Hey you know, this could turn out to be a love story after all. Let the chick with a dick get the guy. It's 2017 after all, so why the fuck not?
THE DIVIDED STATES OF HYSTERIA by Chaykin, Bruzenak & Arbutov
7. Poor Old Ken Bruzenak
The real loser after all that noise is Ken Bruzenak. I intended to spend the bulk of this thing digging into the colossal contribution of Ken Bruzenak to the look of TDSoH, but now I have neither time nor room. Also, he goes over it himself in the backmatter. That's right! The backmatter in TDSoH is actually of interest! Sure, there's Howard Victor Chaykin's provocative screed about the election and how it messed up his intentions for the series, which is nice. But, better yet, Ken Bruzenak takes us through the creation of one single panel, from a black and white bitmap devoid of letters to the lushly layered final product. In the process he cements his right to be considered as much the artist as the colourist, Jesus Arbutov or the penciller, Howard Victor Chaykin. He puts a ridiculous amount of work into every panel and I'd like to single out his contribution for applause and pony rides but I've run out of room. Maybe next time, Ken Bruzenak. Because there will be a next time since THE DIVIDED STATES OF HYSTERIA was VERY GOOD!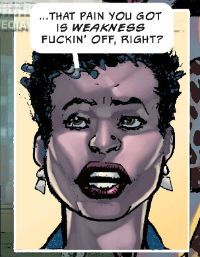 THE DIVIDED STATES OF HYSTERIA by Chaykin, Bruzenak & Arbutov
NEXT TIME: Hopefully something a bit sooner, lighter and altogether shorter than this, and involving the plural of comic, which is – COMICS!!!