Yes! Beat out that rhythm on a drum! Here's the only comic reviews worth reading on The Internet. No, Not really. No, not really in the mood either but if I don't put something up They come round and stand outside my windows in silent judgement. Hoopla! Also, don't forget to Save The Hibbs - HERE!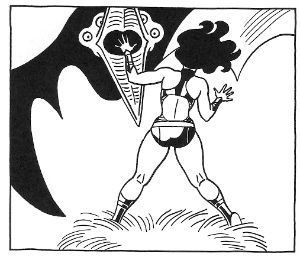 LOVE AND ROCKETS NEW STORIES by Jaime Hernandez
Anyway, this... GILBERT AND JAIME HERNANDEZ' LOVE AND ROCKETS NEW STORIES ISSUE 7 IS "FRISKILY AGAINST THE PRIVATISATION OF THE PENAL SERVICE" IN AN ISSUE WHICH IS "BOUNCY."
LOVE AND ROCKETS NEW STORIES #7 Everything by Gilbert & Jaime Hernandez Fantagraphics, $14.99 (2014) Love And Rockets created by Jaime & Gilbert Hernandez
My LCS always forgets to send me this because, I guess, they are young and they think my aged mind is rotted like the teeth of a candy addicted child, and probably also being like super old and intellectually vulgar I can't appreciate The Good Stuff. That John, they think, he just likes 1970s war comics and Howard Victor Chaykin. He's just not been the same, that John, since his cock left him for the circus, they say opening themselves to a libel suit. Or slander. I'm not the lawyer, that's the other chap. Either way, you know what I mean. Eventually though I remember to ask for it and they send it and it arrives and I read it. Write what you know, right? Have you seen this stuff? Look, someone in Comics needs to talk to someone in a position of authority pretty damn sharpish before things get out of hand. I'd say send Tom Spurgeon because he is disturbingly level headed about everything but they'd bang him up before he got a word out, what with his not exactly being dissimilar to that rangy dude out of Manhunter.

LOVE AND ROCKETS NEW STORIES by Gilbert Hernandez
So, no, don't send him, but someone needs to be sent. Because on the evidence of the last few LOVE AND ROCKETS NEW STORIES it's just a matter of time before Gilbert Hernandez flies a dirigible painted to resemble a giant, solitary boob at the Superbowl while spraying jellybeans and blue urine from an intricate system of nozzles and feeder tubes while playing MMMBop! at a volume sufficient to shatter skulls like plates chucked at a fireplace. Gilbert Hernandez' contributions here look like he just got a felt pen and proceeded to set down a bunch of pages so ridiculously bizarre that they threaten at any moment to explode into a nightmarishly profound revelation about the very nature of reality itself. I mean, after the dirigible thing, people are going to ask why no one saw the warning signs, and we're all going to have to hide our copies of LOVE AND ROCKETS NEW STORIES and act sheepish until the hullabaloo dies down. Then the other one, that Jaime, he's doing his thing about relationships and the past and learning to live, learning to die and all that, and I realise he is excellent at it but all that? it's just not me but BOOMSHAMALAMABINGBANG! he then only goes and equals the derangement which fists its way through every page of his siblings efforts, and what we have here is a comic so insanely aflame with creative fire that we have to break the Emergency Glass and throw the word ART! at it. No doubt, no doubt at all, The Bros Hernandez are still simply the best; better than all the rest; NA NA NA NA STEAMY WINDOWS! BONUS: KIDS! Can you spot the two Thomas Harris references in the preceding? Bully for you; you'll still get old and hate everything you once held dear! EXCELLENT!
REVIEW: FRACTION, CHAYKIN & BRUZENAK'S SATELLITE SAM #12 WISHES IT "HAD MORE THAN ONE LIFE TO GIVE FOR ITS COUNTRY" WHILE ALSO REGRETTING "TAPING "EVERYBODY LOVES RAYMOND"."
SATELLITE SAM #12 Art by Howard Victor Chaykin Written by Matt Fraction Lettered by Ken Bruzenak Image Comics, $3.50 (2015) Satellite Sam created by Matt Fraction & HowardVictor Chaykin
Show me the man who has greater love for Howard Victor Chaykin and Ken Bruzenak. (Show me! Show me!) No, that guy doesn't count he's just some bum you bribed with a cot and two squares to say that. Me, I'm the real deal; I'm the original walking bias when it comes to Howard Victor Chaykin and Ken Bruzenak so it pains me to say that this (the twelfth; what will be the first in the third trade paperback; what is already $42.00 in real money) issue of Satellite Sam is the only one so far to actually have worked. A bit. That's just me though. Matt Fraction described this comic as "the ultimate Howard Chaykin(sic) comic" apparently blind to the arrogant condescension within his glib shilling. (What about all the Howard Victor Chaykin comics Howard Victor Chaykin wrote and drew? What about The Shadow: Blood And Judgement, Blackhawk: Blood and Iron, American Flagg!, Time2, Midnight Men, Black Kiss, Black Kiss2, and all the ones that aren't as good as those (but are still better than Satellite Sam)? Sweet Mother of Pearl, the unmitigated gall of the man.) Anyway, in this issue characters suddenly realise the series is almost over and stop aimlessly noodling about and start blurting lines more suited to those movies Sally Field and Brian Dennehy are in that only children and people old enough to have varicose veins in their eyes watch, because only they are at home during the day. "I'm just another hole your Daddy left behind that you can't fill!" shrills one character and we all pretend that this isn't just a Empty Bullshit Moment unattached to anything in the preceding issues. It's the pact we make with today's writers. A pact signed in lattes.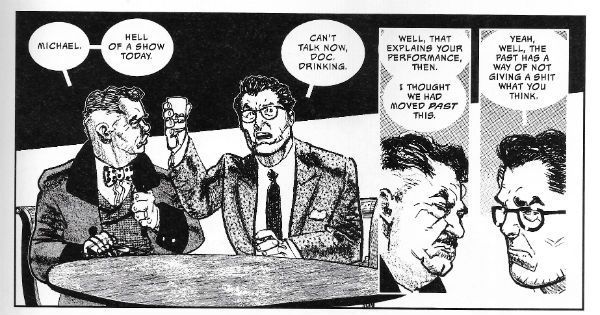 SATELLITE SAM by Howard Victor Chaykin, Matt Fraction & Ken Bruzenak
As full of blazingly manipulative yet calorifically negligent emotional bombast as this issue is it's still better than any of the preceding issues. Mainly, it's better because every scene isn't at least a third too long, hanging about like a hammy actor reluctant to leave the stage and Howard Victor Chaykin seems to no longer, apparently, be drawing in a state of arousal so heated he can barely see. Ken Bruzenak remains flawless as ever. When people tell you this comic was mature, provocative and insightful always remember it was dumb enough to have a character blackmail a writer and for that not actually be a joke. As it enters the home stretch it looks like SATELLITE SAM will wind up being a gauche muddle of half-digested research that expects everyone to share its naive shock that in the past there was racism, homophobia and sexual intercourse other than the missionary position. Anyway, this thing is over soon and then we can all concentrate on an actual Ultimate Howard Victor Chaykin Comic. One that will hopefully be better than OKAY!
REVIEW: MAHNKE, ALAMY, IRWIN, CHAMPAGNE, MENDOZA AND MORRISON'S THE MULTIVERSITY: ULTRA COMICS #1 "RESTS ITS BALLS FOURSQUARE ON THE CHIN OF FANDOM."
THE MULTIVERSITY: ULTRA COMICS #1 Art by Doug Mahnke & Christian Alamy, Nark Irwin, Keith Champagne, Jaime Mendoza Written by Grant Morrison Coloured by Gabe Eltaeb, David Baron Lettered by Steve Wands DC Comics, $4.99 (2015) Superman created by Jerry Siegel & Joe Shuster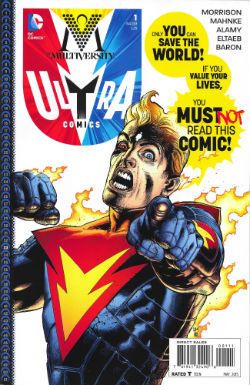 It was VERY GOOD! Because it was smart and entertaining but mostly because Mahnke & a crowded taxicab of inkers' art just plain fit like flesh on a skull. Those dudes are the dreamiest team. I hear inkers are on the outs what with there being no real need to divide the work that way for the hyper streamlined assembly line of 21st comic book production. I hope some teams stay together: this Sunday 5-a-side Team obviously, and Alan Davis & Mark Farmer, John Romita Jnr & Klaus Janson, Jack Kirby & Mike Royer, oh wait...Anyway back at Grant Morrison, we can't talk about the artists more than Grant Morrison now, can we? He'll get in a right snit. So, yeah, really now, can we have a moratorium on whining about Internet criticism within the books themselves. This childishly one sided last-wordism is even more distasteful as it always comes from the writers  criticism can't touch.  Like Elvis sang, why are writers always first to feel the hurt and always hurt the worst. Or was it children? Is there even a difference? Questions. Anyway, thanks, Elvis; see yourself out. Loves his Mum, you know. Also, for someone so keen to be understood Morrison is remarkably opaque about the nature of his eggy Evil here. It's the critics; no, wait, it's the comics companies; no wait, it's the fans; hang on, it's Terry Blesdoe from next door but one to me Mum; no, wait, it's poor people; no, wait, it's rich people; no wait, it's Alan Moore! (It's always Alan Moore! That utter, utter shit! Look at him over there apparently minding his own business, but we know he's really biding his time. Oh, we've got your (big) number, Alan Moore!)
THE MULTIVERSITY: ULTRA COMICS by Mahnke, Alamy, Irwin, Champagne, Mendoza, Morrison, Eltaeb, Baron & Wands
I think (and I didn't think too hard) it ended up being just that nasty old Negativity; it's Bad Thoughts that are Dragging Us All Down, Maaaaan! If You Can't Saying Anything Nice…Then You're Evil. Seems fair enough. That's the world's problems sorted out then; who's for a cuppa! Maybe I'm wrong. No doubt a small Commonwealth of vastly more gifted bloggers will shortly refract their own intelligence through the prism of this comic to reveal its hidden intricacies which, naturally, were there all along! It's a smart book but it's a canny sort of smart; it's all surface and any depth is dependent on the willingness of the reader to muck in and add it. I mean, seriously, there's a bit about what's the difference really between soldiers and murderers (Maaaaan)? #BIKOBAR! So, yeah, everyone just be nice; the Corporations are coming to save us!  Which is about the level of connection with the real world I'd expect from someone who lives in a castle with a medal from the Queen. MULTIVERSITY thus far is a mixed bag; MULTIVERSITY is pastiche, capiche? And Morrison can do pastiche well (Thunderworld) and he can do pastiche badly (Mastermen) so it all tends to even out. Here Grant Morrison's pastiche is of Grant Morrison so, of course , it works really well. When you can no longer impersonate yourself it's time to turn off the lights. It's not that time yet. Despite the niggling sense that behind the wonderful, intentionally slightly off-kilter art someone was throwing their toys out of their pram, this was smart and entertaining; it was VERY GOOD!
REVIEW: BURNHAM & MORRISON'S NAMELESS #3 "PREFERS '(NOT ENOUGH) LOVE AND UNDERSTANDING' TO 'GYPSIES, TRAMPS AND THIEVES'" LARGELY DUE TO "MISGIVINGS ABOUT FEDORAS FOR PIGS."
NAMELESS #3 Art by Chris Burnham Written by Grant Morrison Coloured by Nathan Fairbairn Lettered by Simon Bowland Logo and Design by Rian Hughes Image Comics, $2.99 (2015) Nameless created by Chris Burnham & Grant Morrison
There are two reasons why this book works as well as it does (and it works very well indeed): Chris and Burnham. If it wasn't for Chris Burnham's Sunday joint textured art I'd have noticed that the first issue was a dense blizzard of folderol designed more to excite than deliver. Were Chris Burnham not so wonderful at imbuing every panel with sneakily discombobulating detail and at setting said panels in slyly unbalanced page designs I'd have maybe thought that the only real development in issue two was the jolly obvious "flu" reveal. And had it not been for Chris Burnham's deftly unsettling scale games in this, the most recent issue, better folk than I would have perhaps suspected that the pace was somewhat, ahem, leisurely and that narratively this should have all happened within the first two issues at most.

NAMELESS by Burnham, Morrison, Fairbairn & Bowland
Luckily though I was aware of none of that so dazzled was I by Chris Burnham's muscularly disturbing performance here. I didn't even notice that for someone so magically special and all that our hero is pretty crap. Even though NAMELESS remains basically Event Horizon - But Not Shit NAMELESS is VERY GOOD! because last time I looked NAMELESS still had Chris Burnham.
NEAL, SCHIGEL, KOCHALKA, WICKS, SIENKIEWICZ, DESTEFNO, DEPORTER, BRUBAKER, WEISER, HI-FI, JIHANIAN, KUBINA AND LEIGH'S SPONGEBOB COMICS #43 BELIEVES IN "FROM EACH ACCORDING TO THEIR ABILITY, TO EACH ACCORDING TO HIS NEED" AND SO DOES EVERYONE ELSE WITH EVEN A SHRED OF GODDAMN HUMAN DECENCY.
SPONGEBOB COMICS #43 Art by Nate Neal, Gregg Schigel, James Kochalka, Maris Wicks, Bill Sienkiewicz, Stephen DeStefano, Vince DePorter, Charles Brubaker Written by Nate Neal, James Kochalka, Maris Wicks, Joey Weiser, Vince DePorter, Charles Brubaker Coloured by Hi-Fi, Levan Jihanian, Monica Kubina Lettered by Rob Leigh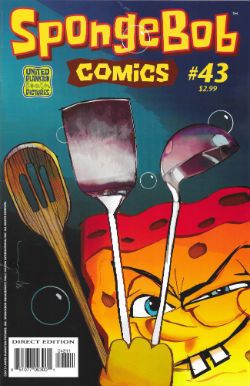 This isn't a particularly spectacular issue of SPONGEBOB COMICS; it does remain, however, beautifully illustrated and amusing enough to be a papery riposte to the idea that this kind of thing must needs be crapped out hackery. I mention it not because Bill Sienkiewicz has provided a cover with the titular spongiform loon in his best Wolversponge pose, but because Bill Sienkiewicz also provided a pull out two-page poster of Spongebob as a kind of symbiotic melange of kitchen utensils and undersea cretin. What this means, in effect, for people of a certain age is that Bill Sienkiewicz has provided a poster in a children's comic which readily brings to mind his creator owned '90s epic of child-murder, mental breakdowns, talking birds and general nutjobbery, STRAY TOASTERS. Now, tell me that ain't GOOD!
SPONGEBOB COMICS by DeStefano, Weiser, Jihanian & Leigh
We're having an Election over here but when the dust settles and it's all over no matter who is in charge we'll still have – COMICS!!!