Alright, let's try that capsule business again. Took a little bit of the wormwood out this time around and drizzled it with some milk of human kindness. Serves two. Should be plenty of leftovers then.

By Scioli and Barber
Anyway, this… NAMELESS #1 Art by Chris Burnham Written by Grant Morrison Coloured by Nathan Fairbairn Lettered by Simon Bowland Logo And Design by Rian Hughes Image, $2.99 (2015) Nameless created by Chris Burnham & Grant Morrison
Nameless stands in stark contrast to the two Multiversity comics I so hostilely (unfairly so? No.) assessed yesterday. It does this by practically vibrating with vim, vigour and vitality; sure, this is due largely to the Viagra of Chris Burnside (with Nathan Fairbairn)'s art, but the efforts of Grant Morrison certainly play a part. Fair's fair and all that, Morrison's performance here is farcically dark with fractured shards of gross atrocities (courtesy of Burnham), plunging towards your eyes while (courtesy of Morrison) elliptical whispers hissing of yet grosser atrocities to come caress your mind. Although it's all delivered in a distorted and fragmentary way, a stark sense of claustrophobic threat stabs cleanly through it all; which is no mean feat as the threat turns out to be star borne and earth bound. Yes, space is big and so not terribly claustrophobic but it is also dark and it's the darkness that wins out here. Morrison's an old hand at this whole flinging of black glitter in the reader's face and the practice has paid off with a fine balancing act between unsettling suggestion and the overtly gross. Sure, at root this comic has the same generic skeleton of a bullshity flatterpants plot shared by a multitude of entertainments. It's the one about how you are secretly special and one day someone will knock on your door and beg you to save the world because only you can, and despite your huge personal sadness which you stoically bear, you will agree because you aren't just special  - you are awesome too. (If that ever does happen, if someone does ever knock on your door and tells you you're special my advice is to shut that door and ring the police. Real life and comics are very different beasts, me old plumduffs) But that's okay, because the familiar "special you!" plot is just the skeleton and it's how you flesh it out that counts. And here Morrison fleshes it out just fine. No, he isn't doing anything new here, but he's doing everything well here. That matters.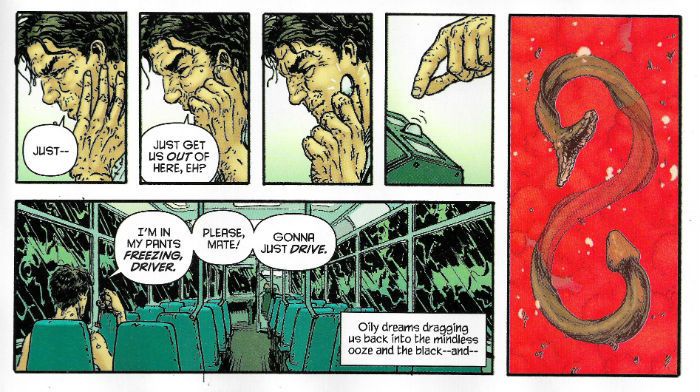 By Burnham, Fairbairn, Morrison & Bowland
And rippling under the flesh there's Chris Burnham's artistic muscle and Chris Burnham's artistic muscle is ripped. Go on, touch it, he won't bite; see, like boulders. So good, Burnham's stuff here; just so , so good. But dark and nasty too, as befits Nameless's disposition. It's great reading just on its own visual merits, this art; noticing how Burnham plays with page layouts so that they are paced just so and being giddily inventive and never succumbing to empty showmanship. And then there's the crazy level of visual interest thanks to his detail crammed panels, all of which is done, and it's a neat trick this, without clogging the narrative flow. And it's all just 'off' by enough, with its obtrusively, and troublingly, textured look. It's like everything is coated or speckled with blackened crackling from a burnt Sunday joint. In brilliant contrast Burnham has everything coated in this roasted, pitted shell bouncing about with a cartoony exuberance. Sure, the stuff on these pages is intentionally ugly but the skill swimming beneath is beautiful. Never tripping once over Nameless' outlandish tone Burnham's work is simultaneously menacing and amusing. Chris Burnham, you suspect, could turn a bus timetable into an oddly comical frenzy of meat and fear. A talent as mighty as this allied with one of Morrison's better scripts means Nameless is VERY GOOD!
TRANSFORMERS VS G.I. JOE #5 Art by Tom Scioli Written by Tom Scioli & John Barber Coloured by Tom Scioli Lettered by Tom Scioli IDW, $3.99 (2014)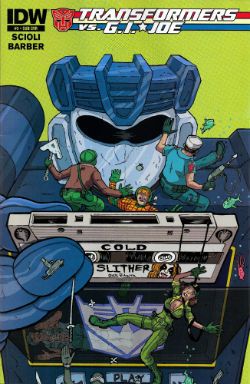 Man alive, this book; this crazy, hectic, dazzling piece of concentrated genius given paper form! The only thing low-key about this comic is the critical reception. Where's the tickertape parade? Where are the interviews with the creators? Whither the in-depth, humorously toned, lightly ironic retrospectives on these toys - you know The G.I. Robots, The Transvestite Joes; whatever the Hell they are? Look, I won't lie to you (there's nothing in it for me) I don't care about the toys (the Twinfarter G.I.s, The Rowboat Josephs?) but I care about this comic. When you get old everything's usually just, truly, basically a fiasco, and increasingly so and then you die; but the upside is that you can read comics for what they do rather than the IP properties they contain. Scioli and Barber love these toys (the little men and lady ones, the big robot ones) enough for all mankind. But better yet they love comics enough to just make each issue a Hell for leather, go-for-broke visual symphony in zesty bombast. Every page is a delight. Stylistically, formally or just in its basic joie de vivre every page of this comic is a delight. Every. Single. Page. There isn't a page in any one of the issues of this comic so far that has not made me laugh, applaud, or just boggle in stupefied silence.
But I guess Comic News is so exciting that there's no room to ballyhoo the most formally inventive (as in invention with the form of comics, rather than deciding to occlude your speech bubbles while sporting a top hat and tux) and volcanically joyous comic since Jack Kirby's O.M.A.C.. No, it's far more important that we hear how - Eric Estrada Reveals He Is Willing To Helm Marvel's Next Blockbuster! Why Marvel's Secret Wars Is Guaranteed To Tie A knot In Your Urethra! Hear How Scarlett Johannsen Admits She Saw A Comic Once And It Didn't Make Her Throw Her Lovely Guts Up! How DC's Convergence Can Feed Three For Under Twenty Dollars! Bob Hoskins Says Even Death Won't Keep Him From Playing Turner D Century! How Starsky & Hutch by Matt Fraction and Some Artist Or Other Will Make Knitwear Sexy Again! Fifty Things Marvel Need To Do To Get Turner D Century On The Screen! Comic Creator Declares Evil is "Kinda Like Not the Best Thing, Yeah?"! Nuuuh. Nuuuuh. Tear yourself away from all that essential noise and pick up a copy of Transformers Vs. G.I. Joe and discover a reason to love comics on every page. "Nice Try at a pull quote, John, you transparent bastard," you say," but what's it about, John? This "review" is awful, John, you haven't told us the first thing about this book! This review is more awful, John, than those where you think you are being funny but you just come off as a nasty, nasty, bitter, twisted little man. John. Yes, you, John. It's as though you've written this review to alleviate the soul-numb that comes from being away from home for work, John. In fact, John, we strongly suspect you are without even a copy of the actual bloody comic within sixty miles of you! You are fooling no one, John!" Lies and slurs atop lies, I say. Yet if (if!) I were to spend my few stale hours of respite from selling chicken muzzles holed up in a Travelodge writing about this comic while face first in the mini-bar wouldn't that speak volumes about the quality of this book? The answer is , yes. Look, I was right about Shaolin Cowboy and I'm right about Transformers Vs. G.I. Joe. It's EXCELLENT!
Actually, that was a literary conceit back there as I don't work away from home, but I do love – COMICS!!!