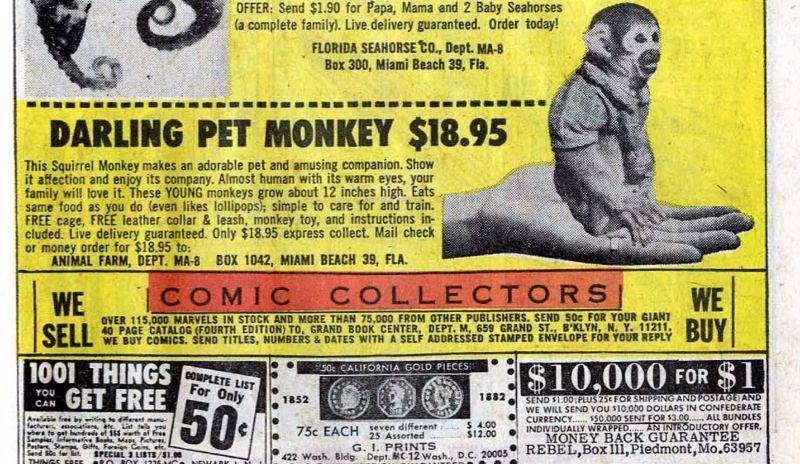 Man. the stuff you could buy out of the back of comics.
Hey, everyone!  We're back with another  podcast.  You should download it and listen to it really loud while you watch the last episode of True Detective!  (Why? I don't know.  It would make the experience more cinematic, maybe?  I mean, I suppose I could've taken the time to craft some outrageously satisfying joke about, uh, hmm, see, now you know the problem I'm having with that one and really the joke -- even if I could craft one, which it is now clear I couldn't  -- would've only really truly been funny for a brief period of time, whereas failure is enduring and therefore timeless and therefore ever-timely and besides don't we just die in the end, anyway?)
<<jazz hands>>
Anyway, after the jump: "Show notes? I'll show you show notes, mister!"
00:00-5:28: Greetings!  I must say, we are off and running in this installment, although part of the reason why I can say that is my definition of "running" includes "arguing about Taco Bell's Waffle Taco within a minute of starting the podcast."  (This may be the reason my exercise regimens aren't as successful as they should be.)  (Also, we complain about people who talk about the word "seekrits," (instead of "secrets") while at the same time having to admit that we currently have "seekrits" (the term which is somehow, we realized, more innocuous than "secrets," which sound like they could, you know, get someone killed and stuff.))  Seekrits/secrets!  WE HAVE THEM AND HOPE TO SHARE THEM SOON (Oh, sure.  Now I'm going to not punctuate, after the hell that was trying to track all those parentheticals.) 5:28-27:38: As you may recall, a few months back, a Whatnaut gave Jeff a free hit of the glass pipe that is Marvel Unlimited.  Now (and by now, we mean, "through March 14"), anyone can get a month of Marvel Unlimited for only $0.99.
Graeme gave it a try on his Kindle Fire and here's what he had to say.  (And for what it's worth -- yeah, I know I'm going into "paren mode" on you again -- because that same Whatnaut spent the ninety-nine cents on me, I have MU for another month and it's been all updated since we recorded to include Marvel AR and the Dynamic Audio and re-tooled up the interface (finally, when you get to the end of the issue, you can jump to the next one).  And I'd probably wax even more rhapsodically about it if it didn't keep making me log out and back in because it suddenly randomly decides I can only see three page samples even though it says I'm a member. Once they get that fixed though…)  Also discussed:  Comixology getting hacked, Marvel's possible future digital plans, we try to figure out exactly how quickly Graeme would be all over the DC equivalent for Marvel Unlimited, the recent digital sale from 2000 A.D., and more. P.S. Thanks, Matt! 27:38-31:36: Because of aforementioned 2000 A.D. digital sale, Jeff read Purgatory, Mark Millar's lead-in to the Judge Dredd event, Inferno, with art by Carlos Ezquerra.  The extent to which Mark Millar has arguably managed to win at American superhero comics and yet lose at 2000 A.D. is a fascinating, fascinating thing…although not as fascinating for Jeff as finding out that the brilliant Colin Smith (from Too Busy Thinking About My Comics) has been covering Mr. Millar's work in bewitching detail over at the Sequart site.  Most of you, like Graeme, were probably already in the know about this, but for those of you, like Jeff, who were not, that link is gold, Whatnauts.  Solid gold. Also? In case you didn't feel like counting? Seven commas, my friend. Suck it. 31:36-44:27: Here's where you get to Rog!  If you want to hear Jeff and Graeme talk about the first issue of IDW's Rogue Trooper by Brian Ruckley and Alberto Ponticelli, go to 44:27.  To hear Jeff and Graeme continue to talk about Mark Millar, including his amazing "exclusive" to Comic Book Resources and his first issue of Starlight with artist Goran Parlov, keep listening!  (Also mentioned:  Flash Gordon, John Carter, Up, The Incredibles, and like that.  Although, to be entirely honest, I don't think there is any other specific titles mentioned but I tried to cover that up by typing "and like that."  Why?? You're either on board with this show or not, right?  It's not like you're going to be reading these show notes if you're not listening, yes?  Unless you're just really bored and even though you haven't listened to the podcast before, you're deciding to skim these show notes to get some sense of the tenor of things...but even then, why would the final deciding factor be the number of other topics we bring up while talking about Starlight?  And if it was, why?  What's wrong with you that something so picayune could influence you? I don't have a problem, you have a problem!) 44:27-1:00:45:  Jeff and Graeme talk about the first issue of IDW's Rogue Trooper by Brian Ruckley and Alberto Ponticelli, the appeal of Rogue Trooper generally, the character's greatest problem, and more.  No, really.  There's more. I'm not just saying that like I was right up there.  There really is. 1:00:45-1:07:43: Since we're talking about 2000 A.D. so much, Graeme brings up a book he's read an advance copy of that he enjoyed with that same sort of vibe, the first issue of Magnus, Robot Fighter by Fred Van Lente and Cory Smith.  That, by the way, is out this week from Dynamite, in case you're interested.  I said "advance" copy but I wasn't really specific at the time. Wasn't appropriate. Would've made that sentence even more grammatically fraught. Trust me. 1:07:43-1:14:34:  Afterlife With Archie #4!  Believe it or not, Graeme and Jeff are still digging this book by Roberto Aguirre-Sacasa and Francesco Francavilla (almost as Jeff likes talking about himself in the third person and writing in the first person plural.  Man, no kidding.  We still really like it a lot. It just never gets old.  I wonder why, though.  I guess, all those formative years reading SPY magazine? Although thinking about it:  what's wrong with me that something so picayune could influence me? You don't have a problem! I have a problem!). But! We are digging it a lot.  Like, a lot a lot.  We also talk about the recent news coming out of Archie [Comics, not Andrews], such as Aguirre-Sacasa being made CCO and Lena Dunham writing an upcoming story for Archie.  If you listen closely, you can tell how badly Jeff wants to talk about Girls, but perhaps fortunately for all of us, the topic is shelved for another time. 1:14:34-1:22:06: In The Days of the Mob!  Graeme finally gets his hands on the reprints of Jack Kirby's amazing (and amazingly short-lived) crime anthology series from the early '70s, and we go on to talk about, you know,  JACK KIRBY. 1:22:06-1:26:00: By contrast, Jeff got his hands on Revenge #1 by Jonathan Ross and Ian Churchill…although it's probably more accurate to say that he got it on his hands, if you understand what we're saying.  If not, don't worry: it'll become pretty clear as the discussion goes on. 1:26:00-1:30:02: Vandroid #1 by Tommy Lee Edwards, Noah Smith, and Dan McCaid.  It is, in some ways, very much the same as Revenge, and in some ways very, very different.  Jeff also brings up Machete Kills by Robert Rodriguez, as if that movie could bridge the gap between Revenge and Vandroid, which… I don't know. Maybe I'm overthinking it. I mean, not like the rest of this week's show notes. 1:30:02-1:44:26: Forever Evil #6!  Graeme has read it.  Does he overthink it?  He doesn't!  It's pretty much terrible and he tells us why.  Also discussed:  The status quo of the New 52, James Robinson, cognitive dissonance, and more. 1:44:26-1:49:34: By contrast, Graeme has read the Batman/Superman Annual by Greg Pak, Jae Lee, Kenneth Rocafort, and Philip Tan and quite liked it, although the fact that it retails for $5.99 does give one pause, doesn't it? 1:49:34-2:00:02: Graeme tries to goad Jeff into a speed round to talk about the remaining books on his list and Jeff, like the good mule that he is, slows down that much more under the pressure.  But he does talk about the first two issues of Bob Fingerman's rebooted Minimum Wage; The Fuse by Antony Johnston and Justin Greenwood; Scooby-Doo Team-Up #3 by Sholly Fisch and Dario Brizuela; and the absorbing and superlative Nijigahara Holograph by Inio Asano, the latter of which Jeff just about goes breathless trying to think of enough good things to say. A truly amazing piece of work, and so incredibly worth checking out, I can't even begin to tell you...although if you think about it, that phrase is 100% untrue in this particular instance, what with me telling you about telling you about it. Which, if you think about it, is literally how beginning to tell someone would play out.  (Sure, it's not the only way -- you can just tell someone, right, I get that -- but it is a way.) 2:00:02-2:11:56: And that should be the end of it, a wrap in just a little over two hours.  Except…what about The Avengers?  What about our read-through of the first three hundred issues of The Avengers?  Even though we tell you we'll hold off and discuss a full twenty-five issues next time, we just can't resist talking for just a few minutes about issues #51 through the mid-to-late sixties by Roy Thomas and John Buscema. And by "a few minutes," we mean "almost twelve." 2:11:56-end: Hey, my single, "My Single is Dropping," is dropping!  (It's not, but that's what writing all this made me think of.)  Closing comments!  Our comments thread is currently toast, but feel free to email us or contact us on Twitter (which, if you don't know how or where to do so, you'll find out in this segment).
Okay, there you go.  Man, I can't tell you how much I wish I had actually edited the lines "what's wrong with me that something so picayune could influence me? You don't have a problem! I have a problem!" into the podcast, that way when you were listening to it while watching the last episode of True Detective and Rustin Cohle turns to Martin Hart and says the exact same thing at the same time, you can come back to the opening of this entry, and be all "holy shit, this guy's good," and I'd be all "The Aristocrats!"
<<jazz hands>>
But, instead, what actually happened was I jumped into a separate browser window to make sure I was spelling Marty's last name right and nearly spoiled the ending of True Detective for myself.  Thanks, East Coast writers.
<<jazz hands>>
Anyway, episode is on iTunes or down below.  You know the score, Alan Moore. Get with the listening!