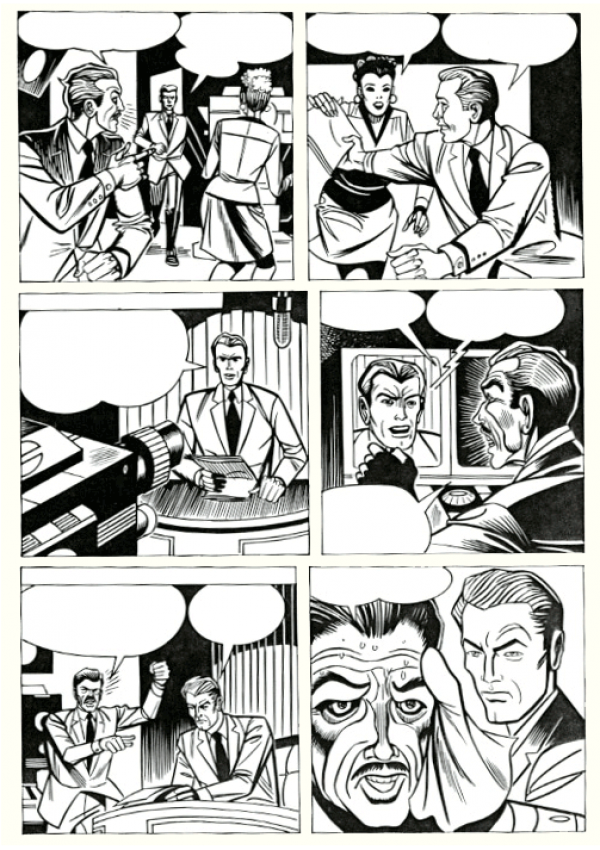 Wasn't able to find Ditko inking Kirby, but here's Dan Clowes inking Ditko! Ganked from Robot 6 and elsewhere...
Okay, and so but here is our latest episode about which I will provide you with more detail after the jump!
Sorry for the rush, crew:  running a little late (when aren't I?) and haven't quite figured out a way to do the show notes for the Q&A that didn't involve a ton of formatting inside the WordPress entry which is a bit of a headache so pardon me if I just start in, yes?
0:00-3:56: Greetings are exchanged!  Apologies are made!
3:56-13:56: Superior Spider-Man #1!…is a thing we are talking about.  Comic talk so early?  It can happen! Dreams can come true, it can happen to you, if you're young at heart.  Something I didn't think we would complain about?  Superhero fight scenes.  And there may or may not be subliminal messages via distant dog barking, I'm not really allowed to see.
13:56-20:21: Also, through the largesse of a Whatnaut, Jeff was able to read New Avengers #1 by Jonathan Hickman & Steve Epting.
20:21-23:31: All-New X-Men #5!  One of us liked it; one of us didn't.  To say more would give away….The Prestige! (I don't really know what that means, but it was remarkably enjoyable to type.)
23:31-46:39: Answering questions? Will we ever? Maaaaaaaybe, but we decide to talk about other books we read this week: Graeme has read Action Comics #16, as well as the entire run of Batman, Inc.--which Graeme has some really interesting ideas about; Buffy The Vampire Slayer #17; Earth Two #8; Fantastic Four #3 ;and  Iron Man #5.
46:39-47:14: Our sole intermission?  In fact…yes!
47:14-55:32:  On our return, we discuss Star Wars #1 by Brian Wood and Carlos D'Anda.  And, since that series is set immediately after A New Hope, we talk about that movie and what we've liked about that film and where it went afterward.
55:32-1:05:34: As for Jeff, most of what he's read has been digital: Thor #4; six weeks of Shonen Jump Alpha, The Phoenix Comic, and 2000 AD (with enthusiastic run-downs of his favorites in each).
1:05:34-1:10:22:  Then Jeff has a story about being retweeted he thinks is funny. Yes, people: this is why Jeff is terrible. He actually thinks you can tell a funny story…about being retweeted. Far funnier is how quickly and completely Graeme trumps the story.
1:10:22-1:10:30:  And then…questions!  For real, y'all, for real.
1:10:30-1:11:15:  The Dave Clarke Five! (By which I mean, five questions from our pal Dave Clarke.)  Dave Clarke asks:  "Is it fair to say that half the appeal of superhero comics is getting to talk about (and/or bitch about) them with your friends?"
1:11:15-1:14:10: Also, from Dave Clarke:  "Can loyal Whatnauts look forward to more 2000AD discussion in 2013?"
1:14:10-1:15:45:  Dave Clarke! "Would you ever do a crossover episode with House to Astonish?"
1:15:45-1:15:55: DC:  "Which is better: Glamourpuss or Holy Terror?"
1:15:55-1:21:13:  DC Implosion! "Last time you guys did a question episode Jeff promised to describe more things as 'chill'. Is there anything Jeff has read/seen/tasted lately that he would describe as 'chill'?"  
1:21:13-1:23:09: Question 1 of 2 from Jer:  "Waffles. Can the concept fly in other parts of the country? Or is it Portland specific for some reason — and why?"
1:23:09-1:34:02:  Question 2 of 2 from Jer:  "I'd like to know what comics media you guys generally consume daily/weekly/monthly (of course, Graeme reads 16 sites by only reading his own stuff, right?). Obv. you read Bleeding Cool at times; what about TCJ online? Etc.?"  [This is one of our classic 'Goofus and Gallant" moments.]
1:34:02-1:38:38: Steve queried: "What surprised you (positively or negatively) in the comics industry in 2012? Any predictions for 2013?(Unless you were planning to cover that sort of thing in your last podcast this year or first one next year anyway.)"
1:38:38-1:40:41:  Colbert said: "Opinions on best inkers for Kirby and Steve Ditko inking Kirby. And… damn. I can't think of a waffle joke."
1:40:41-1:44:39:  A.L. Baroza asked:  "In light of the Sean Howe book and the brief discussion here a few podcasts back over just what it is that a comics editor does these days, what do you two consider a good or effective example of comics editing for Big Two corporate superhero IP? Keeping in mind that there's always gonna be a tension between creator ambition, the company need to police and maintain a character's brand, and a primarily nostalgia-slash-event-driven market. Is it even possible these days to navigate through all the competing demands and end up with something like "art", or should we just write off the idea of lofty ambition for the genre at this point?"
1:44:39-1:45:06: J_Smitty_ asked: "What do you think of the new Ke$ha record?"
1:45:06-1:51:18:  Jerry Smith asked: "(1) Spider-Man: Ditko or Romita?  (2) Do you buy $4.00 comics? What is the highest price you would pay for a 22-32 page floppy?  (3) Karen Berger as head of creative development at Image Comics. Please consider and comment."
1:51:18-1:55:38:  MBunge asked: "The internet – the future of comic books or comic strips? It seems to me that the web is not really a delivery or economic format that lends itself to producing a blob of words and art once a month/two months/whenever lazy ass pros or guys who have to work real jobs to support their comics hobby can squeeze some work out."
1:55:38-2:03:38:  Mike Walker has a couple of questions: "The "make your own waffle station" at the hotel complimentary breakfast: Good idea or bad idea?  What's your opinion on Bagels? Are frozen bagels out of the question? Fruity cream cheese or regular cream cheese? Describe your ideal bagel (if there is one.)  What was your most successful "cleanse?" Can we organize a "Wait, What: Cleanse Week?" Because I would like to see the comments after that week. Are you looking forward to a podcast where you aren't answering questions, possibly sometime in 2014? What was your favorite Dave Clarke question? Least favorite?"
2:03:38-end: CLOSING COMMENTS REMEMBER TO TIP YOUR WAITRESS
And, lest I forget, here's the link:
Wait, What? Ep. 112: A New Dope
Hope you enjoy; there is more where that came from, coming soon!  Until then, thanks for listening and we hope you enjoy!