A samurai, a shadow and a sponge. It's either a further trudge through my pull list or the best pop band ever. Let's see!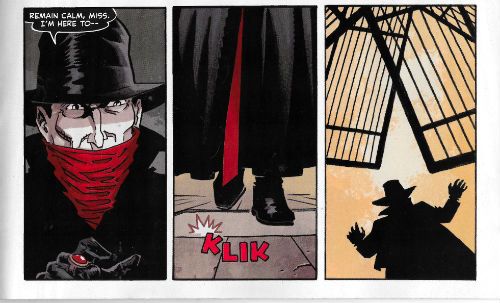 The Shadow: The Death of Margo Lane by Wagner, Wagner & A Larger World Studios Anyway, this...
USAGI YOJIMBO #155 Art by Stan Sakai Written by Stan Sakai Lettered by Stan Sakai Cover by Stan Sakai Cover coloured by Tom Luth Dark Horse Comics, Inc., $3.99 (2016) Usagi Yojimbo created by Stan Sakai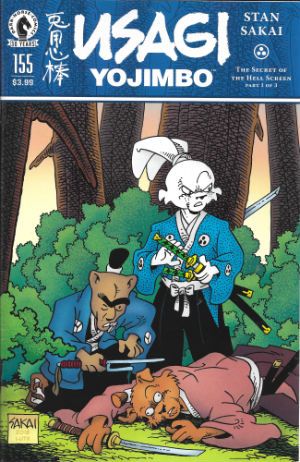 In which our roving ronin happens upon a murder most mysterious and is reunited with his old friend, Inspector Ishida, he of the emotively animated mono-brow. With more than enough suspects, both likely and unlikely, our anthropomorphic investigators could probably do without the uncanny and bloody additions to the notorious "Hell Screen". Hurry Usagi, the game is a-paw! I mean, a foot! (Ouch!) So, yeah, another super-solid exercise in entertainment by the man who is quite possibly Comics' Most Undervalued Talent, Mr Stan Sakai. There is nothing that is not very good about Usagi Yojimbo, so much so that it remains somewhat galling that each issue receives little to no acknowledgment of its existence by the comics' press. This then is the reward for consistent brilliance: silence.
Usagi Yojimbo by Stan Sakai
Meanwhile, The Hulk got shot by an arrow made of Dumb and someone got all school marmy because Wonder Woman doesn't go commando, and, quite rightly, that's all anyone goes on about. Alas, Usagi Yojimbo has to get by on clever plotting, consistent characterisation, barbarous action and a general air of amiable excellence. And then, when you've read it you can go back and marvel at how simply Sakai depicts his rain, how he creates the illusion of depth via varying the heaviness of his line, and how he expertly employs cross hatching to evoke texture. Every panel of every page proves Stan Sakai remains implacable in his delivery of high levels of artistry and entertainment. But never mind that, someone drew The Hulk with his cock out! Or The Hulk got shot by a cock! Or something. Oh yeah, more often than not the estimable Mr. Sakai finds time (as he does here) to pen a wee pin-up on the back cover, which is nice. Also, the letter column is one of the healthiest I've read, with people just genuinely reacting with unfashionable (ugh!) affection for the book and its author both. There's none of that creepy and needy validate me! Validate my tastes! stuff you usually get in independent lettercols; just pure heart. The cosplayer highlighted this issue is impressive alright roo, but, and I have no idea why this is, she just made me imagine David Keith replaced by a large rabbit for the final scenes of WHITE OF THE EYE. Why is daddy wearing hot dogs, indeed. That's a reflection on me rather than the talented lady in question. Man, I don't know what's wrong with me but I sure know what's right – Stan Sakai and Usagi Yojimbo. VERY GOOD!
SPONGEBOB COMICS #57 Art by Nate Neal, Vince DePorter, Derek Drymon, James Kochalka, Marc Hempel, Andrea Tsurumi, Maris Wicks, Hilary Barta, Jacob Chabot Written by Nate Neal, Vince DePorter, Derek Drymon, James Kochalka, Jay Lender, Robert Leighton, Maris Wicks, Chuck Dixon, Hilary Barta Lettered by Rob Leigh Coloured by Monica Kubina, Scott Roberts, Jason Millet Cover by Shawn Martinbrough (with thanks to Jacob Chabot) United Plankton Pictures Inc., $3.99 (2016) Spongebob Squarepants created by Stephen Hillenburg
As you can see by the text on Martinbrough's Hitchcock indebted cover this issue's theme is "noir"! But only in the loosest possible sense of "crime stuff"; you know, before a bunch of tedious old men start flapping their gums about what noir is or isn't. Look, it's a comic for kids about a talking sponge, so get back worrying about whether noirs can be in colour or not. Yeah, you take care of the important stuff, while the world goes to Hell in a handbasket. Anyway, as is mostly (but not always) the case there's a bunch of smile raising shorts. Sometimes there's only a couple, or just one, but they are always smile raising. It isn't the smile raising that's in doubt, it's the number of stories within. I trust that's clear: SPONGEBOB COMICS is funny stuff.
Spongebob Comics by Hempel, Lender, Roberts & Leigh
And those titter inducing tales herein? Our porous pal's life is complicated when he crosses paths with a larcenous double, the new fish in prison reflects back on how his life was ruined by a yellow terror as implacable as a guilty conscience, a hilariously learnedly loquacious Patrick eruditely narrates the terrible tale of "Doctor Calamari" in a suitably German Expressionistic stylee (which, no, isn't noir but it is the root from which noir sprang. So go back to sleep, tedious old men.), there's a trenchcoat and hat PI pastiche, and Mermaid Man reveals the terrible secret of his stylish cape. And! Maris Wicks gives a one page shoal of facts about hermit crabs while James Kochalka remains James Kochalka. VERY GOOD!
THE SHADOW: THE DEATH OF MARGO LANE #1 Art by Matt Wagner Written by Matt Wagner Coloured by Brennan Wagner Lettered by A Larger World Studios Cover by Matt Wagner & Brennan Wagner Dynamite Entertainment, $3.99 (2016) The Shadow created by Walter B. Gibson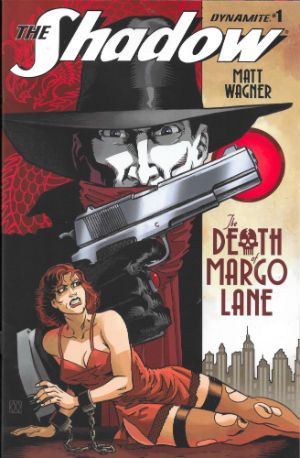 See! I told you about my LCS! They only went and sent me another Shadow comic! Again with The Shadow comics! I'm not old enough to remember The Pulps, people! I am old enough to remember Pulp though. In fact I'm old enough to have attended their final gig at the Magna Science Adventure Centre. Well, their first "final" gig. I'm also old enough to remember when words meant things, words like "final". Grumble. Grumble. Mutter, mutter. So, The Shadow! Dynamite's Shadow stuff has been a bit variable, to be honest. There was that series which had a weird obsession with sinister Chinese laundries and had George Orwell fighting with El Shadder; it was okay and while the bit where George Orwell ended his adventure by going "Hmmm, ANIMAL FARM is catchy, but so is NINETEEN EIGHTYFOUR; which to write first?!?" was pretty hilarious, it was still nice to have a comic writer who knew about George Orwell. Then there was that one set in the present which was, well, terrible. After that it was all a bit patchy with Houdini cropping up and a Nazi car factory or something, but of late things seem to have settled down with Matt Wagner taking the reigns. And Matt Wagner? He can draw. Anyone who claims he cain't is all wet. And how!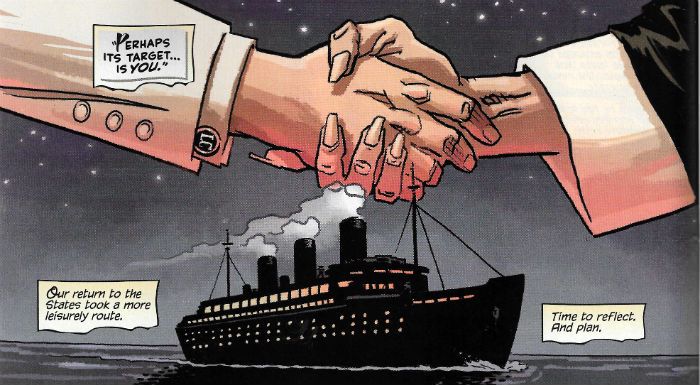 The Shadow: The Death of Margo Lane by Wagner, Wagner & A Larger World Studios
Now I ain't ladling out no applesauce saying that this guy's blotto on graphic design and knows his onions when it comes to page layouts. I must have been all turned around for the last forty odd years because Matt Wagner's excellence has somehow passed me by. Sure and I wasn't giving his stuff the high-hat, I just never crossed its path is all. From the first page of this Shadow joint I was crushing on this stuff so bad I had to check my cheaters were clean. Storytelling-wise this ruckus is the cat's pajamas , and I ain't laying down a line. Boffo stuff all round. It's swanky stuff, on the up and up, I tells ya. Maybe it is just meat'n'taters, just horsefeathers story-wise what with alla them shenanigans with hats, flivvers, gats, cocktails, luxury liners and death traps. But, hey it's a Shadow comic and alla that guff is why we came in the first place. A ragamuffin it may be, but it's a ragamuffin swanked up like Valentino. That's gotta be worth the scratch. So I'm a few decades late for this party but I'm tellin' youse, this Matt Wagner kid's got the goods. Heck, he's got the VERY GOOD!s
Lips That Touch Liquor Shall Not Touch – COMICS!!!