A couple of posts down from this rubbish there is a quite extraordinary thing occurring. People are discussing Digital comics and no one has been killed! It's a Christmas miracle, by Jove!
Why not go have a looksee, this rot isn't going anywhere. I read these comics. There was no force on earth strong enough to stop me.
BATWOMAN #3 By J.H. Williams III(a), J.H. Williams III/W. Haden Blackman(w),Dave Stewart(c) and Todd Klein(l) (DC Comics, $2.99)
It's perfectly fine story wise but I can't lie I probably wouldn't be reading it were it not for J H Williams III's stellar performance on every page. I guess having art like this on something so meat and taters might seem a little like a bit of a waste, like having Einstein fix your toaster, but there's two things I bear in mind when I read BATWOMAN: Thing the first is that J H Williams III is co-writing it so it's not as if he's been hoodwinked into this and so if he's happy doing this and it looks this good I'm not going to carp and pule. It's preferable to him wasting himself illustrating some other guy's awesome movie-pitch-cum-graphic-novel about an ex-alcoholic shark that goes back in time to try and kill Pia Zadora's chiropodist. In space. Thing the second is that there's just something great about seeing someone talented do that talented thing even if you aren't that enamoured of the arena in which they express themselves. Boxing? No. Muhammad Ali? Oh, yes.
Also it's totally neaty keen-o that the sapphism of the lead just results in exactly the same scenes between partners we used to get when everyone, everywhere was straight.  It's an important lesson more people should heed: what you choose to do with your genitals doesn't make you any more interesting as a human being. Really, trust me on this. Particularly if you are considering telling me about what you like to do with your genitals. You would be amazed how many people think telling me about what they get up to with their genitals is an acceptable substitute for a personality. Even though it hardly keeps me awake at night with its narrative twists and turns Batwoman certainly amuses my eyes to the extent that I would call it VERY GOOD!
WONDER WOMAN #3 By Cliff Chiang(a), Brian Azzarello(w), Matthew Wilson(c) and Jared K. Fletcher(l) (DC Comics, $2.99)

Well, I guess we can all agree that among all Wonder Woman's many powers the greatest of these must be her Divine Unflappability. I know if my Mother was standing there in public talking about her needs and how Zeus answered them by breaking upon her shores in  a great salty foam of satisfaction I'd be blushing like my cheeks were slapped and making a high keening noise like a fox with its paw in a trap. Not Wondy, she just goes and belts some husky lass and burns some corpses. I am greatly enjoying Azzarello's writing here as it's brisk, eventful and he's reigning in his word games to good effect. Cliff Chiang is dreamy as well. Truth to tell he makes it such a smooth read I probably don't actually appreciate the level of skill he's applying. Also, while I did make mock of Hera's randy reminiscence it was more in light of the effect on Wondy than the actual scene which is handled with taste and subtlety, which I guess goes to show that mature matters can be depicted without making your brain burn with shame for the people involved, y'know, if approached maturely. Who knew a Wonder Woman comic could be VERY GOOD!?
O.M.A.C #3 By Keith Giffen & Dan Didio (a/w), Scott Koblish(i), Hi-Fi(c) and Travis Lanham(l) (DC Comics, $2.99)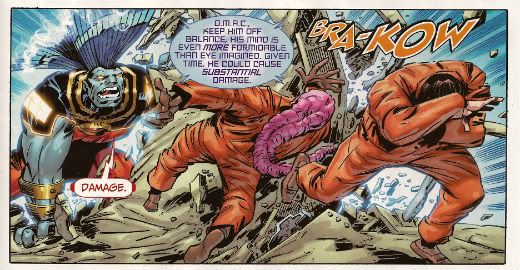 Okay, it's true that Kevin Cho's only personality trait is "befuddled", his girlfriend is as accurate a portrait of 21st Century womanhood as Dame Barbara Cartland (she spent "all morning cooking" in 2011? Really? I rather think not and I'm hardly Franky Feminist), there's a hell of a lot more momentum than meaning and it feels almost indecent to be complementing Dan Didio on anything except turning a panicked line-wide shell game into a massive (length of term to be decided) success. But having said all that…having said all that…you get to see Keith Giffen enjoying himself in the only legal and publicly permissible manner he still has available, the microwave intensity of Hi-Fi's colours still burns with the flare of The Future (so much so that I suspect that in 2024 there will be a sudden outbreak of people collapsing with great tumours blossoming from their eyesockets like fatal clouds. Every one of whom will be found to have read OMAC.), Max Lord not only has that Kirby Dapper Dan parting but he also smokes, there's a character called Little Knipper and there is a man with Mind Powers who appears to have a salmon fillet draped over his head. Bearing all that in mind I think you have little option than to agree that it is game, set and match to OMAC, which by the way is still VERY GOOD!
AVENGERS 1959 #3 By Mister Howard Victor Chaykin (w/a), Jesus Arbutov(c) and Jared K. Fletcher(l) (Marvel Comics, $2.99)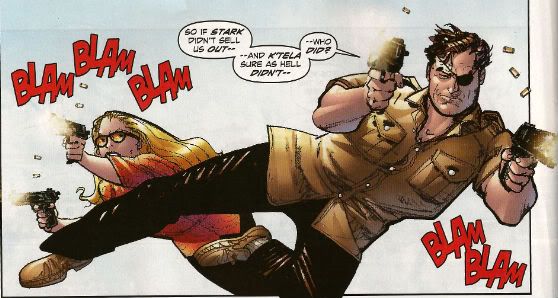 Howard Victor Chaykin must have been told the sales figures for this series when he was halfway through the issue because he suddenly just seems to say "Aw, nertz to youse bums! Allayez!" and starts writing the story he obviously wanted to write in the first place. Since this story is basically Nick Fury in a Dr. No-era Bond Flick with a sly sideways dig at Howard Victor Chaykin's own CHALLENGERS OF THE UNKNOWN SERIES and is peppered with salty humour and ridiculously entertaining action I know I'm okay with that. Yet another issue of intriguing skullduggery set in a convincing simulacra of the '50s and containing all the man-tastic magic of the Master Of The Mai Tai his own bad self, Mister Howard Victor Chaykin. Who else could quote both Papa Hemingway and Dezi Arnaz, from I love Lucy, on the same page? Exactly! No, no one is buying it but that doesn't stop it being VERY GOOD!
MUDMAN #1 By Paul Grist(w/a) and Bill Crabtree(c) (Image Comics, $3.50)
Now this? This is some fine comics. Mister Paul Grist bringing it big style. He's got a thing he does and he's doing that thing here which is good because it's a good thing Mister Paul Grist does. Alex Toth once wrote a blurb commending Paul Grist's work. Alex Toth. Grist's clearly influenced by Toth at the very least to the extent that his pages are very design orientated and the contents of said pages contain the minimal amount of ink in order to achieve the maximal amount of information. Grist mixes in a good dose of Kirby chunkiness into his Toth which makes the result a lot lighter and boppier than the sometimes airless Toth and of course the Toth grounds it more in reality than Kirby's work could manage. That could all be horseshit as I have no idea what I'm on about but I am pretty sure Grist is like Toth in at least one respect: all the thinking's been done before he puts the first line on the page. And every page here is a joy either as a pure comic experience or as an example of pure comic craft.
Mudman is a new series so anyone intimidated by the continuity of JACK STAFF (which included nods to continuity in old English comics even I've barely any acquaintance with. Lion? Victor? You could totally enjoy JACK STAFF without getting any of it BTW, it's right gradley, tha knows. This interruption is too long to go in brackets but I'm sure no one will notice) should put their fears to one side. It's a totally new start given the impression of some kind of back-story weight thanks to Grist's penchant for temporal narrative zig zagging. It's fun, funny and the execution is funnybooks in excelsis. If you aren't reading MUDMAN you must be mad, man! (in my imagination we all clubbed together and promised Brian Hibbs that we'd get him a SavCrit cover blurb for Christmas. That's my attempt. Cheers!) So, yeah, MUDMAN#1 is VERY GOOD!
SCALPED #54 By R.M. Guera(a), Jason Aaron(w), Giulia Brusco(c) and Sal Cipriano(l) (Vertigo/DC Comics, $2.99)
Although this series barely manages to avoid crumpling under the sheer weight of its genre clichés and the author's '70s movie memories it remains a decently entertaining read. Some of this is due to the author who manages to pull the rug out from under you often enough that you're never entirely complacent. Most of it is the storytelling which, yes, I guess Jason Aaron has a hand in but let's face facts R.M. Guera's got his whole arm in it up to his elbow. R. M. Guera is astonishing. I won't go on about it but let's just say that, for example, R. M. Guera knows that there's a difference between visually basing one of your characters on Warren Oates and straight up tracing pictures of Warren Oates. The former is an act of skill and the latter lazy pish. R. M. Guera doesn't do lazy pish. When SCALPED ends with issue 60 I look forward to seeing genre comics take full advantage of Guera's inventive and invigorating skills by assigning him to a Wolverine comic. SCALPED is VERY GOOD! but R.M. Guera is EXCELLENT! And I don't tell him that enough so I did it here in front of y'all because I am not ashamed of my love. My love is beautiful!
THE GOON #36 By Eric Powell(w/a) and Dave Stewart(c) (Dark Horse, $3.50)
Hey, I laughed a couple of times, longest and hardest at the vagina joke. Oh, yes that's the level we're operating on with this one. And that's okay. Like I said I laughed a couple of times at the story inside but I laughed most at the interview with Roxi DLite where the bounteous burlesque babe is at great pains to stress that burlesque isn't "just stripping in vintage lingerie". It certainly isn't! And those men in the front row with their hands kneading their groins like they're digging for gold are "applauding". Hey, whatever you want to tell yourself, people. Whatever it takes. A word of advice to the erotically adventurous: before you go to town on the centrespread of Roxi Dlite – take out the staples first. Casualty Departments are busy enough as it is, guys.
THE INFINITE VACATION #3 By Christian Ward(a/w) and Nick Spencer(w) with design stuff by Kendall Bruns and Tim Daniels (Image, $3.50)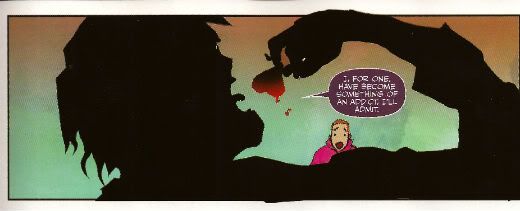 I'm not Sally Scientist but reading the exposition in this I can't help thinking that somewhere along the way someone confused science with semantics. Still, even on that basis it's still quite fun, I mean I'm all for messing about with words, so, okay. I'm less keen on the sudden immersion in full on sordid torture of the sensationalistic stripe. I mean, really INFINITE VACATION #3, you spend all that time and skill using words, pictures and even design in a pretty entertaining use of the comics form and then just expect me to be slack jawed with awe because you've seen Hostel. Nope, you could have been something, INFINITE VACATION #3 but you let us all down with your antics, and you let down no one more than yourself. Go to your room and think about how you are just OKAY!
THE MIGHTY THOR #5 By Olivier Coipel/Khoi Pham(a), Matt Fraction(w), Laura Martin(c) and Joe Sabino(l) (Marvel Comics, $3.99)
This comic contains a preview of NEW AVENGERS. This is important because you may wonder why this comic which is usually EH! Is now AWFUL! despite it being exactly the same level of vacuous failure as every previous issue. It's that NEW AVENGERS effect in full effect! I could go through this comic and tell you why it is so dispiriting an experience but no one cares least of all, for all their tiresome whining, the victimised creators so just take my word for it and save yourself $3.99 because MIGHTY THOR#5 is AWFUL!
Despite being broken and bad MIGHTY THOR did remind me of something on TV. Do you have those Adopt-A-Sad-Donkey commercials over there? Because MIGHTY THOR and NEW AVENGERS seem to be indicating that Comics are headed in that direction. So about March or so next year you can expect your episode of Chowder  to be interrupted by footage of some guy in a fluffy jumper strolling soulfully around a Mall while John Hurt's smoky tones cough up the following:
"This is "Dave". "Dave" wants nice things but tragically the world won't just throw them at him. Times are hard for everyone and "Dave" has to earn a living. "Dave used to be able to write. You may fondly remember some of the things he wrote. "Dave" is quite happy to trade on this nostalgic fondness if you'll just send him some money. Sadly "Dave" is old now, in his thirties, and his best days are behind him. If enough of you pledge just $3.99 a month "Dave" will receive the sales figures he so desperately needs in order to feel validated, sales figures that will result in a contract enabling him to eat brand name burgers and fart around flea markets with other needy creators looking for Female Prison films on Betamax while taking pictures of each other on Hi-tech gadgets. For just $3.99 a month "Dave" will send you a Tweet at least once a week. When he has a new comic out "Dave" will Tweet you hourly. When "Dave's" comic gets optioned it may even require the intervention of a Law Enforcement Agency in order to stop "Dave" Tweeting you. If you pledge $5.99 a month "Dave" will reveal unfortunate intimate facts about himself and which Sham 69 b-side he was listening to when he wrote his grocery list. The comic? Oh, you don't need to read the comic. The comic will be awful. This isn't the '70s, granddad, the actual comic isn't important. What is important is that "Dave" mentions all your favourite TV Shows in interviews and explains things really s-l-ow-l-y to you in the form of references to children's fantasy films from the '70s and so he must Love you and, if you send him $3.99 a month, "Dave" will ensure it will be like having the Best Friend in the World and all his successes will be your successes and all his money will be your money. So this Christmas give "Dave" the gift he needs most – money. And also unquestioning loyalty."
And like the concept of "modesty" – I'm GONE!
Have a dandy weekend, all!