While I was waiting for The Boy With The Roast Beef Face to come back off holiday and restore order before the whole country turned into an indoor firework I read some comics. It's a Not Big Two Bonanza this week! Let's see what  creators unbound can give us, eh?
THE INFINITE VACATION #2 By Christian Ward(a), Nick Spencer(w) (Image, $3.50) Ever wanted to holiday in the life of an alternate you in an alternate reality? Well, now you can because there's an App for that! But what if there was a murderer rapidly reducing the alternate yous between him and you? Got an App for that have you, pal? Thought not.
As high concepts go it's pretty vertigo inducing I think you'll agree. The real genius is tapping into that sexy tech gland in the brains of the young and yoking it together with the weird sense of inferiority these things evoke in the meat machines that consume them. Today's tech is sexy tech but it's also, maybe, dangerous tech and it's this formless, and very human, anxiety that the core concept feeds upon. I think. Of course familiar elements are needed to ground the narrative sufficiently for readers to connect, so there's a murder mystery providing propulsion and a romance with a mystery hot girl, paedo jokes etc.
Christian Ward's art is inventive not only in layouts, which often hover on the border of confusion while admirably never crossing it, but also in his choice of colours. It's well worth looking at is Christian Ward's art. Refreshing would be the word there. Nick Spencer's story rattles along at such a pace that while the series is clearly pleased with itself it never tips over into smugness and, crucially, the reader is never given chance to question any of it too deeply. Which is just as well. I had a few questions about stuff but that's what happens when you show old people the future they want to know where the toilets are and where they can buy some crisps.
As inventively illustrated high concept entertainment goes this was VERY GOOD!
THE GOON #34 By Eric Powell (Dark Horse, $3.50) The Goon watches some sport, gets likkered up and has a fight. It's really, really pretty.
The Goon is Eric Powell's comic. This means he can do whatever he dingdanged likes with it. If Eric Powell wants to waste several pages ineffectually taking the piss out of an transient media blip like Twilight then that's what Eric Powell's a-gonna do. If Eric Powell wants one of his characters to actually comment on what a waste of time said pages are then that's what's a-gonna happen. If Eric Powell wants the rest of the comic to be an extended fight scene punctuated by moments intended to be humorous and some cool images, guess what? That's right.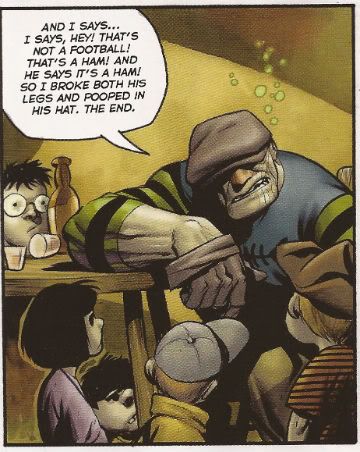 Sounds pretty negligible and indeed it is but that's not taking into account the art. Eric Powell's art is gorgeous. Finished off in lovely washes it has a chunky cartoon quality rooted in realism that is a sweet treat for the eye. I'm a fair man, my heart still beats, so I'll mitigate my opinion of this issue by saying that I have read Eric Powell's BUZZARD and CHIMICHINGA! and both of those were better because both of those had an actual honest-to-goodness story. When you get art this good illustrating something of at least a little substance you get one ripe peach of a comic experience. The GOON #34 wasn't such an experience but if Eric Powell wants to meticulously illustrate what is basically behind the bike sheds humour he's certainly free to do so. Just like I'm free to say it's OKAY!
USAGI YOJIMBO #139 By Stan Sakai (Dark Horse, $3.50) "Murder At The Inn" Part One.
Along with a disparate group of strangers the rabbit Ronin seeks shelter from a storm. When a murder is committed Usagi discovers that a nowhere is safe when strangers with strange motives are involved. The game is afoot! Or is it a-paw! Heh.
The peerless Stan Sakai has been working on Usagi Yojimbo since 1987. Despite its longevity it is a series rarely mentioned but when it is mentioned it is always with a large measure of respect. This is entirely fitting as through these many decades Mr Stan Sakai has pursued his peculiarly anthropomorphic vision with unfaltering commitment to his craft resulting in one of the most consistently entertaining and satisfying pamphlets to grace the racks. When he began Stan Sakai was already pretty great but as the years have passed he has quietly become a master. His art and storytelling have never taken any great leaps forward but rather have evolved slowly and surely towards his present level of subdued excellence.
I enjoy every issue of USAGI YOJIMBO for many reasons (I am particularly prone to staring at his cross hatching and I revel in the research he shares with us in the lettercol) but the principal reason is that Stan Sakai is content to bring good tales well told to the table. And there are still seats at the table for anyone who favours staunch excellence over empty bombast.
USAGI YOJIMBO#139 is pretty much like every issue of USAGI YOJIMBO in that it is EXCELLENT!
TRAILBLAZER (ONE-SHOT) By James Daily/Jimmy Palmiotti/Peter Palmiotti & Ken Branch (a), Justin Gray & Jimmy Palmiotti, Paul Mounts(c) and Bill Tortolini(l)(Image, $5.99)
The most awesome assassin in the world turns against his paymasters and is sent back to the Old West as part of a government witness relocation scheme. When the sins of the present follow him back he'll have to accept his past if he's to have any future!
 This thing has a hero who is a bad assed killing machine who hires his bad assed killing skills out to organised crime. It's okay though because he is an orphan, gives most of his money to the orphanage, was raised by nuns, only kills members of organised crime cartels and probably sorts out his glass from his cardboard when he recycles. So, he's an okay guy! No, no he's not, he's a self centred piece of moral detritus that can only be considered a hero by people who think morality is as quaint and outmoded as taking your hat off indoors. Hilariously this soil bucket whines on about how all the people he has ever cared about die when all the people he has ever cared about who we see die have quite clearly died because they associate with a narcissistic killer.
Anyone with any inner ethical life will surely be left wondering about how they can get the time wasted reading this thing back. I guess you'd have to build a time machine. Did I mention the time machine? Oh, tiny dancer, get this: the US Govt develops time travel and uses it to relocate witnesses in the Old West. If the U.S. Govt had developed time travel technology I think using it to relocate witnesses would be pretty far down the list of things they would use it for. This may be because I am a twisted misanthrope and thus inherently distrustful of governments and the uses to which they put technological advances but I think it is definitely due to the fact that this idea is mind bogglingly stupid. I spent more time deciding which socks to wear this morning than the creators of this thing spent considering the ramifications of this concept. (I went for the clean ones in the end.) The US Govt develops time travel and uses it to relocate witnesses in the Old West. I just wanted to write that down again so I could marvel at its almost total resistance to sense. I would have to be carved entirely from lard to countenance such a wilfully witless premise. Still, if you can buy that I guess you might buy this. I don't and I wish I hadn't.
But I'm not the intended audience. I am a comic book reader and this is not a comic although it presents itself as such. The intended audience for this is composed of deal makers in the TV and Movie industries. This is a sales pitch not a comic. From the "Papermovies" branding to the creator bios which read more like C.V.s all the way through to the perfunctory presentation of the thoroughly unoriginal (or original but cretinous) concepts. This is what you get when creators pander to the market. You get the equivalent to those leaflets window cleaners push through your letter box in times of recession. Those aren't comics either.
I disliked this because I am British and fun is alien to me, true, but mostly because it wasn't really a comic which made it AWFUL!
CRIMINAL MACABRE/THE GOON: WHEN FREAKS COLLIDE ONE-SHOT By Christopher Mitten(a), Steve Niles/Eric Powell(w), Michelle Madsen(c), Nate Piekos of Blambot(l) (Dark Horse, $3.99)
Maybe you like Eric Powell's IP The Goon? In which case have you seen Steve Niles' IP Criminal Macabre (Cal McDonald)? What if they had a fight before realising they had been tricked by the real enemy and then teamed up to boot the bad guy's jacksie? Wouldn't that be totally different to all the tights'n'fights comics that follow this strict formula?  It would be totally different! Well, the art is better at least. Would you like to buy more? Press here!
Kind of a "Here they are, hope ya like 'em! Particularly hope ya like 'em enough to buy more!" deal. Given all that The Goon comes off best here as he has slightly more presence thanks to having some blatant shtick than can be easily riffed on (outdated references, comical swearing and hitting things with a big wrench) whereas Cal McDonald is…there? Despite having plenty of room to do so, as it's hardly heaving with plot and incident, the comic fails to impart much of an idea of either character.  That's okay with The Goon who's basically a lively cartoon and even if you don't do much with him you'd have to do nothing at all with him for him to be totally unmemorable. To their credit the creators of this don't do absolutely nothing with The Goon. It's close, though but close only counts in horse shoes and hand grenades, as The Goon might say.

This here Cal McDonald IP is…there? He does a little magic, does a little drugs (Ooooh, dangerous!) and has black hair. A bit like John Constantine in the same way that Panda Cola is like Coca Cola. On the basis of these pages Cal McDonald isn't so much of a character as an IP waiting for SYFI to notice him. Regrettably studios only tend to shop for knock-offs if the original is successful. Cal McDonald curses you, Keanu Reeves! He damns your very eyes! Oh, on the last page Mike Mignola's IP Hellboy turns up which seems an oddly cheap and desperate note on which to end but, hey, turns out this "one-shot" is "…to be continued!" so the only thing that's actually ended is my interest. Probably not the outcome they were shooting for there.
So, yeah, this was just like a corporate comic and bored me quite a bit, that boredom beget irritation and then I just ran my mouth like a jackass so, y'know, on the whole I expected better but I got EH!
TIMEBELCH! By Hank Jeno (w/a) (Burning Streets, $4.99) What if you could change the course of History with kindness! What if History had other plans!
Barry Tupper is the best at what he does and what Barry Tupper does is Social Work. Despite this he is a pariah at Chistlewick Council due to his unorthodox and sexily rogue nature, which largely manifests in a tendency to deride managers as "paper fondlers" and tell clients that the IT system is a "shit counter". On being given his third and final written warning (for using the work photocopier to print flyers for his local charity car boot sale) Barry Tupper is given a choice: Get a job in the private sector or go on a secret government mission from which he will never return.
Barry goes for the lesser of two evils and finds himself thrown through time back, back to Leonding, Austria in 1898 with one mission: make Hitler a nice man! Adept at gaining the confidence of fearful pensioners Barry has few problems in befriending the potential world immolating nutbag and commences to throw his weight behind Nuture in its eternal struggle with Nature. For the two men the next couple of decades pass in a montage of walks through russet leaves, heads thrown back with full throated laughter and beach volleyball. All seems well as Barry concentrates on distracting Hitler from the iconography of his local church, giving him painting tips, nudging him towards macramé rather than politics and encouraging the use of "How you doin'!" rather than "Heil!".
Then one fateful day upon entering the café at which he and Hitler meet each morning Barry hears Hitler making an anti-Semitic remark to the waiter. Consumed by self-hatred at the extent of his failure Barry seizes the nearest butter knife. At the exact moment that Barry swings the butter knife in a fatal arc at Hitlers' neck he realises Hitler was expressing his dislike of the breakfast juice provided. A beach volleyball rolls across some sand and just as it seems about to stop… SMASH CUT TO BLACK. Sad piano music.
Although TIMEBELCH is  written with all the subtlety and tact of a Marvel Event and is drawn by someone who has had every bone in his hands broken only to have them set all wrong I feel it is ripe for optioning by a major studio and thus EXCELLENT! Have your people call my people!
One of those comics wasn't real! Did you guess which?
Now I must go and stand at my window and look out at blasted England with old eyes fat with tears. Only joking, have a great weekend, everyone!