…wolf! It was "hungry like the..wolf! Did you get it? Oh, forget it; I'll not bother in future. Here's a couple of comics I liked. Lady werewolves and that, innit. GRRR!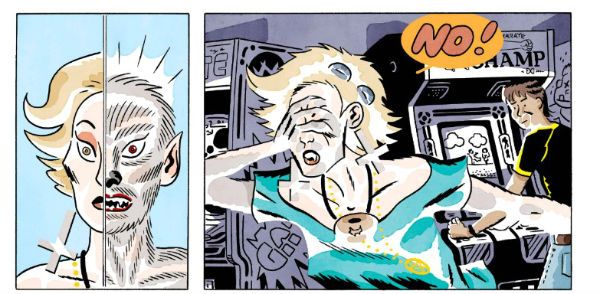 SHE WOLF by Rich Tommaso Anyway, this… CRY HAVOC #1 Art by Ryan Kelly Written by Simon Spurrier Coloured by Nick Filardi, Lee Loughridge and Matt Wilson Lettered by Simon Bowland Design by Emma Price Main Cover by Ryan Kelly & Emma Price Variant Cover by Cameron Stewart IMAGE COMICS, INC. £0.69 on sale on Comixology (2016) CRY HAVOC created by Ryan Kelly & Simon Spurrier CRY HAVOC © 2016 Simon Spurrier & Ryan Kelly
Oho! Looks like we got ourselves a Writer here. For starters the title's a truncated nub of Shakespeare (from Star Trek VI: The Undiscovered Country). It's one which is so culturally ubiquitous it irresistibly evokes the phantom residue of the quote r.e. dogs of war and the letting loose thereof. Thus it is not entirely inappropriate for a lesbian werewolf war comic. Ah but lest you think you are in for Stirba, She-Wolf of the SS, Si(mon) Spurrier slaps your crude face up with a quote from Joseph Conrad's Heart of Darkness (as opposed to, say, The Chuckle Brothers' Heart of Darkness), and it isn't "The horror! The horror!" or "Mistah Kurtz, he dead." Good start there; if a little high falutin' for a lesbian werewolf war comic. But, hey, maybe if Joseph Conrad (Józef Teodor Konrad Korzeniowski) were alive today he'd be writing lesbian werewolf war comics for Image. But Mistah Conrad, he dead, so it's up to Si(mon) Spurrier.  Say, do you remember when comics used to have quotes at the front from, like, Great Literature? I always liked that as a nipper. There was a real sense back then that folks really respected literature. Now it's taken as some kind of snooty elitist one-upmanship and only quotes from 1980s movies count. Back then though, Bill Mantlo or whoever would lead off an issue of THE INADVISABLE SHIT FLINGING TEEN MONKEY with a snippet of Virginia Woolfe. I remember one time excitedly holding court and declaiming that HULK issue #261 (1981) (wherein behind a Frank Miller cover The Absorbing Man tried to, uh, absorb Easter Island but failed) was nothing less than a four-colour, two-fisted evocation of John Donne's immortal 'Meditation XVII, Devotions upon Emergent Occasions'. To wit: "No man is an iland, intire of it selfe; every man is a peece of the Continent, a part of the maine..." And even though the bastards decided not to renew my tenure that year, I still stand by that.
CRY HAVOC by Kelly, Spurrier, Wilson and Bowland
But back at CRY HAVOC, and Si(mon) Spurrier is flirting with a hernia he's writing that hard. Most obviously there's a tripartite structure (London, The Red Place, Bangor, Afghanistan) with each section being coloured by a different colourist (Filardi, Loughridge and Wilson, respectively). Which is a little bit special structurally, if a bit disruptive on the old suspense front. Lou clearly survives because she's in each distinctly hued part, so at the minute the greatest question is how did a lesbian werewolf get with child. (No, not the specific biological mechanics, thanks.)  Si(mon) Spurrier also chucks a varied cast in the reader's face, and while Inappropriate Sexual Comment Thor is funniest, everyone is interesting. Although everyone may not be as interesting as Si(mon) Spurrier thinks. It's possible other people warm to chirpy street fiddlers with blue hair who say "sammiches" instead of "sandwiches" more than I do, but that's our protagonist so that's that. (Also Si(mon) Spurrier probably isn't going for the menopausal balding male who's made catastrophic life choices market.) CRY HAVOC's not just about werewolves though, there are all kinds of odd mythical misfits aiding our chipper lass in her search for a rogue agent in an area torn apart by Western shenanigans (Oh, oh, like Mr. Kurtz! I get it now!) There's even a bit at the back where Si(mon) Spurrier annotates the whole issue with his writerly wisdom. I didn't read that because I wanted to know if the comic worked without someone explaining it over my shoulder, but its presence was appreciated. Ryan Kelly, though, hmm; I wasn't super-sold on the art which was a bit unspectacular and a tad muddy at times. The initial alley attack was a bit meh; I'd have thought that would have been your set piece. Mostly though in that bit I was just distracted by the uncertainty that cheeky street urchin chomping would go unnoticed in an alley next to The Old Bailey. Justice may be blind but she isn't deaf. Ho Ho! So not exactly hanging out the bunting for the art just yet. However, there's a clear sense of an individual style trying to form, and it's far from an incoherent mess. So watch and see, I guess.  Hopefully CRY HAVOC will avoid stumbling into some twee-shite Young Adult territory where all the Fairies and Little People are real if only you have the sight to see! Because if it does do that then what's Neil Gaiman going to do? CRY HAVOC is currently up to its sixth issue and, yeah, I'll catch up on those because it is GOOD!
SHE WOLF#2 By Rich Tommaso IMAGE COMICS, INC., £1.99 on COMIXOLOGY (2016) SHE WOLF created by Rich Tommaso SHE WOLF © 2016 by Rich Tommaso
Damn, look at that cover! BOOM! That's classy stuff right there. Oh, just get it bought. I've said it before and I'll say it again, and I'll keep saying it until Rich Tommaso can buy his own private island: SHE WOLF is many things but best of all SHE WOLF is total COMICS!!! I don't know anything about Rich Tommaso, so going in so deep on the old recommendation front may backfire in my oh-so-trusting face. He's a male comic creator after all, and there's not a week goes by when we don't discover some dude who can draw Batman or can write about Batman has, uh, bad habits. Listen, guys, I'm not unsympathetic; drawing Batman or writing about Batman are vital tasks and in many ways you are the Real Heroes, and I also know it can be confusing these days what with women being allowed to vote, drive and even enter pubs unattended but, seriously, hiding under a lady's bed, then creeping out when she's asleep to stand astride her head pantsless? Then slowly bending your knees, thus bringing your balls nearer to the sleeping lady's face until her slumberous breath stirs the wispy hairs upon your fleshy danglers? Not normal, fellas. Frankly, aside from the phenomenal muscle control required there's little to approve of in that behaviour. Oh, am I perfect? No, but there's imperfection and then there's behaviour which would mean Joe Spinell would play you in a movie. Basically, it shouldn't be so hard to know when you are being creepy, guys. So, yeah, just in case my praise comes back to haunt me I'm building in my escape hatch early. Obviously, I'm not even really talking about Rich Tommasso there, okay? Got that. Until I hear otherwise I operate on the principal of 'Innocent until proven Guilty' and so I'll continue my "Make Rich Tommaso Rich!" campaign. All I have to say currently about Rich Tommaso are good things, nay, great things, because SHE WOLF is great. But Rich Tommaso made it, so maybe he's even greater?
SHE WOLF by Rich Tommaso
Sure, Rich Tommaso's name may sound like someone six pints into the evening unadvisedly trying to talk about wealthy red fruits often mistaken for vegetables and frequently used in salads, but you mustn't hold that against him, because he is an artistic behemoth! For realz, chirren of the comics! SHE WOLF has a muscular narrative propulsion not entirely dissimilar to that of our titular loping lycanthrope. All kinds of stuff kicks loose in SHE WOLF#2's short span: a freaky friend is found, vampires and sunblock are discussed, an arm is torn off, a mother is displeased, an arm grows back, a small boy is hilariously traumatised for life in the play area, dimensions and dreams are discussed, a certain goat should have stayed in bed, secrets are revealed, further secrets are hinted at and next issue even has a demon penis on the front. All that and much, much more for one pound and ninety nine pence! SHE WOLF is as perplexing and alarming as adolescence, but a lot more beautiful to look at (and with a lot less surreptitious wanking). More wolves too. SHE WOLF wears its allegorical trappings lightly so it can be read as a coming-of-age tale, or a coming-out tale, or both, or just as a maniacally inventive and breathlessly paced horror romp, or all three and probably a fourth thing I missed. Maybe five, possibly six things. Seven might be pushing it though. The level of visual invention on display in SHE WOLF is kind of frightening in itself. Tommaso manages to blend '80s mall culture, toilet humour, freakazoidal Ditko-scapes, body-morphing horror, lucid dreaming, dreamy reality, counter-intuitively sunny colours and then, just because he can, he smothers the entire canis lupus caper in a Rich Tommaso sauce. SHE WOLF is EXCELLENT! 
Next Time: Decisions, decisions. Howard Victor Chaykin's revolting bananas OR a xenophobic Little Englander's view of Euro-COMICS!!!