One of the best comics you haven't read is coming back into print. I shamelessly try and big it up because it'd be nice if people bought it this time round. What with it being pretty great and all. Oops, spoiler!
THE LAST AMERICAN by McMahon, Grant & Wagner
Anyway this…
THE LAST AMERICAN: The Collected Edition (Digital Version) Art by Mike McMahon Written by John Wagner & Alan Grant Introductions by Garth Ennis, Dave Gibbons (and a hilariously self-deprecating one by) Mike McMahon © 1990, 2012 Alan Grant, Mike McMahon & John Wagner THE LAST AMERICAN created by Mike McMahon, John Wagner & Alan Grant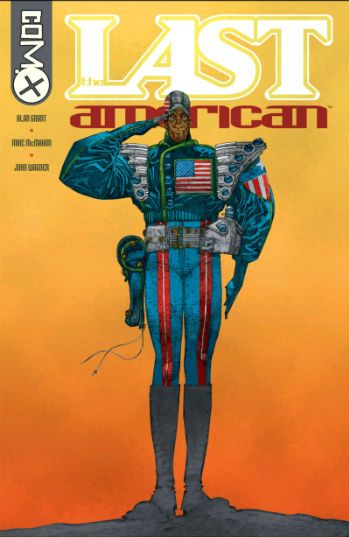 "The missiles are flying. Hallelujah, Hallelujah!" – President Greg Stillson (The Dead Zone, 1986)
"For myself and my loved ones, I want the heat, which comes at the speed of light. I don't want to have to hang about for the blast, which idles along at the speed of sound." – Martin Amis (Einstein's Monsters (1987))
"Now the stage is bare and I'm standing there, with emptiness all around..." – Elvis Presley (Are You Lonesome Tonight, 1960)
Apocalypse, word wonks will tell you, means revelation of knowledge previously hidden. Nuclear apocalypse is the revelation that those turned to ash in the first few minutes will be the lucky ones. Pedantry will not protect you from 37.4 megatons of TNT, alas. THE LAST AMERICAN is about what happens after the apocalypse. It is set after the dust has settled. The dust that was once planning its retirement and worrying about missing MR ROBOT.

THE LAST AMERICAN by McMahon, Grant & Wagner
Some of that dust would have read THE LAST AMERICAN when it originally appeared in 1990 as a 4 issue mini-series from Marvel's EPIC imprint. Being  a darkly witty work of intelligence, one illustrated in a style spectacularly balancing the harrowing and the humorous, it sank without trace. Not even a silhouette burned into a wall. So little love did the series receive in the time of artistic titans like Liefeld and McFarlane that it wasn't even collected until 2004 by COM.X, and now, apparently, in 2017 Rebellion will be reissuing the series in a TPB. Basically then THE LAST AMERICAN will be reprinted roughly every 13 years until you recalcitrant rabble pick up on its magnificence. And it is magnificent.
THE LAST AMERICAN by McMahon, Grant & Wagner
It's magnificent for several reasons but chief of these reasons is that Mike McMahon draws it, and Mike McMahon is never less than magnificent. THE LAST AMERICAN is a full on MickMac Attack! In THE LAST AMERICAN Mike McMahon's inveterately evolving style mutates once more, here into a eye-sexing fusion of meticulous exactitude and visual hyperbole. Take our protagonist, Ulysses S. Pilgrim, awakened from cryogenic suspension and searching for life 25 years after the earth has been scorched with nuclear fire. He is at once convincingly realistic in his details yet also disarmingly comic booky due to their preponderance. Visually Pilgrim is every inch the comic book hero, with his flashy insignia, his swollen shouldered jacket, high waisted slacks and ruffty tuffty boots all topped off with a cap gilded with laurels and lightning bolts. He looks every inch what he is - an Apocalypse Commander! Apocalypse Commander! Armed with a big gun! Driving a giant tank! Accompanied by two War Robots! With a comedy sidekick robot! Apocalypse Commander! In a Post Nuclear Wasteland! See the Apocalypse Commander and his mechanical allies face mutant tribes of violent mechanically gifted lunatics with a passion for punkish couture! Or not.
THE LAST AMERICAN by McMahon, Grant & Wagner
And it's actually not. And it's better it's not, because you've seen that story before and you'll see that story again, but you've never seen this story before and you won't see it again. Because this is a more realistic post-apocalypse world than genre entertainment is used to; the cars are rusted tombs and the hairspray is past its sell by date. In THE LAST AMERICAN a comic book creation is dropped into the reality of a post-bomb world, and found wanting.  Dubbed Apocalypse Commander by the President hissownself and entrusted with taking the fight to the enemy, Pilgrim instead finds nothing to fight but failing defence systems, tedium, haunting memories and the swift corrosion of his sanity in the face of a world encrusted with corpses. What could have been a one-note joke is lent poignancy and weight by Wagner and Grant's inventive script.
THE LAST AMERICAN by McMahon, Grant & Wagner
They know that even if there's just one human left then there's an imagination, and even one imagination contains worlds entire. So a story about one man (and three robot)'s stroll through the dark night of all our souls is lit up from within by Wagner & Grant's resourceful creativity. New York City may be dead but that doesn't stop it getting up and dancing a star-spangled mish-mash of musical dreams, and a mind under duress can find itself in a very American heaven where Presidents past discuss the bomb while passing the canapes, and the diary of an autistic girl takes us into the murky heart of potential survival. This last is a gruelling work of genius that deftly sidesteps the mawkish. See, she doesn't understand what's happening and when it happens none of us will understand either. Those of us that live long enough to understand something has happened anyway. Ultimately THE LAST AMERICAN works as well as it does because the authors (Wagner, Grant and, yes, McMahon, whose deftly desolate cartooning cannot be overpraised here) know that if someone survives then laughter will survive too. Wait, did I mention it was funny?
THE LAST AMERICAN by McMahon, Grant & Wagner
Because it is funny. Which shouldn't come as much of a surprise to anyone familiar with Wagner & Grant's work for 2000AD (STRONTIUM DOG, JUDGE DREDD etc etc). Their gracefully mordant wit infects the whole of THE LAST AMERICAN right from the start with an intro that moodily apes the ALIEN wake-up scene punctured by an intrusively jarring ad jingle. And the book ends on a note of dark irony when all hope rests on the flick of a lighter, that delightful igniter of a billion cancer sticks. (Obviously cancer has nothing on nuclear war. Nuclear war has cancer beat on the old mega death score.)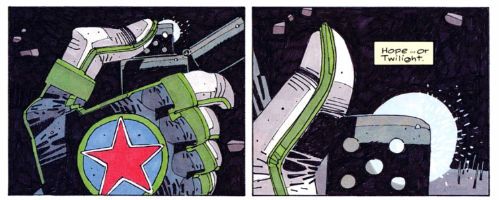 THE LAST AMERICAN by McMahon, Grant & Wagner
In between there are jokes both large and small, dumb and smart, joyful and despairing. When Pilgrim finally teeters on the brink, it's a joke as dark as it is smart that pushes him across the pit to the other side. It's a hard world after the bomb and you have to look hard for the hope.  But it's there, even if it's just in the mere presence of another human's shit. A hard world doesn't need a hard man, it needs a man who can flex under stress, and there's no greater indicator of that than the man who can laugh in the face of global extinction. Whatever else the last American is he's a man who laughs. THE LAST AMERICAN is EXCELLENT!
THE LAST AMERICAN by McMahon, Grant & Wagner
After the bomb there will be no – COMICS!!!