There was a sale on Image Comics on The Comixiology to celebrate comics creators saying awful things at some convention or other. Me, I hate Rosicrucians because someone once told someone who told me that they make their kids pee standing on their hands so it goes in their mouths. I could be wrong, but why check? Oh, also I bought some stuff. For starters I got four issues of THE GODDAMNED for £0.69 each. Then I wrote this. True story, bro. "In the beginning was The Word. And The Word was poo-poo-botty-stinker." The Book of Aaron Ch1, v.1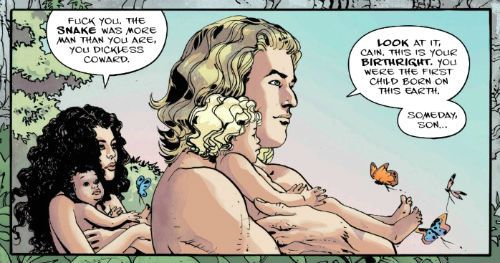 THE GODDAMNED by Guera, Aaron, Brusco & Fletcher
Anyway, this…
THE GODDAMNED #1-4 Art by R.M. Guera Written by Jason Aaron Coloured by Giulia Brusco Lettered by Jared K. Fletcher Image Comics, Inc, £0.69 on sale (2015-2016) THE GODDAMNED created by Guera & Aaron Based characters from The Bible by God (via 40 or so human vessels for His Word).
Man-mountain (not man-mounting, cheeky!) Jason Aaron's new cock-flicking comic is a fiercely oh-so-adult exercise in shit-fingered maturity. Swears adorn each funky page as flies bejewel turds, if you can't take the swears get in the kitchen, weak-o! Rattle those pots and pans! Aaron's jizz-caked high-concept is to set THE GODDAMNED after the bastard-felching Fall but before The donkey-fellating Flood. You know, as in The bum-truffling Bible. Because that's mother-scatting Edgy, I guess. Some library haunting self-abusers might be disappointed to learn that this Bible stuff is just a swerve, a crotchless pair of sophisticated knickers, a sop for the four-eyes out there, but proper swinging dicks will delight in the fact that THE GODDAMNED, lacy Biblical guff aside, basically resembles a booger-snuggling Heavy Metal story; from back when The Metal had robot tits on the cover, you know, not now they have a materialist magician at the helm ("Hocus Pocus! Self-Promotion!") Make no dog-fondling mistake THE GODDAMNED is all boob-kneadingly grim stuff, with sweaty men wielding axes made of babies' femurs and folk calling God a cunt. Golly! Ear muffs, kids!
THE GODDAMNED by Guera, Aaron, Brusco & Fletcher
Our protagonist aside (it's Cain. Different spelling, no relation. Or is he? Eh?), everyone, even the ladies, even the kids, are all scarred and hairy. Not unlike my savaged groin after that orchiopexy. Yeah, I know it's primarily a kid's procedure, but my balls were so large and laden with swimming future Winners, they had to wait until I was manly enough to take the pain of the surgically assisted descent. And, yeah, it hurt because anaesthetic is for girlymen Liberals and pussyboy intellectuals, both of which can smoke my fat porker. But not in a gay way. In a manly way. Yeah, THE GODDAMNED is a comic for all us big balled fellas who sweat when we shit; who almost pass out when we pass stool, straining faces as swollen and empurpled as our members on the vinegar stroke because our diet, see, contains only red meat. Meat we have killed our bare hands, skinned with our filed down teeth, and smoked over a fire of burning titmags. THE GODDAMNED is studly stuff, engorged with hard won beefy truths about how a man can find the drive to live within a sad child's eyes or a woman's shrill neediness. It's only slightly marred by the fact that having a protagonist who can't be killed detracts from the suspense a bit, every fight thus becomes as one-sided as an arm-wrestling contest between a long-haul trucker and a Sociology major. Imagine The Outlaw Josey Wales set on John Norman's Gor and written by someone overcompensating for the fact that his churchy family think writing is for the ladies. "With John Vernon as Noah". Grrr! Woof! SAY MY NAME! SAY IT!
I
THE GODDAMNED by Guera, Aaron, Brusco & Fletcher
Damn, this comic is so butch it'll whip you with its dick 'til you start to like it. Pushing past the childish desire to outrage, as through the foresty pubes of a '70s pornstar, it is possible to see some cute pacing, decent characterisation and robust structural integrity in the writing. But it's hard to give credit when the whole thing consistently mistakes infantile for audacious. Luckily for the soft sods out there, like moi,  who can't take Jason Aaron's burnt bacon brilliance, R. M. Guera draws the hot balls off everything in such a way as to actually make the ridiculous thing seem worth reading. Reading is for mulch-cuddling professors though, so make that "worth looking at". R.M. Guera is just a goddamn (heh) joy to watch. Even when folk are face down in pools of shit, or guts are unspooling in red splashes from twisted and gnarled bodies, there's a vein of feral splendour running through everything. Guera's briefly glimpsed Eden is as pure and cold and distant as perfection itself, but his broken sin-stained earth is filled with vitality and a shockingly brutal beauty. Aided only by Brusco's apocalyptically lush colours Guera's art is eloquent enough to make an unflinching and convincing case for humanity, flaws and downright shitty behaviour and all, while the script blithely rebels uselessly, stridently and foolishly against an empty sky. Because of R.M. Guera THE GODDAMNED is VERY GOOD! But only because of R.M. Guera. Otherwise it's EH! (N.B. I didn't really have a late life orchiopexy. So don't send cards. Save the money and buy yourself something nice.)
THE GODDAMNED by Guera, Aaron, Brusco & Fletcher
NEXT TIME: Hungry Like The…COMICS!!!