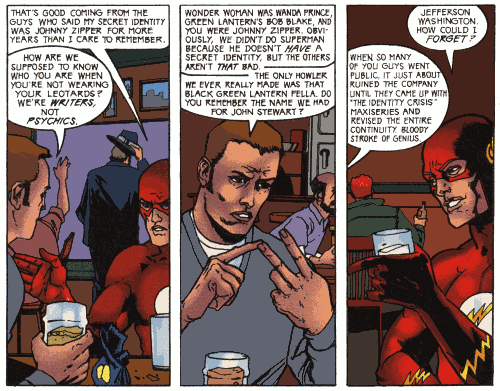 This one had the best of intentions but somehow ended up being more of the accident-at-the-mousetrap-factory variety. Graeme and I started with the idea of doing a year in review podcast and it morphed, as our conversations usually do, into a verbal catalogue of compulsion and fixation.
Oh sure, we start covering events from 2011 like DC's New 52, day and date digital, but ends up being more about the paintings of Sharon Moody (erroneously called Shannon Moody by me for the whole damn podcast!), Christmas with the Swamp Thing and a long analysis of the year's crossover events through the only lens that matters--that of Mark Millar.
But my system crashes partway through the conversation (which you'll be lucky enough to hear), Audacity stripped all the sound out of the exported file (which I only found out after I spent an hour uploading) and we still have Part 2 for you to come--which I look forward to all but stabbing me in my fucking throat, Chucky-style, while I work on it--so, you know. Happy Holidays! And like that.
[NOTE: Turns out the music that plays us out didn't convert into the final mix for some reason?  So even though the episode ends very abruptly, you're not missing anything, we swear.]
In any event, maybe you can find this on iTunes (or iTunes has turned that soundless file into an unstoppable murdering sonic sound file...in which case, I apologize and ask you don't count it as a typical recording should you decide to leave us a review there) or you can listen to our friendly, non-murderous version here:
Wait, What? Ep. 68.1: Grist for the Mill(ar)
Thank you for listening, and for putting up with our sad sonic shenanigans!