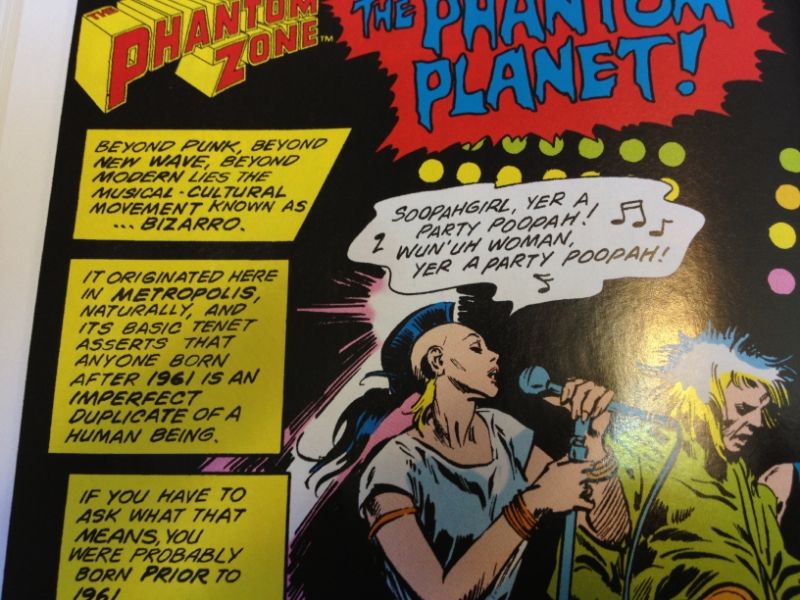 As I reacall, Patti Smith shit-talked the Bizarro Movement in Just Kids, didn't she?
yes yes yes this is a real thing that was published and yes yes yes it is Steve Gerber how did you know?
After the jump, another episode of our humble little show, complete with show notes that are even more humble and, um, even more little?
0:00-4:26: A weirdly off introduction! Words are exchanged about the weather, albeit briefly.There were some Natalie Merchant/10,000 Maniacs I was going to drop here in the show notes because she sings some song where the chorus mentions the weather, right?  I owned that Maniacs record where she sings about  beat writers and I don't know why, but thinking about that now makes me wish I could travel back in time and punch myself in the face.  I mean, technically, I could just punch myself in the face right now without the time travel (and god knows, there's plenty of times where I do exactly that, most days) but it seems like it would be letting the me of the record-buying era off far too easily. 4:26-17:20: "You know what it is?  It's nature preparing us for James Spader as Ultron." And with that, we are officially off to the races!  Also covered: Variety headlines; Nextwave: Agent of Hate; Ben Stein; every Ultron story ever; and Dan Slott's interview on the Nerdist. 17:20-26:47:  This leads to us talking more specifically about Superior Spider-Man by (you guessed it) Dan Slott and various artists. 26:47-33:57: By contrast, Graeme also has a lot to say about Young Avengers #9 by Kieron Gillen and Jamie McKelvie.  Graeme also is loving Wolverine and the X-Men by Jason Aaron and Nick Bradshaw (with heavy-duty spoilers at the 31:01 mark for about a minute?) 33:57-40:00: And we had positive things to say about Justice League #23 by Geoff Johns and Ivan Reis and the conclusion of Trinity War. (And there are spoilers here at 35:52 until about 37:00, if you want to avoid having one of the book's big moments revealed.) 40:00-43:31: The Batman Inc. Special! Dear god, am I going to list the times for every one of these books, and also whenever we spoil an important moment in that book?  I wonder who will find my desiccated corpse in this chair? Anyway, we talk about this grab bag "epilogue" with a special shout-out to the terribly executed afterword by Grant Morrison.  What the fuck, DC -- that is basically the special shout-out (spoilers!) -- what the fuck. 43:31-55:09: The American Vampire Anthology! Adventures of Superman #4 with stunning work by Chris Weston!
Action Comics by Scott Lobdell and Tyler Kirkham!  Superman Unchained by two unknown newcomers whose names escape me! 55:09-1:12:02: Superman related!  Jeff grabbed Superman: Phantom Zone by Steve Gerber and Gene Colan and he has mixed feelings about it.  Adoration, sure, I mean how can you not adore stuff like the image that heads up this entry but….well, there are things, and Jeff talks about them. (Oh, does he talk about them!) 1:12:02-1:25:42:  Graeme has read the latest Batwoman collection, Batwoman Vol. 3: World's Finest. And this leads to us talking about the fruits of collaboration, the current difficulty with seeing today's work as such, Stan Lee & Jack Kirby, and more. 1:25:42-1:34:59:  Speaking of Jack Kirby's OMAC: One Man Army Corps: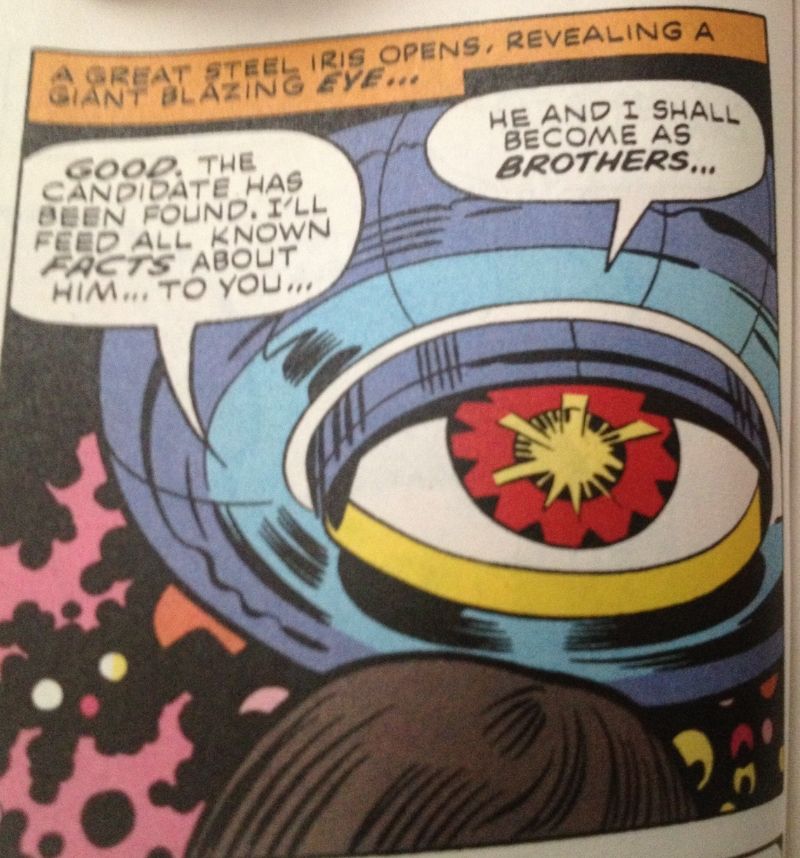 Jeff speed-reread all eight issues of OMAC and oh man that is glorious, glorious stuff. Since this was recorded the day after Jack Kirby's 96th birthday, we had to talk (all too briefly!) about the wonder that is the man's work. 1:34:59-1:38:03: Jeff also read the collected The End of the Fucking World by Charles Forsman, finally getting a chance to finish it many months after loving the first issue. 1:38:03-1:44:21: Jeff has read Batman 66 and walks to talk about it, and tries to instigate a bigger conversation about digital motion comics that, sadly, neither Graeme nor Jeff himself are really ready to have yet?  Oops. 1:44:21-1:53:53: This does lead us to discuss Infinity's infinite comic, which leads us to discuss recent work by Jonathan Hickman for Marvel, which leads us to discuss Matt Fraction's work for Marvel, which leads to... 1:53:53-end: Closing comments!  Ben Affleck as Batman! Scary fingers! And…scene.
Look to the skies! (By which I mean: iTunes!) Look to the skies! (By which I also mean:  our RSS feed, which is absurdly long now.  It's like the opening scrawl to Star Wars -- it just scrolls into the horizon forever, at this point.)  The candy-coated skies!  (By which I mean, uh... you are also welcome to check out the episode below, should you choose, at your leisure?)
Wait, What? Ep. 133: Born Before '61
As ever, we thank you for your kindly attention!