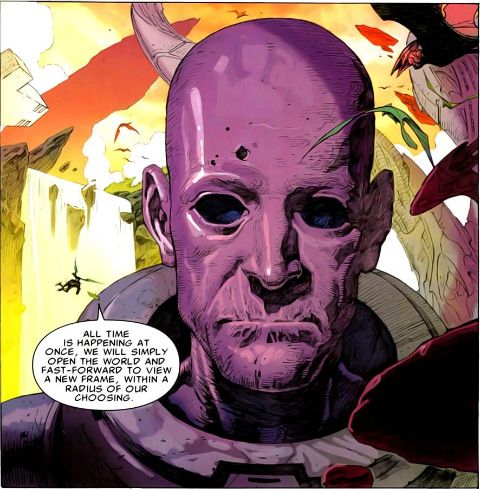 Behind the non-Clowesian eightball again, so this will have to be short and sweet.
First? Graeme and I love you all. Awwww. (See? Sweet.)
Second, the above illustration is from Uncanny X-Force #15, by the astonishingly great Jerome Opena. (I think the whole book is pretty great, because Remender is doing his best to crank things up to 11, but ooo mama that art....)
Third, this installment is approximately eighty minutes long and we talk about a dozen-plus books, including Batwoman #1, Mr. Terrific #1, Legion Lost #1, Superboy #1, Uncanny X-Force #15, PunisherMAX #17, Criminal: Last of the Innocent #4, Journey Into Mystery #627, Drifting Classroom, Bakuman, and, as you'd probably expect, Fear Itself #6.
Fourth, I think our review of Fear Itself is relatively non-skeevy or stalkery, although a bit outraged. (Not as much as perhaps it should be, maybe).
Fifth, my Wordpress interface is really slow and a bit screwy--especially when it comes to backspacing which is something sloppy typist does A LOT--and so I apologize if this entry is both too long and too short, simulatenously.
Sixth, this installment should be up on iTunes and of course it is also hear for you to listen to, comment upon, or even ignore:
Wait, What? Ep. 57.2: Playing the Dozens
Seventh, I go now to prep for our next thrilling episode by reading a metric shit-ton of comics. As always, thanks for listening and we hope you enjoy!