I read a 1960s DC war comic. It was pretty neat. Don't worry, it's inevitable that we'll hit some real shockers soon, but not this week.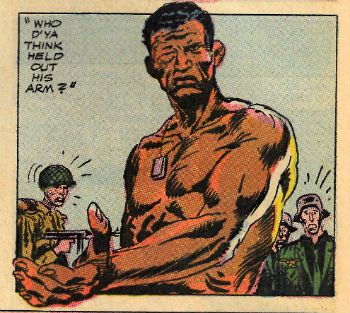 OUR ARMY AT WAR by Joe Kubert & Robert Kanigher
Anyway, this…
OUR ARMY AT WAR #160
"What Is The Color Of Your Blood?"
Art by Joe Kubert
Written by Robert Kanigher
Sgt Rock created by Joe Kubert & Robert Kanigher
DC Comics, $0.12 (1965)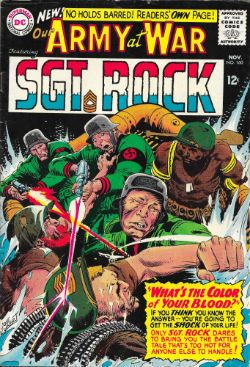 This yellowing and elderly comic clutched in my yellowing and elderly hands is remarkable for a number of reasons. The most amusing of those reasons is Robert Kanigher's lovably hyperbolic reaction to a letter criticising his work on WONDER WOMAN: "What is one more scar to a walking battlefield?" This being OUR ARMY AT WAR and not WONDER WOMAN the precise criticism is irrelevant so Kanigher doesn't print it. Kanigher's steely indifference in the face of such criticism is, however, important so he does share that with us. "What is one more scar to a walking battlefield?" Fantastic stuff. Due to its relevance Kanigher is however able to share with us the rest of the letter which, fortuitously, is praise, this time for the Enemy Ace strip. Yes, as you've probably gathered from previous entries in the appallingly persistent "Old Man! Old Comics!" things I do, one of the very special pleasures of reading an old comic is the dip into the psyche of the Comics Scene Past it allows via the letters page. Usually, because I err towards old war comics, this is an exciting peek into the minds of readers who were inclined to address their excitable letters to fictional characters ("Hi, Sgt Rock! Remember when you shot that Jerry in the face? How did his brains taste?") and correct mistakes regarding weaponry ("…the Koch-Wobbler sub-machine gun was in fact useless in prolonged firefights due to its tendency to overheat and loudly question why everyone couldn't just get along." ) The thrilling fusion of imagination and pedantry on display is an entertainment in itself, and an important indicator of how seriously the audience took this stuff. Well, some of the audience. Admittedly most of the audience neglected to write in and probably forgot these books as soon as they finished them, but, still, someone out there was listening. In recognition of this DC's war comics would occasionally try to say something worth listening to. OUR ARMY AT WAR #160 is one such issue.


OUR ARMY AT WAR by Joe Kubert & Robert Kanigher
OUR ARMY AT WAR#160 is a Message Issue and, no, the message isn't that you can't hurt Robert Kanigher's feelings with your WONDER WOMAN criticisms but rather that everyone should knock that racist shit off. From my privileged view point (white, male, one cat, no hair) it's easy to think such a message is like telling everyone not to wash their hair in lava ,or not to keep tigers under the bed, and yet rumour has it that racism persists. Sure there's a black President in The Americas but there was also all that pretty racist stuff about him being a Hawaiian muslim or something. (Those damn Hawaiians! Always causing a fuss! I don't want to sound anti-Hawaiian here but…etc.) Things are by no means sorted on the racial equality front in 2015 and terrible, terrible things still happen to remind us of that. But things are… better (said the complacent middle aged white man) in 2015 so the clumsy but heartfelt sentiments on show here might seem a tad toothless. But not all times are these times. And this comic didn't come out in 2015; it came out in 1965. That may well have been ten years after Rosa Parks changed everything by not going to the back of a bus but those ten years of Civil rights progress had been filled with tear gas, violence and death. In 1965 there may well have been the Voting Rights Act but there were also the Watts Riots (Aug 11-17, 1965) and the assassination of Malcolm X (21 Feb 1965). Offering up a plea for racial equality in a comical periodical might not exactly have been literary gunpowder, but in 1965 it was still far from empty gum flapping.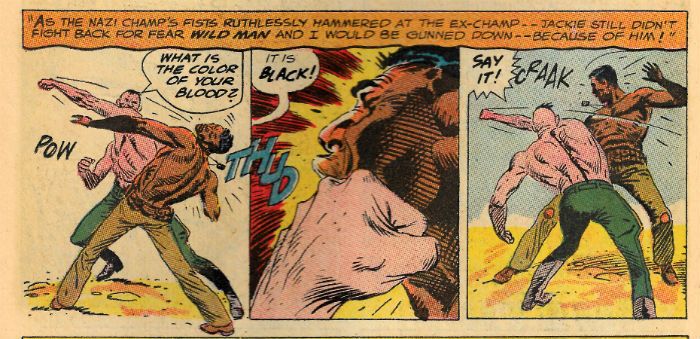 OUR ARMY AT WAR by Joe Kubert & Robert Kanigher
Throughout I'm treating this comic as a Kubert & Kanigher collaboration because comics are (ideally) a collaborative art form and Kubert & Kanigher worked closely together on the Rock comics. The storytelling with its in media res opening, repetitive reinforcement of key points, flash-backs, direct to the point of bluntness dialogue, use of quotes to highlight simple metaphors and the general ability to impart something quite rickety with the illusion of solidity is Kanigher at the top of his "get it done" game. Kubert's art has an extra level of commitment here, with that lively looseness of line bolstered by the blunt impact of his blacks to smooth the eye through.

OUR ARMY AT WAR by Joe Kubert & Robert Kanigher

As I've said in the past I think Joe Kubert was quite keen on his comics being edifying so I can quite see the whole message thing originating from him, Kanigher giving the thing shape, and then the two batting it back and forth until time ran out and they just had to go with what they'd got. The result is not exactly buffed to a high gloss, but for all the slips into silliness and end runs past realism "What is The Color of Your Blood?" works well as a four colour punchy polemic.

OUR ARMY AT WAR by Joe Kubert & Robert Kanigher
As is traditional Sgt Rock headlines OUR ARMY AT WAR but for much of this blockbuster battle yarn Jackie Johnson takes centre stage. Because you aren't old and daft you probably don't read a lot of DC war comics so it's maybe worth pointing out that Jackie Johnson is the black member of Easy Co. From my intensive researches (i.e. reading Codename: Gravedigger in MEN OF WAR) I can tell you that this is unrealistic as blacks and whites were segregated during WW2, with black soldiers relegated to menial and unpleasant tasks while the white soldiers did the fighting. However, due to further research (i.e. reading SGT ROCK comics) I can assure you that Sgt Rock stories are not supposed to be documentaries so, yes, there's a black soldier in Easy Co. In 1965 America was still firmly impaled on the Punji sticks of the Vietnam War and soldiers (back before they were allowed porn vids) were notorious for reading comics. Sometimes people wonder how DC's war comics lasted as long as they did and, simplistically, I think it's because even though they were (mostly) about WW2 they allowed America to acknowledge and deal with the wars that came after. Anyway, racial segregation in the US Army had ended in 1948 so by 1965 black soldiers could die with white soldiers, which just goes to show equality isn't all pony rides and ice cream. It also shows why Easy Co. anachronistically included a black soldier - it was an attempt to reflect the diversity of the armed forces audience of the time.

OUR ARMY AT WAR by Joe Kubert & Robert Kanigher
The exact individuals whom Jackie Johnson is supposed to be an amalgamation of varies according to who you ask, as this story revolves around boxing I'm going to stick with Jackie Johnson being a combination of Jack Johnson & Joe Louis, who were both boxers. They also both play directly into the ideas and themes Kubert & Kanigher are utilising. Man, that's a chalk and elbow patches sentence right there. Before we get to that dusty stuff I have to tell you about the dust up it's attached to. In essence then, Rock, Wild Man (he of the eerily prescient hipster beard) and Jackie Johnson are captured by Nazis, amongst whose number a familiar face is found. Fate (as if working against a really tight deadline with little room for such niceties as plausibility) has conspired to bring Jackie face to face with, one Uhlan who is not only a German boxer, but the very same German boxer to whom Jackie had memorably lost the heavyweight boxing championship prior to WW2 (!) Memorably for Jackie that is, not you because it didn't really happen so how would you remember it? Turns out Jackie remembers it enough for everyone as we see in a series of flashbacks in which Jackie saves Easy Co. via a succession of typically Kanigher-esque acts awesomely entertaining in their unfeasibility, but then looks all sad and Sgt Rock stands near him and does one of his little monologues which explain Jackie's sadness in a manly way. Basically, Jackie has really taken his Stateside loss at the hands of a Nazi, and the later use of his defeat as Propaganda, really badly. He needs to toughen up a bit; what if someone did something really awful like criticise his work on WONDER WOMAN?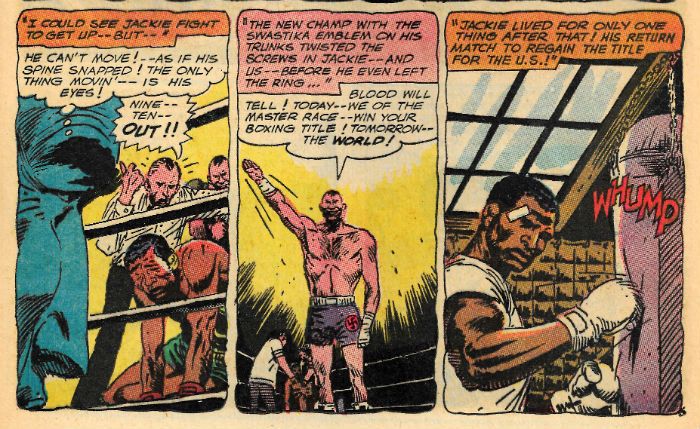 OUR ARMY AT WAR by Joe Kubert & Robert Kanigher
Having won once the Nazi reckons twice can't hurt and so elects to do so in an impromptu rematch. The idea here is to have a bit of fun during a rare spot of down time to demonstrate to his cackling pals the racial superiority of the white race. (Why, I do the same myself when running long macros at work!) Of course it's implicit that once Jackie even starts to look as though he's winning the Nazis will kill Rock, Wildman & Jackie because, well, Nazis are big jerks. So, at this point of suspense I naturally change the subject and start going on about Jack Johnson: Jack Johnson (1878-1946) was the first African-American world heavyweight boxing champion. His landmark 1908 win followed several years of doggedly pursuing the chance to fight for the title, and then fourteen rounds of hitting the Canadian Tommy Burns in the face. What's important here isn't his title but the fact that his victory was seen as a bit of an affront to believers in the self-same superiority of the white race which the Nazi in this story is so keen to prove. Unfortunately for Jack Johnson that was quite a lot of people in his own country at that point in history. Mind you, in their defence none of them were Nazis. This led to a string of white opponents being thrown at Johnson and the creation of the horrible term "Great White Hope", because the hope was that the white man would put this uppity, um, fellow in his place. The white man repeatedly failed to do so until April 5 1915 when Johnson lost his title to Jess Willard. It's this "Great White Hope" thing which is informing Kubert & Kanigher's work here. The reference to the whole ugly deal of a white guy knocking a black guy down and thus proving the superiority of an entire race in one victorious act of thuggish brutality is inescapable. In Jack Johnson's day apparently it all seemed pretty reasonable, but by 1965, thankfully, it's a view presented as the childishly delusional nonsense it clearly is.

OUR ARMY AT WAR by Joe Kubert & Robert Kanigher
Joe Louis (1914-1981) has an even more direct connection to the narrative at hand. Joe Louis was also black and also a boxer, but following wise advice had played it safe and played it quiet in direct contrast to Jack Johnson whose flamboyance had really upset certain folk (white folks, I'm talking about whites folks there). Canny management had built Joe Louis up as a respectable and honourable sporting figure in the public eye. People were okay supporting Joe Louis. Which was good because Joe Louis would take on a symbolic aspect he probably could have done without. Jackie Johnson's first loss to Uhlan echoes Joe Louis' 1936 defeat at the gloves of Max Schmeling (1905-2005), a white German boxer. The state of things in Germany were frankly distressing at that time and so this victory was seized upon as proof positive of the Aryan superiority preached by the kind of people who think putting skulls on uniforms is an adult fashion decision. In 1938 a rematch occurred, and things with the Nazis were getting so bad so quickly the world was having trouble ignoring it. War was coming. The rematch was no longer only about black vs white, but also about Fascism vs Democracy. And so two men hitting each other for money took on a ridiculously potent symbolism. Records show that on the night of June 22, 1938 the myth of Aryan supremacy got in the ring with an athletic black man and lasted two minutes and four seconds. No, Joe Louis did not fall that night.   Despite his failure Schmeling, surprisingly, wasn't stuck in an oven or shot but served his country as a paratrooper in WW2. The boxer Jackie faces is also a paratrooper. So, no, see, all these connections aren't simply in my head. Now, I would like to tell you that following the fight Nazi Germany admitted it was wrong, apologised to everyone, rethought its philosophy and became a socialist utopia where men and women of all colours joyfully worked together to achieve the goal of peaceful space colonisation, but I would be lying. In fact Nazi Germany carried on merrily turning the world to fiery dung as though nothing had happened. Because apparently settling the whole racial superiority in the ring thing only counts if the white guy wins.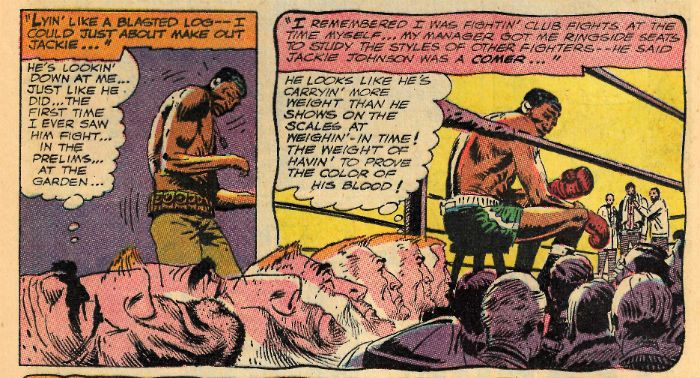 OUR ARMY AT WAR by Joe Kubert & Robert Kanigher
Where there's boxing there's blood, and that together with its colour is crucial in the racial power play on these pages. The Nazis were big on blood and not just the spilling of that of others, but the (supposed) purity of their own. While he's being smacked about Jackie is constantly taunted as to the colour of his blood by the Nazi. Now, the Nazi obviously doesn't believe Jackie's blood is black, that would be ridiculous, it's just the whole bending another to your will thing beloved of bullies everywhere. Because he believes the others' lives are at stake Jackie won't fight back, but equally he won't give the Nazi the satisfaction of saying what he wants to hear. Luckily (cough) Rock and Wild Man break free and are beaten to the ground which allows the narrative to fudge the next bit nicely. Rock tells Jackie to take the guy's face off and maybe Jackie hears him or maybe Jackie doesn't, either way Jackie starts swinging and Jackie starts winning.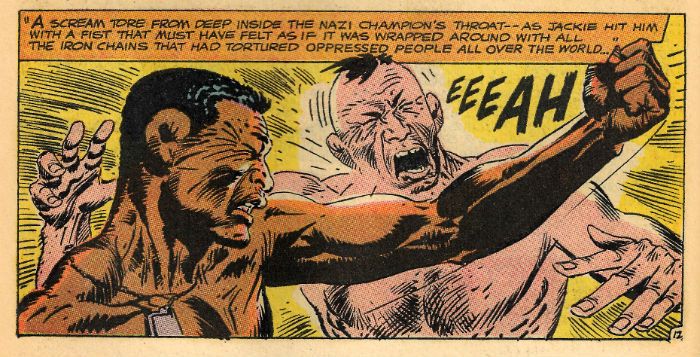 OUR ARMY AT WAR by Joe Kubert & Robert Kanigher
Seeing Uhlan guy in trouble the Nazis immediately fire on both of them to erase the mistake they have made, which is less than sporting of them. Wild Man and Rock now take out the Nazis without any trouble because (cough) Easy Company jump out of a bush and because it's time for the big finish. Jackie and NAME are wounded but a transfusion could just save the Nazi's life..! Sorry, no prize today for guessing what happens next.
Look, as inelegantly arrived at as it may be there is still a power in the final scenes where Jackie's blood saves the Nazi's life and the dude immediately recants his vicious idiocy. Yeah, turns out that there are actually two messages in this book - one is to knock that racist shit off, and the other is that people can change. As bumpy a narrative ride as it may be OUR ARMY AT WAR#160 turns out to be both right thinking and remarkably generous of spirit, and you know that can't ever be less than VERY GOOD!

OUR ARMY AT WAR by Joe Kubert & Robert Kanigher
What's the only kind of dynamite that can stop a war? COMICS!!!! They are "Top-Special"!