No, no, no! Oh, Sgt Rock, the optimum method of seagull attracting is to be a small child stood in St Ives holding a rapidly collapsing '99, as my still somewhat traumatised son will attest. Naturally I realise it isn't the fault of the seagull but rather that of the idiots who persist in feeding them in flagrant contravention of the many signs prohibiting this precise behaviour. (I am particularly proud of how middle-aged that sentence sounds; it's the written equivalent of rolling up my jacket sleeves and nodding fiercely along to a shitty Phil Collins "number". At a wedding.)
SGT ROCK by Heath & Kanigher
Anyway, this... OUR ARMY AT WAR #258 Art by Russ Heath, Sam Glanzman Written by Robert Kanigher, Sam Glanzman DC Comics, $0.20 (1973) Sgt Rock created by Joe Kubert, Robert Kanigher & Bob Haney
This comic came out in 1973 and is set during a war which ended in 1945. As I peck these words out it's 2015 and while you've probably heard of that war (The Second World War) you've probably never heard of this comic. There's no real reason for you to have done so. I only found it because I've had to start clearing out the garage because someone had the crazy notion that we should put a car in there. Sheer madness, I trust you'll agree. Obviously then, I've been sorting through my comics, and I read this one and thought I'd write about it precisely because it is a good example of the kind of comic that's rarely mentioned; a 1970s DC war comic. 1970s DC war comics get the high hat because they aren't as good as 1950s EC war comics and also, everybody probably (and rightly) feels a bit hinky about war as entertainment. This sensitivity to tastelessness can be seen right there in this issue's letter column: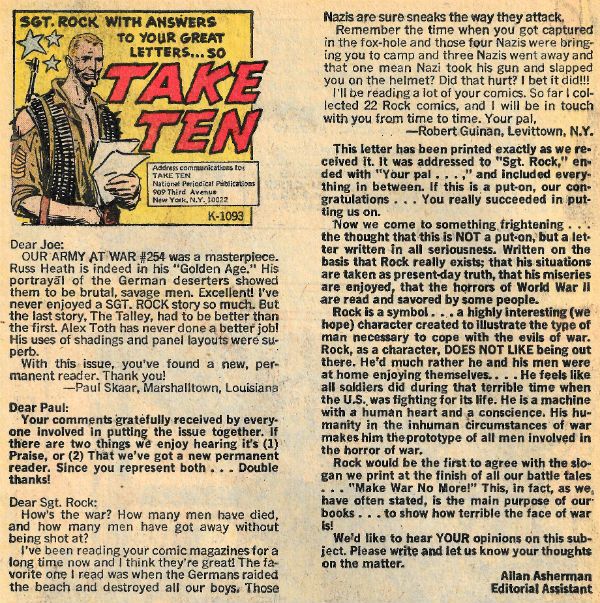 Allan Asherman there, making sure everyone's on the same pag viz a viz reality and war. Besides Sgt Rock the book is also bulked out by other strips, most notably one of Sam Glanzman's unaffected and clear eyed depictions of serving aboard the USS Stevens. It's a particularly bleak tale drawn in Glanzman's Kuberty and roughly blunt signature style. Basically, Sam Glanzman is pretty great, you know?
Anyway, this isn't the old Comics Were Better Back Then! or the rarer Hey, Look a Lost Masterpiece! it's just a look at one of hundreds of thousands of comics produced in the past before it slips into the obscurity it was intended for. Well, slips back into my garage, because this one's a keeper.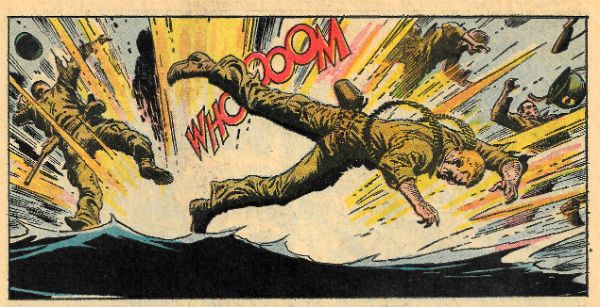 SGT ROCK by Heath & Kanigher
Keeping it as basic as basic training then, the cover is by Joe Kubert but that's not all of Joe Kubert's contribution. If you squint at the print below the opening splash page it's possible to see that the Editor was also Joe Kubert. Joe Kubert (1926-2012) was a titanic comics talent whose staggeringly voluminous output consisted largely (but not solely) of war comics. And Tor comics. In his later years he would attempt to connect more directly with the world by addressing the Bosnian conflict (Fax From Sarajevo ( 1990)) and by dealing with a chunk of personal issues in a series of OGNs addressing the Holocaust (Yossel, April 19, 1943 (2003)), parental expectations (Jew Gangster (2005)) and the reality of war (Dong Xoai, Vietnam, 1965 (2010)). All of them were visually striking if slightly over earnest comics which, disarmingly, sought to impart the importance of decency, respect and empathy. An admirable aim he pursued right up to the end of his life, and which saturates his final comics series (Joe Kubert Presents (2013)) And, yes, even his Tor comics. Here though, with OAaW#258, the mighty Joe Kubert's visual contribution is a typically arresting cover featuring Sgt Rock wrestling a very yellow fellow indeed. Sgt Rock's foe is a Japanese soldier and his icteric aspect may be down to a touch of malaria and an attendant pinch of jaundice, but let's face it it's probably down to the heavy handed colouring of the day. But wait, weren't Sgt Rock and Easy Company active in the European Theatre which was kind of light on Japanese soldiers and, it should be noted, a really poor choice for a night out as theatres go? Every so often Robert Kanigher would find a reason to shift Sgt. Rock to the Pacific. This was largely for reasons of variety, I expect. While Bob Haney actually wrote the prototype Rock's first appearance in OAaW#81 (1959), Kanigher created him (Rock, not Haney) in an editorial capacity and he and Joe Kubert further refined the character into his iconic state. Kanigher wrote the vast majority of Rock's antics so it was probably primarily for the sake of his own sanity that he changed things up intermittently.
Of course the audience of the time (children, soldiers, degenerates, reprobates) couldn't be counted on to have seen the previous issue so a quick catch up was always appreciated. The first page of this issue is one such catch-up. Today you might get a page of poorly proof read text, the tone of which can vary from the functional to the humorous. Here we get a Russ Heath splash page, which may very well just be an exercise in visual exposition, but it's one done with such design flair and general artistic excellence I'd certainly hang that bad boy on my wall. Check it out. Check it out again. Still rocking, right? All the information a reader needs is represented visually right there. Rock's haunted face has pride of place in a position suggesting the elements surrounding him are thoughts/memories, and the smoke trail of the falling plane carries the eye down while it gluts itself on the surrounding detail. You'd have to be trying very hard indeed not to interpret the visuals here correctly. Admittedly, yes, all the information a reader needs is repeated in the text box. But while this image-text repetition results in a certain level of redundancy intrinsic to the form at this time (i.e. 1973, not 2015) this occurs less frequently than you might expect in the following pages, but it does occur. I hold that this repetitiveness is entirely intentional and a natural result of the bifurcation of the workload, rather than bad writing per se. Say an editor asks a writer to write a script and assigns it to an artist, where's the guarantee that they'll get back a seamless piece of entertainment? It's over there having tea with Lord Lucan is where that is. So, you make sure the writer writes it all down and you make sure the artist draws it all too; belt and braces, basically. Comics was different back then; it was better. No, of course it wasn't. The rewards back then were pitiful. I've read this comic a couple of times and I can't actually find the names "Robert Kanigher" or "Russ Heath" credited as writer or artist respectively. These dudes expected nothing. These dudes weren't going on chat shows anytime soon, or getting their snout in the TV cash-trough, or snorting uncut Hollywood; they were making a comic and doing it as well as they could. Which in Russ Heath's instance was phenomenally, in case I don't make that clear later. Heath's the star of this strip but Kanigher's no slouch.
SGT ROCK by Heath & Kanigher Robert Kanigher (1915-2002) was, reportedly, not well loved by his peers but as far as posterity is concerned that carries as much weight as a politician's promise. You pick up this book and you'll just find Robert Kanigher's a decent writer. This sucker just chugs along. It's 14 pages long but it feels like three times that, and in a good way. In another way he's a very bad writer because the strip is just a succession of events that aren't actually thematically connected or any of that fancy stuff; but it entertains. Since that was his job - he's a good writer here. For the bulk of the issue Rock is alone and adrift yet Kanigher singularly fails to let us into Rock's head except via his terse and basic narration of events.
SGT ROCK by Heath & Kanigher
Most writers wouldn't exercise such restraint. There are no revelations about Rock's past; it's all about his present. This is good because Rock is a pretty basic character. Whatever you throw at him, he doesn't fall. He endures. He's a rock. That's it. (It works, don't knock it.) Having flashbacks to Rock's first sweetheart, harvesting waving fields of corn, labouring in the steel mill and being dandled on Pappy's knee etc. would dilute him. Sure, such after the fact encumbrances would appear in other Rock comics and be so poorly policed that at one point if you totted them up he'd got three Dads, like some shitty sit-com or something. In this comic there's none of that; just a man existing moment to moment. Because that's how you survive a situation this horrific. Well, in this comic anyway. However, Kanigher's nerve buckles when it comes to having faith that this stoic castaway stuff will keep the audience attentive. So we have a flashback with Easy Co. storming a pill box so that the kids get their customary action scene, complete with Kanigher's signature move – the "TNT-whatsit" phrase ("Looks like that flyin' swastika is goin' to put us in the ice-box --with a TNT ICE-BERG!"). In his defence Kanigher does use the scene to establish the particular quality of Rock the issue will pivot around; his stubbornness. And, let's face it, editorial may have required certain "Sgt Rock" elements to appear in every issue; I think that's pretty likely. A more organic outburst of action occurs when Rock lands on one of those tiny islands the Pacific hosts which are as numerous as my grudges, and he encounters some Japanese soldiers. A sequence of violence is then depicted by Russ Heath who, with ink, brush and genius, manages to communicate all the desperate tension and explosive movement of such an encounter. Being the shy type I've never been attacked by Japanese soldiers on a beach but for a few seconds Russ Heath sure made me feel like I had. Just Rock and the Japanese officer are left and, sensibly enough, they decide to pool their resources until they get back to the war.
SGT ROCK by Heath & Kanigher
I know, I know, you're ahead of me here and are already thinking of John Boorman's 1968 movie HELL IN THE PACIFIC. This movie starred Lee Marvin and Tosihro Mifune as WW2 enemies stranded on a Pacific island who first fight then unite, before the War inevitably returns and with it, duty. And this bit in the comic is, indeed, like that fine movie, but it isn't 103 minutes long it's 14 pages long. Kanigher & Heath don't have the room to do more than nod in the movie's direction but it's a firm nod. So, I guess there's a bit of pop culture referencing going on there; some homaging, yeah? You didn't realise they did that before Community did you! This basic premise was also, uh, homaged somewhat more extensively in an episode of Battlestar Galactica, but that hadn't happened in 1973 and I doubt Robert Kanigher had seen it unless he was prone to prophetic visons of crap culture. Depends how hard he was hitting the sauce, I guess. I know I've seen a few sights that way (badgers on mopeds!) One of the interesting things about the movie is that Marvin and Mifune never stray from their native languages so the audience shares their frustrations and breakthroughs, this is a great idea but probably not one the public warmed to as the movie was a huge financial loss. Kanigher & Heath don't have time for all that smart malarkey so it turns out the Japanese officer can speak English.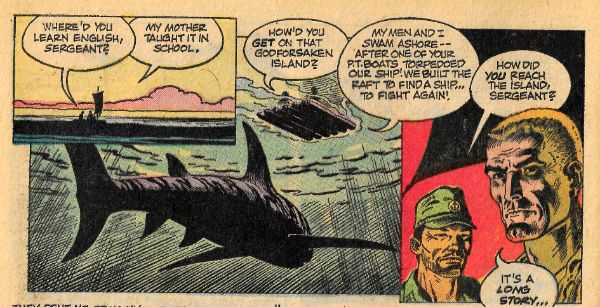 SGT ROCK by Heath & Kanigher
In a pithy masterclass on exposition, Kanigher establishes how that is ("My mother taught it in school." BANG! Job done.) Kanigher cannily uses the officer to have Rock fill us in on the story so far, which is one time too many really. As though sensing this Russ Heath wades in and draws the balls off of what is basically several panels of two men sitting and talking. The standout here is the bit where Russ Heath takes us under the surface of the sea to show a shark shadowing the raft and its oblivious passengers. A certain kind of easily excited blogger might start telling you that this shark represents the war which exists independently of the two men's attention and could explode into their lives without warning. Me, I think Russ heath is keeping both himself and his readers awake and just really drawing that shark the way sharks should be drawn - really well. Look at that panel. Damn, the song Russ Heath's art sang in 1973 is so strong in this comic I can hear it all the way in th efuture year of 2015.
As I've said the strip is only 14 pages long (did you catch that?) and yet Rock's journey takes days, weeks even. Kanigher acquits himself well, but it's Russ Heath's art which leaves you feeling you've shared Rock's journey and appreciating its span while he generously spares you the actual tedium of it. Heath's opening splash is a majestic thing but the double pager that follows it up is equally strong. Having established Rock is adrift on the previous page Heath uses the top panels on the next page to punch home how long Rock's been floating and the cost it's had on him. Alternating (and enlarging) Day-Night-Day panels punctuated by repetitious babble take the eye across to the seagulls which become in Rock's sun-fried mind, and before our eyes, planes swooping down from the top right with their bullet trails diagonally strafing the combat happy joes of Easy Co., who push across to the right against the bullets and take us to the page turn. That's some pretty sweet visual storytelling right there.
SGT ROCK by Heath & Kanigher
In a later sequence similar to the one at the top of page two Heath manages to make it send a different message; this time the panels again indicate an indeterminate but large amount of time has passed but Rock seems barely to have moved. The maddeningly slow pace of drifting depicted there, because unless some weather is happening the sea isn't really rushing anywhere.

SGT ROCK by Heath & Kanigher
Again and again, on every page it's Heath's eye for detail which convinces. Heath pays everything the same level of interest and doesn't play favourites. As a result his people are convincing in posture and expression within a world that seems concrete. He actually draws the sea for a start, then there's the stances in the tussle on the raft, the body blown back by bullets, the predatory grace of a shark, everything, all the way down to the scabs on Rock's head.
Just another comic; just another day at work for Russ Heath & Robert Kanigher. Our Army at War #258 is just VERY GOOD!
In the end all rocks must crumble but some things endure. Yeah, I'm talking about COMICS!!!