Sorry, that garage clearing was a beast. Still, look what I found:

Hawk, Son of Tomahawk by Thorne & Kanigher Anyway, this... TOMAHAWK# 135 Art by Frank Thorne, John Severin Written by Robert Kanigher, Jerry DeFuccio DC Comics, $0.15 (1971) Tomahawk created by Fred Ray & Ed Frances Herron Hawk, Son of Tomahawk created by Mr & Mrs Tomahawk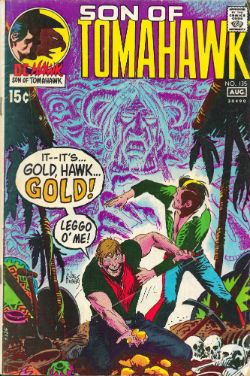 Here's a DC Western book I'd never heard of and didn't realise I owned. It's got a Joe Kubert cover that looks like an "Egg-timer Special" but still has time for a sweet charcoal effect background, and slips its lack of detail past by walloping you with a fistful of impact. Yeah, Joe Kubert could do you a cover like no other. Joe Kubert was also the Editor here, which explains the presence of Robert Kanigher on typewriter hammerin'. Back then Editors had a favoured stable (Western wordplay, cheers.) of talent whose most valued attributes were timeliness and dependability rather than flash, pizzaz or having performing hair. Kanigher was a sturdy workhouse who Kubert was always happy to employ because he knew that he could ask Kanigher for a 12 page oater by lunchtime tomorrow and Kanigher would deliver - like it was his job or something. Basically, books edited by Joe Kubert tend to have a lot of Robert Kanigher in them because Robert Kanigher got it done. And I tend to have a lot of Joe Kubert edited books because I like the weird genres they put him in charge of (War, Westerns, Apemen and Tor (always Tor)). Just in case you were thinking I was engaged on some stealth rehabilitation of Robert Kanigher or something.

Hawk, Son of Tomahawk by Thorne & Kanigher
The book is called SON OF TOMAHAWK but the indicia reveals it is actually TOMAHAWK, this discrepancy is due to the recent replacement of Tomahawk in the main strip by his son Hawk, Son of Tomahawk. The repercussions of this are documented in the letters page where the level of bewilderment, guarded optimism and plain dislike show comic fans' embrace of change is timeless in its consistency. Unfortunately, I lack any kind of context for this comic so I had to look up Tomahawk and it turns out his adventures were originally set during in the Revolutionary War where he fought on the wrong side (I'm British, natch). In this book he wanders about in his vest puffing on a corncob pipe while his son has all the fun. His son, Hawk, Son of Tomahawk, is a design classic in the same way as a Plymouth Fury. A Plymouth Fury that some crackjob's driven into a wall. Because Frank "Every Rose Has Its" Thorne's art here is characteristically light on detail it's hard to pin down Hawk, son of Tomahawk's look too specifically, as Thorne's work becomes more nebulous the harder you look at it. Basically though Hawk, son of Tomahawk, with his skunk streaked DA, tasselled jacket with tribal decals, and drainpipe jeans would make even Vegas Elvis do a double take. But then this is a new kind of Western hero.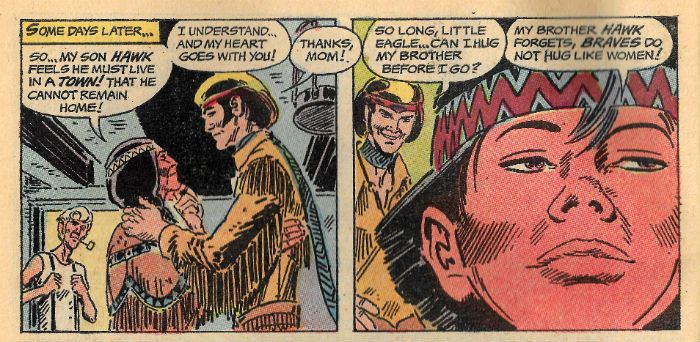 Hawk, Son of Tomahawk by Thorne & Kanigher
Or at least I think it is; this is the only issue I own so it might just be an outlier in what is otherwise a run as salty and plain ornery as SCALPHUNTER or JONAH HEX. Here though it looks like every effort is being made to avoid offence, even to the extent of having a pacifist hero. Hawk, Son of Tomahawk's mum is a Native American and he has a toddler brother decked out in tribal duds. Which is nice, but they are pretty generic and later when some other Native Americans show up they are all stoic and dignified. Which is fine, very respectful and that but it's hardly the stuff of high drama. Luckily, there's always the White Man. I don't know why the White Man gets such a raw deal (reads a history book; cries. Okay, **** the White Man.) The story starts by some bad white guys harassing a peddlar who gives Hawk, Son of Tomahawk a catalogue as a reward. Now, remember the Old West was like a giant open air lunatic asylum where the only recreational activities were murder, rutting, trains and drinking until blindness set in. So a catalogue in the Old West would have been like the Internet but with less naked people involved in wallpaper paste accidents and less pictures of cats hating us. Seriously, Hawk is enraptured and decides immediately to set out to gain enough riches to buy some scented candles, Sea-Bison or a life-size cardboard glow-in-the-dark Abe Lincoln. Whatever; I don't know what they had in those things; vittals and gingham or something. Anyway, he bumps into his big pal who is just setting out with a treasure map. That's quite a coincidence to you, but if you had 12 pages you'd tend to think of it as expedient. There's a nice bit where they find the Ghost Mountain inside another mountain, but the gold turns out to be in a Native American burial ground. (Joke about America being one big Native American burial ground removed on grounds of taste.)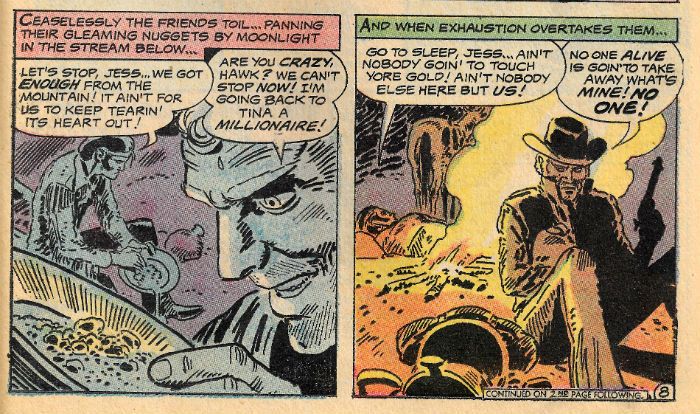 Hawk, Son of Tomahawk by Thorne & Kanigher Up until exhaustion and gold fever set in Hawk, son of Hawk's pal is pretty okay but then he gets all racist and violent like a Farcry game on legs. That's not because he's white though, let's be clear here; gold turns the guy's head, at which point he becomes a big murderous racist. This is good because if someone had more time they could "read" this story about the corrupting effect of the capitalist system and how its emphasis on reward sets people against one another. Or something. Mind you, I don't know if Kanigher accidentally stumbles on this, I've just had a brain fart, or it's actually built-in. It's not every comic that has the brass balls to declare that even The White Man isn't the villain, it's the system of exploitation in which he exists which is the true villain! Socialist Pacifist Western Comics for The Win! Anyway, the whole trapped underground with a violent racist thing is pretty unfortunate for Hawk, Son of Tomahawk, what with his Mum being a Native American. Even worse, he's in a 1970s comic where it seems they are actively trying to get away from the usual Western thing of plugging varmints and owlhoots at the drop of a stetson. Luckily, he's in a 1970s comic where it's still entirely okay for the greed addled white dude to get speared by a toppling corpse because this makes it both no one's fault and karmically just.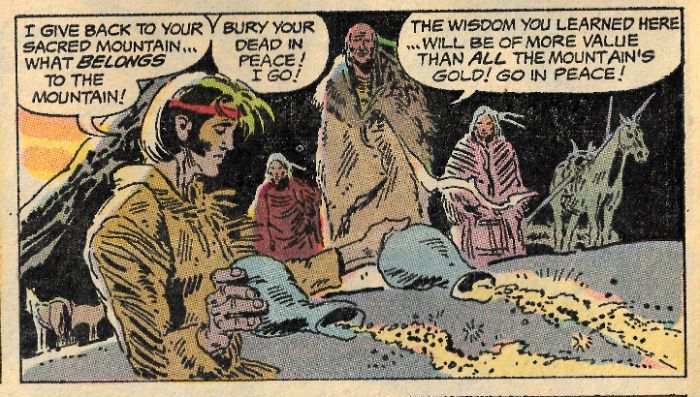 Hawk, Son of Tomahawk by Thorne & Kanigher
Basically, and admirably, Kanigher attempts to deliver a message via a tale without villains, heroes or excessive violence. Since all those things are the reasons comics are entertaining its no surprise their lack makes the result a little dull. But I do have to admire how Kanigher leaps out of his own trap built of good intentions. I was entertained after all, just in a different way than usual. It's efficiently and pleasantly drawn by Frank Thorne, whose art has a fluid grace not entirely unlike that of Joe Kubert. Thorne would later become famous for drawing Red Sonja and spend many happy years producing his own comics featuring ladies in a state of undress, and judging Red Sonja-a-like contests while dressed as a wizard. In many ways, I think we can all agree, Frank Thorne won.
AMERICA: "A Glance at Yesterday" by Sam Glanzman
After the lead feature Sam Glanzman gets roped in to do one of his typically informative double page spreads. I'm used to seeing these pop up in war comics so it's interesting to note he was versatile enough to do The Old West too. Here kids get to thrill to a picture of a wagon train being burned, which is surrounded by informative illustrations of weapons the native Americans would have used to slaughter the same kids' ancestors and some of the headdresses they might have sported to do so. It's nice, dusty looking stuff and it's even nicer to be reminded that space fillers could be quality gear.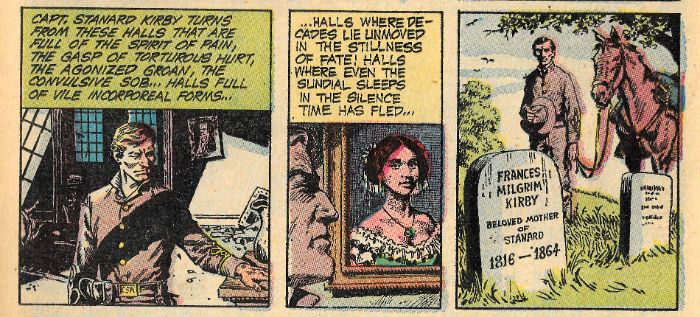 "SPOILERS" by Severin & DeFuccio The final 8 pages are a (probably reprinted) story called "Spoilers" by Jerry DeFuccio and illustrated by John Severin. This is a really dense tale with an attention to detail in the text which suggests it is an attempt to adapt a true story into comics. Maybe not though, because during a quick spin around the Internet I found no mention of "Kirby's Raiders" circa 1865. I did, however, find some really interesting pictures of naked people who had been involved in wallpaper paste accidents, and also of cats hating us. It's a nice yarn about a Confederate who goes back home to one of those mansions apparently everybody in the South seems to have lived in (well, everybody white). You know the ones with the big pillars and a big pile of fixings for them thar mint juleps out back. Unfortunately those Northern bastards have been at it and left it not unlike when a burglar breaks in and dumps one out on your bed (apparently it's from the adrenalin; it makes you loose). As revenge Kirby forms his Rangers and they go around stealing gold from that darned gubbermint. Kirby takes a break, disperse his gang, hides the cash and takes up on a farm where he helps out with his honest toil until a bunch of locusts turn up. Basically, Kirby sees he has become a spoiler like the darn Yankees and the locusts. It ends with a hilariously underplayed final panel where he muses on the lesson he has learned and we are informed that the money he hid earlier had also fallen victim to the locusts. It's left unsaid, but if I know my westerns then that guy's life was short and punctuated by violent inquiries as to the location of the loot from his former colleagues. John Severin draws the holy Hell out of it all in his characteristic style - sharp as a craft knife and loaded with detail. Two decent strips and an informative space filler makes TOMAHAWK #135 a comic which is GOOD!
In 1971 for fifteen slim cents you could get Joe Kubert, Frank Thorne, Sam Glanzman and John Severin. Now that's – COMICS!!!