It's a Skip Week! Oh, oh, the horror! So let's take your mind off it and hurriedly look at some comics which originally appeared some forty one years back. Way back, back when a lady entering a pub unaccompanied would be burned as a witch. And rightly so! Look, it was either this or I did a Best Comics of 2013 like everyone and their mother, but you know what The Best Comics of 2013 are? Whatever you think they are! Merry Christmas! Don't worry, I try and get serious later. That's usually quite funny isn't it; like a chimp baking or something? So, Tomb of Dracula!
Anyway, this...
THE TOMB OF DRACULA Vol. 1 Penciler: Gene Colan Inkers: Gene Colan, Tom Palmer, Vince Colletta, Ernie Chan & Jack Abel Writers: Marv Wolfman, Gerry Conway, Archie Goodwin & Gardner Fox Colourists: Tom Palmer, Glynis Wein & Petra Goldberg Letterers: John Constanza, Artie Simek, Charlotte Jetter & Tom Orzechowski Front Cover: Neal Adams Contains material originally published in magazine form as Tomb of Dracula #1-12 (1972-3) Blade created by Gene Colan & Marv Wolfman Marvel, $24.99 (2010)
The biggest surprise on reading this book was how long it takes for Marv Wolfman to show up (issue 7, p.137 ff). I'd got it into my head he and Gene Colan were there from the off but apparently not. Gene Colan's here from the start but for most of this book he's bolstering up a bugger's muddle of writers; each stopping only to catch their breath before being yanked out and replaced by the next passing writer. Stability only really even starts to settle in when Marv Wolfman starts bringing his own mug in, symbolically speaking. He's the one who, mostly in later volumes than this, defines the cast and events which would cause Tomb of Dracula to be so fondly remembered all these years later. Because it is a lot of years since these appeared. 1972! Or Nineteen Seventy Two as David Peace would have it.
Tomb of Dracula is a bit of a bumpy ride writing wise; it's a bit cacophonic in terms of authorial voices but that does mean it's never predictible. Gerry Conway starts us off and I have to say, credit where credit's due and all that, I do have to say Gerry Conway starts proceedings off with a surprisingly strong first chapter. There's a very adult air about the whole thing driven as it is by debts, resentful friendships and sour love. Really quite enjoyable and effective at hooking the reader in. Sadly his next chapter is pretty bad, largely being a rehash of the first issue and featuring some big bald dude who seems significant but is never seen again. Come issue 3 and Archie Goodwin tries to reign it all in to some shape, succumbing to his omnipresent Editor Within to explain continuity glitches away and home in on a coherent  narrative direction. This direction being, as it was throughout the series, finding a way to repurpose the Gothic trappings of Dracula within the heady, crazy days of the fast changing fondue-tastic, tie-dyed seventies. The book takes a while to settle into this and there are moments of inadvertent humour as Dracula is nearly bested by the use of car headlights, enlists children as feral weapons, encounters a projecter that can make an army of vampires (Don't ask. Really.), goes on a cruise, mixes it up with biker gangs and voodoo and dispenses advice to a couple of troubled teens hemmed in by small town life.  It's all very silly but quite charming.
You can particularly feel Marv Wolfman settling in and becoming more comfortable and far more effective as the pages pass. And as the pages pass Wolfman's cast amasses. Largely a drab bunch to begin with things liven up with the arrival of Blade, the blaxploitation inspired vampire hunter who would go on to earn Marvel millions in other media. (Oh don't worry, I'm not going to go into it. I mean, Christ forbid someone should express any concern for another human being. Particularly one they've never met. How absurd! I will say, to no one's surprise, I do think Marv Wolfman was badly treated in this instance.) Which is lucky because besides Harker with his seemingly magical wheelchair (which can access any location unaided no matter how remote) and his array of endearingly rubbish gadgets ("I call it...a net!")Dracula is the only real personality on show.
Good job it's his book. And it is his book. Despite being portrayed as a slap-happy chap who never changes his clothes and monologues like monologuing is in danger of going out of fashion Dracula really comes, er, alive by the end of the book. He's no frilly cuffed fop puling and whining like Andrew Bennet in I...Vampire. No, this dude is a proacative predator with schemes galore up his grave dirt soaked sleeves. Also, don't fuck with him because this Drac fucks back.  As our outclassed band of hunters discover to their chagrin in issue 12. In fact by that moment in the final issue reprinted here everything is meshing so smoothly that the art, writing, colouring all combine into this magnificent sequence atypical of '70s corporate comics in its artistic innovation and emotional impact:
Now fair warning; these comics are from an earlier day, a day in which comic book dialogue was distinct from dialogue in other media. Here people spout great gouts of unexpectedly near lyrical verbiage within a single panel portraying as swift an action as, say, Dracula slapping someone to the floor. (He does that a lot.)But then no one literally took the words being spoken to actually be occurring within the time frame of the action being portrayed. We were children, yes, but we weren't idiots. Because back then comics were comics and cheerfully so. And one of the conventions of comics back then was that the dialogue would, yes, be the words spoken but these would be presented in a manner in which such words were supplemented by information informing the emotional affect, the emotional stakes of the scene and the emotional states of the players in question. Either via narrative text boxes or within the dialogue itself. Hence the overstuffed armchair of exposition effect modern readers often balk at. Inelegant as it may have been at its best the result was a very comics specific variation of, I guess, prosody.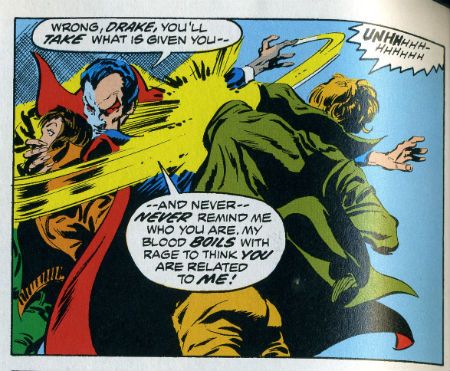 There's an assumption that this method was unsophisticated; in fact it was very sophisticated. However, it was implicit, instinctive and had evolved naturally along with the comics form. It wasn't pretty but it was one of the unique beauties of the comic form. It is of course dead now. And it died because it was very hard to reduce to a simple formula, thus it was hard to replicate and, not insignificantly, requires not a little knowledge and love of the English language. For a reader the dissimilarity between the old school and the new school is, I think, the difference between passively watching a story unfold and actively inhabiting a story as it develops. Both are valid, but I have always liked to live within my comics as I read them. It's more difficult to do that now. But time passes, trends change and the moving finger writes; and having writ moves on…to television (it hopes). Of course the ascendant trend is borne not of artistic need but of expediency, the very expediency Gene Colan turned to his very great advantage.
Because if there's one reason I bought this then that reason is Gene "The Dean" Colan. This time out the big thing I noticed about Gene Colan's art (the inkers here varying from Palmer's sympathetic magic  to Colletta's reliably shitty hackwork) is how his signature style is shaped by the demands of his job. Every page and every panel on these pages is an illustration not only of whatever the script calls for but also of the requisite rapidity a Bronze Age comics warrior's position entailed. Gene Colan's work here is a series of exercises in expediency. The genius is that he manages to turn this from a stylistic restraint into an instrument of stylistic release. Using shadows, bizarre POVs and about three battered postcards of London Gene Colan provides an England that never was, but an England absolutely fitting to the pulpy melodrama at play. And he populates this eerie environment with figures whose startlingly realistic faces contrast starkly with the impossibility of their bodies; these bodies apparently composed of clothes filled with living winds in fluctuating states of agitation. As a result Colan's pictures are pickled in atmosphere and thrumming with potential threat. So, when the kick off comes (and come it always does) Colan's flailing and comprehensively wind whipped figures whirl around a world filled with fearful shadows. More than anyone else involved Gene Colan makes Tomb of Dracula the success it is. When I was young I thought Gene Colan's art was awesome simply because it looked awesome now I am less young I think Gene Colan's art is more awesome still because I now have the merest inkling of the skill involved. That's why Gene's The Bursar! I mean, that's why Gene's The Dean! And ultimatley that's why Tomb of Dracula Vol. 1 is VERY GOOD!
It's also, it almost goes without saying, COMICS!!!