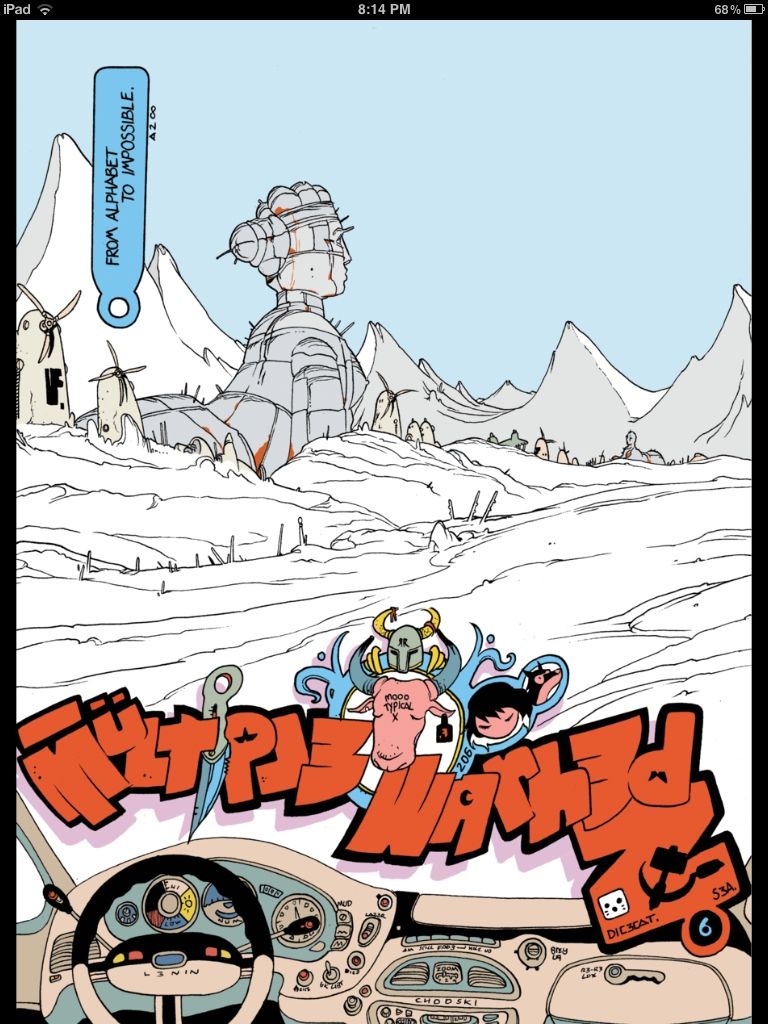 Brandon Graham's Multiple Warheads: Worth the Trip
Safe and dry on the left coast, we are willing and able to provide you with two-plus hours of distraction.  At no point in the following podcast do we mention the extensive rat population of New York clawing their way to higher ground even if it means going through dark, electricity free apartments and the helpless population contained therein to do so.  Not once!
So...join us after the jump and help us think happy thoughts, won't you?
Show notes?  Why yes, we do have show notes, now that you mention it...
1:01-4:46: Greetings!  Welcome to the hundred and fifth episode of the world's worst conspiracy. A brief bit of culinary discussion before we gear up to our four color topics of discussion.  Although this is the our first-ever "book club" podcast where we sit down and finally discuss in full Sean Howe's remarkable Marvel Comics: The Untold Story, we also thought we should give you some reviews and news analysis, too.
4:46-31:19:
 First up:  the gorgeousness of Brandon Graham's
Multiple Warheads
.  Graeme and Jeff both read it, both dug it, and both dig into it for your entertainment, edification and (probably) exasperation.  There's also a bit of discussion about the latest issue of
Prophet
for comparison/contrast.
31:19-31:40:  Intermission Uno.
31:40-1:07:04:  More comics! We're a mite divided on Batman, Inc. #4 and Flash #13. Also, under Graeme's microscope:  Superman #13. Talon #1, Ghost #1, Captain America #19, The Hive by Charles Burns, and, in passing, Superman: Earth One, Vol. 2.
1:07:04-1:07:26: Intermission dos!
1:07:26-1:08:23: Incidentally, though this episode is debuting just before Halloween, we didn't record this in costume or anything...though Graeme does start us off with a very good HAL imitation.  Too bad they haven't invented the "Sexy HAL 9000 costume" for Halloween...yet.
1:08:23-1:56:55:  Sean Howe's Marvel Comics: The Untold Story.  Graeme and Jeff praise it; we kvetch about it; we both whole-heartedly recommend it and have a variety of caveats to issue.  It's the first episode of the Wait, What? Book Club and we invite you to give the book a read and us a listen.
1:56:55-2:02:23:  Tech corner:  Curious about what model of Kindle Graeme is using?  Jeff is!
2:02:23-end:  Closing comments: In case you wanted a section of the podcast that's all about what to get Jeff for his birthday, listen to this section first!
And...there you have it.  Quality talk about (some quality comics and comics-related nonfiction).  This week we're skipping recording so if you fell behind and want to catch up, you've got two weeks to do so.
And if you want to listen to this podcast I just finished notating the heck out of...well, you have probably seen it staring at you from the corner of the block of Haddonfield, iTunes Illinois.
But if not, I believe you will find out it lying just below the Doyle house window below...waiting for you now:
May everyone everywhere stay dry, healthy, and safe, and have a fine ol' All Hallow's and All Saint's!