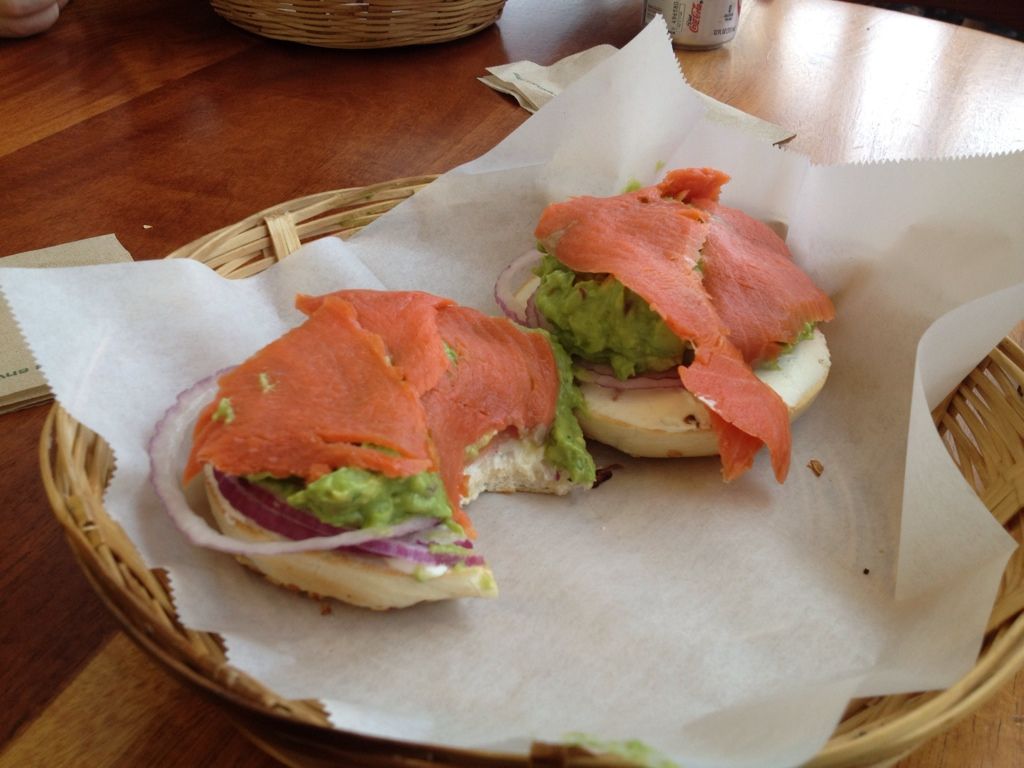 Above: Izzy's Guac & Lox with extra red onion and sliced tomato, on an onion bagel, from Los Bagels in Arcata, CA.
Oh, man.  I don't know if you've ever had the above but if you do--I highly recommend it.  It's a little pricey, but the guacamole is great and the lox are fresh.  Just a fine old dining experience.
But you're not here for the food talk, are you? (Wait...are you?)  You are here, in theory, for the latest installment of Wait, What? Ep. 95, so join me behind the jump for....show notes!
1:18-4:18: Vacation, all we ever wanted!  Graeme and I compare notes: I had one and it was fine.  Graeme hasn't had one in YEARS.
4:18-7:28:
Comic Books Are Burning In Hell
are totally dropping "the McMillion" in their new episode?  We should all listen! (Except Graeme, probably.) We tried to help them with their RSS feed, honest.
7:28-13:40:  Jeff racks his brain to see if he has a comic book related anecdote about his vacation, but he does.  Oh my, yes.  Probably skippable if you're not a member of the family (or even if you are, I bet).
13:40-14:34:  "Congratulations, Detective!"  Graeme and I ponder the mystery of...Robo-Warrior? Judge Trooper? Don't worry, we figure it out.
14:34-15:58:  Jonesing for 2000 AD, McMillan-style, which leads us into discussing...
15:58-37:10:  Zaucer for Zilk by Al Ewing and Brendan McCarthy, which Jeff has now read and we now discuss, along with Axe Cop: President of the World #1 and Prophet #27. Jeff draws a connective line between the three; Graeme is less sure of this.  A very big discussion about the difference between self-consciousness and self-awareness ensues.
37:10-41:57:
  Returning to other
2000 AD
-ish goodness, Graeme schools me on the difference between the progs and the Megazines and talks about what's in the current issues of the latter, as well as recommendations for how and when to jump on to
2000 AD digitally
...
41:57-47:37:
  For comparison/contrast sake, Jeff talks about the new title in
Shonen Jump Alpha
, how his digital subscription to
Mad Magazine on the iPad
is going,  and the awesome opportunity to get Charles Forsman's
The End of The Fucking World as a PDF
over at
OilyComics.com
as well as
his awesome subscription deal
running through the end of July.  Yes, the future is here and we just gave you links to four very different and excellent types of comics experiences difficult to find in your average comic shop.  (Now, if I could only get Top Shelf to get Double Barrel onto the shelves of our digital store...)  I won't give away the segue, but all of this does lead into:
47:37-1:19:50:  "Dark Knight Rises. Go."  Jeff saw it very recently, Graeme saw it a few days previously, and we talk about it here lots and we pretty much spoil it everything so don't listen if you haven't seen it already.  (Note: my Bane imitation was done in-mic: no filters added.  I am inordinately proud of that.)  Around the 1:19:50 mark, Graeme makes a terrifying confession.
1:19:50-1:28:19: (Hint: It involves Batman Returns).
1:28:19-1:36:54:  New comics!  Graeme talks Captain Marvel #1 and National Comics: Eternity; Jeff talks Flash #11 and Detective Comics #11.
1:36:54-1:52:14:   Whoever had 1:36:54 as the time in the pool when we talk about Grant Morrison wrapping up his monthly book duties at DC, please collect your winnings.  We also talk about some amazing things said by Morrison at his recent CBR case.
1:52:14-1:59:26:  Closing comments, of a sort.  Graeme admits he read Extreme X-Men #1 and, as a Dazzler fan, he felt let down. Oh, and also All-Winner's Squad over at Marvel.com.  And then we say goodbye!  No, really, that's the end for now.
Because of some funky work scheduling, this is hitting the Net about 24 hours earlier than usual, and has perhaps already been seen cavorting with Bigfoot and a Chupacabra on iTunes.  But you are also invited to plunge into Savage Critic's own personal Mystery Spot, and listen to it here and now:
And, as always, we thank you for listening and hope you enjoy!