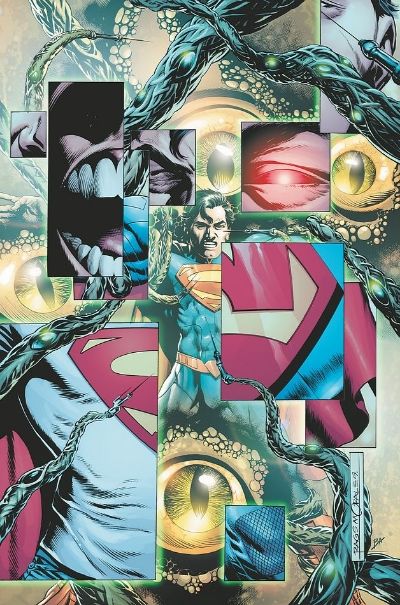 Yup, we talk about Action Comics #18!  And I think...we even have stuff to say? Maybe, kinda?
Behind the jump: show notes annotating the podcast commenting on the industry having one of its craziest weeks ever!  Action verbs! Jazz hands! Psychedelic Superman!
Show notes are truncated again, in part because I am again behind the eight ball, schedule-wise, and in part because I could've puffed out the notes and given away some of the rather amusing twists and turns the convo took...but thought it better to just play as it lays.  On the plus side, at no point do I refer to Stevie Wonder as "Steve Wonder." So, there's that. 0:00-54:08: Right into it as we deal with one of the news-heaviest weeks for comics in a while.  (Indeed, one is surprised we weren't actually taking a week off for a change.)  Andy Diggle officially off Action, Joshua Hale Fialkov exiting two Green Lantern titles, and the rumored death of John Stewart make for one eye-blackening week for DC.  In addition, we wonder about how superhero comics affect work relationships; Dr. Doom and the Internet; and if what we think of as DC is just one era and facet of a much bigger company; Jeff's theory of the curse of comic books; the coming out of Orson Scott Card; and who we would pick to replace Bob Harras. 54:08-1:03:55: Action Comics #18!  The big finale of Grant Morrison and Rags Morales' run on the title. Actions will undoubtedly vary but if nothing else, it gave Graeme and Jeff a lot to talk about. 1:03:55-1:04:15: INTERMISSION ONE! 1:04:15-1:08:30:  But first a salute to all the amazing and strong comics we were able to get our hands on last week!  Jennifer Blood! 2000 A.D.! Daredevil! Justice League! 1:08:30-1:15:08: On the other hand, there was also Constantine #1. Graeme gives Jeff the low-down and insprires some dynamite comic book pitches as a result. 1:15:08-1:38:59:  Neil Gaiman! Angela! Marvel!  (Or maybe more like: Neil Gaiman? Angela? Marvel?)  Plus, as a bonus, Graeme, being Graeme, expresses sympathy for a figure in the situation and Jeff, being Jeff, tries to talk him out of it.  And then there's some talk about Neil Gaiman and Age of Ultron and yakkitah-yakkitah-yakkitah, and then hijinks ensue. I feel compelled to point out that Graeme is especially hilarious in this section. 1:38:59-1:52:35:  But the good news of the week?  The Private Eye by Brian K. Vaughan and Marcos Martin available for download here as a pay-what-you-want comic. We talk about it here, although perhaps more from an industry analysis angle and not nearly as much from a "what a damn fine comic" angle. And as if to punish us for our oversight... 1:52:35-end: Onslaught:  The Return of Techpocalypse! And also closing comments.  We don't quite come out and say it in the closing moments so I should point out here:  next week is a skip week due to some bone-crushing deadlines on both our parts.
I got an email from Apple the other week letting me know how their podcast standards were changing and hoo-hoo, boy have I been too scared to even begin looking into that shit!  But hopefully this episode will be up there very soon (if not already).  And!  You can, as always, download from us right here in this very section of cyberspace:
Wait, What? Ep. 119: Watching You
As always, thanks for listening and we hope you enjoy.   We will see you in a fortnight!