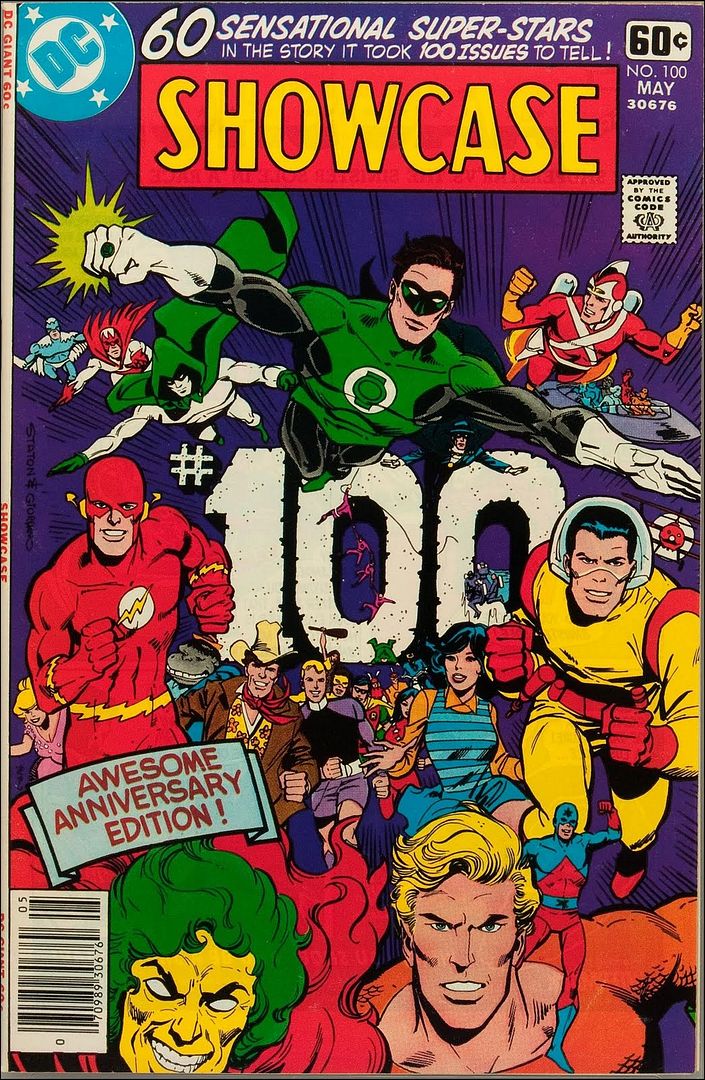 (One of my favorite hundredth issue covers, by Joe Staton and Dick Giordano for DC Comics)
I don't know why, but for a moment there... I was very afraid this episode wouldn't end up existing?  I think because, you know, you say something is a thing, as opposed to just being business as usual, and the next thing you know there's a certain nimbus of expectation around it, even if only to yourself?  Sometimes it  seems like that kind of nimbus makes the best kind of target for capricious fate...
Anyway, enough of that "and then he tore his eyes out in the fifth act!" musing, join us behind the jump for show notes and celebratory waffles, yes?
0:00-8:24: Graeme brings a message to piss Jeff off...from the future!  What can it be? Hint: Before Watchmen is involved.  Laughs are had and the distance between qualified and unqualified is considered.
8:24-20:54: And on a related note--time for some red-hot sexy DC New 52 Issue #0 talk.  Batman, Inc. #0, Batwoman #0, Wonder Woman #0, Supergirl #0, Justice League #0, Earth 2 #0, and OMAC and DC Universe Presents #0.  Warning: Graeme has read 38 of these by now.  I mean that's...wow.
20:54-46:59: ASM is being cancelled!? Jughead is going on hiatus?! (A reference to) cats and dogs living together under the same roof?! What the hell is happening?
Also, Graeme has the chance to have some quality time with the listeners. Also also, in the coming attractions end of thing, we discuss how Bendis' X-Men is shaping up, in light of Avengers Vs. X-Men #11. Additionally, we run down Professor X's CV. If you want to guys remembering off the top of their heads the names of Hank McCoy and Bobby Drake's old girlfriends, this is where you want to be.
46:59-54:59: Mattotti and Zentner's The Crackle of the Frost.  We actually talk about it, finally!
54:59-1:13:33: And from there, Jeff and Graeme go on to discuss Jennifer Blood, as conceived by Garth Ennis and executed by Al Ewing.
1:13:33-1:22:51: And from one crime book to another, we also talk about Stumptown issue 2.1 by Greg Rucka and Matthew Southworth. With special guest appearances by John Updike and J.D. Salinger!
1:22:51-1:30:24: And from there we got to Dave Stevens' The Rocketeer?  I think it says something great about the current state of the comics marketplace that we can talk about three different type of pulp stories that are still a long ways away from superhero books.  Also, it's Graeme's turn to take a powder while Jeff gets to talk directly with the listeners.
1:30:24-2:16:04: Phone calls! From listeners!  We have them, and they are awesome.  Many thanks to Voodoo Ben, Alex, Robert G., Sean Witzke, J.L. Blair (whose call did not survive the round-the-world treatment, sadly and whom I initially misidentify, to boot) and Derek (or Garrett?).  Though most of the calls are just well-wishes, we do tackle a suggested topic--Jim Starlin at Marvel in the '70s, '80s and '90s--at some length, as per Alex's request.  Who says this isn't the Golden Age for Whatnauts?
2:16:04-2:26:31
: Jeff, whose attention span is crushed, all but leaps in mid-answer from talking about Hank Pym to discussing
Bloodshot
.  Graeme, for his part, has been catching up on old issues of Milestone
Shadow Cabinet
issues. Add 'em all together and you get...Chaykin's
Black Kiss
2 #2?  Not really, but we end up talking about that as well as well as the pretty brilliant (non-comix, though there's a chart or two) book by Jarett Kobek,
If You Won't Read, Then Why Should I Write?
2:26:31-end
: And then, because it wouldn't be a Wait, What? podcast without goofy technical difficulties, Graeme turns into the Lord of the Flies again, a clear sign to sign off. (Although we also manage to praise
Bandette
#2,
Double Barrel
, the xckd strip
Click & Drag
, and
Dustin Harbin's
Boxes
before we're done).  At one point, I'm laughing while Graeme is talking, and it just sounds like there should be the sounds of a building burning down and maybe some backmasked electric guitars...which is maybe the most fitting way to celebrate our hundredth episode?  Lord only knows what we'll sound like by episode 150....
Anyway, you should be able to find it on iTunes (although there's now that whole bullshit separate app for Podcasts, can you believe it?) as well as your RSS feeder of choice.  Alternately, you can take a swing at the audio pinata below:
And then next week...Ep. 101?  (Man, I gotta go fan myself on the divan at the thought of it!) In any event, whether this is your first time listening to Wait, What? or your one hundredth, we hope you enjoy and thank you for listening!