Hey, the postman finally turned up.
I guess the hostiles must have been restless out there in the Badlands or something. Anyway, he may not have rung twice but he did drop off a box of comics. Here's me going on about some of them after the break: A NOTE FOR OUR AUDIENCE: According to Brian "Link-Hider General" Hibbs you can now purchase some of these comics direct from The Savage Critics!
There is a link under both Comix Experience Links and Industry Links which says "Digital Comics From The SavCrit Store!". It's that one.
I have of course followed the rigorous journalistic code of the 21st Century and given all the comics available from that link a rating of EXCELLENT! No, not really, because as a salesman I am a bit lacking.
As ever, here's some comics and what I thought! Buy 'em! Don't buy 'em! Leave them at the scenes of violent crimes to throw off the Feds! I don't know, don't look at me for help. Because I'll just look down and whisper "No."
And Now Our Feature Presentation- SOME COMICS WHAT I DID READ:
ANIMAL MAN #8 Art by Steve Pugh, Travel Foreman & Jeff Huet Written by Jeff Lemire Coloured by Lovern Kindzierski Lettered by Jared K. Fletcher DC Comics, $2.99 (2012) Animal Man created by Dave Wood and Carmine Infantino
Since he literally throws his daughter to the wolves I'm afraid I have to say Buddy Baker is the worst father in the DCU and he's a pretty craptastic superhero to boot. You're going to have to think of something better than beating an army of undead animals to death one by one, Buddy Baker! This guy is such a dumbnuts I'm getting tired of reading about him. The best thing about ANIMAL MAN is that it reminds me how wonderful Steve Pugh's art is.
I love the solidity he gives everything and the way his art allows the realistic and the insane to exist frictionlessly together. If he's too radical for the DC masses, and it doesn't take much to be that, maybe Dynamite could get him on some books? Oh, I'm getting ahead of myself; I haven't got to THE SHADOW yet. Anyway, ANIMAL MAN was OKAY! But really his wife would have left him about 6 issues ago and in about 3 issues I expect Social Services to be having a firm word in his shell-like. Buddy Baker is a danger to himself and everyone around him, and not in a good way.
FATALE #4 Art by Sean Phillips Written by Ed Brubaker Coloured by Dave Stewart Image Comics, $3.50 (2012) Fatale created by Ed Brubaker and Sean Phillips
Um, I don't want to be the party pooper but I'm not really feeling this one. Where others would see complexity I see only confusion and the horror and crime aspects don't mix well at all; blanding each other out if anything. I'm not convinced at all that Brubaker & Phillips are as deft with horror as they are with crime. There's one sequence in particular which is meant to suggest the soiled undersheet of reality flickering on the edges of the protagonist's vision, but it takes up a whole page. Which is a bit like the secret supernatural underpinnings of the world putting on a straw boater and doing back flips in front of you while belting out showtunes. Subtly unsettling it's not. Mind you this series seems to not be a lot of things. Coherent and inventive being amongst the things it isn't. So far the whole thing seems a stolid muddle which barely fends off the blunt teeth of cliché. The police scenes are about the width of a gnat's dick from busting out the old "This is straight from The Fifth Floor, you've got 24 hours to clear this case or you're back handing out parking tickets! Capiche, you maverick bastard!"  And then there are the narrative captions and, boy howdy, are they bad. But then I think there's a difference between understated and lifeless. These things are like "I saw a cat. It was big." bad. It's like Dan Brown bad. But then Dan Brown's very successful isn't he?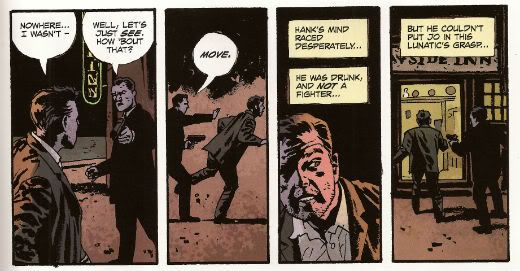 After all, in a shocking real-life terror twist, it turns out that FATALE is the most successful thing Brubaker & Phillips have produced. Previously this was true of INCOGNITO which I thought was pretty bad. So, it looks like success beckons the Brubaker & Phillips team, but what appears to bring them success isn't what brings me reading pleasure. Mind you, they are professional enough to produce a comic that despite my tinny whinging still comes off as OKAY! While I found the front matter lacking, Stephen Blackmoore provides a compelling backmatter piece concerning a real life gumshoe called Harry Raymond. That bit was VERY GOOD!
You can buy FATALE from HERE.
RAGEMOOR #2 Art by Richard Corben Written by Jan Strnad Lettered by Nate Piekos of Blambot® Dark Horse Comics, $3.50 (2012) Ragemoor created by Richard Corben and Jan Strnad
Corben's art looks a bit odd in this issue, as though he's got some settings wrong on his software or something. It looks a lot less crisp than last issue. It's still great because it's still Richard Corben but…still. Fortunately Strnad's scripting is really strong so that helps soothe any misgivings. I didn't really know where the series could go after the first issue's seemingly complete unto itself set-up.
I certainly didn't expect it to make the previously understated humour blossom so broadly; so broadly that at times it verges on farce. I certainly wouldn't have expected it to work so well either. There's horror here but humour too and in an impressive feat of facility each complements the other leading to a comic that is a really satisfying read indeed. I don't want to give too much away but hopefully the fact I thought it was VERY GOOD! will be enough to tempt the unwary!
THE SHADOW #1 Art by Aaron Campbell Written by Garth Ennis Coloured by Carlos Lopez Lettered by Rob Steen Dynamite, $3.99 (2012) The Shadow created by Walter B. Gibson
I know you've all been on tenterhooks so let me assure you that I did indeed receive a copy of this comic with the Howard Victor Chaykin cover. I thank you all for thinking of me during this period of uncertainty. It was always a bit of a gamble though wasn't it? What with Dynamite's penchant for plural covers. Mostly they get some decent names doing some good stuff. Howard Victor Chaykin, for instance, obviously did this one well before it struck Gin O'Clock at Chaykin Towers. He's even used a different face shape; nice job Howard Victor Chaykin!  The art on the inside of Dynamite's books tends to be a bit more problematic. Problematic in the Early Anglo Saxon sense of "bloody awful". Aaron Campbell manages to buck this trend by being decent for most of the book, except when The Shadow erupts into murderous action at which point Aaron Campbell impresses the Heck out of me. Really, jolly good work on those parts! I'm still not a massive fan of the old drawing over the top of photographs business so the rest of the book was just okay art wise.
Ennis is behaving himself too, there's none of that aggressively puerile "funny" stuff or lashing out at easy targets with a nuclear bomb strapped to a machete. He seems to actually be having a good time too. He certainly gives The Shadow a clear personality, one that's all the more entertaining for being composed primarily of arrogant bastardry. But he's not without empathy either, which is a nice trick to pull off. The whole shebang is set in one of Ennis' well researched eras of upheaval, or at least imminent upheaval. Because, and it's to his credit this, Garth Ennis is one of the few writers in comics who shows evidence of reading books other than How To Bland Out And Find Big Bucks In TV And Movies. Books that demonstrate an interest on his part in the world around him rather than a monomaniacal need to write THE MENTALIST.  If you like Ennis' war books you'll like this. If you like The Shadow you'll like this. Blimey, if you just like decent comics you'll like this. Because it's actually VERY GOOD!
SUPREME #63 Art by Erik Larsen & Cory Hamscher Written by Alan Moore Coloured by Steve Oliff Lettered by Chris Eliopoulos Image Comics, $2.99 (2012) Supreme created by Rob Liefeld
SUPREME is an Alan Moore genre comic. I miss Alan Moore's genre comics. Alan Moore's genre comics were packed with invention and humour. Alan Moore's genre comics had more ideas on the page than most of today's self proclaimed genii have in a lifetime. Alan Moore's genre comics played with the form in a way that was charming and cheeky. Alan Moore's genre comics had characters with character, but their character was never static and if it changed it would do so coherently. Alan Moore's genre comics had craft. Alan Moore's genre comics had joy. Alan Moore's genre comics were VERY GOOD! Yeah, genre comics are much better off without Alan Moore. Yeah, F***k you, Alan Moore! Don't let the door hit you on the way out, Alan Moore! We don't need you, Alan Moore! We never needed you! We've got AVENGERS Vs X-MEN and BEFORE WATCHMEN now!
Oh God, what have we done. COME BACK, ALAN MOORE!
...please...
You can buy SUPREME from HERE.
And that's your lot!  Yes, even I have other stuff to do!
Hope you had a good weekend, everyone!
Blah blah blah COMICS!!!