So, I didn't get near any comics this Holiday but I am always writing nevertheless. In my head mostly. So, although I haven't got anything about comics I have got a head full of dumb words about some Peter Cushing films I watched this year. Usually I just dump this head written stuff into the ether but I felt like posting something and this was all I had. So I dumped it on you. Attractive, non? Anway; an old man, some old movies and a spatter of tired old jokes. What better way to see the New Year in. Have a drink, it'll read better that way. Everything's better when you're insensate with drink. That's what it's for. Oh yeah, Happy New Year everybody!
Oh yeah, none of these are Oscar(C) winners in waiting but they are all fun so they are all GOOD!
All images taken from Wikipedia.
TWINS OF EVIL Directed by John Hough Screenplay by Tudor Gates (Based on characters created by Sheridan Le Fanu(?!?)) Music by Harry Robertson (Hammer, 1971)
Yes, there is a joke there isn't there? One about breasts; but I won't be making it. Knock yourselves out though by all means. Then try and look your mother in the eyes, pal. In this movie, the quality of which is indicated early by the choice of Hot Electric Pink for the titles, Peter Cushing plays Gustav Veil whose surname is not only an anagram of "evil" but is pronounced "vile" and that's about as restrained as this one gets. Seriously, there's a bit where a lady is enjoying the physical attentions of a gentleman and the camera zooms in to show her hand lightly gliding up and down the shaft of a candle. Y'know, like a penis. Keep up. Anyway, Peter Cushing, equipped with a buckled hat, blithely classes this silly exercise up in his role as a Puritan who roams about at night with his Puritan pals burning single young women as witches. Cush & Co. average one a night which suggests that there is a preternaturally large population of single young women in and around his village or someone is bussing them in so Cush'n'chums can have their fiery fun. It's testament to Cushing's performance that when someone says Vile "means well" despite there being nothing in the script which indicates he is anything other than a murderous misogynist you do actually think, oh, maybe he's just a tad, a smidgen perhaps, overzealous. So anyway, his twin nieces, or what have you, come to stay and one's a bit of a scamp and is lured into depravity by the sleazy Lord of the manor who has been en-vamped. Unfortunately he's played in a way that's about as threatening as a doily. After a few creepy scenes of young women leading old men on ("What would your Uncle say?" Urrrggghhhh. No thanks, 1970s.) and flashes of flesh it's all boiled down to The Cush vs the fanged doily man for the souls of his flock! There's some mileage in that; the bloke who was seeing Evil everywhere where there was none now has to deal with real Evil right in his own home. But, basically, this movie prefers to find excuses to chuck some knockers up on the screen.
THE BEAST MUST DIE Directed by Paul Annett Screenplay by Michael Winder (From the short story by James Blish) Music by Douglas Gamley (Amicus,1974)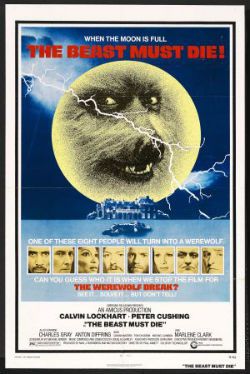 This mangy but loveable cur of a movie has a spectacularly inappropriate theme tune. Oh, It's really good, don't get me wrong but it's the kind of swinging up-tempo floor shaker more suited to a title sequence in which Oliver Reed checks out 'birds' from his Union Jack mini as he tootles down Carnaby Street. Here it sits oddly atop a movie about a bunch of weird people lured to an island retreat by a big game hunter who believes one of them to be a werewolf. The most dangerous game of all just got dangerouserererer! I can't lie; it's a bit dull beyond the campiness but it does perk up whenever Peter Cushing uses his fantastic accent, someone dies or when everyone has to fondle a silver bullet in a game of Pass The Death Sentence. Oh, and there's an exciting bit where our superfly hero hounds the werewolf in his helicopter and tries to machine gun it. Mind you, that last bit now looks like nothing more than a man shooting at a very large German Shepherd and inadvertently ruining someone's potting shed in the process; I can assure you that was very thrilling when you were 10. But then so is hopscotch. Near the end a ticking clock fills the screen and you have to guess who the werewolf is. I don't know how the movie knows what you've guessed but every time I watch it it's (SPOILER!). I'm not saying the movie struggles to fill its screen time but it will find a favourable reaction amongst people fond of watching Michael Gambon driving about in a jeep.
AND FRANKENSTEIN CREATED WOMAN Directed by Terence Fisher Screenplay by John Elder (Anthony Hinds) Music by James Bernard (Hammer, 1967)
In which Frankenstein doesn't but what he does do is trap the soul of a wrongly executed man in the body of the guy's disfigured girlfriend; she having drowned herself on seeing his execution. Together with Thorley Walters (played by Eddie Izzard) Peter "The Cush" Cushing as Baron Frankenstein fixes her face (and her hair; Blonde Contretemps by Boots) and everything turns out just dandy, thanks. No, no it doesn't, you fool! See, the soul of her boyfriend makes her hunt down the three fops who not only teased her about her face but , worse even, murdered her father and left her beau to take the rap. Some people probably say that the scenes where a man in a woman's body seduces then murders his/her victims are ripe with trans gender subtext. Well, they might if they weren't distracted by the fact that the victims are all dressed like Willly fucking Wonka. Anyway, if The Baron had fixed her face in the first place all that unpleasantness could have been avoided. So, basically, it's a movie about getting your priorities right.
FRANKENSTEIN AND THE MONSTER FROM HELL Directed by Terence Fisher Screenplay by John Elder Music by James Bernard (Hammer, 1974)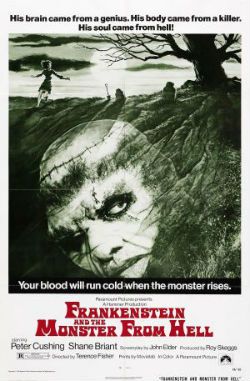 This is the one in which Peter Cushing plays Baron Frankenstein one final time. It isn't the best send-off but Peter Cushing doesn't flag and nor does he falter. So, The Baron is now covertly running an asylum he's supposed to be banged up in because he's got the goods on the pervy dude in charge. He's landed on his feet but his hands are giving him grief. His burned mitts are hampering his quest to stitch together the mentally unhygienic into a perfect man. Good thing then that Shane Briant (played by Twiggy) gets locked up in his gaff. And it is lucky because not only is Shane a surgeon in training he is also The Baron's biggest fan. What are the odds? They are good, my friend. Anyway these two knock up a makeshift man who looks like a shaved ape and has a penchant for sticking broken glass in people's faces. Shane Briant is also feeling moral pangs about The Baron passive aggressively badgering the inmates into committing suicide so he can play pick'n'mix with their parts. Oh, Madeline Smith wafts about the place as well giving the place a woman's touch and some pathos; a bit anyway. Anyway, everything goes tits up pretty quickly. It's possible to read the film as an indictment of the parlous state of the care of the vulnerable and how, without regulation, the gaolers become worse than the gaoled; but, basically, it's a movie about how if you've got Peter Cushing in a top hat you're sorted for 80 minutes and change. Cush Fact: the feathery wig sported by the great man himself is the exact same toupee which adorned his magnificent bonce in And Now The Screaming Starts… which, ah, here it is now…
AND NOW THE SCREAMING STARTS..! Directed by Roy Ward Baker Screenplay by Roger Marshall (David Case) Music by Douglas Gamley (Amicus,1973)
For about 40 minutes this enjoyable but not exactly good period set horror film consists of scenes of Ian "The Saint" Ogilvy and Stephanie "Powders" Beacham reacting badly to odd events in a stately home. A severed hand, a slashed portrait, something going bump in Stephanie Beacham's night, a Richard Harris impersonator and hushed references to something terrible bad in the past combined to leave me clawing for clarity and wondering if I was suffering another dry drunk or what. Thankfully at that point Peter Cushing sauntered into the movie and delivered a performance which managed to make the whole thing watchable at least, and this is despite his sporting the aforementioned alarmingly feathery wig. Actually I spent a lot of time looking at this unsettling hairpiece so I could have missed some nuance or subtlety in what followed. It's doubtful though as what followed not only had Patrick Magee pretending to be strangled by an invisible severed hand but also featured Herbert Lom as a not entirely convincing example of the landed English gentry who lets things get out of hand; sparking all the unpleasantness off with a poorly considered decision to reinstall the droit de seigneur tradition. From then on Cushing attempts to combat superstition and supernatural vengeance with the new-fangled Science Of The Mind! It ends badly for everyone involved. Where is your science now, Peter Cushing!?!
THE BLOOD BEAST TERROR Directed by Vernon Sewell Screenplay by Peter Bryan (Trigon, 1968)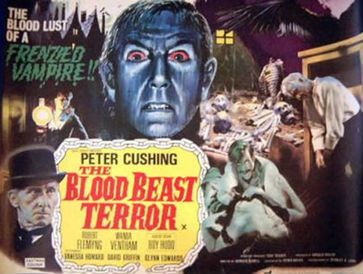 This is the one with the lady who seduces men, turns into a big moth and kills 'em. I see no subtext. Probably because there isn't one; the script has it all on trying to make sense. Which it doesn't but when did that ever matter; just entertain me, you mad fools! Peter Cushing is on record as claiming this is the worst film he ever made. Steady on, old boy; that's a bit harsh. I mean even I haven't seen every film Peter Cushing ever made but I think maybe the proximity of filming to his wife's death coloured his judgement. Don't get me wrong it's quite, quite terrible but it is not without its charms. There's Roy Hudd popping up to give the 1970s version of an amusing cameo(i.e. it isn't; amusing that is); Cushing's fellow plod is played by Dave the barman from Minder; some good performances convincingly delivered in spite of everything; an electrifyingly perfunctory climax in which Peter Cushing and Dave from Minder set fire to some piled up leaves, which the moth cannot resist and so meets its fiery end. And then the credits whizz up the screen. One of the things I never noticed about these movies until this re-watch is how tight they all are with film. No sooner has the final line slipped into silence than BANG! THE END! CREDITS ROLL! They might as well have someone shout "That's yer lot! Ain't ya got homes to go to! Fawk off home! G'wan! Whaddya want, Jam on it? Home! Now! Go!"
Speaking of which…THE END.
Happy New Year!