There came a day pretty much like any other day, except sales of Godawful Tony Parsons books went up. The Day of The Father!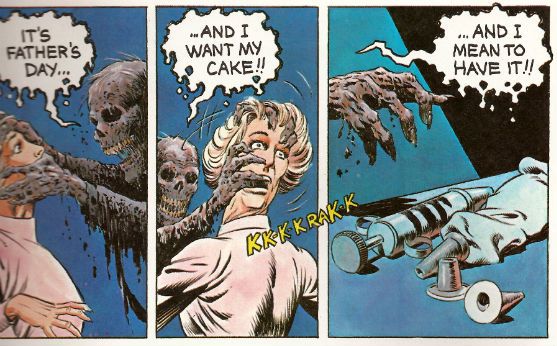 I hope you got yours a cake, kiddies! We Dads can hold a grudge for a long, long time! Heh. Heh. Heh. CREEPSHOW Art by Bernie Wrightson with Michele Wrightson Based on the motion Picture presentation CREEPSHOW directed by George Romero and written by Stephen King Plume/New American Library, $6.95 (1982)
A big old "COVER BY JACK KAMEN" - now that's treating creator's right!
Were I to open the nicotine stained and age crisped pages of my 1985 copy of Danse Macabre by Stephen King to page 36 I would find this:
"As a kid, I cut my teeth on William B. Gaines's horror comics – Weird Science, Tales From The Crypt, Tales From The Vault – plus all the Gaines imitators…These horror comics of the fifties still sum up for me the epitome of horror…"
If I had time to continue reading I would find that King then goes on to describe, detail and analyse these fetid throwbacks up to page 39 of his illuminating non-fiction survey of horror. He may even go on about them later on in the book, but I wouldn't have time to check that. Hypothetically speaking, of course. Fact is, Stephen King loves him some old-timey EC horror schlockers. Hardly a bone jolter then to find that CREEPSHOW is a celluloid homage par excellence to such tales. Particularly as George A. Romero is behind the camera and, although I'm not as familiar with the man behind the ever enlarging glasses I'm pretty sure his genre work points to a familiarity with the same foul floppies.
CREEPSHOW, then, is an EC comic made film. This hardly makes it notable as in 1972 there was Tales From The Crypt and, in 1973, The Vault of Horror. These were Amicus productions, although they are often mistaken for Hammer films as, to be honest, for a viewer there isn't much between the two studios. Amicus were a bit tattier, perhaps. Amicus produced a few such anthology films although the trend for horror anthologies was popularised in 1945 by Dead of Night.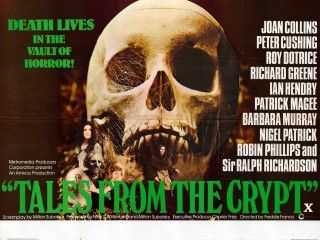 Tales From The Crypt poster Image taken from britposters.com.
These films are often referred to as portmanteau films. "Portmanteau" is French and thus makes everyone feel that bit classier about watching a film where, say, Roy Castle and Kenny Lynch face off against a Voodoo demon in a chilly British back lot passing for the West Indies, or a film where a scientist removes his pipe and gravely intones, "Why, a plant like that could take over the world!" Basically such films consist of a framing sequence, although that bit can be optional, with some connection to the handful of short, sharp shocks which then follow. They were pretty camp stuff, I'll be bound. Sadly, at this remove it's hard to tell if the campness is intentional. The sight of Tom Baker screaming in beige flares might once have been chilling for reasons far removed from his fashion choices or the damage he's inflicting upon the concept of "acting". The final stake through the heart of this enjoyably daft stuff came in 1980 with The Monster Club, a film that fails so badly as horror that the scariest part is a musical performance by B.A. Robertson. By 1980 then all that remained was the camp and that wasn't enough.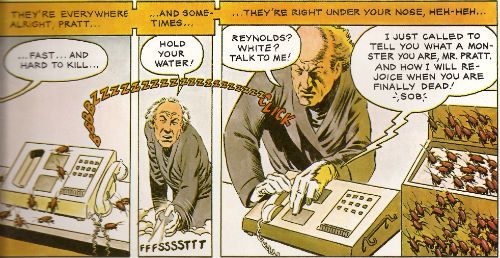 Art by Berni(e) Wrightson and words by Stephen King
In 1982 Romero and King inflicted CREEPSHOW upon the world. CREEPSHOW, while being a bit camp, is so technically adept and innovative as a film that the fact it came only 2 years after The Monster Club is pretty startling. I'd love to talk about all that but, since I haven't seen it for about 20 years I can't. That's right, the clock has just struck amateur hour! Still, as unprofessional as I am I'm willing to bet a toffee wrapper and some lint that technically it's still impressive. Impressive as a homage to the comics themselves and the films inspired by those comics, but this is a comics blog so how does the adaptation fare?
It does a pretty great job, thanks for asking. In terms of form it's a step back for Berni Wrightson. Wrightson (who at this point isn't putting an "e" on the end of his name so I've had to do two tags, thanks Berni(e)!) had of course been a keen and active participant in the Warren magazines Creepy and Eerie. Those brought the EC formula bang up to date for the stinking Seventies and the emaciated (early) Eighties. Which mostly meant being (slightly) more horrible and having less narrative text, because the EC stuff was already pretty awesome, thanks very much. The worst elements of the originals were their overwritten nature, where a text box would describe what the artist was illustrating. Since the artist was probably someone awesome like Jack Davis or Graham Ingels, the largely redundant words would be putting a serious crimp in how much they could fit in one of the cramped panels. This was less than ideal for fans of fantastic art. CREEPSHOW the comic dials back a bit on this narration but the amount of speech still overwhelms the images at times. So, it's a kind of compromise, I guess, and it does work for the most part. It certainly reads like an EC Comic; slightly better in fact due to the narrative nips and tucks.
From "'Taint The Meat...It's The Humanity!" in Tales From The Crypt #32 (EC Comics, 1952). Art by Jack Davis and written by Al Feldstein. My All Time Favourite Bad Pun Title!
Where it doesn't quite catch the EC essence is in the horror. It just isn't horrible enough. I haven't read a lot of EC Comics but what I have read has quite often been really quite foul. That's okay, it's a horror comic so that kind of comes with the territory. The five stories by King presented here have horrific elements but the campness is turned up just that bit too loud and dulls the impact of the atrocities on display. Strangely, it comes across as a nostalgic view of the material. One that surprises by flinching away from the tasteless stuff that defined it in the minds of its readers, such as Stephen King, in the first place.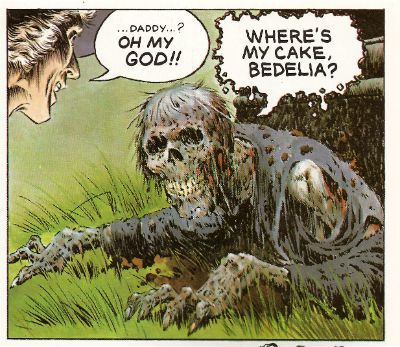 Art by Berni(e) Wrightson and words by Stephen King
Oddly the adaptation drops the movie's framing device, I guess page limits acted as a kind of budgetary constraint here. It does mean Joe Hill doesn't get to see himself in a comic by Berni(e) Wrightson, but he is on the Jack Kamen cover. And how loudly does the fact that Jack Kamen's credit is so large speak to the love of the creators for the source material? Loudly indeed. Speaking of the thespian Kings, possibly the best thing about the comic is you don't actually have to experience Stephen King's performance as Jordy Verrill, which is a bit like having to watch Kenneth from 30Rock do a 20 minute experimental play. Sometimes I wonder why CREEPSHOW is never on TV, and part of me can't help but wonder if Stephen King's family haven't got something to do with that. The likeness of Jordy suggests Berni(e) Wrightson had never seen Stephen King as do many of the other depictions of folk such as Ed Harris, Ted Danson and E.G. Marshall. He does a cracking Hal Holbrook though. Maybe Berni(e) Wrightson just really dug drawing Hal Holbrook? Each to their own. Although the adaptation benefits from the lack of Stephen King, er, acting it does suffer from the lack of, say, E.G. Marshall's horribly convincing performance as a massive sh*t bag. But then adaptations always suffer from the lack of the human element that brings so much life to the material on the big screen. For me, that's where the artist comes in. His, or her, performance is going to make or break an adaptation. And when it comes to Berni(e) Wrightson, for me, the guy's a maker not a breaker. Nice work, Berni(e) Wrightson!
Art by Berni(e) Wrightson and words by Stephen King
So, while it isn't the first EC type comic to stain the cinema screen CREEPSHOW is the first(?) to actually attempt to create the experience of reading a comic through the medium of film. And the comic CREEPSHOW is an attempt to replicate the experience of watching the film based on those comics but mostly the comics themselves. It's all a bit confusing really, but it remains GOOD!
So, yeah, I spent Father's Day with some COMICS!!!
How about you?