Here at Savage Towers the UK contingent is experiencing problems with The Haunted Scanner. So, just the covers this time out I'm afraid. Apparently my brain is no longer under warranty so I can't help the words that accompany the pictures. So here's a shoddy make-shift Sunday look at some comics. Or you could go outside and play in the snow!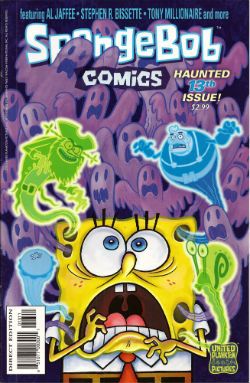 G.I. COMBAT Featuring The Haunted Tank #7 Haunted Tank by Howard Victor Chaykin (a), Peter J Tomasi (w), Jesus Arbutov (c) and Rob Leigh (l) Unknown Soldier by Staz Johnson (a), Justin Gray & Jimmy Palmiotti (w), Rob Schwager (c) and Rob Leigh (l) DC Comics $3.99 (2011) Haunted Tank created by Russ Heath & Robert Kanigher Unknown Soldier created by Joe Kubert & Robert Kanigher
The lead story here, a lead story about a Haunted Tank we should bear in mind, is a consumate exercise in capturing the gleeful idiocy of DC war comics of yesteryear; that is way back when to the time when Mommy would roll them up and beat me with them. Yes, the day I wrestled that rolled up copy of ALARMING BULLSHIT #235 off her was the day I became a man (i.e. 10 March 2007). Tomasi doesn't blink once as he recounts the tale of a Haunted Tank crewed by a gipper in a string vest and his endearingly credulous Grandson as they go up against a revamped War Wheel piloted by Rommel's grandson and powered by the slack corpus of The Desert Fox himself. It's barmy and all the better for it. HVC seems to have found the perfect home for his clip-art pasting mania with this hardware heavy tale although he doesn't fare as well on the flesh he hardly fails as such, giving The Fox himself a pleasingly senile cast to his confounded features.
Gray and Palmiotti manage the not inconsiderable feat of removing anything of interest from the Unknown Soldier concept, leaving us with some pages where a man falls out of a window and then goes and has sad thoughts in  someone else's garden. They even waste the nonsensical fun of having a diamond laced skeleton. As a result it's purely down to Tomasi and Chaykin's unflinching grasping of the nettle of nonsense that this book is GOOD!
INDESTRUCTIBLE HULK #1 Art by Lenil Francis Yu Written by Mark Waid Coloured by Sunny Gho Lettered by Chris Eliopoulos Marvel, 3.99 (2011) The Hulk created by Jack Kirby and Stan Lee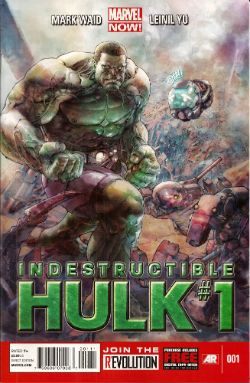 INDESTRUCTIBLE HULK #2 Art by Lenil Francis Yu & Gerry Alanguilan Written by Mark Waid Coloured by Sunny Gho Lettered by Chris Eliopoulos Marvel, 3.99 (2011) The Hulk created by Jack Kirby and Stan Lee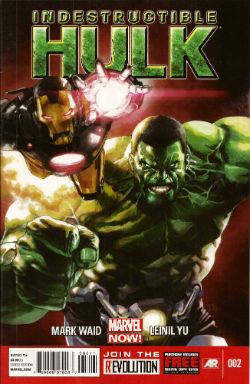 Yes, I know I shouldn't have this comic due to THE KIRBY IMPERATIVE but my Retailer forgot and so he wanted to share what he thought was a book I might like with me. Which is okay, because I don't actually expect my Retailer to remember all my mad demands and crazy caveats all the time. Most of the time will do. I'm not an animal. So, I ended up with this comic but because of Marvel's double-shipping and the lag in my deliveries I actually ended up with issues 1 & 2. Thus (thus, yet! Oh yes, thus! Smell my formal indignation!) a simple error sparked by generous intentions ended up costing me £5.98 and taking up space in my package that two comics I actually wanted might have occupied. This is the hidden damage of Marvel's double-shipping! I now want even less to do with Marvel than ever and I wasn't exactly mad-keen on them at this stage anyway.
But stupid English dude, double-shipping is just giving you more of what you like, I hear the less polite mutter. No, not really. Even if it was DAREDEVIL which I do like. For a start you aren't giving me anything. I'm paying for it. Secondly, I've seen Theatre of Blood and I do not want to be in the Robert Morley role while Marvel acts like Vincent Price and bakes my beloved (dogs/comics) in a pie and forces them down my throat with a plunger until I suffocate. Some of the classier of you might want to recast that thought in terms of Titus Andronicus, but I'm okay with Theatre of Blood.
This book was OKAY! Mark Waid is a reliable writing guy and Leinil Yu is still okay even if I think he needs to step back from the fussiness into the alcove of clarity. But it was $3.99 and even without THE KIRBY IMPERATIVE that's too much a month and with double shipping it would be $7.98 a month, maybe more. That's just nuts.
FURY MAX #7 Art by Goran Parlov Written by Garth Ennis Coloured by Lee Loughridge Lettered by Rob Steen Marvel, $3.99 (2011) Nick Fury created by Jack Kirby and Stan Lee Frank Castle (The Punisher)created by John romita Snr, Ross Andru & Gerry Conway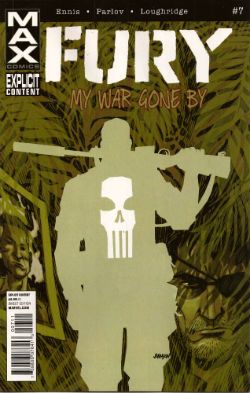 Originally I was overriding the KIRBY DIRECTIVE as this was such a VERY GOOD! comic and, more importantly, I am a weak creature always on the lookout for an out. As if to rub my smug face in my own moral doo-doo the quality of the comic seems to have taken a sudden lurch from Ellroy-lite into those issues of THE 'NAM where Frank Castle got introduced to boost sales. Quite a few people fondly recall THE 'NAM (i.e. the comic not the land war in South East Asia. Although I suppose it might have its fans too, human nature being what it is.) but I have never read anyone fondly recall the issues of THE 'NAM where Frank Castle started popping up. Also, I have decided to send the CBLDF the equivalent total monies this comic will end up costing me. Hopefully this combination of unmet expectations and financial excess will encourage me to actually be a man of my word. Then I will really get my Smug on, you betcha!
Goran Parlov's art is still staggering this time out with even the talking heads sections being just as entertaining as the slobberknockers in most other comics. There's an absolutely fantastic panel where Fury is giving Ms DeFabio a Cage-ing. It isn't fantastic for the contents but it is fantastic in that it has clearly been enlarged to make the occurrences within less, ahem, overt. This is a series that clearly, frequently and savagely depicts the effects of violence on large numbers of people, but apparently it still has trouble with a bit of bum fun. Marvel MAX comics - where there are no limits, except when there are! Despite all this it's still a VERY GOOD! comic.
SPONGEBOB COMICS #13 Art by Rick Altergott, Vince DePorter, Nate Neal, James Kochalka, Derek Drymon, Stephen R. Bissette, Rementer, Tony Millionaire, Jacob Chabot, Al Jaffee Written by Chris Duffy, David Lewman, Maris Wicks, James Kochalka, Derek Drymon, Roman, Robert Leighton, Chris Yambar Coloured by Molly Dolben, Cat Garza, Monica Kubina, James Campbell, HiFi Lettered by Comicraft United Plankton Pictures, $2.99 (2011) Spongebob Squarepants created by Stephen Hillenburg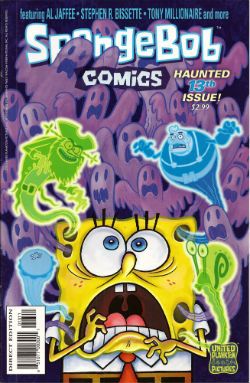 The Kid recently discovered Spongebob Squarepants on that televisual device that's sweeping the nation by storm and so I ordered this. Mostly to make up for all the parenting mistakes I make on a daily basis. Yes, he may end up hating me but he'll hate me less because I bought him a comic, I reasoned. And reasoned well. Being familiar with kid's spin off comics I braced myself for a tie-in comic which was so lacking in care or effort it would probably not even have the creators credited, it might even just consist of screen captures like that shitty Marvel digest of the ULTIMATE SPIDER-MAN show, whatever it was it would probably not be worth a second thought by anyone over the age of 7.
Once again proving how right I always am it turned out to be VERY GOOD!
I mean, look at that roster up there! I'm not listing all the names again (it's cold here and I'm a martyr to The Arthritis) but right here on these pages we've got the guys who did Doofus, Tyrant!, Sock Monkey, SuperF*ckers and all those crazy MAD fold-in things. Other people too, but I'm not familiar with them but they don't disappoint either. I guess the highlight is the Mermaid Man strip in which Steve Bissette basically draws a Nick Cardy era Aquaman strip and Derek Drymon has Spongebob draw himself into it. Like many a bored child has done in reality. It's sweet and clever and is surrounded by strips of equal or only slightly lesser worth. It's a crazy good line up producing crazy good comics and I wish The Haunted Scanner was working because then I could show you. But then again, maybe it's better if you just go and buy an issue of SPONGEBOB COMICS. You might be disappointed but with all the talent and invention on show here that's probably going to be all your own fault.
And I'm gone like Fury's eye but there remain  - COMICS!!!