I've not had time to write up any comics, but I have written up some movies. I didn't do a proper intro either. See?All complaints to the management, pal.
Combs & Crampton in FROM BEYOND
Anyway, this…
THE YAKUZA (1974) Directed by Sydney Pollack Starring Robert Mitchum, Ken Takakura, Brian Keith, Herb Edelman, Keiko Kishi, Eiji Okada with Richard Jordan as "Dusty" Screenplay by Paul Schrader and Robert Towne, Story by Leonard Schrader Music by Dave Grusin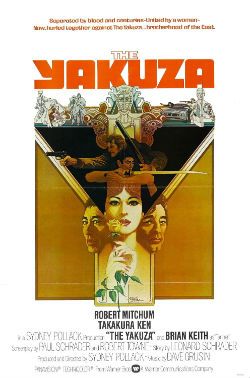 She said: "Robert Mitchum is always a good time."
Richard Jordan! I know! Fellow elderly readers have just threatened the purity of their incontinence pants! Whatever happened to Richard Jordan? He seemed to be in every movie made for about five minutes back in the '70s. And then: nada. (See also: Michael Sarrazin) Anyway, like you care, with your youth and your lattes and your wild ecstatic dancing. So, yeah, Richard Jordan is in this as the young scamp supporting Robert "Bob" Mitchum as he glides through Japan on a vengeance tip like a ferocious rock on a Segway®. A super cool rock, mind. One that returns to Japan to re-spark a WW2 romance while extracting a pal out of a jam with the Yakuza. Violence and stifled erotic yearning ensue. Based on a Paul & Leonard Schrader (with some Robert Towne tinkering) script it's directed by Sydney Pollack. Unfortunately Pollack seems a poor fit for something that would benefit from being punched up with some of the shabby insanity of, say, Paul Schrader's ROLLING THUNDER (1977). But then that's a perpetual problem with Pollack's stuff, a glaring lack of last act whorehouse shootouts. Particularly so in TOOTSIE (1982). THE YAKUZA keeps trying to be classy, basically. Too classy for the neo-noir material really. If you can get past that (and a truly jarringly inept flashback sequence) this is a pretty fun time. Not only do you get to see Mitchum placidly fuck the Yakuza up, but as an added bonus the perpetually underappreciated Brian Keith is gallantly sporting a quite remarkable hairpiece. This was on TCM so the print was hardly spectacular but still worth a  watch, if only for the sight of Robert Mitchum bursting through paper walls and emptying his gun into Japanese gangsters with all the emotion of a fridge. If nothing else THE YAKUZA proves that paper walls are no defence against elderly enraged Gaijin on the vengeance trail. GOOD! 
CHILD'S PLAY (1988) Directed by Tom Holland Starring Catherine Hicks, Chris Sranadon, Alex Vincent, Brad Dourif, Dinah Manoff with Jack Colvin as "Dr. Ardmore" Screenplay by Don Mancini, John Lafia and Tom Holland Music by Joe Renzetti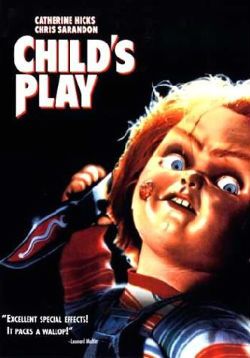 She said: "It's silly."
She's not wrong, but it's meant to be silly; so that's okay. I got this on Blu-Ray just t'other day, because My Lady of Perpetual Suffering got herself gussied up as Chucky for Hallowe'en, but had never seen the movie. I know! Talk about an impoverished upbringing! One of the great unacknowledged burdens of Modern Life is the seeming inability to directly address any of life's glaring injustices. Seven pounds sterling and twenty four hours later and I had kicked the lack of Chucky movies in my loved one's life to the curb.  Next week: John ends world poverty. In the meantime I'll tell you about CHILD'S PLAY, mainly so that I can claim the seven pounds back as "Business Expenses". Thankfully, Tom "FRIGHT NIGHT" Holland is clearly not pulling a Pollack here and smartly plays down to the premise's nutty strengths. Which is a good idea, as here he's dealing with Brad "WISEBLOOD" Dourif's serial killer escaping death by possessing an overpriced kid's toy and then offing a bunch of people, before trying the same soul swap trick on Catherine Hick's resourceful single mom's kid. Given the not entirely straightforward premise the script does a remarkable job of cramming exposition, character work, set pieces, horror and humour into its wiry 87 minutes. No one's going to give CHILD'S PLAY an Oscar® (unlike TOOTSIE) but as low budget '80s horror movies about foul mouthed killer dolls go it's a pretty fun time. The fact it's Brad (EXORCIST III) Dourif hissing expletives out of the chubby plastic face doesn't hurt, obviously. For the time and the money they do a remarkably good job on the Chucky stuff. Which is clearly important as he's (it's?) the star, no matter how much fun Chris (FRIGHT NIGHT) Sarandon has with his Bwanx! accent. But Sarandon gets the best scene where, in a spirited blend of horror and physical comedy, he has to fend off Chucky's attacks while driving a speeding car. But all the kills are well staged being either silly (Mr McGee from the Hulk gets electro shock) or flinch-making (the voodoo bone breaking. OH!) or creepy (Chucky skittering around the apartment like a barely glimpsed homicidal, ginger wigged cockroach). It's an '80s movie so there are scenes of hobos with shopping carts, hairspray, a "spunky" best mate ripe for a spectacular fall, an explosion caused by someone putting the gas oven on, smoking, and a niggling sense that there was a lot of ruby and violet lighting (even though there probably wasn't). It's not as good as FRIGHT NIGHT (1985) but CHILD'S PLAY is still GOOD!
STAGE FRIGHT (1987) Directed by Michele Soavi Starring David Brandon, Barbara Cupisti, Robert Glogorov, Giovanni Lombardo Radice, Clain Parker, Loredana Parrella, Martin Philips with James Sampson as "Willy" Screenplay by George Eastman and Sheila Goldberg Music by Guido Anelli, Simon Boswell and Stefano Mainetti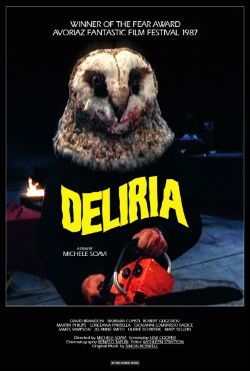 She said: "This is just fucking awful; I'm going to bed."
My paramour having been pummelled into early retirement by a distressingly '80s dance sequence, I was left alone to savour this, a poorly dubbed Italian slasher flick in which a bunch of thesps rehearsing an awful musical are stalked by an escaped nutter wearing a massive owl mask. The dialogue and the acting are kind of terrible, but that's not why we're here. No, we are here to see an escaped nutter wearing a massive owl mask off some thesps in inventive, suspenseful and, hopefully, excessively gory ways.  Which is what happens, oddly enough. Since Aristotle first posited the notion of catharis, the belief has persisted that watching stuff like this is, uh, cathartic, stopping us from doing bad stuff by soaking up nasty urges. Since I have never heard of anyone donning a massive owl mask and offing a bunch of thesps, the evidence, anecdotal as it may be, is on Aristotle's side. Who knows how many poorly dubbed thesps' lives this movie has saved simply by existing? No one knows. Because it's a stupid question. Putting aside the pretentious crowbarring in of ancient mega brains in an attempt to class this up Sydney Pollack-like, STAGE FRIGHT is a slasher flick and slasher flicks are all about the kills. Oh, there are some sweet "kills" in this one. Hurr. Kills. Hurr. I like the kills. Hoo! Hoo! See how they die! Hey, Aristotle said it's good for me, so don't you be judging me! For the more erudite cineaste there's a brilliantly staged piece of suspense where the heroine has to retrieve a key from right by the killer's feet by shimmying under the stage, all the while unaware of whether the killer's caught on, because of the giant face occluding owl mask he's wearing. The choppy and unpromising start can drive the more sensible viewer away, but if you can tolerate the initial stretch of almost hallucinatory poor, well, everything STAGE FRIGHT rewards you with some hectic homicidal mayhem. It gets a bit odd at the end, with a character repeating things like he's suffered a brain injury and a "shocking reveal" that centres on the inability of the police to count. But, y'know, I came to see an escaped nutter wearing a massive owl mask slaughter a bunch of thesps and I got exactly that. So STAGE FRIGHT was OKAY!
TARNISHED ANGELS (1957) Directed by Douglas Sirk Starring Rock Hudson, Robert Stack, Dorothy Malone, Robert Middleton with Jack Carson as "Jiggs" Screenplay by George Zuckerman Based on the novel 'Pylon' by William Faulkner Music by Frank Skinner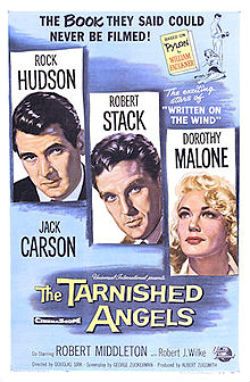 She said: "Everyone is having emotions!"
Here Douglas Sirk adapts William Faulkner's 1935 novel 'Pylon', reportedly much to William Faulkner's apparent 1957 displeasure. Lighten up, Billy Faulkner! I know, I know, TARNISHED ANGELS looks like one of those movies you watch with your elderly parents on a Sunday afternoon. That's what it looks like, what with Rock (SECONDS) Hudson as a tipsy reporter in a hat, Robert (AIRPLANE!) Stack as a moody stunt flyer, Jack (MILDRED PIERCE) Carson as the cheeky mechanic, Dorothy (WINTER KILLS) Malone as the woman caught between them, and Chris Olsen as the tow headed child alternating between weepy and cheeky in the background. To top it all off Rock Hudson's character is called Burke Devlin, a name so butch it's got hair on its knuckles. And most names don't even have knuckles. Unthreatening Sunday matinee material a-go-go then. Ah-ah-ah, not so fast! This is a Douglas Sirk movie, so for a start the emotions on display are so intense they almost exist independently of the actors expressing them. Being English and thus an emotional invert I find Douglas Sirk movies quite traumatic viewing. Where war movies have bullets and horror movies have monsters, Douglas Sirk movies have emotions. And in Douglas Sirk movies emotions wound like bullets and maul like monsters.  Some mock Sirk for being a kind of bland romantic, but TARNISHED ANGELS for one is one sleazy movie about really unhealthy relationships and horribly damaged people. It's a movie which is only saved from being vilely unsavoury by the slight dilution afforded by the restraints of the time. Unfettered, I feel Douglas Sirk would have made movies that made REQUIEM FOR A DREAM (2000) look like TOOTSIE (1982). I mean, Christ, in one scene here we are cruelly forced to view a child trapped on a fairground plane ride hysterically freak out as he watches his dad's fatal plane crash mere yards away. And if that pitilessly harrowing scene isn't a perfect summation of the Sirk approach, it's only because it isn't soaked in sumptuous swathes of lush Techni-color. Alas, TARNISHED ANGELS is in B&W but otherwise it's as SIrk as Sirk can be. EXCELLENT!
FROM BEYOND (1986) Directed by Stuart Gordon Starring Jeffrey Combs, Barbara Crampton, Ken Foree with Ted Sorel as "Dr. Edward Pretorious" Screenplay by Dennis Paoli, Brian Yuzna and Stuart Gordon Based on the short story by H. P. Lovecraft Music by Richard Band
She said: "There's just too many tits in '80s horror movies!"
And she wasn't talking about Malcolm McDowell. BOOM! BOOM! Prudes beware; this is based on the H. P. Lovecraft short story 'From Beyond' in the same delightfully vulgar way as the same team's REANIMATOR is based on ol' shovel chin's 'Herbert West: Reanimator'. Which is to say that if H. P. Lovecraft ever saw either one he'd probably expire forthwith, face empurpled and eyes agog. Because FROM BEYOND is Trashy McTrash, no doubt. But it's unapologetically trashy; trash which winks because it's smarter than you think.  No, for 21st Century citizens with their elevated tastes there's just no getting around the fact that Barbara (YOU'RE NEXT) Crampton's arse gets a good airing and her chest gets a good mauling by gooey claws, while Jeffrey (THE FRIGHTENERS) Combs slowly transforms into a giant phallus, and poor old Ken (DAWN OF THE DEAD) Foree's good-natured cop can only try to keep spirits up with his dumplings and gravy. But why would you want to get around any of that? You should wallow in it, wallow, I say! Otherwise you're watching the wrong movie. Try ****ing TOOTSIE (1982) if you want inoffensive claptrap. So, having built a "Resonator" (as one does) to stimulate pineal glands (!) Dr. Pretorius' head brutally disappears leaving a babbling Crawford Tillinghast (Combs) and an upset neighbour in curlers in its wake. Eager to make a name for herself Crampton's shrink (Dr Kate McMichaels; who must have started studying medicine at the stately age of 4) takes Tillinghast back to the scene of the weird science crime to find out what happened. Slightly concerned about the headless corpse and the fact that Tillinghast was the only suspect, the police insist Detective Bubba Brownlee (Foree) accompany them. (To be honest this might not be an entirely accurate reflection of police procedure.) McMichaels has the bright idea of repeating the experiment, and then things get a bit rudey-roo and gooey-goo as reality is invaded by creatures and impulses …from beyond! FROM BEYOND is unusually bawdy for a horror movie, but it's got plenty of the old claret splashing and brain munching as well as some freaky creatures. Everyone acts like they are having a blast, and since most of the FX are physical it stands up to blu-ray pretty well; the blue screen stuff suffers, but since that's minimal it's hardly a deal breaker. Taken optically, FROM BEYOND provides your RDA of saucy horror tomfoolery. VERY GOOD!
WE ARE STILL HERE (2015) Directed by Ted Geoghan Starring Barbara Crampton, Andrew Sensenig, Lisa Marie, Larry Fessenden with Monte Markham as "Dave McCabe" Screenplay by Ted Geoghan Music by Wojciech Golczewski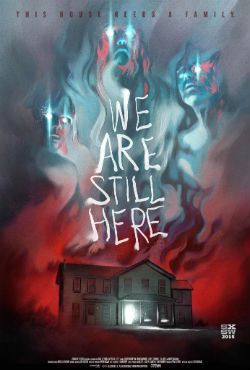 She said: "That's really shit me up, that has!"
This was an impulse view and, boy, this was a good one. You could almost smell my relief as I found that my aging impulses remain sound. Unhealthy, sure, but still sound. I didn't know anything going in to WE ARE STILL HERE and it was all the better for it. Hence the brevity of this review, as I seek to replicate that experience for your good self. In essence though, Barbara (FROM BEYOND) Crampton and Andrew Sensenig play a couple still shell-shocked by grief for their recently deceased son, who move into a remote house in a snowy and bleak bit of '70s America. Creepiness ensues. It really would be a shame to spoil it, but the best thing was how it ended up crushing expectations like a still beating heart in a vengeful corpse's fist. WE ARE STILL HERE starts off all elegantly measured and mournful, with brief glimpses of disquiet and then it lunges suddenly into, well, something else. Clearly the people involved all love horror movies and know how to make 'em, but most impressive was the acting. Everyone's acting is top notch, really , really top notch; everyone nails the characters just right. But even so, unsung screen vet Monte Markham stands out with his enormously entertaining affable bastardry. Damn, this was just such fun. You'll probably never look at a sock the same way again. WE ARE STILL HERE is still VERY GOOD!
THE NAKED ISLAND (1960) Directed by Kaneto Shindô Screenplay by Kaneto Shindô Starring Nobuko Otowa, Taiji Tonoyama, Shinji Tanaka, Masanori Horimoto Music by Hikaru Hayashi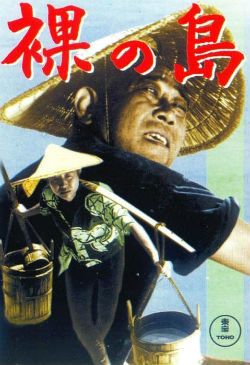 She said: "That was sad. Good, but sad."
This is a Japanese movie about a family of four whose hard scrabble life is dominated by the farming of a harsh lump of an island in the Setonaikai archipelago . Most of each day is taken up with rowing to the neighbouring island to draw the water essential for life and agriculture. For part of the day the two children attend school. The school together with the water bearing and trips to sell crops are their only links with the wider society. The movie is minimal and realistic; Shindô and his cast and crew lived on the island throughout the filming. No words are spoken for the first half hour, and for the most part the movie just follows the family's bleak, repetitive existence, creating a soothing rhythm until the inevitable occurs, and the lack of things we take for granted takes a terrible toll. Then life resumes and then life goes on. With THE NAKED ISLAND Shindô is as quiet as Sirk is loud but to no lesser emotional effect. THE NAKED ISLAND is the kind of deceptively artless movie which seems to be doing nothing but is quietly doing everything. Unlike ***ing TOOTSIE. Whatever, THE NAKED ISLAND is EXCELLENT!
NEXT TIME: Oh, go on then – COMICS!!!