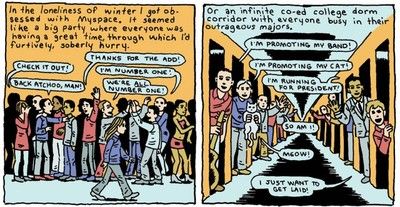 From Gabrielle Bell's The Voyeurs
This is a pretty decent episode, I think, and we've got at least one surprise announcement in it (a less-surprising announcement: this is a skip week for us, so there'll be no episode next week), as well as some talk about books not out yet, books that may have slid past your radar, and we get our Englehart on. God yes, do we get our Englehart on.
After the jump: Show notes! Show link! Show...me the money?
1:04-6:06: Introductory comments.  What the weather is like for Graeme.  What Jeff had for lunch.  You know...the essential stuff.  Also, Graeme has some ideas about what to do for ep. 100 that, perhaps unsurprisingly, are a little heavy on the post-production side of things.
6:06-14:10: Before Watchmen: Minutemen #3 by Darwyn Cooke.  Graeme has read it; Jeff has not.  The phrase "potentially man-rapey" is used. I don't know; is that a phrase that I should issue a trigger warning for?  Also under discussion--how long a memory do Internet haters really have, anyway?
14:10-25:46: Superman, Wonder Woman, and Justice League #12.  I guess you could consider this spoilery?  Hint:  better than Justice League International Annual #1, though.  Also, Graeme has read both the Flash and Superman Annuals and tells Jeff about them.
25:46-26:42: The dreaded technical difficulties kick up, so we decide we are going to call one another back.  If you must skip 56 seconds from any podcast this month, true believer, let it be these 56 seconds!
26:42-27:51: Back again.
27:51-39:37: Back to Graeme's Calvacade of DC Annuals, as he finishes talking about the Superman Annual and then covers the Green Lantern Annual, which leads us into the DC career of Geoff Johns, past and present.  He has no trouble leaving titles--is it time for him to leave Green Lantern?
39:37-48:01: And along those lines, who has two thumbs and is the last person on the Internet to hear about this new Justice League title?  Jeff, who is even now using one of those thumbs to hit the space bar and type this.
48:01-48:01: Speaking of Jeff: why is he reading Batman?  It's a question that ties back to Rob Liefeld's TigerBloodian outburst on Twitter.
48:01-1:05:25: A follow-up question from Graeme:  "Are there characters who are so interesting to you that you will feel at least strongly tempted to try the first issue of a new creative team?"  This allows Jeff to talk about one of his more insane theories (even for him): the secret existence of a decade-long Challengers of the Unknown film franchise. The conversation goes on to cover 9/11, why Marvel heroes appear to be more successful at fitting into the zeitgeist than DC heroes, aspirational heroes compared to feet-of-clay heroes, superhero comic book culture, and more.  It's a discussion that catches Graeme at his most optimistic and Jeff at his, uh, Jeffiest. (That doesn't sound like a euphemism for "gloomy" at all, but is meant to!)
1:05:25-1:10:54: "It's very hard for me to talk about during an election season."  If you don't want us to sound bewildered about the Republican National Convention (or to hear Jeff sound bewildered about the United States), you may want to skip this part.
1:10:54-1:18:06:
Thank god, we move on to talking about
Archie
#636, with art by the ever-talented and ever-talkworthy
Gisele
.
1:18:06-1:38:10:
Also worthy of praise--and we do so extensively--is
Vision & Scarlet Witch: A Year In the Life
by Steve Englehart and Richard Howell.  Unsurprisingly, Graeme and Jeff proceed to nerd out heavily, talking about the differences between Englehart's work in the '70s and '80s; and the renunciation of Englehart at various times in the Marvel Universe.  Big thanks for listener
J. Smitty
for making this discussion possible.
1:38:10-1:44:49:  On the opposite end of the medium, but which Jeff also finds excellent: Gabrielle Bell's The Voyeurs from Uncivilized Books.
1:44:49-1:51:28: More stuff that Jeff likes: New Deadwardians, Prophet #28 (especially the terrific format for the Brandon Graham/Fil Barlow interview about the creative process behind Zooniverse), Axe Cop: President of the World #2, and Emo Galactus by R.M. Rhodes and Meredith Burke (debuting at SPX!)
1:51:28-2:08:17: By contrast, Graeme has read a preview of...Black Kiss #2 and Happy by Grant Morrison and Darick Robertson. [Whoops: we broke an embargo on that one.  Sorry, Image!] On a related note: the schedule at Morrisoncon? Pretty stunning.
2:08:17-2:08:56: Our recording schedule...and plans for episode 100!
2:08:56-end: Would you like to call in with a question and have your voice on the 100th episode?  We've figured out a way you can! Listen in here to get the super-secret Wait, What? phone number and leave a message! As a bonus, Graeme tries to wrap his head around the early numbering system of our podcast...and fails!
See?  That sounds like a chunky little episode, right?  And we're even giving you a chance to catch up before ep. 100!
As Beatles sung in their classic, Here, There & On iTunes, you may have already encountered ep. 99 here, there, or on iTunes.  If not, for the first option do see below:
As always, we hope you enjoy! Please consider leaving us a question or comment at our super-special secret phone number, and we'll talk at you in two weeks!