Okay, let's stop pointing fingers, dry our eyes and just accept it's a BONUS SKIP WEEK! (Bonus Booo!). Caught me on the hop a bit, I'll admit. Unfortunately I haven't anything in my head about comics but there are a couple of books I've been thinking about. Why not, eh? You never know your luck in a raffle. So, it'll be a bit rough and ready this time out (yeah; no change there then) but I'll probably find my flow after a couple of dozen words. Anyway, this…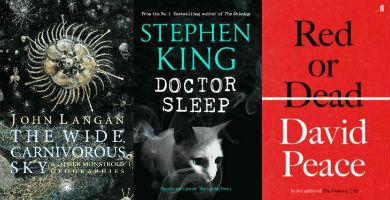 THE WIDE, CARNIVOROUS SKY AND OTHER MONSTROUS GEOGRAPHIES By John Langan Hippocampus Press, 2013 £15.00 (Kindle: £4.02)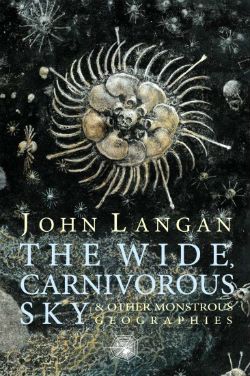 It's refreshing to find an author who not only knows the difference between Sabretooth and Wolverine but also mentions John Byrne's Alpha Flight. He mentions the latter in the back matter which he provides for each story. And I know you comics lot like your back matter. It's in the back matter that he chattily unpacks each of the short stories herein so that you know exactly what he was up to. Turns out what he's up to is reinvigorating all the old horror tropes; the ones as familiar as that dream where someone makes you eat your own face. Yes, my little chubby cheeked chums, all the old favourites are exhumed once more; zombies, vampires, ghouls, werewolves, Lovecraft, Poe and so on and so forth, yea until the stars come right again and the Old Ones rise.
Which would be worthy of little remark were it not for the stylistic panache with which Langan executes each of his macabre modernisations. You know, speaking plainly, this was by the far the best book of (modern; no one beats Aickman) horror stories I read this year. And I read a lot of short horror stories; you didn't know that did you? Mysterious creature that I am. Anyway, it was the best book of horror stories I read because John Langan writes like a real son of a lady and no mistake. He's a bit of a stylist is John Langan; a bit of a shit hot stylist as it turns out. He'll keep you on your toes and wide awake with his magnificent ability to inventively riff on concepts which looked dead only seconds before. Langan playfully pressgangs Thonrton Wilder's Our Town into imbuing the listless zombie trope with a real sense of horror again. He beautifully uses the backdrop of a Cthullu scoured Earth to play out an emotionally flensing one hander concerning how it feels when your child moves on and away. There's even a post-mod lyric to lycanthropy that loses none of its savagery amongst the stylistic trickery. Somewhere in there he also throws in the weight of autobiography, although probably not in the one about the Iraq War vets up against a very different vampire indeed. It's a clever book, it's a moving book, it's an entertaining book which, all in all, I guess, makes it a VERY GOOD! book.
RED OR DEAD By David Peace Faber & Faber, 2013 £20.00 (Kindle: £7.79)
"Repetition. Repetition. Repetition." Those are the first three words of David Peace's new book and they are both a statement of intent and a warning. Those three words are the book. The entirety of the book is encapsulated in those three words; no, that one word. Repetition. (Repetition. Repetition.) Because Red or Dead is a book about Bill Shankly and how Bill Shankly took Liverpool Football Club to success. Peace takes the brave and unfashionable tack of shunning mythologising and renders down the story of Bill Shankly's success to its essence. To its basics. This is the portrait of a man. Bill Shankly had insight and Bill Shankly had talent but mostly Bill Shankly had the guts for the long haul. Tedium and slog. Slog and tedium. These are the things that got Bill Shankly results. That got Bill Shankly's team the results. The results for their supporters. Results for the people of Liverpool. For the people. Always, always for the people. Working for the greater good. Toiling for the larger whole. And as the pages pass, as the years die Peace's subtle subtext shimmies into view. For as the pages pass, as the years die Bill Shankly's world slips into the past. The England of people like Bill Shankly. And a new England is born. An England not about the people but about the person. An England not about society but about the self. An England in which people begin to ask what have I got and why have they got more than me? An England in which people end by asking what have I got and why have they got anything? England: before the match, after the match. England: before The Thatcher, after The Thatcher. This book is work. This book is hard work. No, no, no. This isn't working. This isn't working at all. Half time whistle. Oranges and a re-think…
…Okay. Look, that's all very well and good, all that up there; it's nice I get to pretend to write all proper like in my little half-arsed way, but I've read the reviews. A lot of people seem unhappy about this book. So let me speak plainly for a change; this book is a fucker. It could not give less of a shit what you want from it. Huge swathes of it are repeated. (Repeated. Repeated.) It will bore you. You will be bored. To get through this thing boredom is something to be mastered. Or befriended at least. This is not a mistake. It is not an accident. David Peace is not a numbskull. It is a device. A literary device. To understand Bill Shankly, to understand Bill Shankly's achievements, Peace puts you in the same position as Bill Shankly. Tedium and slog. Slog and tedium. These are the things that will get you results. And at first the results are small (the simple switch from players' surnames to forenames is weighted with emotional import). Then after the slog, after the tedium come the real results. The last third of the book portrays Shankly after success, after retirement. The last third of the book is where your heart gets a work out. The last third of the book is where the results come in. The last third of the book is the pay off. But to get to the pay off, to get to the result you have to put the hours in. You have to put your back into it. You have to work for it. Look, I'm not fussed in the slightest about football and I was a near blank about Bill Shankly but it still paid off. Red or Dead is not for everyone. But if it's for you it's VERY GOOD!
DOCTOR SLEEP By Stephen King Hodder & Stoughton, 2013 £19.99 (Kindle: £5.70)
I like the total uselessness of the quote on the front of the book: "Hugely anticipated". Yeah, and…? My dinner is hugely anticipated; getting in out of the rain is hugely anticipated; the next episode of The Spoils Of Babylon is...the gist you are getting, yes? I'd have thought Stephen King writing a sequel to The Shining would merit a bit more, I dunno, oomph in the blurb department. Maybe they didn't want to get anyone's hopes up too high. Because this is no way the equal of The Shining. Now, I've not looked so I don't know what the consensus is on this one is but I'd guess it's mixed? Doctor Sleep's got a strong start and a solid finish but the bit in-between lacks conviction, and there's a lot of in-between here. The Danny Torrance bits which start, finish and weave through the book are great (and we'll swing back round to that later), but they're sandwiched around an idea more suited to a short story than the length of this brick. I mean, having old people in RVs being evil kid killers and eating schadenfreude is a droll and smart way of talking about the sick way we ("we" as a society; not me and you, we're awesome. It's everyone else; It's always everyone else.) process tragedies these days together with the dangers of assumptions. But it isn't smart enough or droll enough to carry something this hefty.
Unfortunately because the bulk of the book is less than gripping King's late period tics stick out quite a bit. There's the momentum sapping return to an earlier already documented event but in even more deadening detail (as though excessive attention to tedious minutiae as will effectively balance the fact we're talking about psychic vampire eldsters); the failure to invest the mundane with menace ("She had a top hat which sounds stupid but really it was proper spooky, honest."); the kind of attempt at a quick descriptive pop that misfires into flatness ("She had a single yellow tooth like a tusk" Annnnnd?); the interminably dull reporting of a character's internal decision not to say something ("Chad decided not to tell Betty-May about how the world had cooled and fish had left the seas to become people and how those people had built cities and societies, and how all those cities and societies fell but history and humanity never stopped moving until here they were, today, next to the roto-rooter section in Target.") And just like all the stuff in brackets prevented that sentence from flowing smoothly through your mind all those aspects constantly scupper King's momentum.
But Doctor Sleep is still worth reading; it's still worth your time, and that's mostly because of how well King deals with addiction. There's no horseshit here about dancing through the fire and being a better man for it; King knows that if you're an addict you're never through the fire and you don't dance through it you trudge; King knows that most of the time the only reward for not drinking is that you didn't have a drink. And eventually you don't want to drink anymore because eventually you're dead. You know, there's probably a reason people talk about recovering addicts but no one ever talks about recovered addicts. The fact that a man who has been there and bought the t-shirt but is now a multi-millionaire and who lives behind a wall can still understand all this so well and, better, can communicate it so directly and sympathetically is an impressive feat of empathetic writing. Due to his mind beggaring popularity King is often given short shrift as a writer, which is a tad unfair. Because somewhere along the way Stephen King became a writer good enough to handle the horrors of reality head-on without the ghoulish gee-gaws of plastic fangs and rubber bats and it's when he trusts himself to do so that Doctor Sleep is at its best. It is then that Doctor Sleep is better than GOOD!
Next time on Words From My Head: COMICS!!!