That's right, it has been a while! No flies on you, me old mucker. Cringing apologies duly tendered and all that. Just so you don't think The Savage Critics don't love you anymore here's some words about a comic.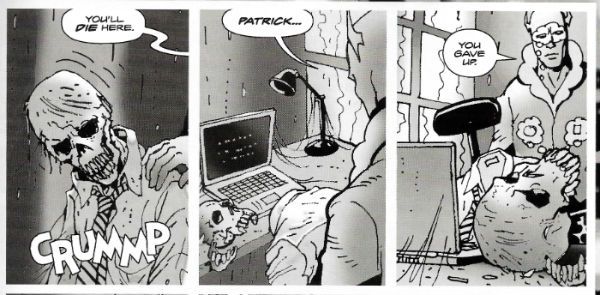 Anyway, this… DARK HORSE PRESENTS #2 Dark Horse Comics, $4.99 (2014)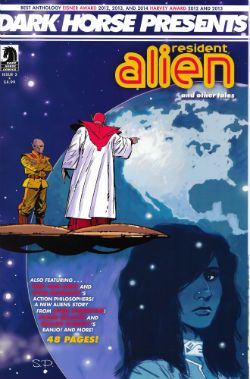 Resident Alien: The Sam Hain Mystery Chapter 2 Art and lettering by Steve Parkhouse Written by Peter Hogan
by Parkhouse & Hogan
This one is called Resident Alien and is about an alien who is a resident in a Small Town®©. (Small Town is ® and © The United States of America.) Sometimes there are crimes and he kind of ambles around them in DHP but actually solves the crimes in other series outside of DHP. I'm guessing he solves them because I haven't been sufficiently moved to follow his placid antics elsewhere. Could be maybe he doesn't solve them; maybe he just kicks back and whittles, makes a scale model of the Mary Rose in a bottle, then someone walks past at the end and mentions they caught the Canned Peaches Killer, ayup, so they did, you betcha. Like I say though, I don't know; maybe he hunts the killer down and exacts brutal and uncompromising revenge but then feels a bit sad about it so it's okay that he did that. There's a lot of that crap about these days so I'm quite receptive to a series where the main action involves some nail-biting box unpacking because Res Al is moving house. (Always label your boxes and ensure you pack the kettle last, so you unpack it first; top moving tips there, no charge). Ramping the thrills right up there are also some scenes of the Feds methodically failing to pick up his trail. I guess this isn't exactly heart stopping stuff unless having crumpets instead of toast gives you palpitations (the razor's very edge!) It's an inoffensive and gentle mosey around familiar tropes in a kind of early Sunday evening TV fashion. No disrespect is meant when I say I can easily imagine it being on TV in the '80s with an elderly Bill Bixby in a latex mask helping out the character actor residents of a Small Town®© while The Authorities (Tony Danza) unhurriedly fail to track him down. Of course on TV you wouldn't have Steve Parkhouse's wonderfully precise yet sketchy art. Art which is unusually attentive to everyday details to such an extent that you are struck by the odd revelation that most comics just vamp this stuff. I'm so used to seeing characters wear Clothes (Shirt, Trousers, Shoes) and live in a House on a Street that Parkhouse's unforced work here makes the hum drum as visually interesting as any alien world. It also enables Hogan's amiable script become a decent comic regardless of any televisual ambitions. After all, I always figured my Mum secretly hoped Bill Bixby would run off with her so I prefer comics to Television. Resident Alien is GOOD! comics.
Dream Gang Chapter 2 Story & Art by Brendan McCarthy Lettering by Nate Piekos of Blambot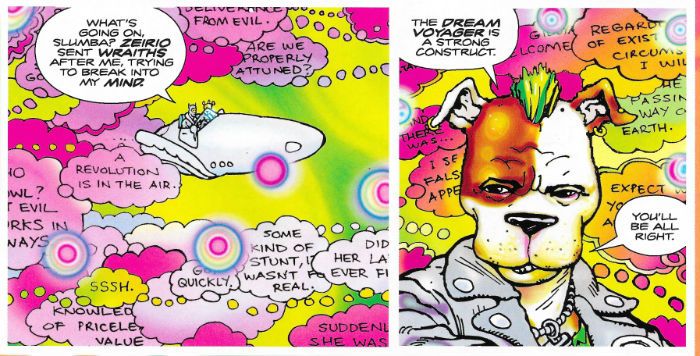 by Brendan McCarthy & Nate Piekios of Blambot
This one is called Dream Gang and is about a gang of people in dreams. Or something, dreams figure in it though. I don't think it's about anything really, I reckon McCarthy's just larking about which is okay by me. Because Brendan McCarthy can really draw; breaking news there. McCarthy's lines are just brimful of confidence and so assuredly loose that his art has all the appearances of random doodles miraculously converging just shy of sense. He also knows how to colour stuff in and while I am dreadful at appreciating colours I do know the colours here are bright and inviting since the sight of them from a room length away caused my son ("Gil") to express an interest. Maybe he can explain it all to me; maybe it is just crazy deep (man). I mean, I like it but McCarthy's bull-headed insistence on evading clarity can get a bit wearing. It's also kind of weird to me how Dreams are always this short hand for the imagination frolicking in delighted play and that they are just obviously Technicolor gear and fabgasmtastic but in contrast real life is all grey drabbery. In dreams I have never ridden a marsupial boat on a tangerine river under a liquorice sky. And nor in dreams have I walked with you. More often than not I wake up feeling like someone's been at my soul with a bone saw; gone at my very essence with a craft knife or something. Not so much Yellow Submarine as Das Boot when everything creaks just before the ocean bursts in. I guess me and Brendan McCarthy will just have to beg to differ when it comes to dreams. GOOD!
Wrestling With Demons Chapter 2 Art by Andy Kuhn Written by Jimmy Palmiotti & Justin Gray Colours by John Rauch Letters by John J. Hill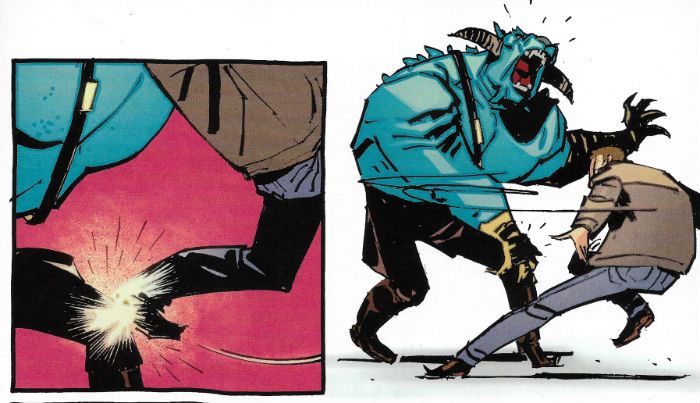 by Kuhn, Palmiotti, Gray, Rauch & Hill
This one is called Wrestling With Demons and is about a man who has to wrestle with demons. Literally. Not metaphorical demons like eating too much chocolate or boozing until he shits himself or a penchant for bouncing his wife's head off the worktop. No, proper demons. Which he wrestles. Literally. I'd hesitate to suggest either Palmiotti or Grey is coasting but I will just point out that Steve Niles manages to do this kind of workmanlike sticklebricking of stale ideas all by himself. Last issue was the introductory chapter with decent dad and sassy kid bonding on a road trip before it turned into Fight Club for Demons (and Dads who want their sassy daughter back). I just made it sound really interesting didn't I, like Joe R Lansdale or something. While Lansdale would routinely turn something this slight into a fast and nasty blur of invention and profanity here the set up just sits around going from predictable beat to predictable beat. Oh, these comic writers and their beats. You need a bit more than beats, folks. But then I remember when beats were nice boys touching each other in pretty cars in between smoking menthol cigarettes and typing be-bop prose & poems. Beats. Anyway this is astonishingly dull stuff considering I used the phrase "Fight Club for demons". I was watching this movie Shooter the other day, because it was on while I was sitting still for a bit and after a while I was watching the background because I don't live in America and I like to see what it's like. Also, the movie was predictable shit so in a defensive move my brain was focusing on the setting. I think it was set in San Francisco because there was a bit where he drove down a hill really fast and the only hill anyone ever drives down really fast in movies set in America is in San Francisco. I didn't see Brian Hibbs so maybe it wasn't set in San Francisco; it's not an exact science. Yeah, I know, it was probably filmed in Canada for tax reasons and they tilted the camera to make it look like Mark Wahlberg was going down a hill. Movie magic in action. Anyway, the big thing I took away from Shooter was that America isn't really fussed about architecture is it? No, not your old stuff, you've got some nice old buildings; we probably built them so, y'know, you're welcome. Mostly though you have these big things which yell "FUTURE" and then everything else is all boxes. Big boxes and little boxes, yes, but basically boxes. (And then there's the odd nice old bit here and there like someone spread Barnsley over 3,794,100 square miles) So, boxes with a big shiny thing or two stuck in the middle, that's you that is America. Now, it's possible, maybe, perhaps, that I could be misjudging the architecture of what is essentially 50 discrete cultures there. But then basing an impression of an entire nation's architecture on five minutes of an unnecessary Mark Wahlberg movie will do that. My real point is that the actual movie was dross but I found something to keep my synapses firing. So, I was reading this Wrestling With demons and I tell you I appreciated Andy Kuhn's artwork a lot because everything else was just rote time wasting. Basically compared to the writing in Wrestling with Demons, which was as tepid as an unnecessary Mark Wahlberg movie, Andy Kuhn was America. And it was still just OKAY!
Banjo Art by Declan Shalvey Story & Colours by Jordie Bellaire Lettering by Ed Brisson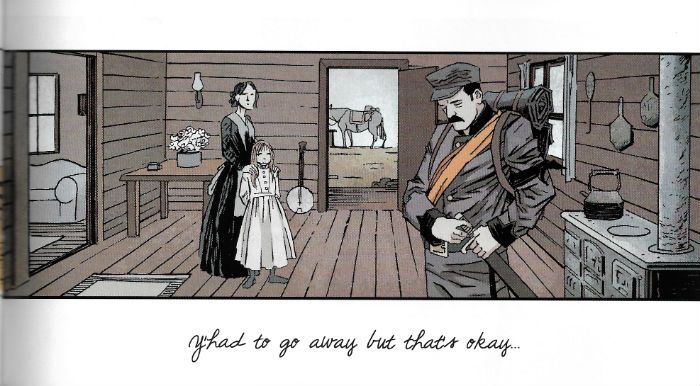 by Shalvey, Bellaire & Brisson
Sometimes I wonder whether or not reading comics from such a young age has somewhat degraded my finer sensibilities. Never have I wondered this more than when I finished reading a prettily illustrated and lightly written short revolving around the power of music and memory, in which a young girl wishes only for her father to return from the savage bastardry that is war, and my first thought is disappointment that there wasn't a final panel of a skull telling me that "..the only victor in the WEIRD War is DEATH! HA! HA! HA!" Sometimes, I appal even myself. GOOD!
Action Philosophers: Action Philosophy! Art & Lettering by Ryan Dunlavey Written by Fred Van Lente
by Dunlavey & Van Lente
My favourite Philosopher Fact is that Nietzsche claimed to have caught syphilis by sitting on a piano stool. But back to the comic and I'd have thought this was the kind of quirky attention getter that would be kicked straight to the curb as soon as the either of these classy dudes got a regular seat at The Big Table. But no, here they are soiling the joint with wit and intelligence like they actually care about this stuff. Alas, they are playing to an empty house because everyone's pissed off to watch Shooter. GOOD!
Aliens: Field Report Art and Colours by Paul Lee Written by Chris Roberson Lettering by Nate Piekos of Blambot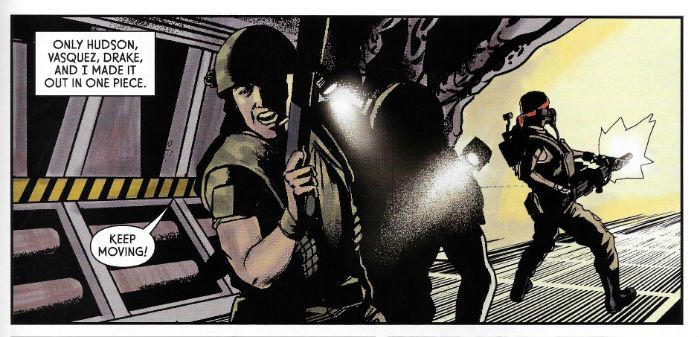 by Lee, Roberson & Piekos
Here Lee and Roberson commit a few scenes from the movie Aliens straight to the comics page. Almost. It's an attempt to graft the new Aliens series (ALIENS: TURNER & HOOCH) into the canon. You know, so that it counts. God forbid it just be good. So Hicks notices the spaceship from the new Aliens series (ALIENS: CHEESE & PICKLES) on a monitor. Limited to a single page (and it could easily have been limited to a single page) this would have been a cute little come on. Maybe with a jokey nod at those Hostess Twinkies ads. Okay, maybe not. It doesn't matter because this is 2014 so it isn't a page long, no, it goes on for pages more than it should and then tells you to go buy ALIENS: SONNY & CHER; wherein you won't find anyone from Aliens (well, except the aliens obviously) but you will find the ship Hicks saw on a screen in that one panel. Lee's art is lifeless and flat while faithful to the source but he dismays everyone when he chooses not to draw Paul Reiser and instead hides him with a shadow. While I know I'm supposed to be all out of touch and stuff even I have a sneaky suspicion that all this Alien activity is due to the release of that new Alien videogame, ALIEN:ISOLATIONISM. Apparently it's about Alien in America during the period just before it entered WW2. What? Yes, I suppose isolationism is a misnomer for American foreign policy at that point but since the game isn't called ALIEN: NON INTERVENTIONISM I worked with what I had. (Our Motto: there's a reason this stuff's free.) Back in reality, the game looks proper good and all. I've heard it's hard as time served in San Quentin but well authentic. There's even some DLC (yes, I do know what that means, cheeky.) where you can play as members of the original Nostromo crew. Who doesn't want to play as Yaphet Kotto!? Who doesn't want to wander about effing and jeffing about bonuses in space. If it tells me to "Find Cat" it can **** off; it's the escape pod for me, baby! Ma Parker raised no fools. EH!
Peppered throughout this issue are various spot illustrations by Geoff Darrow: Scrumdiddilybloodyumptious and no mistake, me old plumduffs! VERY GOOD!
Right then, this issue of DHP was a bit lacking to be honest. But that's the thing with anthologies; there's always an element of pot luck involved. I appreciate reading a bunch of stuff I probably wouldn't have sought out and that's probably the true value of a book like this; reminding me how good Andy Kuhn is or that some comic writers still think about the world. The big mistake in this latest iteration of Dark Horse Presents is the lack, two issues in, of any Howard Victor Chaykin. I don't want to influence anyone or anything but DHP would be a little bit richer in content if it had more stuff like that one where General George Armstrong Custer survives Little Big Horn, becomes President and invades Canada. All in about 8 pages too. Just saying. In conclusion, I had a decent enough time so I'll go with OKAY!
Hope that'll do ya, because you know what don't read themselves - COMICS!!!