This time out it's a He-Wolf and a She-Wolf! Don't worry, there's nothing remotely connected to the real world in this one. PHEW!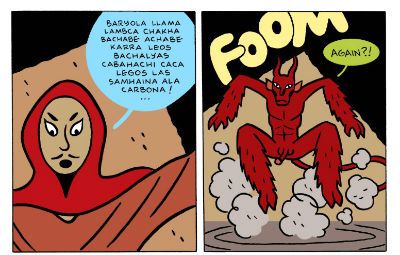 SHE WOLF by Rich Tommaso
Anyway, this… MOONSHINE #1 Art by Eduardo Risso Coloured by Eduardo Risso Written by Brian Azzarello Lettered by Jared K. Fletcher Variant cover by Frank Miller (I haven't seen it, I'm sure it's awesome.) IMAGE COMICS, INC., $2.99 COMIXOLOGY (2016) MOONSHINE created by Eduardo Risso & Brian Azzarello MOONSHINE © Eduardo Risso & Brian Azzarello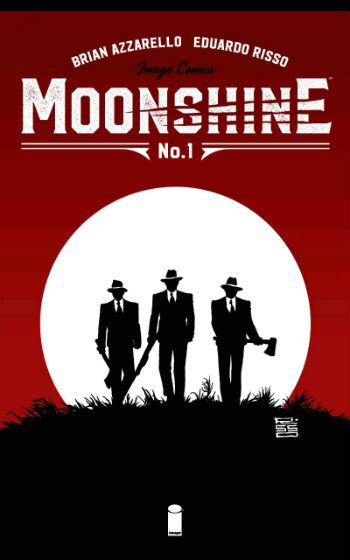 So there's manly Brian Azzarello watching LAWLESS (2012) with a manly drink of bourbons and ryes in his manly hand when his uncle Barry, who works in unmanly IT, pops in to say hello. Raising his manly eyes from the screen, where Guy Pierce is acting and Tom Hardy is standing about looking dazed, Azzarello notes manfully that Barry is sporting a lovely 100% cotton jumper with a big wolf's face on the front. Barry notes his manly nephew's manly gaze and starts telling him that he has one with a hood on as well, and is thinking of getting a matching one for his wife, Brian's Auntie Babs, but that'll be for Christmas because she's had the conservatory roof changed to a solid one, and that didn't come cheap. But Brian Azzarello is manfully preoccupied because a light bulb has gone off over Brian Azzarello's manly head. Hooch. Wolves. Hooch and wolves! And thus HOOCH WOLF was born! Oh, okay MOONSHINE (geddit!) A tad on the snout it may be, but the title is a pretty good sign of what's on offer here; what with it being within acceptable parameters for wordplay because, y'know, it actually works, it's kind of droll and, basically isn't godawful. (Remember "Hello", "Hell low"? Oh, boy. Oof! Who died in here?)  There's nothing special about it as a title and similarly there's little special about Azzarello's script, but the simple lack of anything bad enough to step in is cause for rejoicing. Particularly as Azzarello is once again monopolising the talents of the amazing Eduardo Risso.
MOONSHINE by Risso, Azzarello and Fletcher
Hey! This is the best writing Brian Azzarello has done for a long while. There you go. Oho! Don't reach for the ticker-tape just yet, you little eager beaver you, because that's pretty faint praise at this point. But yes, I'm happy to report that MOONSHINE's more coherent than the witless farrago of DKIII:TMR (O boy! That's like burn-it-and-salt-the-earth bad) and it's far less of a waste of Eduardo Risso's time and talent than LONO: BROTHER LONO (The main man wasn't even in space and no sign of any dolphins.) Mind you, MOONSHINE's far from spectacular, but it's okay. As is so often the case in comics that's mostly down to the artist, here one Eduardo Risso by name. I'm partial to a bit of Risso, so that means I get to read a lot of Brian Azzarello comics, as Azzarello has a habit of hogging Risso. Sometimes people float the idea that some writer and artist teams elevate each other to new heights. Unsurprisingly, I don't see a lot of evidence for that. I see a lot of evidence to suggest writers get away with feeble work by having talented artists illustrate it. It's for RM Guera's art I suffer Jason Aaron insecurely rubbing his sweaty balls in my face, not because I enjoy the sharp tang of insecure ball sweat, you dig? But Risso has had to elevate weaker work than this (Did I mention LONO: BROTHER LONO, bastiches?) and he seems invested in MOONSHINE, even to the extent that he's colouring his art for the first time. And that works out quite nicely. Enjoyable as his colours are, his art is too tough for his colouring to make much impact. Risso's work has appeared in coloured and uncoloured versions (WOLVERINE: LOGAN, BATMAN NOIR: EDUARDO RISSO); neither approach significantly more appealing than the other. I'm a firm believer that the colourists' motto should be primum non nocere, so Risso's work is thus a great playground for a neophyte colourist, it being pretty much invulnerable. And so it goes that Risso's colours are pleasant enough; inky blues for the night scenes, autumnal oranges in the dusk scenes etc. It's all very good but it's the art that's the true strength of the pages. I enjoy just looking at how Risso has drawn his trees, that's how good he is. What colour they are comes second. And in MOONSHINE Risso draws some mighty fine trees. He draws a whole lot of other things too; jalopies, candlestick telephones, men in hats, all that good time old-timey stuff. Yes sir, that's my baby/No sir, don't mean maybe! Ayup, Risso works his talented Argentine arse off bringing the '20s back.  Why it was just the Cat's Meow; I didn't know whether to Shimmy or Charleston, darling!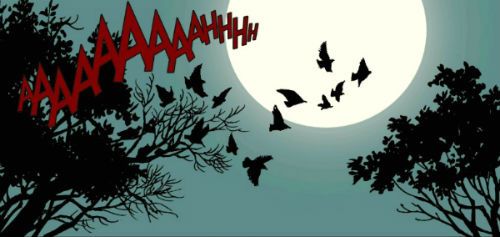 MOONSHINE by Risso, Azzarello and Fletcher
While I wouldn't say the writing was strong as such, it is solid enough to bounce back from an opening which, while it doesn't employ Clichéd Opening Device #1 (woman running down street at night pursued by something (insert name of male comic creator)), it does employ Clichéd Opening Device #2 (Bunch of characters offed by mysterious thing). The funny thing about clichés is how writers just employ 'em without thought, like a muscle spasm, and that makes 'em just about as creative. When my arm shoots out and knocks a hot cup of tea over I don't expect applause for my Craft©™, you know? I mean, just how much suspense is there in a bunch of Feds rooting about a still at night suddenly being torn to pieces by something never clearly shown, but shown enough to register as a big furry animal with sharp teeth. Sure some people might have their money on a rabid capybara but most folk will have read the title, which kind of gives it away. Some people are killed by…exactly what you think….SUSPENSE! The only suspense is why the Feds think J Edgar Hoover wants to fuck them, I know he liked a bit of tranny action but did he also sexually harass all his agents? A flashback to J Edgar Hoover all gussied up in his scanties chasing a bunch of young be-suited WASPS around to the Benny Hill music would have maybe been ridiculous, but it would have been a bit of fresh air amongst the mustiness on show. Everyone sing along as I tickle the ivories: It's prohibition times and a typical ne'er do well with his typical handsomeness and his typical comic book drink problem, is dispatched by his typically small, bald and sweaty shifty slug of a boss to a typically Appalachian backwoods den of torn gingham, dirt streets, cross eyed kids  and generally dirt poor hicks, to barter with a typically shifty but crafty paterfamilias in order to sell his typically special recipe hooch in the typically big city. There's a typical sassy lady, and a sexy black lady dancing round a fire (SYMBOLISM!) Now I don't know if that dancing black lady is typical or not, but I'm pretty sure our typical anti-hero will be typically sniffing round both sets of typical knickers with typically disastrous results. There's not a lot of suspense here, as soon as you see that Pa Dingleberry has a scar and a milky eye you KNOW we'll be seeing a wolf with a tuxedo and spats, no, don't be silly, with a scar and a milky eye. It's just a question of when. Still, inevitability can be quiet entertaining. Particularly if Eduardo Risso is drawing it. MOONSHINE is all very comfortable, it's all very TV. There's worse things, I guess.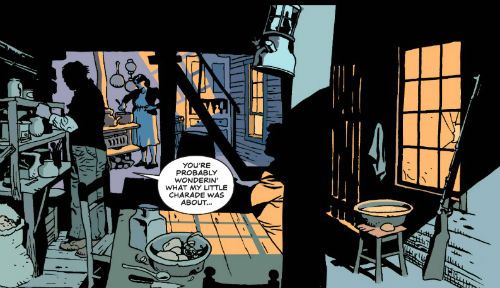 MOONSHINE by Risso, Azzarello and Fletcher
So yeah, it's looking like Brian Azzarello's usual go-to formula: to take something familiar and populate it with people who are irredeemable shitbags. (LONO: BROTHER LONO is basically just Two Mules For Sister Sarah crossed with one of those '80s movies where Chet Brisket gets pushed about for the first 60 minutes, and then spends the next 30 burning through the bad 'uns like he was an arc welder and they were cheese. But, y'know, updated, set in Mexico and populated with walking faeces. And not as good.) Obviously this whole "everybody's a shitbag" approach is edgy and revelatory and not all as childishly one-side as believing everyone is a magical laughter machine. No, I'm not sure why that is either. Anyway, MOONSHINE is GOOD! Risso is his usual superlative self and even Azzarello is manfully reining in his worst tendencies. (Applause!) However, I do reserve the right to throw the book across the room if he uses "hair of the dog that bit me". A man has to have some standards, after all. Even me.
SHE WOLF #3 by Rich Tommaso Pin-ups by Patrick Dean, Chuck Forsman, Brandon Graham, Brian Level, Tom Neely, Eraklis Petmezas and Jim Rugg IMAGE COMICS, INC., $1.99 COMIXOLOGY (2016) SHE WOLF created by Rich Tommaso SHE WOLF© 2016 Rich Tommaso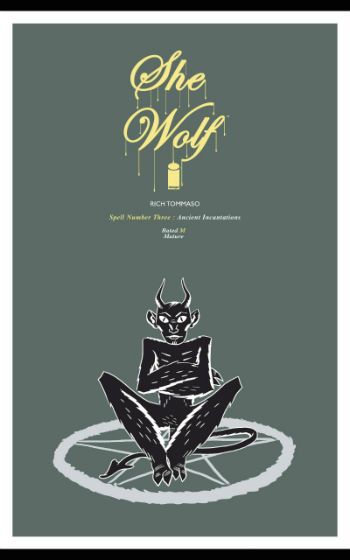 I say, I say, I say, who are Macbeth's three favourite comic creators? "To-mmaso, and To-mmaso, and To-mmaso!" Ba-da BING! Ba-da-BOOM! Aw nertz, youse bums ain't got no class, ya hear! Ya gots no class! A-hem. Unlike many comics which shall remain nameless (cough-MOONSHINE-cough) SHE WOLF#3 is cliché free! Unless there are a lot of stories where the heroine is invited into a stained glass window wherein she witnesses, in a stained glass art style, the origin of lycanthropy, which involves, Jesus (Christ), a luckless sorceror, a demon and a right silly bastard. With its flat colours and basic shapes this blasphemous and ultimately very nasty sequence pops hard against the lush colours and magnificently evocative cartooning surrounding it.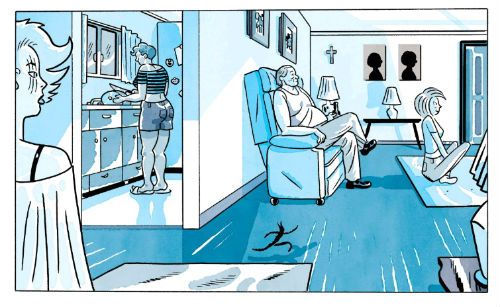 SHE WOLF by Rich Tommasso
While Risso's colours on MOONSHINE seem a handsome afterthought Tommaso's colours are entwined inseparably with the art. The colours are the art and the art is the colour. And the genius in that combination is all Tommaso's. There's a single panel of our heroine waking in bed, her room a cool blue splashed with a buttery light. That panel alone is worth the paltry pennies this comic cost. But like a papery excess of largesse this comic is filled with other things besides! The exceptional panel itself leads into a dream sequence of familial violence; one made exponentially creepier by the silence within which it unfolds and the ferine shapes usurping domesticity on the periphery. Be that not enough, o seeker of thrills, then there's a captive menagerie of monstrosities being read to by a priest with a colossal cross, reality turns out not to be, the passage of time is represented by a row of variously phased moons, a rescue occurs and, finally,  an ill-starred decision is made. Summoning demons always works out really well as we've seen, but to be fair sometimes the only choice is the least bad choice. Choosing not to buy SHE WOLF would be a very poor choice indeed. Rich Tommaso's SHE WOLF is  EXCELLENT!
"A secret society exists, and is living among all of us. They are neither people nor animals, but something in-between." They are COMICS!!!