Jack Kirby (28 August 1917 - 6th February 1994).The King of Comics.
Actually, off-panel speaker, I was thinking more of Jack Kirby. Because on 6th February 1994 Jack Kirby died so on 6th February 2012 I read this comic and, later than anticipated because I got distracted, I posted these words about it and about Jack Kirby. Or as he is known 'round here "The King."
1ST ISSUE SPECIAL Vol.1 #5 "MANHUNTER" By Jack Kirby & D. Bruce Berry DC Comics, $0.25 (Aug 1975)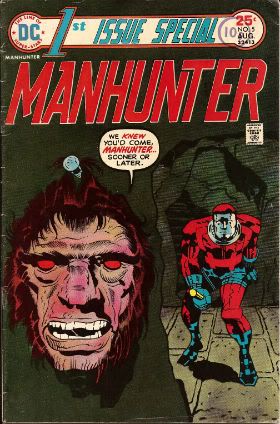 This comic was published by DC Comics in 1975. Also in 1975 Jack Kirby returned to Marvel. When he was creating this comic The King must have known he was on the way out from DC. He must have known what was coming. He must have felt awful. The hideous knowledge that he had to return to where he had once fled from must have been eating him up. But to dwell on his private pain would be unbecoming and I mention it only to say that it is likely that when this comic was created Jack Kirby was probably not in a Good Place.
Looking at the comic it's easy to see that The King's heart isn't in it. The cover is oddly un-dynamic, unsettlingly un-Kirby, and on a page turn reveals itself to be a flipped and recoloured reworking of the splash page. The inking is by D. Bruce Berry, who is no Vince Colletta but neither is he Mike Royer. The character Manhunter is a reinvention of an old character The King and Joe Simon had already reinvented in 1942. There are only two fight scenes, only a modicum of Kirby-tech and just a smattering of crackle. It doesn't look like his heart is in this one at all.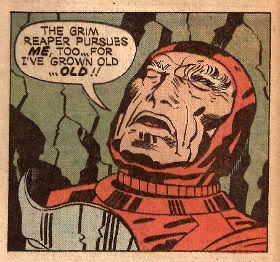 Reading the comic it's obvious that The King's Heart (capital H) is on every page. D. Bruce Berry dispenses with his often weak line and achieves an almost Royer-esque level of inky excellence. It's a great performance. After all the Top Ten Jack Kirby inkers are: Mike Royer. All ten of them. So raising your game that high is no small thing, D. Bruce Berry. The King seizes on his old re-invention and breathes life and energy into it; life and energy fuelled by his own inner pain. The fighting, Kirby-tech and krackling are back-benched so as not to distract from the message he needs to impart. And the message? What message could The King want to send the world as once again he turned back to that black maw? I think The King could be forgiven if the comic were an angry howl of despair. We need not forgive The King for it is, in fact, an acknowledgment of life's imperfections yet also an optimistic call to arms. No, it is not The King that needs forgiving.
Yes, The King's Heart is on every page of this comic. Listen now and hear it beat: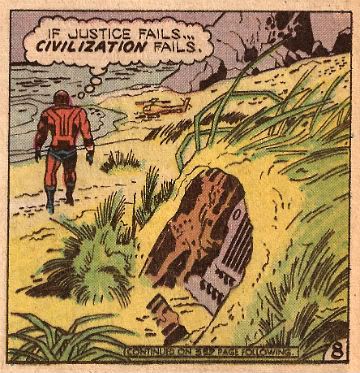 It begins with severed heads taunting the hero as he descends to confront "The Chopper". So far so standard but the uncanny weirdness on display is mere prologue. The Timeless Fight between Good and Evil enacted one more time according to all the old familiar rules is here displayed in all The King's mastery. But things are different when the dust settles. Manhunter has won but Manhunter is revealed to be old and near his end. Who will hunt the men who seek to evade Justice when Manhunter is gone? Though the man fails the cause must continue.  For Manhunter is a hunter of men but he is also a hunter who is a man. And in the end all men fail before Time. All men fall before Time. Even Kings for Kings are also mortal. Manhunter embodies mortality and fear for the future; fear for those who will survive us. (B-Dum! Hear The King's Heart beat.)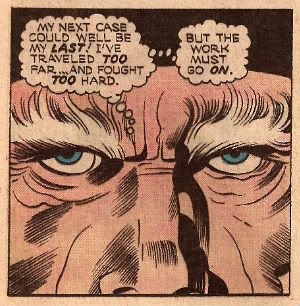 While Manhunter ages and frets Mark Shaw, Public Defender, is finding out that sometimes the system fails the people it's designed to protect. Mark Shaw, Public Defender, is growing up but Mark Shaw, Public Defender, is not giving up. As luck would have it Mark Shaw, Public Defender, has an ex-archaeologist uncle who enjoys wearing dressing gowns during the day and possesses a collection of arcane and mysterious objects. Some of these pertain to the "Shan" who, so it is said, wore the "Face of The Manhunter" to battle injustices in times past. Mark Shaw, Public Defender, who is beginning to suspect injustice is in fact Timeless, contacts the "Shan" via a combination of a lion medallion and good timing because it so happens that the "Shan" are in when he calls. They are also glad to accept his call. The keen reader may have picked up on a few unlikely coincidences by this point in the comic but these are there for a reason. What appear to be unlikely coincidences are in fact manifestations of Fate and, we are repeatedly told, "Fate is KIND!" The Salvation of the future will come from the Young. And there will be Salvation. (B-Dumba-Dum! Hear The King's Heart beat!)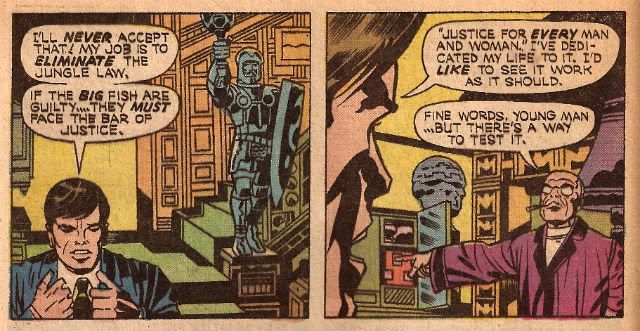 More things happen and they are the things you expect and they happen much as you expect but what is of importance has already happened. An angry man, a wounded man, a man returning to the Trap his Gift has condemned him to has spoken in the language that has never failed him (the language of Comics; his Gift, his Trap) and spoken of the thing that has never failed him, that will never fail him; Hope. Hope in us. Because, and I may have mentioned this, Jack Kirby NEVER gave up on us.
And then, lo,  an editorial page on which The King speaks so clearly, so plainly it is as though he is there before us, resplendent in his finery (the high-waisters hoisted high, the tank top and short sleeve shirt combo, comfy brogues perchance) his perma-furrowed brow inclined as he speaks from the Heart. Speaking words from The Past to be carried into The Future: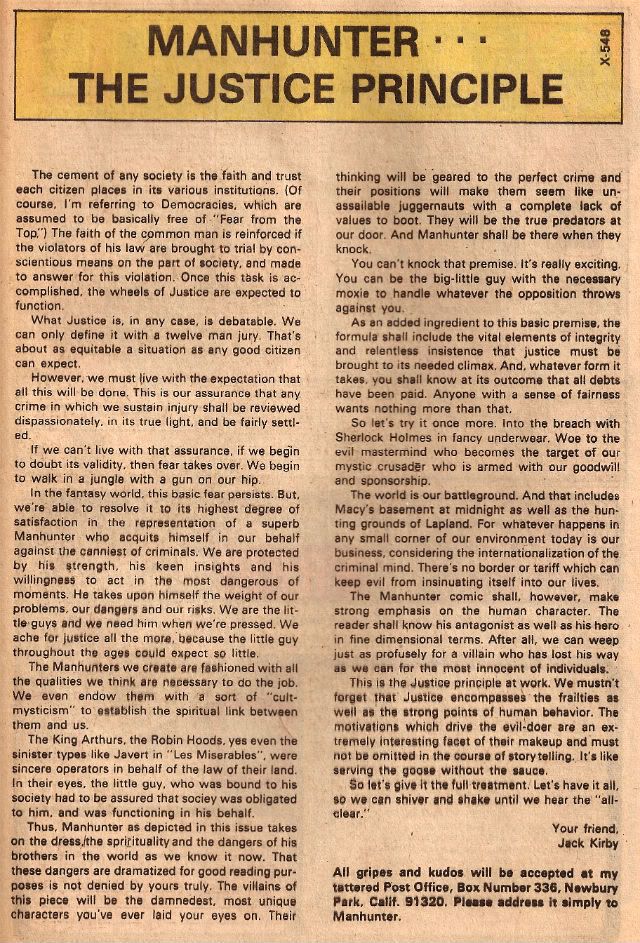 On 6th February 1994 Jack Kirby's mortal heart beat its last beat. On 6th February 2012 I read this comic and heard his creative Heart beat again. A Heart beating like Thunder. A Heart beating for Justice. A Heart beating for "the little guy". As long as there are people there will be Injustice. But Jack Kirby knew that as long as there are people there will also be Justice. And I know that as long as there are Kirby Comics the Heart of Jack Kirby will always be beating. Beating for us. Because Jack Kirby, and I may have mentioned this before, NEVER gave up on us. And because of Comics Jack Kirby's Heart will never be still and because of this miracle Jack Kirby never will give up on us.
Which is why Jack Kirby remains EXCELLENT!
Have a good weekend and remember the pleasure of Comics!