Um, no show without Punch, right?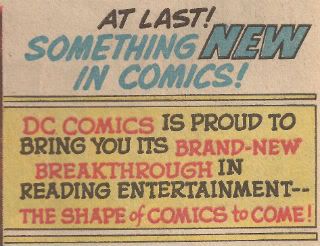 Well, how to follow all that, eh? All the Nu-DC reviewed and rated by some of the finest minds to have been damaged by comics at an early age! How about by saying exactly the same things about less comics but more leadenly, with more words and a smattering of shit jokes. Those being bad jokes as opposed to jokes about shit. Business as usual then!
WONDER WOMAN #1 By Cliff Chiang (a), Brian Azzarello (w), Matthew Wilson (c) and Jared K. Fletcher (l) (DC Comics, $2.99)
For someone as pickled in cape comics as I am I sure do have a deficiency in the area of Wonder Woman comics. In fact I think I only own those Wonder Woman issues John Byrne did. I own them but I haven't read them. I think I was drunk on E-Bay or something. Anyway I don't really have a clear idea of Wonder Woman but luckily neither does DC by all accounts (ho ho ho) so this blank slate beginning was perfect for me. After reading it I still have no idea about Wonder Woman because it's not really about Wonder Woman after all or it is but it's also about everybody else in it, kind of an ensemble piece.
I certainly wouldn't have gone for Azzarello's idea of sticking Wonder Woman into GREEK STREET as my first choice but it turns out I'd be wrong because I really, really enjoyed this one. It's creepy, eventful and surprisingly unsettling all in all and Cliff Chiang's art is just the dreamiest. Cliff Chiang – reach out and touch him! I look forward to this characterisation of Wonder Woman being carried across to the JL where she will just straight gut Darkseid while he's bloviating leading to a big Super-sigh from Supes and 21 pages of the JL trying not catch Wonder Woman's eye while she stands there daring any of them to say anything. Because consistency of characterisation across the line is certainly what I expect from the Big 2! In this comic WONDER WOMAN was VERY GOOD!
MEN OF WAR #1 Tom Derenick, Phil Winslade (a),  Ivan Brandon, Jonathan Vankin (w), Matt Wilson, Thomas Ch (c) and Rob Leigh (l) (DC Comics, $3.99) I didn't ask for this one. I guess my LCS sent it because I chunter on about old war comics all the time. Watch: What's this Men of War starring Frank Rock's grandson business? What's all that about? Rock stories appear in Our Army At War or Sgt Rock comics! Men of War is Gravedigger's book! Why didn't they go with Gravedigger? He's African-American so they could have picked up some of that sweet media heat.
This one looks like one of the rush-jobs because it isn't very interesting at all despite the revelation that apparently in the US Armed Forces on occasion you will be taken into a room where you will be told how much everyone you have ever met really likes you and then they will ask after your Mother. If you are a Captain you get a back rub and ice cream. There was a terrible moment when the issue opened with "Something warm on my face…wet…" but I checked and Judd Winick hadn't written it so I carried on. There's some weird business with super heroes that lacks clarity, I'm guessing nu-Rock will have a chip on his shoulder about capes. I'm guessing this since the mission goes big-time number ten SNAFU as soon as the cape turns up. I'm thinking someone wants to plan their Ops a bit more thoroughly than sending in the ground boys and then just have a cape jizz about blowing stuff up and crashing into everything willy nilly. I'm no Patton but a bit of planning might help.
 "Exciting stuff, there!"
There's quite a lot of action in this but it isn't terribly interestingly delivered, which is a shame because that means most of the issue isn't terribly interesting. C'mon, Tom Derenick, I know it can't be easy making this stuff look exciting but, I don't know if you've heard, there ain't nothing easy in Easy Company! There's a back-up that is exactly like some early '60s Robert Kanigher/Irv Novick short about fighting men and how they are men who are fighting. Which was okay back then but I checked with a passing young person and apparently it is now 2011, so that's not so good. There's the usual lovely gangly scratchiness from Phil Winslade on this bit so that's nice. But his presence suggests someone put this comic together in a rush because although Phil Winslade deserves better he appears to be DC's first choice for pinch-hitting on non-cape comics. Overall then MEN OF WAR #1 is kind of like stumbling into a pit of confusion laced with punji sticks carved from clichés. Proving once again that War is EH!
ACTION COMICS #1 By Rags Morales/Rick Bryant (a), Grant Morrison (w), Brad Anderson (c) and Patrick Brosseau (l) (DC Comics, $3.99)
Beginning a bold new era in Superman comics! An era of Superman comics I actually want to read! That's an exciting notion right there, DC Comics; Superman comics people might enjoy. Judging from this issue this bold experiment is working out okay. This is pretty much the kind of capey first issue Grant Morrison can probably spuff out in his sleep by now. It starts at full pelt and just keeps barrelling along with the odd handful of exposition and foreshadowing thrown at the eager reader's face as it whistles past. Nicely done. Rags Morales was obviously a bit time constrained but for the most part his art is pretty lovely. Other parts are just jarring, like when I was enjoying Lex Luthor's regal new nose only to turn the page to find he had somehow turned into a beatific bald child, later on his nu-nose was back, but, c'mon. let's try and keep on-model here, guys.  I really enjoyed Lex Luthor in this, he was given some kind of reasonable motivation for his Super-hate and did that suave thing where he basically does what they paid him for without even breaking a sweat (or registering the colossal property damage and human injuries involved) and then just saunters off. Stylish!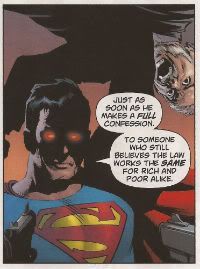 "Hey, anyone seen a berk? Superman needs to talk to a berk!"
Superman intimidating that there fellow into a confession? Have to say it didn't bother me that much. The dude he drops is clearly (almost comically so) established to have done Wrong. So, it's not even a Left/Right wing thing either. He's a Bad, Bad Man!  Of course what Superman does isn't super-nice but then he is basically a power fantasy after all. And, yeah, big old woolly minded Liberals like me have them too. But a part of the power fantasy of Superman is: He's Right So It's Okay. Anyway wasn't all this sorted around 1986 with that book WHATCHAMAFLIP where it showed if capes existed then they'd be co-opted by The Man, hunted as criminals, retire quietly or be big, blue men who liked to feel it swing in the wind? As another book that year said "We have always been criminals, Clark." It's just one of those things you agree not to notice when you pick up a cape book, I think. C'mon, I noted at least two people had had their head pushed through a wall/table by Superman. I'm pretty sure that's likely to be fatal. But I bet it wasn't, because, y'know, it's…Superman! Suspension of disbelief, people, have some on you at all times! And so Superman, and thus, ACTION COMICS #1, is VERY GOOD!
DEMON KNIGHTS #1 By Diogenes Neves/Oclair Albert (a), Paul Cornell (w), Marcelo Maiolo (c) and Jared K. Fletcher (l). The Demon created by JACK KIRBY. (See Marvel, who did that hurt? Eh?!) (DC Comics. $2.99)
I don't know about this one, I'd guess it was slapped together for the Nu-push at short notice. It's got concepts and ideas but it all just seems a bit bunged out, a bit "Table Four are getting up to leave! Soup now, Chef!" While it just never really gelled for me it did have appealing elements such as the mix of characters and a working sense of humour. Sadly Cornell drops a bollock by making Merlin practically characterless. As anyone who has seen EXCALIBUR will attest Merlin must always evoke Nicol Williamson's fantastic I-have-decided-I-am-in-a-different-film-to-everyone-else performance, otherwise your Merlin just ain't happening, pal. Ignoring that but given the very real problems I had with the comic I can't in all conscience give it better than EH! But since I sense some potential I'm hoping it'll at least get to GOOD! But try to remember that not everyone is as patient and lovely as me, DC!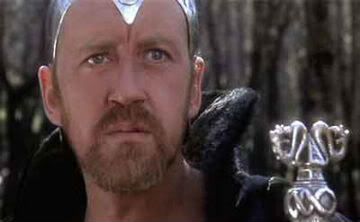 "It is the DOOM of Marvel that they refuse to credit Jack Kirby. Hmmm!"
SWAMP THING #1 By Yanick Paquette (a), Scott Snyder (w), Nathan Fairbairn (c) and John J. Hill (l) (DC Comics, $2.99)
It's lucky I'm not in a Scott Snyder comic or I'd be discomforting Superman with that time my Dad said unfortunate things about immigrants or how this whole dead birds and fish thing is a bit like my Dad saying how people park in front of your house and, yeah, you don't own the bit outside your front window but, really now, is it too much to ask for just a little common decency here, Superman? But I'm not in it, Alec Holland is. Interestingly despite having returned magically from the dead after a period of some years Alec Holland is still way more employable than me. He's on his second job since he just popped up a few weeks ago and he's made the transition from botanical boffin to horny handed builder without missing a step. Versatility is the key in times of recession, jobseekers! Having been dead and then kind-of-maybe-not-sure-been Swamp Thing has left him with the super power of being able to tell which planks are spoiled by rot via touching and staring; I guess that swung the interview despite the Death Gap Years on his C.V. and total lack of experience. I liked that bit, the bit where we get a crash course on rot and also the bit about the anti-inflammatory properties of cabbage leaves. I hear they saved the bit about the effects of coriander on erectile dysfunction for another comic.
"Oh hush now and dance with me you fool!" I also enjoyed the bit about the slow-motion savagery of The Green. Mind you, that sounded familiar; is that from He Who Cannot Be Named's run? Speaking of  which there are cute shout outs to previous Swamp Thing comics (the logo on the diggers, Holland's pass code, the name of the motel, etc) but the most obvious throwback is the style, which is very like The Nameless One's early issues. Not as good, mind you, but similar. The art's nice as well. I don't envy Paquette having to draw all that…real stuff but he does it well displaying a commendable range. I heard that he had to redraw some of it as well to incorporate Superman's new, um, look so kudos for the extra effort there. Hopefully it'll get a bit smoother now the set-up is over, maybe Swamp Thing will be on more than one page and we'll hear less Dad wisdom but, yeah, it's a little bit talky and it's a little bit creepy (like me, huh! Well, that's nice.) I…guess…it…was…OKAY!
FRANKENSTEIN AGENT OF S.H.A.D.E #1 By Albert Ponticelli (a), Jeff Lemire (w), Jose Villarrubia (c) and Pat Brosseau (l) (DC Comics, $2.99)
I'm okay about Jeff Lemire, I enjoyed that book he did about the sad kid and the grumpy ex hockey player and then that series he does about the sad kid with antlers and the grumpy ex-hockey player after the apocalypse. I thought I'd try this one to see if he could maybe expand his range a bit. Because apparently it's really laudatory for creators to "go outside their comfort zones". Which, yeah, it is but only if they avoid moving all their old baggage and furniture in so that in no time at all the place pretty much looks like their old comfort zone. (I'm not talking about Jeff Lemire here, SWEET TOOTH and ESSEX COUNTY are very different, that was a cheap gag earlier so I could cram this next bit in.) Some of these guys who get a rep for "going outside their comfort zone" remind me of a certain tendency we Brits have. This being a tendency to go somewhere exotic and then find the nearest English theme pub and sit in it for two weeks eating Yorkshire puddings and drinking binge while looking at a foreign sky out of the window. Anyway this one's about a sad monster kid and his team of undead ex-hockey players. No, not really it was just punchline time!
 "Keats was a pussy, Palmer! Larkin, dude! Larkin!"
It is, as has been stated by better people, quite similar to Xombi. You remember Xombi; the fresh and fizzy breakneck ride packed with invention and incident that didn't stint on characterisation and was illustrated by someone who clearly gave a shit about what he was doing. The one that got cancelled after 6 issues. This is a bit like Xombi but, I don't want to be mean (after all I (spoiler!) liked it just fine), but a bit more pedestrian, a bit more stale. A bit more likely to survive, I guess. Of course it's got a bit of a hand up since it's riding the crest of the nu-wave. Did this one sell out? Six months ago would this have sold out? Questions there - show your workings. So there's an immediate benefit the relaunch has had. Stuff that's a bit quirky, a bit off-beat has a far likelier chance to survive. That can't be a bad thing can it? I guess once Lemire gets rid of the stock crazy ideas that float on top of his mind things should get more interesting and the series might actually have a chance to last that long. At the moment though it's OKAY!
ANIMAL MAN #1 By Travel Foreman/Dan Green (a), Jeff Lemire (w), Lovern Kinzierski (c) and Jared K. Fletcher (l) (DC Comics, $2.99)
This one seems to have been pretty clearly in the can before the call to arms came. I think the tell is just how polished it is. It's a really tidy little first issue which tells you who everyone is in relation to each other, how Animal Man's powers work, how he is in a crisis, where he stands in the wider world and demonstrates that whoever's inking it should really sort that out pronto, because some of it was real gloopy. In fact the execution is almost kind of a bit too efficient for me, almost a bit too TV for me.
"They're...they're in your face!"
Luckily there were some appealing rough spots such as Buddy and Ellen's interaction (I thought it was pretty "realistic" couple chat action myself. Unless that reflects badly on me in which case it was terrible! Terrible!, I say!) and Travel Foreman's quirky art which had quite a lot of space in it which worked to make things a bit not unpleasingly discombobulating for this reader at least. I'll stick around for a bit anyway as it was, on the whole, GOOD! However, if Buddy's kids start being sad and Buddy turns out to have a past playing hockey, I'm gone, bubba!
OMAC#1 By Keith Giffen/Scott Koblish (a), Dan Didio/Keith Giffen (w), Hi-Fi (c) and Travis Lanham (l) (DC Comics, $2.99)
Step back! It's an OMAC attack! The Buddha of Budda!budda!budda! is back! OMAC! Created by JACK! Bubblegum bellicosity Kirby style! I believe it only right that there should be a corner of comics that is forever Kirby so this was VERY GOOD! If they actually credit Jack Kirby next time I might see fit to say it's even better. Naughty, DC.!
And on that bombshell! Have a great weekend, everyone!