So I went to the library and got this here book out. As is customary on my planet I read it and , as is inadvisable in my experience, I wrote this. Evasions, justifications, terrible writing, pointless digressions and probably unintended offence are probably in the offing. Why not join me as we look again at Marvel's first superhero team!
Reed Was beginning To Suspect His Friends Would Never Share His Pleasure In His Colonoscopy Results.
Readers ripe for a rucking will have noticed that once again I am discussing a Marvel book featuring characters created by Stan Lee and Jack Kirby, despite the fact that I said I wouldn't do so until they were credited on such works. That's okay because what I find I really enjoy in my declining years is explaining myself to you. So I'm in the library (no, the Tories haven't turned them all into Pay And Display Car Parks yet) and the first thing I do is head for the Kids section; not because I am a predatory sex criminal but because I am accompanied by my 6 year old son, okay? The second thing I do is spot BATMAN: THE KILLING JOKE in-between TERRY THE TOASTER WHO FLEW and DEAD DOGS IN HAPPYLAND.
"I'll send you a love letter straight from my heart, f*****."
So, the third thing I do is move B:TKJ to the Graphic Novel shelf because we don't want an unfortunate court case involving Alan Moore, particularly as his Defence will have to call Dan Didio, and, as we have all seen this weekend, Dan Didio is the kind of man who writes Alan Moore the kind of 'love letters' called in evidence after the recipient has been dredged up from a canal with hearts carved into his face. While I am there single-handedly, with no thought of thanks or monetary recompense, averting another comics crisis my son strongly suggests I read FANTASTIC FOUR: SEASON ONE because he recognizes the characters from his aged and decrepit father's bedside reading table. Yes, I find bringing a kid into the mix makes judgemental people back off real quick, I'm not proud of it but anyway...
FANTASTIC FOUR: SEASON ONE Artist David Marquez Writer Roberto Aguirre-Sacasa Colour Artist Guru E-FX Letterer VC's Clayton Cowles Marvel, $24.99 (2011) The Fantastic Four created by Jack Kirby and Stan Lee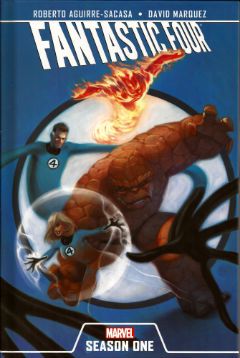 Not on this cover, "Created by Jack Kirby And Stan Lee" (See comments below which have prompted me to come back and insert this:) And by the above I do NOT mean that it SHOULD be on the cover I am just taking the rise out of the fact that the "Created By" credit appears nowhere in the book including the cover. I would just like "Created By Jack Kirby and Stan Lee" to appear IN the book and, yes, the CREDITS page would be just peachy. Apologies for any miscommunication. Nice to see people are thinking about the issue though!
I guess the origins of this book can be traced to Marvel wanting Original Graphic Novels so new readers can just pick them up and get the relevant skinny on the main MARVEL characters before running back to the LCS to buy all those Marvel comics no one is currently reading. It's a noble aim and one not entirely dissimilar to the origins of the original FANTASTIC FOUR (FF). According to published interviews with both creators neither Stan Lee nor Jack Kirby could agree on who came up with the FF, which is a real shocker right there. What is certain is that come up with the concept they did. It's pretty clear that the reason was the need for sales, a change of direction was required and DC/National seemed to be doing okay with those superfolks comics so maybe Marvel should follow suit toot suite? It was worth a pop.
Marvel's product pre-FF was getting pretty stale comprising as it did of  tales of such mind frying creations as "Taramasilata - The Mop That Frittered Its Youth Away like A Man!" (originally presented in Tales Of Shameful Evasion #630, Atlas Comics (1960)) These would usually involve a devastating rampage of destruction by said creature before a man who smoked a pipe stumbled on the fact that the creature was allergic to grass and then his girlfriend apologised on behalf of all womankind for being a nag. Sometimes a man who smoked grass would discover it was allergic to pipes, but he would be shot like the deadbeat he was by a cop and the world would die because it was weak. Steve Ditko usually drew those. Before anyone starts roasting my chestnuts over an open fire let me just point out that while the preceding is factually inaccurate I think it is accurate in spirit. These stories were formulaic and any fun was in the monster design and Kirby's work seems sporting but hardly inspired. So formulaic in fact that these things could easily be believed to be self-replicating.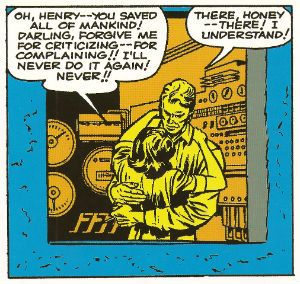 AMAZING ADVENTURES #6 (Nov,1961) by Jack Kirby & Stan Lee
In 1960/61 Kirby would be allowed to be as inspired as he liked when it looked like the doors of Atlas would close forever and Stan Lee importuned him for his aid in the creation of concepts which would revive interest in the company's products.  Jack Kirby did not disappoint. Or Stan Lee would not disappoint when he came up with the concept of THE FANTASTIC FOUR and asked Jack Kirby to draw it.  Depends, really doesn't it? Anyway, FF #1 is clearly a transitional comic. It's more monstercentric than superheroic. In fact the four themselves seem to have become monsters rather than heroes. The public react with fear and loathing at their appearance until the FF prove themselves by killing even bigger monsters than they are perceived to be. And those even bigger monsters look suspiciously like the very monsters the FF are intended to replace. Yes, it would be easy to get all post-modern about FF#1 here, but I'll spare you.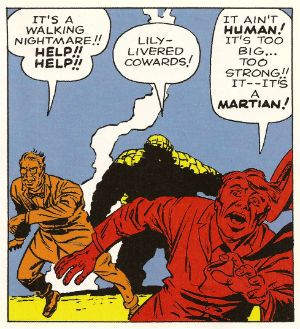 FANTASTIC FOUR #1 (Nov, 1961) by Jack Kirby & Stan Lee
Marvel's comics of this era are often applauded for having a greater sense of realism than the opposition's comics, and while this is because it wouldn't be that hard to do FF is actually quite daring in its characterisation. None of the four are particularly likable and after the crash they just get positively junk yard dog on each other. It is quite a stressful situation though, I'd probably react badly too.  The rawness of the emotions on display and the attendant unpleasant characterisations don't last long though. The four soon settle down in subsequent issues to become the reassuringly pleasant people we all spent so much money following in comics. The whole thing has an edgy, jarring quality and is all obviously a bit slapped together from the cover on in (Roy Thomas probably still wakes up sweating wondering where that rope binding Reed on the cover came from). But it worked enough for the seeds of greatness it contained to bloom fruit sweet enough to keep uncreative corporate employees drawing a salary for lo these many decades.
You'd think retelling this origin story (and also #4) some several decades on would result in a far superior experience but that isn't the case. There's nothing wrong with this book I guess, none of it is actively awful or offensive. But, again, none of it is inspired or amazing. It's innocuous, inoffensive stuff. It's there to be read but beyond that it doesn't inspire any strong feelings either way. Which is a bit of a problem when the whole purpose of the thing is to inspire you to buy more of these things, these comics. Aguirre Sacasa is a decent writer but here he appears hampered by the editorial dictates the book seems to embody. Now, I am not privy to the inner workings of Marvel editorial policy (I kept laughing so they threw me out) but I can reverse engineer the intentions behind this book, I think. Firstly it's called "SEASON ONE" which has obviously been borrowed from the world of TV without any thought. This book isn't a season, it's more of a pilot; the length tells you that. The contents also don't want you to have to think too hard, they are also all too happy to flatter the audience by referencing Proust but also to console them that there's no elitism here by chucking in J J Abrams and Zack Snyder as well.  As it is now 2012 the book goes out of its way to avoid some of the dumber elements of early FF (hence skipping #2 and #3) but can't avoid the core daftness of the concept. After all, it will probably never be possible to adequately explain why an intelligent man would crew his experimental space craft with his fiancé, her narcissistic brother and a school chum noted for his football skills. (Actually it is possible: it was a comic from 1961!) The characters get a TV update too, most notably Sue and Johnny. Overall the characters are blander than their initial appearance, but in an exciting reversal of gender stereotyping Sue Storm is actually presented as the most capable and effective member of the team. However, she is still a lady so she still has to spend a lot of time worrying about whether Reed will marry her or not. You can't fight genetics! Johnny, however, is just played as a straight-up man-slut so I guess Reed will have his extendable hands full finding cures for all the STDs fizzing inside his future brother-in-law.
Art-wise the whole thing is pretty tepid. There are some scenes of action which are less memorable than , um, that thing, er, I forgot and the talky scenes aren't electrifying either. Judging by the scant sketches in the back of the book Marquez is a talented artist but there's a difference between that and a talented comic book artist. Mostly Marquez struggles to be Steve McNiven but sometimes stumbles into the Liefeld-ian. There's really nothing interesting about the storytelling, I'm afraid. It's pretty basic, which means it works fine but doesn't play to the strengths of the medium. Which it should. You're trying to hook people on comics here, Marvel; so it might be an idea to show them what comics can do rather than attempt to replicate the readily available and cheaper experience of watching a TV show. Just a thought. On the whole, yes, it's just too TV for me. As the case of most TV while I am forced to recognise I am not the target demographic I also have to recognise that it is all competently done; I don't feel the need to seek out any more of it but neither do I feel inclined to harm things smaller than myself as a result of having experienced it. I guess that makes it OKAY!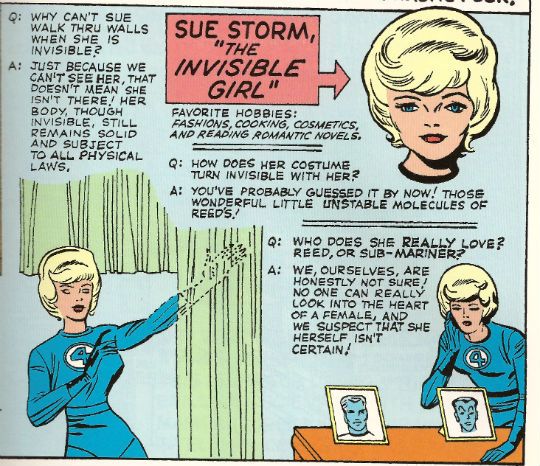 FANTASTIC FOUR ANNUAL #1 (1963) by Jack Kirby & Stan Lee
The totally okay OGN portion is followed by a reprint of the first issue of Jonathan Hickman's run on the regular FANTASTIC FOUR title. This particular issue is okay as well; packed with ideas and possibilities. But that's usually the case with first issues of modern day runs called things like "stellar", "landmark","pipe cladding" and "skirt raising" by people who are professional reviewers.  It is hilariously concerned that you get that it's about Fathers And Sons, really hilariously so. So much so in fact that it becomes the comic book equivalent of visiting a Fun Pub on a Saturday afternoon; watching all the workaholic Dads wondering what to do with the freedom sapping alien which shares their face as it sullenly sips on stale Fanta next to them. Oh, calm down, I'm just having some fun, I'm sure Jonathan Hickman's "bum tickling" run on FANTASTIC FOUR is fine. What isn't fine is that Jonathan Hickman's name is the only name that appears on this reprinted issue.  I'm not a Jonathan Hickman follower but I'm pretty sure that he doesn't write, pencil, ink, colour, letter and edit every issue of his "cat hazing" run on FANTASTIC FOUR.  Really, Marvel, you're like a recalcitrant child and it's unbecoming in one so old. Sort it out, eh?
And then I was off to pick up some milk'n'bread before the shops shut. Those Sunday hours!
Hope you all had a good weekend with some COMICS!!!