I've heard some people only read Marvel comics! Also, some people only read DC Comics! That's okay, 99% of all psychiatrists agree - compartmentalisation is really healthy! It's also okay because I only wrote about some DC Comics! Marvel people will have to wait a bit. I know, I know but I'm sure you'll find the wherewithal to cope. Next: words...
WONDER WOMAN #0 Art By Cliff Chiang Written by Brian Azzarello Colours by Matt Wilson Lettering by Jared Fletcher DC Comics, £2.99 (2012) Wonder Woman created by William Moulton Marston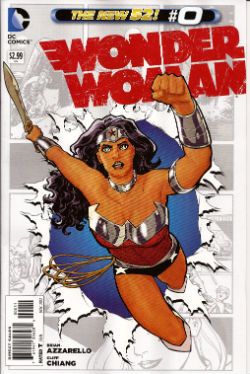 Throughout this comic Cliff Chiang provides outrageously gorgeous artwork, I just want to make that clear. Because as lovely as his work is it can in no way distract from the petty failures of Azzarello's script. This reads like an attempt to channel the scripts of old complete with their overwrought narration and abundance of redundant information.  In the hands of a respectful and talented writer this would be a cute homage, a neat tip of the hat, a cheeky wink, a clever and enjoyable comic. But not here. Azzarello's bitterness and contempt for the work of all those who came before him is evident on every chippy little page. The first narrative caption contains not only this creepily layered insult to both readers and women, "the monthly monster strikes again!"  but goes on tell us the tale originally appeared in "All-Girl Adventure Tales For Men".
I imagine the intention was to be humorous but I don't have to imagine that the reality is so soured with loathing for the audience, the self and even the genre that  it's a relief when the curdled homage ends a few pages later. Yes, because as primitive and rubbish as we are implicitly assured the writing was in comics of yore, it's actually beyond Brian Azzarello's sophisticated and modern talents to replicate at even a satirically joshing level for a full issue. As base as they were he can't do it. Which is the best joke of all. It's thanks only to Chiang, Wilson and Fletcher that the book hovers around GOOD!
ACTION COMICS #0 Art by Ben Oliver, Cafu Written by Grant Morrison, Sholly Fisch Colours by Brian Reber, Jay David Ramos Lettered by Steve Wands, Dezi Sienty DC Comics, £3.99 (2012) Superman created by Jerry Siegel & Joe Shuster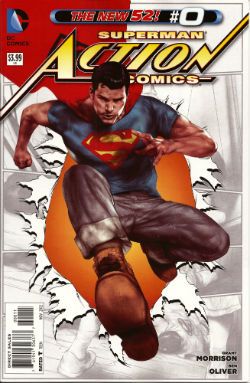 Unlike the assured work in his BATMAN books (work so assured that it it kind of glosses over how bad some of it is) I've not found Grant Morrison's run on ACTION COMICS to be terribly convincing. It's had the air of him having been asked if it's still his dream job to write a regular Superman comic, to which he's replied, "Hoots! Aye tha ken right, maboab! When am ah starting?" And then he's been told "Er, we need twenty two pages in the next five minutes." "Crivvens!" indeed! The results have been a bit patchy to say the least. Although maybe it's just that he was writing in a burning temple. That would put anyone off.
(I guess I should apologise for that outrageous descent into Jockface but I'm sure you understand that I am an artist and, even though I'm very far removed from Scots culture, I really love it. I don't even eat a lot of shortbread, I eat a lot of fish and chips but the fascination with the Scots remains part of our everyday British culture. It would be wrong of me not to rip the piss. Also, Grant Morrison is really acting like a bowffing staigie these days.)
It's just a bad comic all over but you can see how it could have been a good comic had some time been spent whipping it into proper shape. Children being saved from awfulness by the sheer Goodness of Superman should be a slam dunker but this thing is under-worked at both words and art level. Underworked to the extent that the art isn't even art at times, it just flat out descends into silhouettes like a cack handed Han Dynasty Chinese shadow play rather than a Twenty First Century American comic-book. As it is the whole thing is a lost cause anyway; totally scuppered by its failure to decide where it stands on quiffs. Initially the quiff is seen as a force for good, embodied in the choice of basing Superman on Film Critic and All Round Good Egg Mark Kermode.  Yet later a drunk child abuser (boo!) is introduced sporting the self same pompadour. Mixed messages are one thing but if a comic can't even decide where it stands on the morality of a haircut it's pretty much bound to be EH!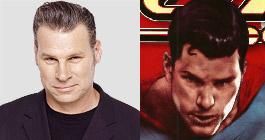 ALL STAR WESTERN#0 Art by Moritat (and Pia Guerra) Written by Jimmy Palmiotti and Justin Gray Coloured by Mike Atiyeh Lettered by Rob Leigh DC Comics, £3.99 (2012) Jonah Hex created by John Albano and Tony DeZuniga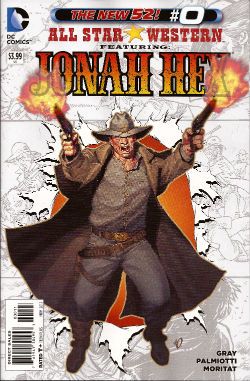 Fortuitously for the writers Jonah Hex has had an eventful life because then they can just fill the pages offhandedly routinely recounting his doings in a manner that would make the personification of Perfunctory raise her fan to her face and blush. This happened, then this happened and later this happened? that's not actually a story. It's things happening. There's no attempt to add anything to Jonah's story it's just: Jonah's Dad was violent but not a drunk, now Jonah's Dad is violent and a drunk, etc. It's just there. Moritat is clearly overworked here but he does manage the odd panel that it's worth lingering over amongst all those that you'd rather rush past in embarrassment. Despite the rote plodding of the writing thanks to Moritat's occasionally interesting art and a travelling salesman called "Mr. Dazzleby" the comic manages to be OKAY!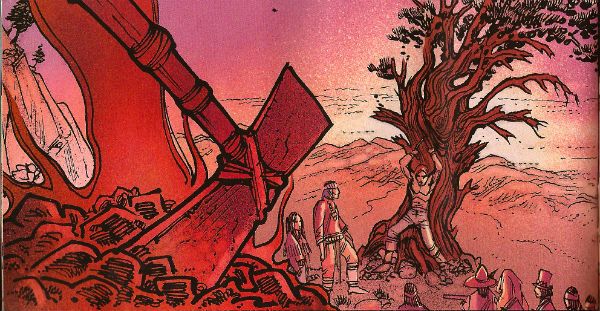 Sometimes people point out that they don't like that rasher of skin connecting Jonah's upper and lower jaw. Somehow this weakens the whole character for them. Luckily I ignore my family and think about things like that, important things. Yes I'm here to help. Place your forefinger at the point at which your lips meet, now place your thumb at the point where your teeth stop and your jawbone begins (you will have to press against the flesh until you feel the difference), now move your forefinger in a rough circle between its starting point and where your thumb has paused. Imagine that that flesh has been cut away. Hi ho! There you go! The mystery of Jonah's strange face solved. Next!
BATMAN INCORPORATED#0 Art by Frazer Irving Written by Grant Morrison (story by Grant Morrison & Chris Burnham) Coloured by Frazer irving Lettered by Pat Brosseau DC Comics, £2.99 (2012) Batman created by Bob Kane
Even though Frazer Irving's art is obviously rushed, veering wildly from the astonishing to the embarrassing, and he badly fluffs the final "beat" with the boomerang his work here is still fascinating in a really pleasing way. I like the way the colours are presented as just shapes and your eye has to skitter about the image, like a spider seeking shelter when you suddenly switch the light on, until it gleans enough information to figure out what the Holy Mother of Pearl it's looking at. Your eye that is, not the spider.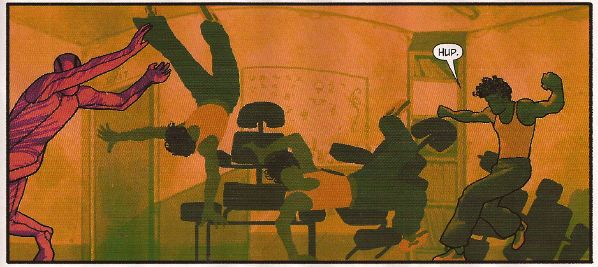 Maybe that's why the story here works so well. Because it isn't really a story it's more a of a sleight of hand in which a jumble of moments manages to create enough mental connections in the mind of the reader to make it seem as though a coherent narrative has occurred. It's a neat trick. A good enough trick in fact for the comic to be GOOD!
SUPERMAN FAMILY ADVENTURES #5 Art by Art Baltazar Written by Art Baltazar and Franco DC Comics, £2.99 (2012) Superman created by Jerry Siegel & Joe Shuster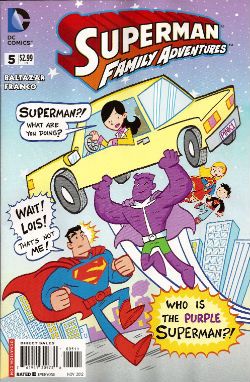 I buy this comic for Johnk(UK) V.2.0 in the hope that he will also wish to waste large amounts of his life on blathering on witlessly about the artform known as comics. Yes, he enjoys this but then so do I. I enjoy it for lots of reasons beyond the fact that I am a child-like simpleton. I enjoy the fact it is quite sophisticated in its treatment of the Olsen-Lane-Kent dynamic. Lois knows Clark's secret she just pretends she doesn't and Clark knows she knows and that she is pretending she doesn't while Jimmy is just comically plain vanilla oblivious.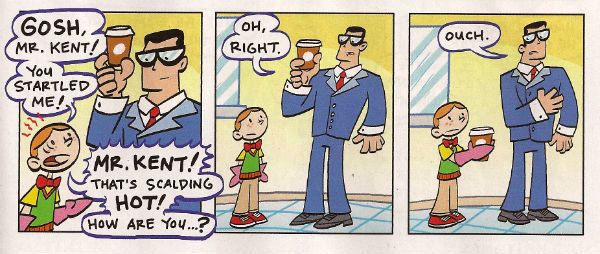 Also, I like the Super-pets and this comic is the only place you can see them unless the main DCU finally matured enough to stop being embarassed of its heritage in exactly the same way that a teenager is embarassed by their parents. Look, the book's neat stuff. A lot of the time I have no idea what is going on, but that's okay. Even when it is just brightly coloured gibberish the kids seem to understand. And since that's who it's for this is VERY GOOD!
I hope you all had a nice weekend and enjoyed some COMICS!!!