America! How's that 4th of July Weekend thing going for you? Man, Canada just touches itself for one day but you lot take a whole weekend! Always fireworks on the4th of July as Max Cady said. Hope you all had a truly lovely time even though you are basically breaking our balls over here. No hard feelings! Here's some words about comics. Hey, Magnus, can you guess which I liked best?

Nope. Anyway, this... MAGNUS ROBOT FIGHTER #1 thru 3 Art by Cory Smith Written by Fed Van Lente Coloured by Mauricio Wallace Lettered by Marshall Dillon Magnus Robot Fighter created by Russ Manning Dynamite, $3.99 (2014) (After a couple of weeks it's $1.99 on the Dark Horse Digital App)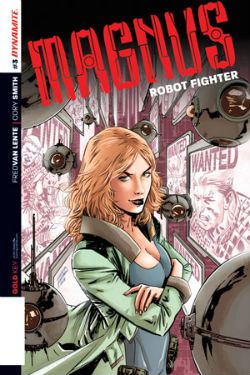 It's the man in the skirt who lays down the hurt! It's Magnus: Robot Fighter! Apparently this is one of a number of old Gold Key properties Dynamite are slapping on the table, applying the creative juice to and then stepping back and yelling "CLEAR!" to see if enough folk give a chuff in the 21st Century; which is where we live now, apparently. Boy, you just blink and there go two decades. Anyway, as you have guessed I only bought this because I am old and cannot cope with modern comics and ceaselessly seek succour via nostalgia.  Yeah, guess again, Pop Tarts; I don't know anything about Gold Key properties because we never saw them in my neck of the woods. Back then depending on where you were in England you got different American comics. The seaside had the best stuff, or different stuff (and when you're a kid the stuff you can't normally get is the best stuff). I don't know where the Gold Key stuff went, Sidcup perhaps. I've never been to Sidcup. Or me. So, yes, comics, John; in your own time now. I just bought this, um,  because at my age buying a comic sight unseen is the height of profligate recklessness. I didn't know what I was going to get so I wasn't expecting much, just some dude called Magnus and some robot fighting and, yea verily, I got that but I got a chunk more besides. And that's why I went back for the next issue. And the next.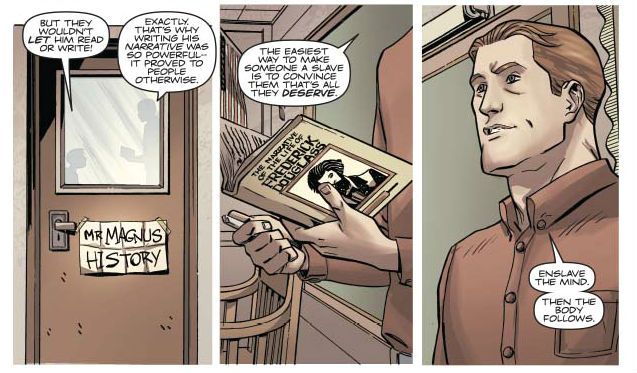 Sure, the first issue was just(!) solid; sure the first issue went exactly where you instinctively knew it would as soon as you saw the snow globe on the first page; sure younger readers would have been thinking of The Matrix and older readers would have been thinking of Philip K Dick and some would even have thought of Plato's Cave, but they would have been dead for centuries so I don't know what they'd be doing buying comics in the 21st Century. With the initial issue it was easy to take the writing for granted and just be bewitched by the  lovely art and colours. Yes, I actually appreciated Mauricio Wallace's colours, although they were so clearly appealing you'd have to actually exert energy to avoid appreciating them. Lovely, lovely colours all soft and alluring where needed and harsh when required but never, never settling for that uniformly gloss glare so common now.  And the art by Corey Smith is just aces (technical term). Absolutely gorgeous work which like the colours never sticks to a one note approach but varies the register of its approach as the mutable contents it depicts require. Corey Smith is playing a blinder here, and it's a shame because I bet a lot of eyes aren't pointing in this direction. Well, your eyes lose then!
Like I rambled already there's not a lot that leaps out and throttles you in the first issue; it sets out the premise smoothly and succinctly with a twist or two for spice, and you think the series' tone has largely been set. And you're...wrong, in an entirely pleasing way. Because bewilderingly, but not unpleasantly so, the second issue decides to be a buddy comedy with a particularly pointed kick at the slightly ethnic sidekick trope to boot. Magnus picks up a robo-sidekick who's personality is an explicitly terrible example of the movie comedic sidekick who is also a Gentleman of Colour, as my late Grandma said. (This is different to a Colourful Gentleman who would be a man who likes other men in a romantic way.) In the third issue the team up the ante so hard your uncle slaps her right there at the family dinner table and  you can hear a pin drop. This was my favourite of the three issues since it just draws a big old clown face on all those pandertastic comics featuring damaged ladies who become strong and which believe women are only of interest if they are kick boxing lumps of scar tissue with nice hair who have sexytimes on their own terms. Yes, some ladies like that and that's great but, c'mon, the real appeal is to the boys. When I show my own Prisoner of Misogyny these Ladyspy and Sad Killer comics the first thing she asks even before her eyes stop rolling is, "Is she damaged? Oh please, let her be damaged!"  And the answer is yes, the answer is always: yes she's damaged.  With all the change-ups and change-overs in just three issues if I were a high-faluting type I'd maybe say the comic was a bit meta, a bit post modern, but I don't think anyone uses those words with enough rigour for them to mean much these days, so let's say Magnus: Robot Fighter is playful and leave it at that. Sure, there is a downside to all this creative flexibility and that comes in the form of a lack of focus and a kind of failure to define Magnus himself. I don't really know what Magnus is after, he just sort of wanders about fighting robots and looking pensive. But there's time yet and I'd rather applaud the display of creative facility than prate about a lack of character depth in a man who fights robots.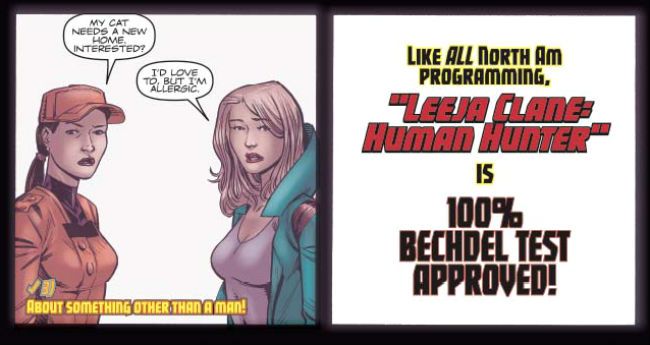 I liked this, I liked every issue and with each issue I liked it more. For a few pennies I found a satisfyingly weird and beautifully illustrated comic which, yes, seems to be less about robot fighting than Lazy Comic Trope Fighting. And, perhaps, clichés are more dangerous to Comics than robots. Perhaps Magnus has a point after all. C'mon! Magnus: Cliché Fighter! How can that not be GOOD!
SOUTHERN BASTARDS #1 and 2 Art by Jason Latour Written by Jason Aaron Colour by Jason Latour Lettered by Jared K Fletcher Southern Bastards created Aaron & Latour Image $3.50 (2014)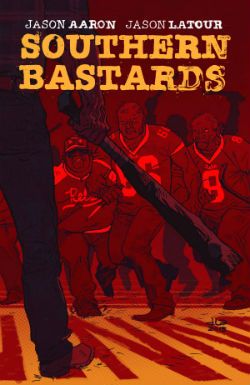 I thought this book was beautiful, let's get that out there before things go South. Latour's subdued sepia palette of largely orange and khaki with the odd pop of a more violent hue is just a real deep fried delight. And then that's laid softly over some truly solid gnarliness giving everything a real sense of weight and wear and tear, and the whole thing hovers a gnat's pube from caricature. But the thing itself? I mean, shit, I guess what we have her is...a failure to communicate. Because I didn't cotton none to this at all. I mean, Jesus, really? That's what we've got now? East Bound And Down played straight. Hell, look at you out there; chances are you think you're special but no matter how special you reckon you are you ain't Southern Special because that's a whole 'nother level of Special right there,  "boy". Golly, The South sure is special! I've never been anywhere near close to The South and all the moth eaten tropes on these pages are as familiar to me as the back of my Dad's hand (ow! Yes, there are Daddy Issues in this comic). This comic is The South as Theme Park. The South as Postcard Punk. If that's the The Southern Truth then that's plain Southern Sad.
Slightly after the ostentatiously provocative title (Oooh! A doity woid!) the book opens with a double page splash of a dog slipping a turd out which I guess is supposed to shock or something. The South! A place so hard that dogs poop in public! Look, The South, I don't want to deflate your ballsy balloon but If you look out my front window ten minutes after Eastenders finishes you'll see a middle aged man with grey hair walk his dog out onto the bit of land out front of my window. And regular as clockwork a big old turd slides out of that beast's ass and, no, standing with your back to your dog while it does its business doesn't convince me you don't know what's going on, Mr. Man From Round The Corner. So, illegal dog drops ain't just a Southern thang, I assure you. Interestingly there's also a tree on that patch of regularly befouled grass but I don't think it's growing out of anyone's ass like the one in this book. (His Daddy's ass! Yes, there are Daddy issues by the pound here) A crueller man than I might say there's a case to be made that his book is growing out of somebody's ass.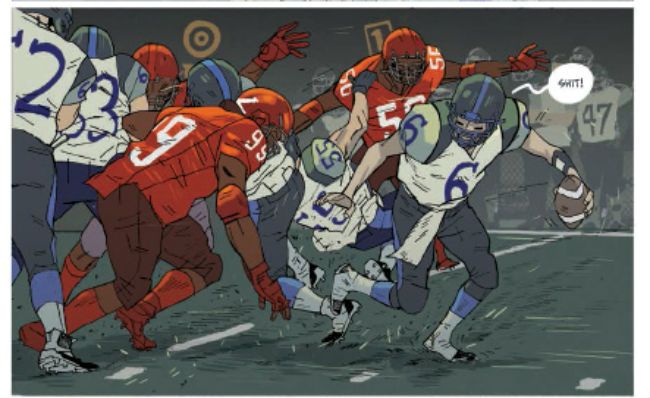 Oh, technically it's fine, I guess, if fine means very much a screenplay first and a comic script second which these days is very much what fine means. It's very televisual. It just sort of lollops about like an ex-pro with a bum knee trying to get to the likker store before it shuts. And you know that while on the screen none of these scenes would outstay their welcome (not so much because of the scintillating script but because Southern actors are always entertaining in the flesh) but on the page they can verge on the interminable. The centrepiece of issue two is a Football game, sorry, an American Football game (why is it called American Football when they barely ever touch the ball with their feet? American Carryball more like it) and it just flounders about like everyone should just naturally give a shit rather than actually making anyone give a shit. Sure, there's Craft here in the writing but there's Art in the colours and, uh, art. It's an uneven mix.
It's a pretty sorry state of affairs all round if you're reaching for the Mythic and finding a battered VHS of Walking Tall in your mitt. This book is just a clueless monument to swaggering self pity of a particularly male stripe. And I've seen it before and I've read it before and the only reason I'm reading it this time is because of Jason Latour. If it wasn't for Jason Latour this would just be that Trace Adkins Luke McBain comic all over again and no would give one rich shit. Sorry and all, but I don't buy for one hot second that The South is stuck in 1974 like a dino in a tar pit. No, I don't know The South from a hole in the ground but I do credit it with more than that. More than just another comic about men behaving badly but feeling bad about it so boo hoo them. Beat me with a hosepipe if I'm wrong but I think, maybe, to show The South Today I reckon this book need a bit less Walking Tall and a bit more Looking Harder. Basically, if it wasn't for Jason Latour this comic would be two levels down from GOOD! Harsh words maybe, but they can take it; they're Southern Tough!
And remember: Any man playing grab ass or fightin' in the building spends the night reading - COMICS!!!