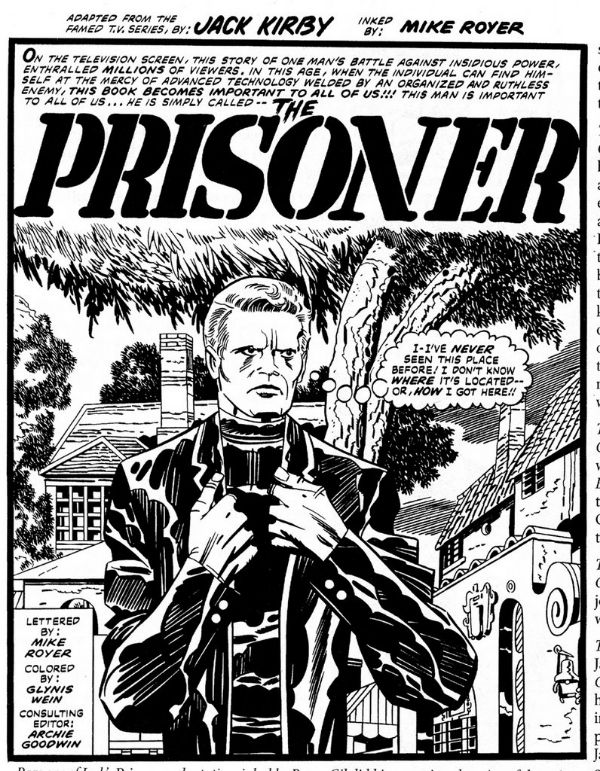 Jack Kirby on The Prisoner. Ahh, what could've been....
Howdy, Whatnauts!  The good news is: I think I fixed the recording levels for this episode so your eardrums will not bleed whenever I speak.  (Though I'll miss feeling like Black Bolt.)  The bad news is:  I started on this kind of late and so powered on through the show notes.  They are....very, very brief. If last week's notes were a leisurely feast, this week's notes are a shaky handful of peanuts devoured standing up by the sink.
And with that effortless bit of salesmanship out of the way, join me behind the jump!
0:00-25:25: Introduction comments!  We have just a few minutes talking around Graeme's incandescent rage, before talking about the news of Karl Kesel taking over scripting duties for Matt Fraction on Fantastic Four…all of which leads us to ponder the Fantastic Four.  Is it a book past its prime, or is it still possible for the title to resonate in the marketplace? 25:25-53:15: There was a discussion the other day on Twitter about why people should care about the sales of comics.  It seems germane to the stuff we talk about, so we talk about it. And I guess it moves to become a discussion about how Marvel is selling their books, marketing their books, and making their books since we end up discussing stuff like: Captain Marvel, Variety Magazine, the Direct Market and the comics Internet, Hawkeye, All-New X-Men, Uncanny Avengers, Indestructible Hulk, and more. 53:15-1:04:19:  Speaking of Indestructible Hulk, Jeff has read the last five issues and we revisit our previous discussion of the book's strengths and weakness. 1:04:19-2:01:11: And other comics we have read: Adam Warren's story from A+X #10! Infinity #1! The Trinity War crossover event! (Plus, a brief anecdote about DC 3-D.) Saga #13! Buffy Season Nine! Angel and Faith! Batman #23! Suicide Squad issues #22 and #23 by Ales Kot, Patrick Zircher, and Rick Leonardi!  More Rogue Trooper! More Cat Shit One! The FCBD Judge Dredd comic! Jack Kirby's adaptation of The Prisoner! 3 New Stories by Dash Shaw! When I'm tired and over-extended, exclamation points are my crutch! Oh, and some point, I took a picture of the screenshot I checked out of the library.  Here it is, in part because I'm so ashamed of stiffing you people on show notes content, and in part because Graeme and I look like some sort of hilariously ominous comic book cabal committed to forcing dopey manga on an unsuspecting world:
The Slump is out there....
2:01:11-end: The Center Cannot Hold! Shenanigans! Apologies! Skip Week! Closing Comments! Something like an attempt to provide coming attractions!  More Shenanigans!
(And holy crap, did I enjoy those first three volumes of Yakitate!! Japan... Can't wait to read the rest...)
The show is on iTunes! The show will be on iTunes! The show was on iTunes!  But it is also here, hovering snug in the center of the Nexus of All Realities:
Wait, What? Ep. 132: The Village, People
Remember, next week is a skip week so feel free to catch up on all of our past episodes (thanks to my esoteric numbering system, there are more than 190 entries available on our RSS feed) and tune in two weeks from now.  As always, we hope you enjoy this thing we do, and thank you for your patronage!