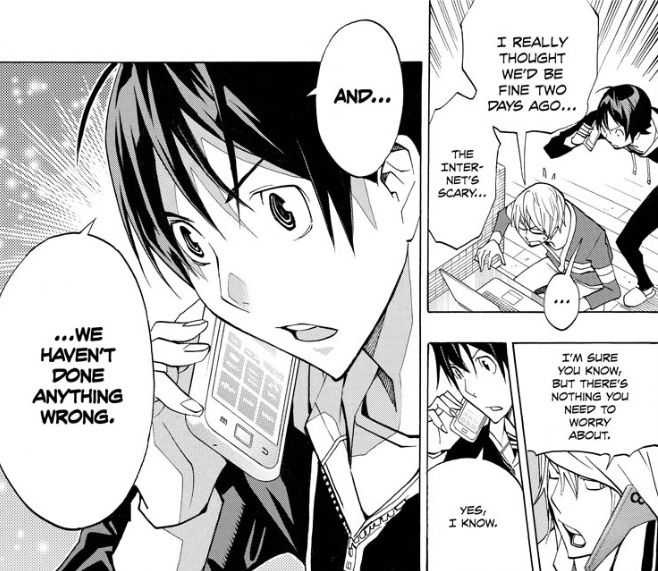 (Illustration from Chapter 166 of Bakuman. Remember it's a right-to-left world out there.)
Remember how The Uncanny X-Men would, like, get psychically mind-raped by The Hellfire Club, or shot full of Brood babies and be torn apart from the inside, or bound and gagged to the inside of Magneto's rumpus room, and then afterward there'd be an issue of them playing baseball and walking around the recently rebuilt (since it had also been recently destroyed) mansion of Professor X?
This episode is a little bit like that, I guess, with Graeme and I recovering from answering (almost) everyone's questions and having ourselves quite the crazy time of it on the Internet.  So Episode 77 is two hours of amiable chitchat from your friends on the Wait, What? team talking Graeme's library picks, Spider-Island, the high initial ordering numbers of Avengers Vs. X-Men, our ignorance of current MTV reality shows, He Who Cannot Be Named, the pros and cons of going to the comic shop, The Hunger Games, Earth 2, Dr. Who, Tintin, and that one movie with Christian Bale and the gun-fu, as well as the One Piece Meets Toriko (which I brain-deadedly call "Tobiko" throughout) one-shot available from Shonen Jump Alpha.   (Which I almost ganked a picture from instead.)
Four out of five dentists who recommend choosy mothers choose iTunes, but Episode 77 is here, coiled and cautious, if you dare plunge your fists again and again into its evil, undying heart:
Wait, What? Ep. 77.1: The Pros and Cons of Hitch Hiking
As always, we hope you enjoy and thanks for listening!