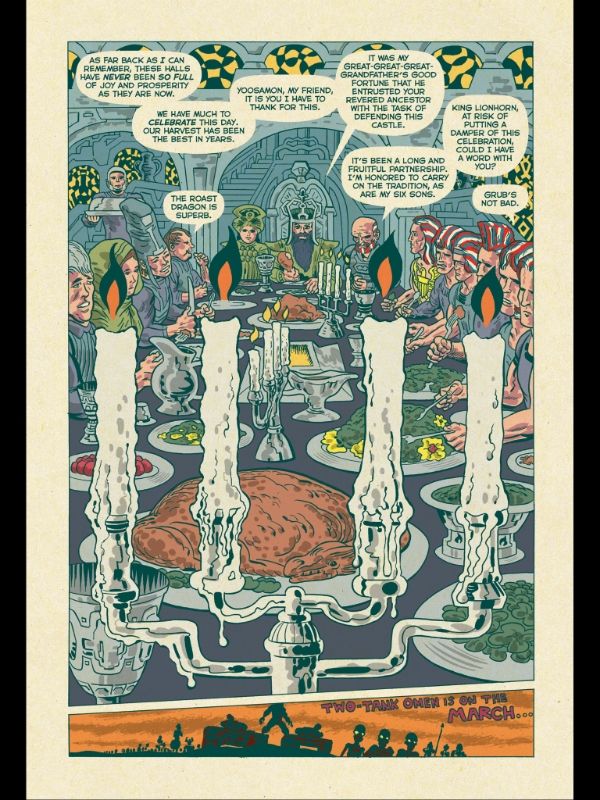 It's Tom Scioli's American Barbarian family at a feast--that's pretty Thanksgiving-y, right?
Yes, and hello! Maybe not as late as usual, but probably twice as rushed as I managed to survive Thanksgiving #1 last week and now have to start packing and planning for Thanksgiving #2 this week.
So: behind the jump, show notes of a somewhat speedy kind and the actual podcast itself. Join us, will you not?
00:00-13:36: This is the third time we've recorded together in a week, so we are a bit punchy and Graeme is very busy!  Initial topics covered under the "holy cow Graeme is so busy" rubric: CGI werewolves vs. practical effects werewolves, how scary Dr. Who should be, Fakesgiving, Batsgiving, Guy Fieri Tex Wasabi, and more. 13:36-28:02: Returning to the subject of Batsgiving -- what's up with that? Jeff asks Graeme.  Stephanie Brown, Catwoman's butt, genetically designed DC artists, Lois Lane: A Celebration of 75 Years, the challenge of weekly comics, and more. 28:02-34:12:  Comics we've read!  Scooby-Doo Team Up #1 by Sholly Fisch and Dario Brizuela! (Yes, this is a book we both read.) 34:12-39:12: Harley Quinn #0 by Jimmy Palmiotti, Amanda Connor, and a slew of artists. Also discussed: Deadpool, Ambush Bug, humor in superhero books, redrawn page confusion, and more… 39:12-42:09: Batwoman issue #25 by Marc Andreyko with art by Trevor McCarthy, Andrea Mutti, Pat Olliffe and(!) Jim Fern. Discussed: putting your best foot forward, making trite things triter, speedily padding out your show notes entries with inessential list items. 42:09-46:45: Sex Criminals #3 by Matt Fraction and Chip Zdarsky.  Discussed: Jeff being wrong, Jeff being terrible, humor in non-superhero books, top ten tips to a ineffable, non-flabby butt, more tips for list-padding, etc. 46:45-54:53: Time for Graeme's Agents of SHIELD update—Update! it's still terrible!  Also mentioned: Heroes, X-Files, fantasy TV flashes in the pan, etc. 54:53-1:00:24: Afterlife with Archie #2 by Roberto Aguirre-Sacasa and Francesco Francavilla! With a bonus Gray Morrow black & white story that felt like actually felt like a generous bonus. Interestingly, despite the lesbianism and implied incest, we discussed neither, nor did Jeff mention the nagging feeling he had that he was reading brilliantly repurposed Glee fanfic, nor did we talk about the importance of discussing all the things that could have been discussed but weren't when trying to make one look like one's giving others their money's worth with regard to show notes, etc. 1:00:24-1:01:23:  American Barbarian by Tom Scioli!  Yes, we've raved about this book before but Jeff is raving about it again since, in an uncommon display of reverse serialization, Scioli is offering digital issues of the webcomic-turned-graphic-novel at .99 on Comixology. 1:01:23-1:10:36:  Avengers: Endless Wartime by Warren Ellis and Mike McKone.  Graeme read it, Jeff did not and his narrative strategies for show notes puffery has run out.  Perhaps he should try pulling a card from the online Oblique Strategies deck! Hmmm, the strategy is "What wouldn't you do?"  And so the second half of U2's career is explained. 1:10:36-1:18:33:  Essential Captain America Vol. 7 by various and assorted.  And a possibly crazy plan is possibly maybe hatched!  Seriously, I should sit down and figure out if it's even doable, this thing we came up with.  It seems pretty crazy. 1:18:33-end: Closing comments! Corrections and Amendments!  A bit of shilling for Jeff's book (with the best stuff done by Graeme, unsurprisingly)!  Another link to our guest appearance on House to Astonish!  And best wishes to you for a happy Thanksgiving, while acknowledging we will not be back next week!
Well, there we have it. That was smartly put together and annotated, wasn't it?
Episode is live (or liveish) on iTunes, and also available right here, by gum:
Wait, What? Ep. 140: THX-1138 GIVING
As always, we hope you enjoy and thanks for listening!