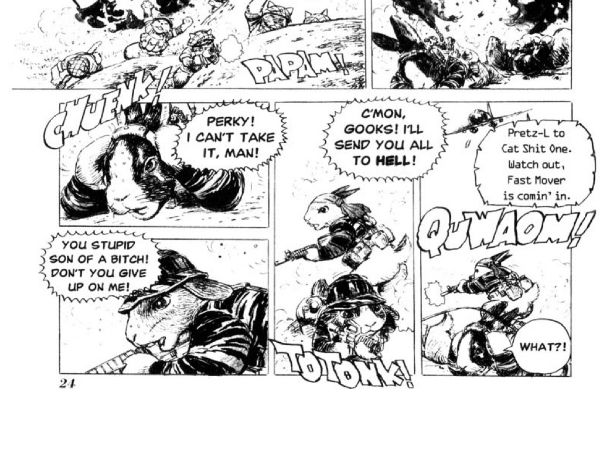 Motofumi Kobayashi's Cat Shit One: Another great reason to love comics.
Yes, okay! As always, I have nothing clever to say in this space, but unlike always, I'm not going to waste your time saying it. I've got show notes with images! Links! Prizes! (There are no prizes!) Torrid confessions! (There probably will not be any torrid confessions.)
After the jump: Show Note Machine...Go!
0:00-25:22: Bemoaning the fact that we're not nearly as organized as other podcasts, Graeme makes a prediction about we'll be talking about this episode as a way of introducing this episode to listeners. This allows me to retool a favorite aphorism here in the show notes:  "If you want to make God laugh, introduce a podcast." It leads right into our first order of business:  talking about the latest crazy developments in DC's 3-D cover event.  If you've already read Hibbs' post about this already, you'll be a step ahead of most of the points Jeff makes here, although he does bring his own unique tin foil hat spin to the situation.  Also covered, the recent decision in Kirby v. Marvel,  what it means to "hamburger a muffin" and the opening of a  new Salt & Straw right near Graeme. Verily, this is the Mighty Wait, What? Age of Golden Epicureanism! 25:22-34:07:  Also on a non-comics tip, Stephen Colbert and Bryan Cranston, which famous people we've been compared to, the Adult BMI guidelines, Tarder Sauce, and more. 34:07-45:37:  Todd McFarlane, Len Wein and Gerry Conway discussing sexism and comic books! which we discuss without the context provided by some later tweets made by Conway.  And who is…. the Billy Joel of comics?  Find out here, along with a torrid confession from Jeff!  (Oh, okay, so there was one of those, after all.  Huh.) 45:37-58:05: And in this week's installment of "Welcome to Jeff's Big Basket of Sour Grapes," Jeff talks about a Twitter exchange between Rob Liefeld and Erik Larsen and their consideration of comic book criticism.  Graeme, trying to bring the sense, just ends up bouncing the ball of generosity off Jeff's ungenerous blockhead for an impressively long time. 58:05-1:04:00:  Also, under discussion, Mark Millar's comments about rape.  You probably can imagine our reaction to that one but...maybe not? 1:04:00-1:21:40: And now it's time to talk about some comics we've read -- a little bit about AvX  (and the kindness and generosity of the Whatnauts), but also a lot about the genius that is Rogue Trooper and Cat Shit One. This leads to our we-might-as-well-make-it-official-and-call-it-weekly discussion about 2000 A.D., which in turn leads to discussion about comic book covers, which in turn leads to Velvet by Ed Brubaker and Steve Epting, 1:21:40-1:26:08: Jack Kirby's In The Days Of The Mob! It is available! It is…not cheap!  Not cheap at all! 1:26:08-1:27:21: Copra Compendium (which I can't say aloud without thinking of Weird Al-esque lyrics set to "Copacabana" which is probably why I probably called it Copra Companion half the time) Vol. 2!  Jeff loves this like burning, worries that Graeme may not.  But either way, there is so much lovely stuff, including  the panel shown below and discussed in this podcast: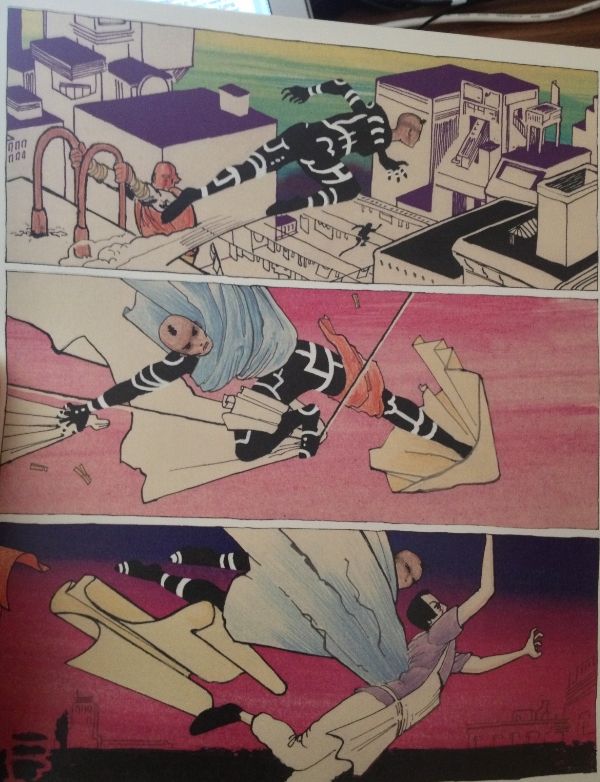 1:27:21-1:31:33:  That inspires Graeme to talk about Lynn Varley, Trevor Von Eeden, and the Kickstarter the latter is running with Don McGregor for Sabre: The Early Future Years. 1:31:33-1:34:12:  Graeme has read Cartozia Tales, the shared fantasy universe featuring some outstanding work by Jen Vaughn, Jon Lewis, Dylan Horrocks, and more. 1:34:12-1:38:34: Trilium #1 by Jeff Lemire. We've both read it.  We both discuss it. 1:38:34-1:41:55: Jeff fumbles and bumbles through some display problems to try and convey how much he digs Jaco the Galactic Patrolman by Akira Toriyama, as well as Toriyama's brilliantly dopey pre-Dragonball series, Dr. Slump.  One of the panels Jeff discusses super-briefly is this one: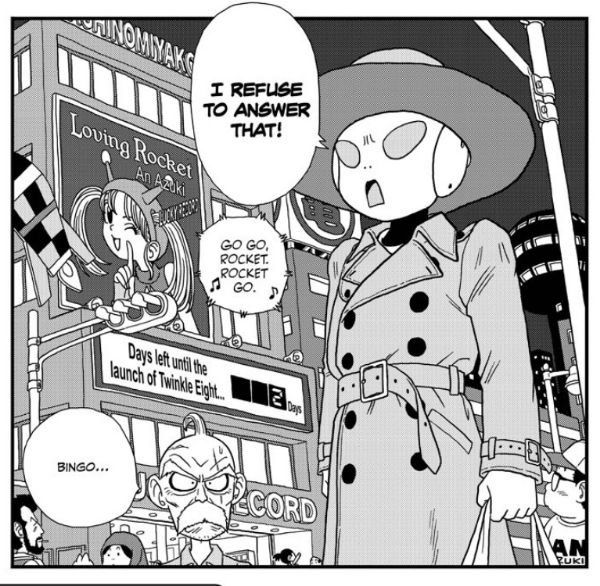 1:41:55-1:45:04: The first collection of Talon from DC!  Did Graeme like it almost as much as Jeff likes Toriyama…or even more than Jeff likes Toriyama?  Tune in and find out. 1:45:04-1:52:08: The final volume of Bakuman is out, which is very bittersweet for Jeff.  Despite the frustrations with how Viz has handled publication of this manga (and the generally anticlimactic nature of the last volume), man of man, Jeff is going to miss that series. 1:52:08-end: Closing comments! Graeme makes it sound like we won't be back next week but we will!  (I think.)
See, look at all that. Links! Images! Torrid confessions. (Well, a torrid confession.)  Nice, eh?  So you should go hear it!  It is on iTunes -- eventually -- and it is here for your convenience:
Wait, What? Ep. 131: Linkpocalypse
As always, we thank you for listening and hope you enjoy!  (Now if you excuse me, I have a new chapter of Jaco The Galactic Patrolman to go read....)
It's the conclusion of Episode 68 and our last episode for 2011! (Hopefully, it was be as carefree and as easy to find and listen to as part one was an epic tragedy.) Join Graeme McMillan and me on a speedy 75 minute tour of the highlights and lowlands of the year (of which the former is the career of Kate Beaton, whose book is represented above, and of which the latter is the career of, oh, I dunno, me, probably). The Kirby trial outcome! The layoffs at Marvel! Superhero movies! Kickstarter! Watchmen 2! Feigned excitement! And much, much more, of course.
I pray to god the miserable son of a bitch is on iTunes but if not, you can listen to it here, there, and everywhere via the handy link provided below:
Wait, What? Ep. 68.2: Startkicker
We hope you enjoy and plan on joining us for future episodes in 2012.  Either way, however, we wish you for the very best for the new year!