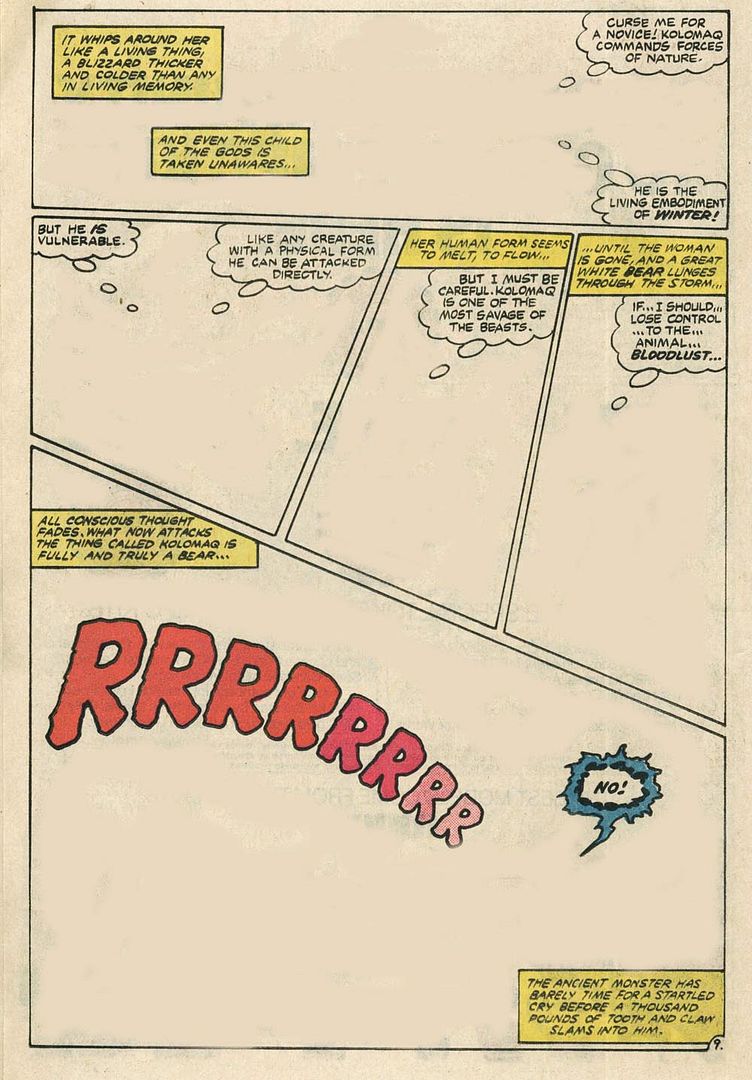 John Byrne really, uh, bringing it in Alpha Flight #6
Yeah, that's....mmm, boy!  Good ol' John Byrne, amirite?
Anyhoo... the adventure that are the shownotes for our podcast: right behind the jump!
0:00-2:48: Introductions and a bit (just a tad) of shop talk, complainy bits, and a promise from Graeme (that last phrase sounding a bit like a British pop song, eh?  For some reason, I imagine Seal singing it but that's probably just me.)
2:48-6:31: The talk turns to the early days of Morrison's Doom Patrol and even the issues just preceding.  Can you guess Graeme's secret shame before he confesses?  Hint: It'll surprise you! [Second hint: the first hint is totally worthless and can just as easily be ignored.]
6:31-30:13:  And today's surprise read from Graeme's magical library system:  John Byrne's Alpha Flight!  Graeme has fond memories of it.  Jeff has the kind of memories that should be set to the pocket watch music from For A Few Dollars More (or the harmonica music from Once Upon A Time in the West, take your pick).  Lots of discussion of Byrne from that era ensues, including Superman and Fantastic Four.  Also, Jeff attempts to recreate an Alpha Flight issue from memory. He's a clown! Come and listen and point and laugh!
30:13-30:35:  Intermission Prima!
30:35-31:46:  "And we're back."
31:46-50:21:  News and weather! (Without the weather!)  Graeme lets Jeff in on the latest development on the Siegel & Schuster heirs' court battle for the Superman copyright.  Also covered (and not really in any way that's germane to comics) the folding of Newsweek as a print media publication and what's going on with old and new media.  If you need it to tie into comics, we do mention a series of related Doonesbury strips.
50:21-1:01:42:  Back to comics! Jeff gets cranky about the blindly upbeat reception to the first issue of IDW's My Little Pony as a possibly overheated market should worthy of consideration and caution (especially from the comics press).  Jeff also has his panties in a bunch about IDW's Mars Attacks event--mistakenly, as it turns out.  Fortunately, Graeme is there to straighten Jeff out.  Unfortunately, Jeff is sufficiently without shame he has decided to leave his mistake in rather than savvily saving face via the "select and delete" option.
1:01:42-1:02:02:  Intermission Seconda!
1:02:02-1:02:56:  "Welcome back."  Man, Graeme is really on top of it this episode, isn't he?  I'm well aware of how fortunate I am to work with him but still...wow.
1:02:56-1:21:31:  Comics!  Graeme is very much liking Season Nine of Buffy and quite likes it.  We spend a few minutes talking about Archer & Armstrong #3 and how we are actually...digging this Valiant relaunch? Like a lot, I guess?  Very strange times we live in.  Other comics under discussion:  Justice League #13 by Geoff Johns and Tony Daniels (and on a related note--is Jeff Lemire having one helluva year in comics or what?)  I could tell you how this leads into our discussion of Sex Criminals by Matt Fraction and Chip Zdarsky but what would be the fun of that?  And Graeme once again is on point here, talking about the influences of Grant Morrison's Kill Your Boyfriend and this leads into a great little tangent: Graeme's personal Criterion list--movies he thinks everyone should see.
1:21:31-1:30:00:
 And so Graeme talks about the experience of seeing all the very different versions of
Beauty & The Beast
out there: the Cocteau version, the Disney version, the TV show from 1988 and from now.  (Do we take the moment to talk about the classic Ann Nocenti scripted miniseries
Beauty and The Beast
featuring Dazzler?  And The Beast?  We do not.)  Also, Graeme has read
Bandette: Tales of the Urchins
and we have not.  However, we can check out the two page preview which is complete in and of itself
here
.
1:30:00-1:40:01:  Marvel Now! Point One--Graeme has read it and tells Jeff about the high points, low points and in-between points.
1:40:01-1:53:51:
 Jeff's turn!  Because we are sort of running late, Jeff speeds through his impressions of
Batman
#13; the
Shonen Jump Alpha
Starter Pack, over 300 pages of
digital manga you can pick up for free
; the third issue of
Godzilla: The Half-Century War
by James Stokoe; re-reading
Zaucer of Zilk
by Al Ewing and Brendan McCarthy via the first issue reprint from IDW;
Bakuman
Vol. 15; and
King Cat Comics and Stories
issue #73.
1:53:51-end:
 Closing comments, and plans for next ep! (
Hint
)
Whew!  That will keep you busy for a while, yes?  Perhaps you have already run over the podcast in your fine German car on the autobahn that is iTunes.  If not, we invite you to spend time idling here at der kleineshausdassWaffelngebaut (or, roughly translated: the little house that waffles built):
As always, we hope you enjoy and thanks for listening!